Infotainment
In an era where connected cars are deemed to mark the future of mobility, automotive cybersecurity market is indeed set to occupy a pivotal stance in smart and sustainable tech space. The cyber threats or security breaches in connected cars enable external access to the vehicle's network and not just compromise the driver's data privacy but can also pose serious threats to the driver's physical safety and car's operation. With data security breaches becoming intensely sophisticated, automotive cybersecurity industry has turned out to be an inevitable investment spot that would aid automotive sector's continued roadmap toward connectivity without risk.
Spain Automotive Cybersecurity Market Size, By Security, 2017 & 2024 (USD Thousand)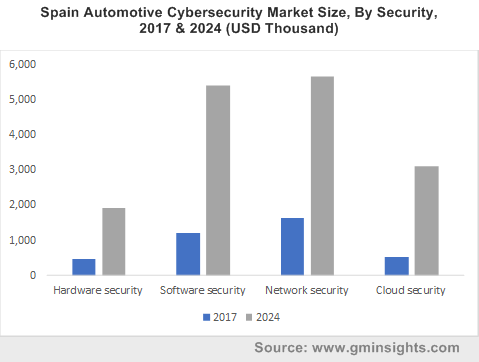 The dynamics of automotive cyber security involves two major rationales; the product's design, developments, maintenance, and operations and the operating environment comprising the regulatory and strategic framework. The multiple aspects associated with the two parameters are sort of prerequisites for the automotive cybersecurity market players to enhance and expand their stance in this landscape.
Speaking of competitive trends, strategic collaborations and partnerships have emerged as two of the top-notch measures adopted by the automotive cybersecurity market giants. One of the recent trends in this regard has been the JVs established between the automotive companies and technology conglomerates, in a bid to understand and resolve the security complexities in modern or connected vehicles.
Get a Sample Copy of this Report @ https://www.gminsights.com/request-sample/detail/2714
One of the recent instances that validates the growing stance of collaborations & JVs as prominent growth tactics has been the partnership between SafeRide, one of the formidable automotive cybersecurity market players and Netherland based digital platform security giant, Irdeto. Under the terms of the recently inked partnership, SafeRide in collaboration with Irdeto is claimed to provide the OEMs and tier -1 automotive suppliers with a holistic cybersecurity solution for autonomous and connected vehicles.  Allegedly, SafeRide's flagship vSentry solution would be integrated with Irdeto's famous Connected Transport solution, Cloakware, to offer a multi-layered approach in protecting the platforms against tampering, automated attacks, and reverse engineering.
The aforementioned instances only bear a fraction of the developments underlining automotive cybersecurity market, which as per Global Market Insights, Inc., would surpass a valuation of USD 837 million by 2024. The growing deployment of in-vehicle connectivity such as infotainment services, navigation, mobile phone connectivity, voice recognition, and communication in modern vehicles has further allowed the automotive cyber security market to make profound inroads in consumer vehicle segment. As per estimates, this particular application segment procured almost 90% of the global share in 2017.
Not to mention, the collaborative approach of the governmental agencies and with software players to provide telematics cybersecurity solutions is another prominent factor characterizing the automotive cybersecurity industry outlook.
In May 2018, The Department of Homeland Security Science and Technology Directorate partnered with the Volpo National Transportation Systems, a subsidiary of DOT, with an aim to build an efficient operational network and cybersecurity implementation for telematics systems in Federal vehicles. In yet another instance, Red Balloon Security, the globally acclaimed embedded security technology leader and Auto-ISAC had recently announced the commencement of a new partnership. The two entities through this tie-up intend to provide advanced security tools and training programs to spread cybersecurity awareness in the automotive sector. Red Balloon Security's advanced specialized tools and trainings are expected to help professionals deal with potential cyber threats in vehicle embedded device systems in a much comprehensive way.
Powered by the dynamism in the growth portfolio, investors are highly optimistic toward the revolutionizing automotive cyber security market outlook and are betting big to exploit the potential opportunities it is likely to offer. The renowned Japanese automotive component manufacturer Denso's USD 2 million investment in Dellfer, the renowned cybersecurity and IOT giant this year marks the onset of this approach by the automotive sector. The deal also implicates the rising focus of the auto giants toward protecting the connected vehicles from potential and rather sophisticated cyber threats.  It is overt that with the increasing commercialization of autonomous and connected vehicles, the deployment of cybersecurity technologies is deemed to be humongous. In terms of profitability, the global automotive cybersecurity market is slated to record a double-digit growth rate over 2018-2024.
Author Name : Satarupa De
The growth trajectory of MVAS Market is expected to display a rising trend, subject to its extensive applications across the telecom, healthcare & IT, BFSI, education, retail, entertainment & media, and government sectors. A steep rise in the popularity of social media websites along with the growing use of mobile payment apps will also offer bright prospects for the business. Escalated demand for availing entertainment services on mobiles coupled with introduction of LTE services for mobiles & smartphones will lucratively influence MVAS market trends. According to Global Market Insights, Inc., "Mobile Value Added Services (MVAS) industry, which was evaluated at USD 400 billion in 2016, is forecast to surpass USD 1300 billion by 2024."
Europe MVAS Market Share, By Solution, 2016 & 2024 ($ Bn)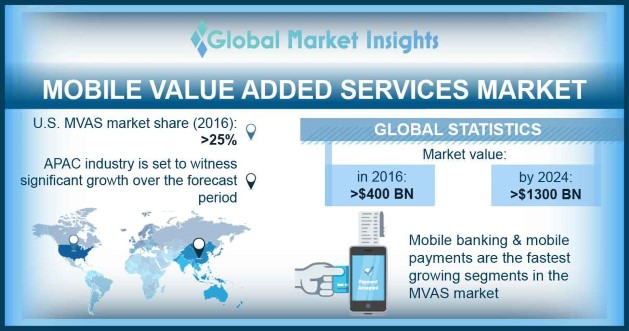 Fierce business competition coupled with the reduction in costs of mobiles & smartphones have forced the mobile manufacturers to focus more on providing value added services and thus improve their brand presence. The rising importance of 3G and 4G services available at reasonable charges are expected to boost MVAS market demand over the next few years. Rising demand for novel technologies such as M2M and IoT by the organizations to effectively handle their day-to-day operations is also expected to accelerate MVAS industry development.
Telecom sector, which had observed a commendable growth in the past, is expected to significantly boost MVAS industry size over the coming years. The growth can be attributed to the escalated requirement for personalized and content rich value-added services. MVAS market in the education sector is expected to witness a massive expansion over the coming seven years, driven by its enhanced usage for in language training, online education & tutoring, reading, and vocational training.  Mobile value added services will also help distance learners improve their learning ability, thereby complementing the business expansion.
Get a Sample Copy of this Report @ https://www.gminsights.com/request-sample/detail/303
Potential use of value added services for diagnosing & treating patients along with the rising trend of storing health records of the patients in a digitized format is expected to boost MVAS industry size across the healthcare & IT sector.
Taking into consideration the geographical trends, Asia Pacific MVAS industry is projected to experience a notable surge over the coming timeframe, driven by rising consumer trend towards the use of smartphones & tablets. The governments of the region have been undertaking efforts to spread awareness regarding the benefits of mobile usage and have been developing infrastructure for its effective use, thereby favorably influencing the industry growth across the region. China, South Korea, India, and Japan are forecast to be the major revenue pockets.
U.S. industry, which accounted for more than 25% of MVAS market revenue in 2016, is expected to witness a notable growth in the future. The growth can be credited to the high presence of reputed digital media participants such as Netflix, Amazon, Roku, Apple TV, Hulu, and Boxee across the region.
Latin America MVAS industry is expected to experience a lucrative growth over the next few years, subject to network operators offering valued added services even in the most remote areas and distant places.
Mobile value added services can be availed through mobile money, SMS (Short Message Service), Instant Messaging, infotainment, and MMS (Multimedia messaging service) solutions. Effective mobile banking, mobile remittance, and mobile wallet services, driven by high speed networks and low tariffs are expected to beneficially influence the growth of the mobile money sector, which will accelerate MVAS market revenue expansion.
Market players are trying to increase their profit margins and expand their geographical presence by adopting key business strategies such as mergers & acquisitions, new product development, strategic partnerships, product benchmarking, and joint ventures. Vodafone Group PLC Alibaba Group Holding Limited, Gemalto N.V., Mahindra Comviva, AT&T Incorporation, Baidu Incorporation, Nokia Corporation, Huawei Technologies Company Limited, KongZhong Corporation, Amazon, and Apple Incorporation are the key participants of MVAS industry.
Author Name : Dhananjay Punekar