Infrastructure
The increasing importance imparted to network stability & wireless communication to speed up network capability has been stimulating private LTE market share. Nowadays, private LTE is used extensively for numerous beneficial purposes such as real-time monitoring, geo positioning activities, in the mobile devices, energy utilities, telecommunication applications, and automotive equipment. The rapid acceptance of long-term evolution (LTE) for high-speed wireless communication across numerous industrial sectors has been encouraging companies in private LTE market to adopt LTE network connectivity.
Europe Private LTE Market Revenue, By Infrastructure, 2017 & 2024 (USD Million)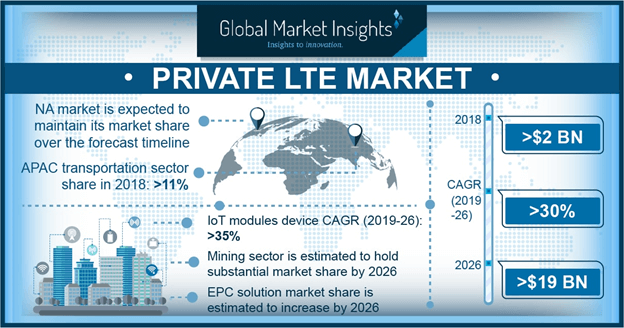 Over the last few years, most of the mobile network providers have shifted to LTE services from 2G and 3G coverage to improve existing communications. The surging digitalization and modernized mobile services have also substantially enhanced data services. Recently in India, the nation's largest telecom company, Airtel has decided to switch to LTE network services to boost data speed. This move will turn out to be rather beneficial for Airtel as it already has a widespread, far-reaching network coverage. The shifting focus of telecom service providers to LTE to phase out older networks is slated to fuel private LTE industry share.
Taking into account the network benefits of high-speed data services, most of the energy companies have been signing deals with wireless network providers that will have a positive influence on the product demand. For instance, a month before, the Brazilian power distributor, Elektro collaborated with Nokia for deploying a private LTE network in its City of Atibaia based electric grid. The deployment of LTE services is slated to help improve the efficiency and reliability of the electric grid that has been serving approximately more than 75,000 business and homes. Through this network, it is also possible to operate smart meters, grid equipment, substation and distributed energy generation sources.
Get a Sample Copy of this Report:@ https://www.gminsights.com/request-sample/detail/2757
Such strategic deals will help players in the private LTE market strengthen their customer base and diversify the traditional telecommunication practices. The surging adoption of digital technologies such as IoT and machine learning will thus further propel the use of private LTE service in the energy sector. For the record, as per estimates of Global Market Insights, Inc., private LTE market from energy applications is slated to depict a commendable CAGR over 2018-2024.
In order to achieve a dominant stance in the market, telecom firm Nokia has also lately been adopting myriad business tactics. Recently, it has collaborated with China Unicom to deploy a private LTE network at BMW Brilliance Automotive Ltd plant based in the Liaoning province. With the use of private LTE connectivity, BMW can carry out smart manufacturing activities and ensure communication for critical applications including video surveillance, object tracking, and analytics at the plant.
The integration of private LTE network in the enterprises to secure data and voice communication, wireless video communication, ensure indoor investigation, and inspect the production line maintenance is slated to fuel the product demand over the years ahead. Heavy investments to develop digitalized, modern factories with a secured and transparent work culture will further propel private LTE market share considerably.
The emergence of LTE connectivity has also turned out to be rather useful for maintaining peace across the globe. That is to say, the UN (United Nations) has been working continuously to resolve the several global issues for which it has been using LTE network for providing critical communication capabilities. Peacekeeping troops are able to effectively use this LTE network for secure, stable, and future-proof broadband services while operating through the tough geographic terrain. Currently, UN is working on fourteen peacekeeping operations across the globe and it is planning to establish high-speed LTE networks by 2019 to accelerate the communication throughout the missions.
Substantive use of LTE connectivity for ensuring digital and standardized work output in the industrial as well as the defense sectors is likely to propel the product demand over the years ahead. On-going changes in the telecommunication technologies to enhance the network connectivity will further stimulate the industry trends. As per estimates, with the surging acceptance for network connectivity across various application sectors, private LTE market is poised to surpass a revenue collection of USD 11 billion by the end of 2024.
Author Name : Sunil Hebbalkar
Increased utilization of recycled materials by manufacturing and infrastructure segments has boosted the global recycled elastomers market, enabling the formation of low-cost and good quality composite products. High elastic deformation combined with exceptional vibration and noise dampening properties have created a wide application base for these materials for improving work environments and transportation networks. Growing awareness among producers around the world for undertaking eco-friendly waste disposal initiatives to reduce pollution caused by landfills has invariably promoted the recycled elastomers industry. Consumers, wanting to ensure that they contribute towards saving the environment, are increasingly accepting and demanding products which incorporate recycled ingredients. Subsequent rise in recycling activities of waste like tires and other rubber products to make building composites, agricultural sheds, artificial playgrounds and auto parts has tremendously propagated the recycled elastomers market, which in 2017 garnered a global revenue of over USD 2.5 billion.
U.S. Recycled Elastomers Market Size, By Application, 2014 – 2025 (USD Million)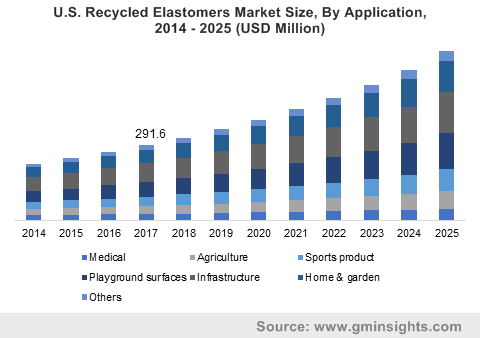 Several durable products using recycled elastomers are manufactured depending on the properties most suitable for a particular use in any of the industry segments, such as chemical resistant gloves or athletic turfs for sporting events. In terms of large-scale applications that benefit a varied demographic over time, transport infrastructure has sprouted to become a leading source of revenue for the recycled elastomers market. As compared to traditional paving materials, modified asphalt mixed with recycled rubber allows for a high performance solution to extend the lifespan of roads and highways. Asphalt binding with recycled elastomers, mostly sourced from scrapped tires, provide a safer, eco-friendlier and less expensive alternative. The excellent elasticity and dampening features of such asphalt help to reduce the occurrence of surface cracking, temperature fluctuations and movement caused by traffic loads. The lowering of waste by recycling scrap tires, along with a continuous and reliable raw material supply have strengthened the recycled elastomers market stance within the infrastructure segment.
The Asia-Pacific (APAC) is known to be a rapidly developing region with countries like China, India, Malaysia and Indonesia showing remarkable progress in infrastructure spending. In China, for instance, the total road length increased from 3.7 million kilometers in 2008 to 4.8 million kilometers by the end of 2017, while the total length of highway reached a figure of 136,500 km during the same period. The large transportation infrastructure indicates the growth potential of the recycled elastomers market from asphalt binders. As the population and consequent automobile consumption in APAC countries is expected to rise at an incredible pace, a surge in government expenses to develop road connectivity will further encourage recycling initiatives, fueled by an incessant supply of waste rubber materials. It is observed that building a single lane pavement of one mile, 500 to 2,000 scrap tires need to be recycled, presenting the advantage of the recycled elastomers industry in cutting down on land pollution.
Get a Sample Copy of this Report:@ https://www.gminsights.com/request-sample/detail/2791
Use of recycled elastomers in manufacturing agricultural equipment and flooring has additionally maintained the dominance of APAC in the recycled elastomers market, holding over 50% of the global share in 2017. The region encompasses some of world's leading agri-based developing nations that need constant supply of food and livestock products to cater to an exponentiating population, creating a demand for weather resistant products that support agriculture productivity. For example, India is the second most populated country in the world and as of 2015 had approx. 60.4% of overall land under agricultural occupation. Advancing technologies associated with increasing the crop output have been buoyed by robust water hoses, belts, sheds, windbreaks and vegetation protecting equipment made from recycled elastomers.
The recycled elastomers market has experienced prolific returns from the demand for livestock mats as well, derived from the fact that APAC has major dairy and meat producing nations. Stalls and floors housing livestock need to be able to counter weather abuse and seasonal wear, requiring them to be built of durable and flexible materials. Agricultural mats made using recycled elastomers offer a mix of strength and softness that is necessary for safe sheltering of livestock animals, ensuring an up thrust in the total yield. With agricultural income forming a significant part of GDP in China, India, Thailand and other South East Asian countries, the recycled elastomers industry is deemed to witness enormous proceeds from the agriculture segment.
All in all, use in infrastructure and agricultural areas due to vital properties like elasticity, durability, UV and chemical resistance, among others have propelled the recycled elastomers industry, with American Tire Recycling, GRP Ltd., West Coast Rubber Recycling, Liberty Tire Recycling, Genan Holding, J. Allcock & Sons Limited, Klean Industries and Emanuel Tire Co. being some key market contenders. Additional applications such as developing medical devices in combination with FDA approved raw materials will generate supplementary earnings for the global recycled elastomers market, anticipated to register a CAGR of more than 12% from 2018 to 2025.
Author Name : Pankaj Singh
The profitability landscape of borehole equipment market has been witnessing a massive turnaround of sorts in the recent years, on account of the rising number of mining operations, heavy infrastructural development, and the increased demand for water in drought-ridden areas. In this regard, companies partaking in borehole equipment industry share have been striving to brainstorm rather innovative products and techniques for borehole drilling. For instance, merely a couple of years earlier, Boart Longyear, a rather prominent player in borehole equipment market, was involved in a project that included installing a ventilation shaft for a longwall coal mine in Wyoming. The company deployed a dual-tube flooded reverse-circulation drilling technique that was far advanced than the ones used for a traditional raised bore rig, as it pumped air via the outer tube, forcing mud upward through the inner tube, thereby preventing porous rock from being plugged for the borehole. The same year witnessed Boart launching the game-changing TruProbe drilling system that enables the deployment of gamma, geophysical, survey sensors inside drill strings for identifying any traces of previous metals and minerals at an affordable cost, majorly impacting the product landscape of borehole equipment industry. In retrospect, it would be apt to state that Boart Longyear has indeed established itself as one of leading participants in borehole equipment market, setting ambitious standards for its fellow rivals and new entrants.
U.S. Borehole Equipment Market, By Product, 2016 & 2024 (USD Million)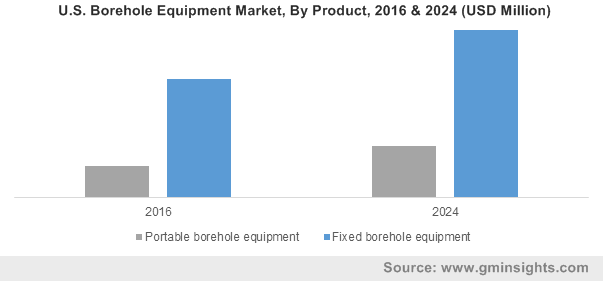 The emerging economies of Africa: The upcoming hotbeds for borehole equipment market
While the developed and developing economies across the globe have been rather proactive in global borehole equipment industry, in recent times, companies have been tapping the unexplored suburbs of the African continent, that seem to have depicted quite a perceptible potential as far as drilling operations and deploying the apt equipment for the same are concerned. Countries such as Zambia, South Africa, and the Republic of The Gambia, have lately emerged as profitable avenues for borehole equipment market, subject to the stream of favorable initiatives that are being undertaken by regional and international governmental agencies in order to combat the water shortage in these areas. A succinct gist of a couple of these productive initiatives that have transformed borehole equipment market outlook has been enumerated below:
The CEO of the Vision Development Foundation recently approved a borehole project in Kerr Demba Holley, Upper Niumi, Gambia, for GMD 500,000, that would be powered with solar and storage tanks to deal with the water supply shortage in the district.
Get a Sample Copy of this Report:@ https://www.gminsights.com/request-sample/detail/2266
In a bid to deal with the severe impact of the droughts in KwaZulu-Natal, a funding of nearly ZAR 500,000 has been provided to drill boreholes in communities such as Verulam, Wyebank, Umbumbulu, and Ladysmith. To combat the water scarcity in the region and aid the expansive regional mining industry, companies and governmental organizations plan to make sufficiently huge investments in South Africa, that would eventually impel the regional borehole equipment market share.
The National Savings and Credit Bank (NatSave) and the Musika Development Initiative struck a deal in the second quarter of 2017 for implementing a 12-month-long project in the Kalomo district of Zambia, worth ZMW 2 million. The program would apparently entail the sinking of 20 solar-powered boreholes for increasing the productivity of small-scale farmers and improving their access to irrigation solutions in the area. The memorandum of understanding (MoU) for this pilot project is certain to gain ground in the regional borehole equipment market, encouraging other players to follow suit.
With extensive developments prevalent in the construction and infrastructure development verticals, it goes without saying that the humongous demand for advanced infrastructural facilities, massive requirement for residential and commercial spaces, in tandem with the regulations enforced with respect to strong building foundations and soil quality would have a profound impact on borehole equipment market size. Furthermore, these products find colossal applications in various grades of mining operations, thus opening up a plethora of new vistas for borehole equipment industry, given the vast expanse of mining exploration activities and the regulations that mandate mine operators to deploy highly advanced machinery for drilling. By and large, it would be apt to state that borehole equipment market trends would undergo dynamic transformations in the ensuing years, contingent on the changing demands of the expansive construction and mining sectors.
Author Name : Saipriya Iyer
With the demand for sustainable construction escalating by the day, insulated concrete form market has come to garner immense popularity. Indeed, the industry trends are specifically influenced by the requirement of affordable in regions experiencing rapid urbanization or harsh weather conditions. A unique formwork system, insulated concrete forms involve the fixation of lightweight foam blocks made of expanded polystyrene (EPS) to attain desired wall shapes, which are then filled with concrete. This system provides improved energy savings, greater safety and by far a more healthy and comfortable living experience for its occupants. These benefits that have led to an upsurge in the product acceptance in the commercial, residential, infrastructural, and industrial sectors worldwide, gradually augmenting the global ICF industry size.
North America Insulated Concrete Form Market, By Material, 2018 & 2025, (USD Million)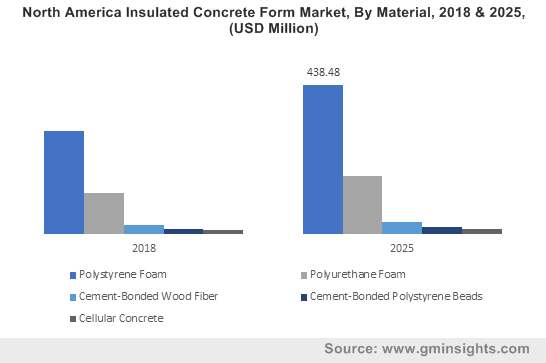 The goal of reducing energy consumption for heating and cooling is one of the major factors driving the ICF market. The product is estimated to save about 20% or more on energy bills, mainly as concrete in ICFs acts as a thermal mass which transfers heat significantly slower, eventually reducing heat penetration during summer and loss during winter. Additionally, increasing occurrence of natural disasters like hurricanes, tsunamis, floods, earthquakes, volcanic eruptions and more will increase construction of ICF based disaster-resistant houses.
For instance, a category 4 hurricane had struck Florida in 2018, destroying 54% of homes, however, one home built using insulated concrete form was reported to stand undamaged following the event. Thus, aided by high-performance and excellent capability, the ICF market will gain immense traction in hurricane prone regions.
How will the demand for PU foam by construction companies enhance the commercialization landscape of insulated concrete form market?
Nowadays, home builders are increasingly turning towards a variety of cost-efficient construction methods to improve the thermal performance of the overall project. One such method includes the use of polyurethanes form which can significantly help conserve natural resources and further preserve the environment by reducing energy usage. Due to its excellent insulation properties, strength-to-weight ratio, versatility and durability, polyurethane is frequently used in building and construction applications.
Get a Sample Copy of this Report @ https://www.gminsights.com/request-sample/detail/725
Rigid polyurethane, a type of polyurethane, is mostly used to maintain uniform temperature and lower noise levels in commercial spaces and homes. The form works as an insulation material that is used in wall and roof insulation, insulated doors, windows and air barrier sealants and can significantly cut energy costs while making homes and offices more efficient and comfortable. Irrefutably, polyurethane building materials add design flexibility to new homes and remodeling projects, whereas foam-core panels offer a wide variety of colors and profiles for walls and roofs. As the frequency of construction projects rises and the demand for durable yet aesthetic material depicts an upsurge, PU foam based ICF industry share is expected to increase in the years ahead.
Demand for new residential projects to augment ICF market growth
In the past few years, there has been an increase in the migration of rural population to urban areas which has in turn led to a growing pressure on the global construction sector. For instance, as per data projected by the United Nations, around 68% of the world's population is expected to reside in urban areas by 2050 – indicating the addition of about 2.5 billion people to the urbane locales. Close to 90% of the increase may be taking place in Asia and Africa. Thus, to meet growing residential demands, the construction industry players will incline toward the adoption of affordable techniques like ICF to build sustainable homes more quickly and efficiently.
Elaborating on the Asia Pacific, it is vital to mention here that the region is likely to emerge as one of the most profitable grounds of the ICF industry. This projection can be credited to the increasing infrastructure investments in the developing countries such as Malaysia, Indonesia and India on account of the enhanced economic prospects across these nations and their growing population. Furthermore, significant government regulations to promote energy efficiency in the building sector, reduction in construction time and improvement in infrastructure safety will also stimulate the global ICF market size.
A system of reinforced concrete made up from rigid thermal insulation, insulated concrete form (ICF) remains as a permanent interior and exterior substrate in roofs, floors and walls. The technique has become extensively popular in the construction sector in both high performance residential and low-rise commercial infrastructures and is gaining significant traction given that it adheres to strict natural disaster resistant & energy efficiency building codes.
Author Name :Mateen Dalal