Inks
Owing to the increased demand for high quality and low cost printing, the lithographic printing chemicals market has been steadily growing in conjunction with the development of the packaging, publication and promotion sectors. The ability of printing chemicals to be applied on numerous types of materials and surfaces has particularly cemented their place in global packaging space for producing large quantities of product packaging. The lithographic printing chemicals industry benefits from improved output and a quick turnaround time achieved in lithographic printing, supported with latest technologies for making minute adjustment in images. Rising need for efficient and outstanding packaging options, in addition to the consistent demand for regular publications and increased promotional spending worldwide has pushed the lithographic printing chemicals market revenue, that stood at USD 12.5 billion in 2017.
U.S. Lithographic Printing Chemicals Market Size, By Application, 2014 – 2025 (USD Million)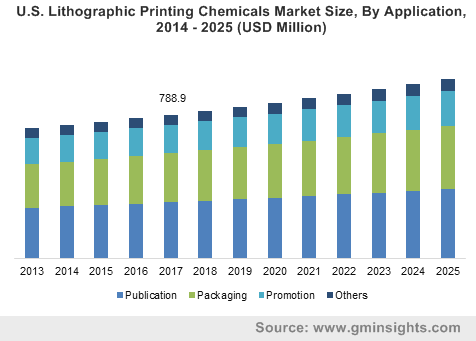 Essentially, packaging is one of most important aspect of a product development, though it might not be the first part a company works on. The lithographic printing chemicals industry has witnessed tremendous proliferation due to offset printing's dominance in the folding carton market globally, which serves a wide range of product applications. Manufacturing of folding cartons has always remained stable depending on the prevailing consumer trends and is a mature industry having a foothold in the food & beverages, cosmetics, consumer durables, among other segments. Valued at more than USD 75 billion per year, the global folding carton industry provides vital packaging options made from paper, cardboard, heavy solid board and light corrugated board. The need to apply quality and durable prints on such diverse packaging materials will give a significant boost to the lithographic printing chemicals market.
With the growth of emerging techniques like digital printing, offset printing has still been able to maintain its popularity, mainly attributed to the overall print quality and being more cost-efficient for large volumes. As such, most of the packaged food, perfumes, household product and beer companies use folding cartons that are offset printed, contributing heavily towards the earnings of the lithographic printing chemicals industry. Various packaging firms produce custom lithographic packaging for the beverage industry, for instance, Strong Haven offers custom designs to help brands increase their shelf exposure. It had recently designing a 12 bottle package for a brewing company, which had bold colors and graphics imprinted though lithography, after which the client reported a rise in the sales of its product lines.
Get a Sample Copy of this Report:@ https://www.gminsights.com/request-sample/detail/2938
The brewing company had credited the packaging as being the primary reason for the sales increase, further propagating the importance of offset printing and invariably, the lithographic printing chemicals market. Separately, Hop Kettle brewery had approached Saxon Packaging in May 2018 to help the company raise funds for the National Thames Path trail, for which Hop Kettle was to become the official beer. To support the brewery, Saxon developed litho printed beer gift packs and Hop Kettle expected to draw more customers through packaging which housed 3 beer bottles. Most major alcohol brands also use litho-printed folding cartons for packaging their products, indicating the massive growth potential of lithographic printing chemicals market.
Besides beverage, packaging companies catering to the food snacks sector also make extensive use of lithographic printing presses to make cartons and boxes for popular brands. They also invest in installing the newest machines which will help them in expanding production capacities and provide better packaging options to customers. Accurate Box, is a provider of high-quality graphics for corrugated packaging being used by major global brands like PepsiCo and Kellogg's, and is one of the largest litho-based packaging companies in the U.S. At the end of June 2018, the company added a new Koenig & Bauer Rapida 164 seven-color press for enhancing production capacity, speed and computerized quality systems. The machines is very effective in matching shades and images depending on the brands and has advanced color control capability along with quality measuring system.
All in all, with a worldwide surge in the consumption of food, beverages, fragrances and other products, the proportional increase in need for cost-efficient and aesthetically advanced packaging will propel the lithographic printing chemicals industry enormously. TCI Graphics, SICPA Holding SA, DIC Corporation, Flint Group, Siegwerk Druckfarben AG & Co., Huber Group and Tokyo Printing Ink Company are some key players in the global lithographic printing chemicals market, which is anticipated to reach more than USD 17.5 billion in remuneration by 2025.
Author Name : Pankaj Singh
With organic cosmetics scoring an edge over chemical products of late, phenoxyethanol preservatives market has been witnessing a renewed prominence globally. In the last couple of years, personal care industry giants have faced a series of challenges concerning the integrity of beauty products, a factor that has sourced the trend of natural preservatives. Phenoxyethanol has been identified as the most globally approved preservative in beauty product formulations, owing to its high compatibility with beauty products, pertaining to its excellent toxicology, faint aroma, low water solubility and evaporation rate.
U.S. Phenoxyethanol Preservatives Market Size, by Product, 2013 – 2024 (USD Million)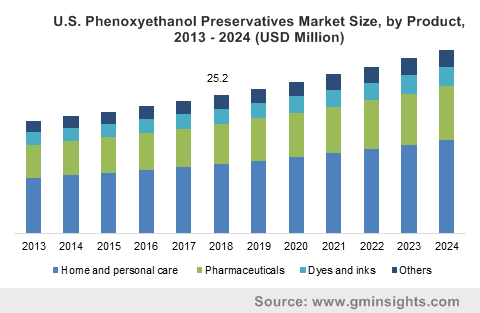 On the research front as well, several scientific evaluations of preservatives have made their presence felt, which are likely to contribute toward industry development. The need to protect personal care products from microbial growth is also a crucial factor that is making phenoxyethanol preservatives industry an attractive commercial proposition.
The remarkable expansion of phenoxyethanol preservatives market is quite evident from its extensive deployment across a diversified range of domains that includes the pharmaceutical and domestic sectors as well. The growing trend of using active ingredients and the much-awaited ban on paraben based products in some of the regions have stimulated phenoxyethanol preservatives market demand.  Home and personal care sector procured a commendable portion of the industry in 2018. With increased consumer spending on personal hygiene, manufacturers are readily focusing on liquid detergents that deploy phenoxyethanol on a large scale. In addition, renowned organizations such as the Cosmetic Toiletry Fragrance Association, British Pharmacopoeia, U.S. Pharmacopoeia, and European Economic Community have also certified phenoxyethanol as a safe preservative to be used in personal care commodities.
Cosmetics applications have indeed been cited as one of the chief application arenas for phenoxyethanol preservatives industry size over 2019-2024. One of the premium products of phenoxyethanols, i.e., P5 is mainly deployed in cosmetic applications due to its comparatively lesser phenol content, estimated to be less than 5 ppm.  Phenoxyethanol P5 preservatives demand, as per reports, is estimated to grow at a CAGR of 5% over 2019-2024.
Get a Sample Copy of this Report@ https://www.gminsights.com/request-sample/detail/1601
Speaking along the similar lines, P25, having a higher phenol composition is widely utilized for industrial purposes. In this regard, it is important to note that both phenoxyethanol P25 and P5 exhibit 99.5% purity, which is undoubtedly one of the profound grounds enhancing the overall phenoxyethanol preservatives market expansion. Another contributing factor worth mentioning is the increasing demand for green ingredients in the cosmetic formulations by the health-oriented consumer base.
Speaking of geographical landscape, U.S. is one region where P5 phenoxyethanol preservatives industry demand is quite high. Being one of the most lucrative growth grounds for the cosmetic and pharmaceutical markets, the United States has been observing an escalated commercialization of P5 grade preservatives lately.
Europe is also likely to carve a profitable roadmap in the phenoxyethanol preservatives market over the forecast span. Driven by the fierce competitiveness in Europe pharmaceutical industry, the demand for the product is anticipated to rise, thereby sourcing lucrative business opportunities. Globally, phenoxyethanol preservatives industry from pharmaceutical applications is forecast to record a CAGR of  5.5% over 2019-2024.
A major disruptive issue that is somewhat hampering phenoxyethanol preservatives market growth is the growing number of regulatory initiatives projecting the health hazards associated with its deployment. The FDA, for instance, has recently issued a warning regarding the toxicity of these preservatives and their detrimental effects on infants. However, industry giants are rigorously putting in their efforts to successfully overcome these challenges by engaging in numerous research and development activities.
Some of the prominent players operating in global phenoxyethanol preservatives industry include Akema Fine Chemicals, Dow Chemical Company, Symrise AG, Chemicals, Santa Cruz Biotechnology, Lonza Group, and Schülke & Mayr GmbH. With global economy treading on a positive path, resulting in an upgradation of consumer living standards, phenoxyethanol preservatives market is projected to exceed a remuneration portfolio of USD 150 million by 2024.
Author Name : Shikha Sinha
Flexographic Printing Inks Market graph is expected to display an upward trend, subject to extensive product usage across the food & beverage, pharmaceuticals, and cosmetics sectors. These products are extensively used in the packaging sector pertaining to their favorable properties. The thriving Flexible Packaging Industry, which is anticipated to accrue a massive revenue of more than USD 250 billion by 2024, will thus, favorably influence the business trends. According to Global Market Insights, Inc., "Flexographic Printing Inks Industry is forecast to hit the targeted revenue of more than USD 11 billion by 2024, registering a CAGR of over 5% during the period from 2016 to 2024."
U.S. Flexographic Printing Inks Market size, by product, 2015 & 2024 (KT)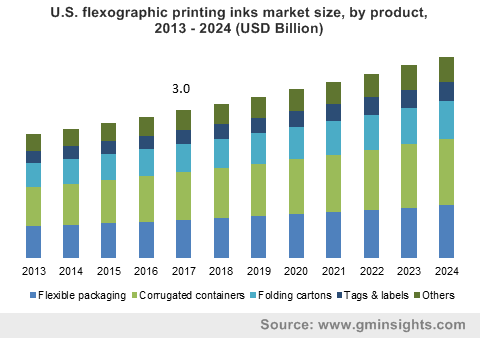 Taking into consideration the geographical landscape, Europe flexographic printing inks market is forecast to record notable gains of over 4.5% over the coming seven years. The huge presence of cosmetic manufacturing firms in the region is expected to drive the market. Germany and France are likely to be the major revenue contributors. The North America industry is expected to make major revenue contributions toward flexographic printing inks industry, driven by escalated product demand across the food packaging sector. The U.S. is projected to contribute a large chunk towards the regional share.
Asia Pacific flexographic printing inks market, which collected a revenue of over USD 2.5 billion in 2015, is anticipated to experience a notable surge over the coming timeframe. The growth can be credited to altering lifestyles of consumers along with the rise in the purchasing capacity of the middle-income groups. India and China are expected to majorly boost the regional share.
Get a Sample Copy of this Report @ https://www.gminsights.com/request-sample/detail/1163
Flexographic printing inks find extensive applications in corrugated containers, tags & labels, flexible packaging, metal cans, and folding cartons. Flexographic printing inks industry size in the flexible packaging sector is forecast to grow considerably over the years to come, driven by the product's favorable features such as moisture retention, aroma preservation, sealing, and improvement of aesthetic appearance.
UV-cured, water-based, and solvent-based inks are the major products types of flexographic printing inks industry. Water-based flexographic printing inks market, which dominated the overall industry size in 2015, is expected to witness a substantial growth over the next few years. The growth can be ascribed to its major application in newspaper, paper, and cardboard printing. Growing use of non-VOC inks across the printing sector coupled with mounting government support for usage of low VOC inks across the food & cosmetic packaging sectors will push the revenue.
Solvent-based flexographic printing inks industry revenue, which was estimated at over USD 1.5 billion in 2015, is expected to expand remarkably over the coming years. Favorable properties such as scratch resistance, exceptional printing ability, and durability has made the product more popular across the packaging sector.
UV-cured flexographic printing inks market size is expected to grow at a CAGR of over 6% during the period from 2016 to 2024, driven by the product's ability to provide color consistency, chemical resistance, gloss, and rub resistance.
Flexographic printing inks industry is highly fragmented with top six industry players contributing less than 20% of the global market share in 2015. TOYO Ink Group, Flint Group, ALTANA AG, INX International, Wikoff Color Corporation, Sun Chemical, Zeller+Gmelin GmbH & Co. KG, A.M. Ramp u. Co. GmbH, T&K TOKA Company Limited, Siegwerk Druckfarben AG & Co. KGaA, Sun Chemical, Zhongshan DIC Colour Company Limited, XSYS Print Solutions Limited, and Shanxi Tercel Ink Group are the major participants of flexographic printing inks market.
Author Name : Dhananjay Punekar