Installation & Integration
The global micro data center market will witness immense growth in the years to come due to rapid technological advancements in the IT & telecom sector which has led to expansion in data center infrastructures worldwide. As online banking & shopping, satellite navigation systems, smartphones, TV & movie streaming gain traction, relocation of IT infrastructure becomes mandatory. This increases the demand for modular data center architecture that will drive the global micro data center market size.
U.S. micro data center market, by application, 2018 & 2025 (USD Million)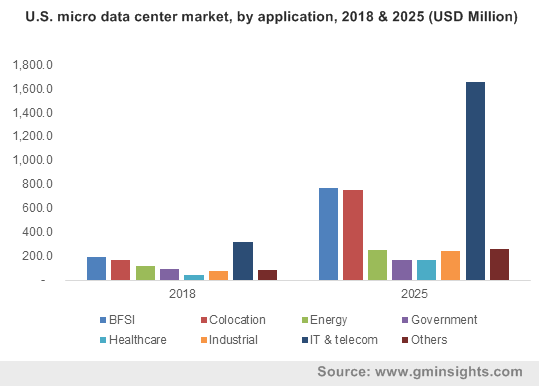 The rising need for containerized data centers for corporate offices that consistently relocate their infrastructure will fuel micro data center industry share. With rising workloads, companies are focusing more on data center expansion. However, enterprises are now wanting to make their presence felt on the cloud, leading to the requirement of portable data centers. Micro data centers have a smaller footprint that conventional data centers and look like with integrated systems. The rising requirement for portable solutions in large-scale enterprises for delivering additional IT support will drive micro data center market size.
The healthcare sector will be a major application segment of micro data center industry. Medical care centers demand efficient power systems for consistent access to patient electronic health records. The rise in the number of chronic diseases and patient admissions can sometimes though, put pressure on hospitals, emergency clinics and rehabilitation centers since conventional data center infrastructure requires a huge investment. But miniaturized, portable data centers eliminate a lot of the up-front investment and are being preferred by medical care facilities, that will drive micro data center market size from hospitals.
Get a Sample Copy of this Report:@ https://www.gminsights.com/request-sample/detail/2762
North America micro data center market will grow significantly over 2019-2025 driven by robust urbanization and digitization trends. The presence of major multinational companies planning on expanding their operational capacities in the U.S. will drive the North America industry. Most huge enterprises in the U.S. require efficient IT infrastructure for business management. The rising need of huge companies and SMBs for portable solutions will fuel the regional micro data center industry share.
Global Market Insights, Inc., estimates the North America micro data centers market size to register a CAGR of more than 23% over 2019-2025. The growth is driven by the launch of various micro facilities by important technology giants such as Schneider and IBM Corporation. The expansion of data center infrastructure market in the region will also propel North America micro data center industry share.
Prominent industry giants are consistently making investments in portable data center solutions to cater to rising demand from hospitals, IT companies, telecom firms, banking establishments, etc. For example, in March 2019, Schneider Electric had declared the launch of new solutions for micro data centers which combine APC by Schneider's physical infrastructure with Cisco's HyperFlex Edge that delivers efficient, fast deployment in edge environments.
Cisco and Schneider Electric's latest partnership on micro data centers will provide system integrators and IT global channel partners the access to new reference designs for deploying the HyperFlex Edge that can be suitably customized for particular micro data center needs. The rising demand for pre-integrated, physically secure, and remotely monitorable containerized data center solutions and increasing efforts by industry players to provide these services will drive the global micro data center market size.
Some of the other players defining the competitive landscape of micro data center include Advanced Facilities, Inc., Zellabox, Schneider Electric SE, Attom Technology, Eaton Corporation PLC, Panduit Corporation, Delta Power Solutions, Canovate Group, Dataracks, Hewlett-Packard Enterprise Company, STULZ GmbH, Huawei Technologies Co., Ltd., IBM Corporation, Dell Inc., and Vertiv Co.
Companies partaking in micro data center industry share are trying to enhance their presence by coming up with new, more efficient portable data center solutions. Delta Power Solutions has a product portfolio of the Delta InfraSuite – a highly integrated, next-gen modular datacenter solution that uses racks and integrates cooling, lightning protection, wiring, fire control, UPSs, and airflow management together.
Global Market Insights, Inc., claims the overall micro data center market size to cross USD 14.5 billion by 2025.
Author Name : Saipriya Iyer
The massive penetration of 5G technology and IoT worldwide has led the global edge data center market to observe phenomenal gains during the span of seven years starting from 2019-2025. As is proclaimed, the expansive commercialization of 5G technology has provided a positive outlook to edge data center industry.
Apparently, the edge data centers enable processing of humongous volumes of data in juxtaposition to the base stations in 5G infrastructure. This has prompted the service providers to translocate the facilities to manage and bring about an ease in the on-premises edge infrastructure.
The robust proliferation of myriad applications spanning, autonomous vehicles, precision agriculture, immersive entertainment, and augmented reality, is likely to compel the industry giants to indulge in the development of edge facilities leading to high growth prospects for the edge data center industry over the forecast period. A testament to this can be provided by EdgeConneX, Inc., which developed MicroEdge data centers across 1,000 locations worldwide in order to support the future generation 5G-dependent applications.
It has been apprehended that the edge data centers overcome irregular connections, minimize the inactivity, and compute data close to the users. Moreover, these benefits are leading to a hefty construction of the centers in remote locations.
According to the market speculations put forward by Global Market Insights, Inc., the worldwide edge data center market size is likely to cross a mammoth of USD 16 billion by the end of 2025.
Get a Sample Copy of this Report:@ https://www.gminsights.com/request-sample/detail/2421
Encompassing a huge component spectrum, the cooling solutions segment is expected to hold a substantial revenue share in the overall edge data center market. This can be ascribed to the ongoing demands for reduced operational costs and augmented data center performance. Estimates claim that the edge data center solutions help in combating the damages to the systems and processors by restricting excessive heat from the infrastructure. Along with heat management, the cooling solutions also maintain a balanced temperature and control the humidity levels across the facilities.
The product manufacturers across the world are offering novel cooling techniques to promote highly efficient and economic power and energy consumption whilst reducing the environmental impacts.
Having procured a commendable share in the global edge data center market, the BSFI sector is witnessing robust demand for edge facilities ascribing to the necessity of compactly managing a massive amount of consumer data.
Reliable sources claim that the financial industry contenders are, on a large scale, deploying the data center facilities to accomplish several advancements and modifications in the proximity of their operational centers. This would help the organization to reduce the risk of data breaches and speed up the disaster detection and prevention in the near future.
Considering the geographical aspects, mounting penetration of OTT providers and telecom operators across the Asia Pacific region would boost the regional industry dynamics over the projected time frame.
The enterprises are exceedingly investing in the upgradation of the data center infrastructures across the emerging economies in the APAC region including India, China, and Japan. This is predicted to establish tremendous growth opportunities for the industry expansion and lead to the development of advanced data center facilities.
Furthermore, favorable initiatives undertaken by the various governments to support the development of all industrial sectors and support their respective nations would also apparently spur the market growth by the end of 2025.
The prominent market players across the edge data center industry include EdgeConneX, Inc., Hewlett-Packard Enterprise Company, IBM Corporation, Schneider Electric SA, and multiple others.
Author Name : Vinisha Joshi