Integrated
Wireless LAN controller market is estimated to exceed USD 3 billion by 2025, owing to the increasing business need to manage widespread and intricate LAN infrastructure along with the surging acceptance of cloud-based WLAN controllers for managing network devices. Increasing Bring Your Own Device trend, which necessitates the presence of robust network security in enterprises, will drive WLAN controller market growth through 2025. The rising need for integrated connectivity and security for mobile clients also impacts WLAN controller market trends.
APAC Wireless LAN Controller Market Size, By Region, 2018 & 2025 (USD Million)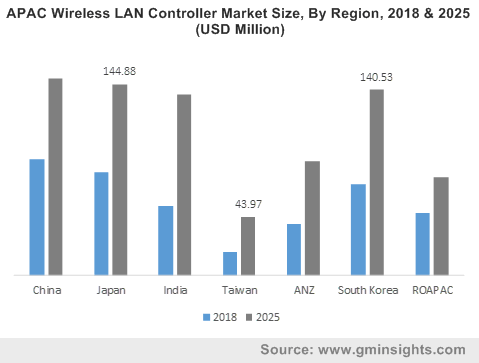 In terms of the application landscape, wireless LAN controller market is bifurcated into government and public sector, IT and telecom, healthcare, BFSI, manufacturing, transportation & logistics, retail, and others. The retail segment is anticipated to exhibit substantial growth between 2019-2025, primarily fueled by surging acceptance of latest technology by the retail sector to offer better customer experience and convenience. The constant increase in the number of retail companies across the globe will further advance WLAN controller market size. For instance, Aldi, supermarket chain with over 10,000 stores in 20 countries, has recently declared plans to open a new store in Chattanooga city, Tennessee, USA this fall.
WLAN controller market size from the BFSI segment is projected to witness modest growth in the foreseeable future, attributed to high adoption of digital platforms, workforce mobility trend, and increasing network complexity. The growing use of network devices and smartphones has burdened network administrators with complex network management tasks, resulting in the adoption of wireless LAN controllers by banking & financial institutions, for optimizing networks and boosting performance.
Get a Sample Copy of this Report:@ https://www.gminsights.com/request-sample/detail/3321
The establishment of new financial institutions and technological enhancements in Wi-Fi technology along with the fast-paced expansion of Wi-Fi market will elevate the revenue share of WLAN controller market from BFSI applications. For instance, HSBC, a renowned multinational banking and financial services company, has recently declared plans to open fifty new retail branches in the United States where it previously had no existence. Reportedly, this move is a part of British banking behemoth's plan to expand services to newer geographies with no prior foothold.
The rapid upsurge in digital data has led to the introduction of AI in BFSI market, which has positively impacted wireless LAN controller market share. Financial enterprises are leveraging artificial intelligence technology to gather, analyze, and report huge chunks of data to retrieve actionable insights regarding customers to serve their requirements better. Expanding artificial intelligence market size, owing to surging adoption across automotive, manufacturing, retail, healthcare, media & advertising, agriculture, and BFSI, would push network management requirements, thereby propelling WLAN controller market size over the future.
Rising urbanization and commercialization, especially across developing nations, will impact the industry growth. According to a report published by Our World in Data website, approximately 4 billion individuals resided in urban areas, whereas 3.4 billion individuals resided in rural regions, in 2016. Over the last 50 years, the share of people living in urban areas more than quadrupled in Nepal and Mali, and more than tripled in Nigeria and Kenya. By 2050, the global population is projected to reach 9.8 billion, and it is anticipated that the number of people living in the urban area (6.7 billion) will be double of that in the rural area (3.1 billion).
Growing urbanization and commercialization directly influence infrastructure development, healthcare, IT and Telecom, retail, manufacturing, transportation, BFSI, and various other sectors. As these sectors are the leading consumers of wireless technology, they are projected to support WLAN controller market share over the future. Expansion of the enterprise wireless local area network market is also bound to fuel WLAN controller market growth.
The increasing number of efforts by major companies present in wireless LAN controller market, to gain a competitive edge, will substantially fuel market share. Many organizations are taking huge steps towards innovation and new product development, to accelerate the shift towards cloud-enabled network services and ensure enhanced management & security of wireless LAN solutions. Global Market Insights, Inc. claims that large enterprises will accrue over 55% of wireless LAN controller market share through 2025.
Author Name : Nikita Chaurasia
The rapidly growing adoption for high-precision, graphics-oriented applications in the automobile and healthcare sectors is certain to fuel GPU market growth in the forthcoming years. GPUs have become an essential part of today's mainstream computers and mobile devices and have been characterized by remarkable advancements with respect to performance and capabilities. The product successfully offers added support for analyzing complex datasets in a quick manner and is increasingly gaining traction in almost all consumer electronics straight from laptops, PCs and smartphones to car infotainment systems and latest digital systems.
Asia Pacific GPU Market Revenue, By Region, 2017 & 2024 (USD Million)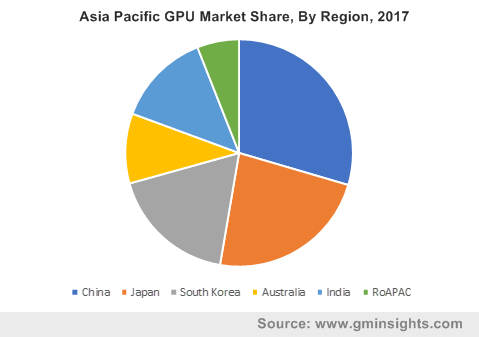 With the growing adoption of IoT devices that gather huge amounts of data which needs to be monitored and analyzed, the demand for high-end computing systems has effectively increased in the automotive sector. Reports suggest that the GPU market will amass quite some returns from the automotive sector owing to an increase in the use of GPUs to accelerate engineering and design applications. As the automotive industry is focusing on developing new vehicles with enhanced design & functionality, GPUs have found applications in CAD/CAM software. With the rising demand for these software increase, the GPU market is expected to witness an accelerated growth rate in the years to come.
Get a Sample Copy of this Report @ https://www.gminsights.com/request-sample/detail/3088
Another application vertical that will help propel GPU market is healthcare, owing to the demand for precision medicine and value-based healthcare. Real-time data has become more vital for healthcare organizations as clinicians seek more accurate information for diagnosing patients during their initial visit. Reports claim that healthcare providers and life science firms are among the 92% of the cross-industry organizations that plan to invest in near real-time big data analytics applications in the future. For instance, in April 2018, tech giant Google announced plans to reinvent the healthcare industry of U.S. with a focus on big data and AI. The company is reportedly using its know-how in AI to create a new system for the detection, diagnosis, and treatment of diverse diseases, that certainly will require GPUs for processing complex data, further augmenting the growth of the GPU industry.
Irrefutably, the gaming domain will be one of the most proliferating end-use sectors of the global GPU market. Mobile gaming is currently acknowledged as one of the fastest growing segments in the game industry – indeed, mobile users demand more immersive, connected gaming experience which provides high-resolution visual graphics and high-fidelity audio. Growing penetration of smartphones and tablets is also fueling the growth of the gaming industry. For instance, according to the ESAC Report 2018, in Canada around 80% users view video games as mainstream entertainment. Furthermore, reports from the Germany Trade & Invest cite that, in Germany, personal computers (PCs) stand as the most preferred gaming platforms with around 18.4M active users, followed by smartphones (17.2M), consoles (15.6M), and tablets (11.5 million).
The rapidly growing use of gaming devices and the paradigm shift towards online gaming are bound to upsurge the demand for high-end graphic processors to support gaming applications. As per estimates, the gaming sector is anticipated to hold a major share of 34% in the GPU market by 2024.
Some of the most preferred brands that have made a mark in the GPU industry include Nvidia, AMD, Intel, Microsoft, Google, IBM, PTC, Qualcomm, and S3 Graphics. GPU chip makers have been making heavy investments in addition to forging partnerships for developing new and better performing products. For instance, in January 2019, Nvidia announced its partnership with luxury carmaker Mercedes-Benz to develop a new automotive AI platform that could effectively offer control to the automaker's electronic gears equipped in its new car segments.
Author Name :Mateen Dalal