International Transportation Management
The rapidly escalating growth curve of Third Party Logistics (3PL) Market is quite evident from the numerous collaborations witnessed across this business sphere. For instance, recently, CFAO Equipment Ltd, one of the many leading suppliers of industrial and construction equipment across the globe, has signed an agreement with a Ghana-based logistics company called Third Party Logistics Limited. As per the conditions of this partnership, CFAO Equipment will be providing Toyota forklifts to Third Party Logistics to be used in its business operations. Third party logistics industry is characterized by innumerable such acquisitions, subject to the widespread utilization of these services by major companies across myriad geographies, owing to which experts claim 3PL market size to cross the frontier of USD 1,100 billion by 2024.
U.S. 3PL Market Size, By Solution, 2016 & 2024 (USD Billion)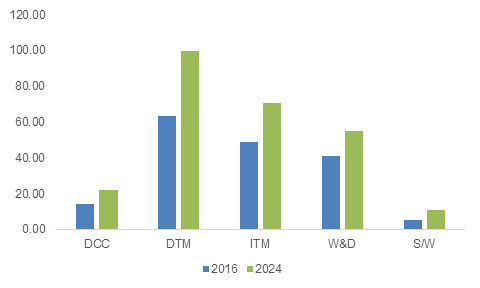 Third party logistics industry has lately evolved as one of the most lucrative fraternities of its time, pertaining to the extensive set of collaborative logistics services offered by 3PL providers. As per a 2004 survey, more than 40% of the confederates revealed that they outsourced services such as customs clearance, inbound transportation, warehousing, freight forwarding, outbound transport, and fright payment, to 3PL service providers, which has undeniably served to enhance the growth prospects of 3PL market. The same year witnessed the following trends in 3PL industry, pertaining to the regional landscape:
With the increasing rate of outsourcing logistics services to third parties, an estimate of reduction in costs was observed. For instance, the overall logistics costs for a company will be reduced by nearly 12%, if outsourced to third parties.
It was found that the order cycle period was reduced from 7 days to 4 days, approx., which is a major milestone for retail companies. This reduction was expected to eventually create a favorable roadmap for the development of 3PL market.
While logistics assets may be reduced by more than 24%, the overall inventory will be reduced by more than 8%.
The reduction in costs gave rise to a massive adoption of 3PL services, spurring third party logistics industry share across major geographies:
The survey indicated that more than 43% of a company's logistics budget across North America is expended on 3PL services, with around 78% of North American companies using 3PL services.
Similarly, while around 51% of a company's logistics budget across Western Europe was spent on 3PL services, with around 94% of the companies in Western European use 3PL services.
Get a Sample Copy of this Report@ https://www.gminsights.com/request-sample/detail/132
With the massive expansion of companies across the globe and the simultaneous expansion of their consumer pools, it is but obvious that the 3PL market will observe a meteoric rise over the next few years. This business space is driven by numerous factors, such as the requirement for reduced shipping costs, time product delivery, consumer satisfaction, and the need for an efficient technologically advanced supply chain network. However, in the ensuing years, 3PL industry will be majorly impacted by two key factors – technological innovations and the escalating growth of the e-commerce sector.
How the rising e-commerce sector will impact the growth of third party logistics market
The e-commerce sector has been experiencing an appreciable growth in the last few years, driven by the introduction of numerous technologies, which is slated to have a major impact on 3PL industry. Amazon, for instance, has been expanding its logistics sector since 2012, followed by Alibaba, its Chinese counterpart. The latter has designed its 'One Touch' platform to automate logistics services such as customs clearance and freight costs, to make it viable and cost-effective for SMBs to establish their position in 3PL market.
Amazon's Prime service has been growing at a rate of nearly 30% y-o-y since 2011, and has officially penetrated 3PL industry with a view to enhance the delivery time of Amazon products and consolidate the supply chain. The company also intends to lower shipping costs by delivering its own products and deploying advanced technology to integrate deliveries. As per reports, Amazon states that by penetrating 3PL market, the company may save more than USD 1 billion annually.
Amazon's disruption in 3PL industry may have a massive impact on DHL and UPS, subject to the fact that respectively 4% and 5% of their businesses come from Amazon's merchandise. On that note, it would be prudent to mention that the robustly expanding e-commerce sector would have a rather notable impact on the revenue share of 3PL market.
The impact of technological advancements on third party logistics industry
 The advent of IoT and big data analytics have indeed transformed the dynamics of major businesses, 3PL being no exception. The deployment of high-grade technology unfailingly leads to efficient results, and by extension, lucrative profits. It has come to the fore that many 3PL industry players already use programs such as visibility and distribution center (DC) management, electronic data interchange (EDI), transportation management, in addition to trade management tools, supply chain planning, data mining tools, data analytics, web portals, and network optimization.
Recently in May, Ryder System launched the RyderShare, a cloud-based platform to offer their consumers the benefits of periodic alerts, exception dashboards, and real-time shipment visibility, which can be accessed through a mobile app deploying GPS technology to link vehicle technologies and shippers. Major shipping companies and 3PL market giants, it has been observed, have been exploiting the rapidly changing technologies to maximize their profits. The proliferation of technology in 3PL industry is rather evident from the statistics – a recent survey reveals that more than 60% of shippers preferred the usage of technology to get a clear picture of trade lane assessments and related details with regards to costs and services. While, more than 70% shippers mentioned that real-time data analytics provided by 3PL service providers helped them get a deeper understanding of shipping alternatives. The extent of the role that technology will play in the development of 3PL market in the future therefore, is certainly unquestionable.
As China emerges as one of most profitable grounds for the development of 3PL industry as well as the e-commerce business, it is an undeniable fact that the region has been experiencing a slight increase in labor wages and facility costs. On these grounds, European and American manufacturers have been nearshoring production to countries such as Turkey, Hungary, Morocco, Poland, and Czechoslovakia. This has led to the generation of numerous warehouse spaces across Europe, inevitably prompting shipping companies to brainstorm newer approaches to garner profits. For instance, Maersk plans to establish a distribution network comprising warehouses to shift its shipping services from container shipping to inland transportation. Eventually, this will lead to Maersk becoming a major player in 3PL market, as the company may outsource its operations to other regional manufacturers.
The entry of Maersk and Amazon into third party logistics industry may pose a major challenge to the already existing service providers, nonetheless, it will enable these operators to scale up their service portfolio and offer a more diversified range of services. This service upgradation by means of deploying technological innovations will only serve to increase the growth rate of 3PL market, which will be augmented by numerous mergers and acquisitions. Maersk's acquisition of logistics provider Hamburg Sud, and Nestlé's selection of 3PL industry player, Kuehne + Nagel as its logistics provider, are key instances of the alliances that will define 3PL market in the future.
Author – Saipriya Iyer