Intrusion Prevention
The rapidly growing demand for connected devices across the globe is one of the pivotal factors driving enterprise networking market, given that these devices help facilitate real-time communication. In an effort to cope with and overcome the rapidly rising bandwidth bottleneck & network traffic issues, organizations worldwide are embracing network management solutions that keep the traffic flowing while also ensuring network security. The exponential surge in the number of IoT-enabled devices has drastically increased security risks, on the grounds of which organizations are rolling out enterprise network security solutions to obtain visibility of endpoints and unsecured applications & devices.
Europe Enterprise Networking Market Size, By Product, 2017 & 2024 (USD Million)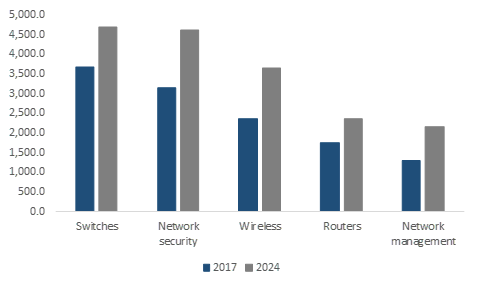 According to a 2018 Enterprise Networking Trends report by Cisco, the company in 2017 had redefined networking with the launch of the first intent-based networking system in the world. The company anticipates that going further, intent-based networking would be the future of networking and would also be responsible for fundamentally changing the way companies think about networks & empowering IT and help the firms with disruptions caused by IoT & cloud.
Enterprise networking market trends are also expected to witness a transformation on account of changing customer preferences toward converged network architecture as well as the network virtualization technology to strengthen the network functions. Shifting user inclination has further enabled organizations to enhance network efficiency at reduced operational costs, which would provide renewed growth prospects for enterprise networking market.
Get a Sample Copy of this Report:@ https://www.gminsights.com/request-sample/detail/2978
Unveiling Asia Pacific enterprise networking market trends:
APAC enterprise networking market is primarily driven by the large-scale adoption of cloud-based infrastructure in the region as the organizations are actively transferring their workloads onto the public cloud. According to a report by the not-for-profit organization, Cloud Security Alliance (CSA), in APAC, Japan, South Korea, Singapore & China are some of the primary nations that have witnessed the highest cloud adoption rate in 2017. The rising prominence of the cloud computing environment has further enabled network architectures that are disparate in nature to contribute to the increasing operational burden. These circumstances have led to a significant rise in demand for virtualization technology which makes the computing environment more agile, effectively addressing the growing network demands.
According to a research report by IT security company, Barracuda Networks, approximately a third of enterprises in the APAC region have already rolled out SD-WAN on a majority of their sites, while more than 55% organizations in the region are in the process of adopting SD-WAN. Propelled by the robust deployment of advanced networking solutions, APAC enterprise networking market is expected to depict the fastest growth rate of 8% over 2018-2024.
Analyzing enterprise networking market trends in terms of switch sales:
In an effort to keep up with the rising need for organizations to facilitate secure & real-time communications while effectively managing network traffic & bandwidth bottleneck issues, enterprises heavily rely upon high-speed ethernet switches. Switching is a crucial networking technology that is used across several organizations' premises to construct their local area networks (LANs) and also across vast distances to facilitate wide area networks (WANs) making switches one of the most widely used networking equipment across the world. According to a 2017 annual report by Cisco Systems, the company witnessed a 5% increase in revenue (approximately $452 million) from the sales of LAN fixed-configuration switches. The increase in the revenue was primarily due to the boost in sales of the company's Nexus & Catalyst series of switches.
According to a 2017 report by Forbes, in 2016 Cisco System's network switches division was responsible for approximately 40% of the product sales, representing more than 30% of the company's net revenue. Switches, having accounted for more than 25% of the enterprise networking market share in 2017, are expected to continue adding momentum to the industry growth, given the surging demand for high-speed data services that has fueled the adoption of network switching technology.
Attributing to the increasing network capacity needs across several global enterprises, the growth graph of enterprise networking market is projected to witness an exponential incline in the years ahead. According to Global Market Insights Inc., enterprise networking market size is expected to be pegged at a mammoth $90 billion by 2024.
Author Name : Akshay Kedari
Industrial control systems (ICS) security market, tagged as one of the most revolutionary verticals of the smart & sustainable technologies space, has garnered massive remuneration in the recent years, given the increasing demand for network connectivity to support critical infrastructure. Industrial automation and digitization trends have practically computerized most of the machinery and engineering components that have undeniably changed the way operations are now performed but have however increased attack surface areas. Reports in fact claim that the industrial sector witnessed a significant increase in the number of vulnerabilities in ICS between the years 2015 and 2017. It has been estimated that the number of vulnerabilities reported by major companies offering ICS solutions were 115 in 2016 and the number rose to over 197 in 2017.
North America Industrial Control Systems (ICS) Security Market Size, By Security Type, 2017 & 2024 (USD Million)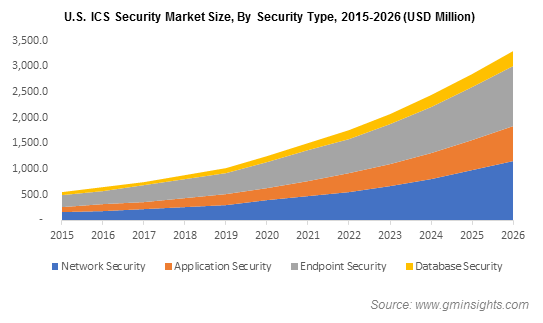 The growth in the ICS security industry can be attributed to these rising malware attacks that generally drain the bank accounts, steal identities, and blackmail organizations to bring services to a halt. A significant instance is that of the NotPetya ransomware that shut down several industrial IT networks across the U.S. and Europe. The gigantic outbreak resulted in losses of thousands of millions of dollars for large enterprises, from pharmaceutical company Merck to shipping firm Maersk. WannaCry was another popular ransomware that caused enormous damage, however it was later realized that this unsophisticated attack could have been easily prevented by following the basic IT security practices.
The robust prevalence of incidences similar to the aforementioned has served as a pivotal driver for ICS security market. Owing to these constantly evolving cyberattacks that are becoming more commonplace, security concerns have grown considerably in recent times, resulting into robust demand for ICS security solutions. Speaking of the growth in the commercialization potential, reports claim that the industrial control systems security market bagged USD 1.5 billion for the year 2017 and is expected to thrive further with industry players focusing on strategic collaborations and product innovation trends.
Get a Sample Copy of this Report @ https://www.gminsights.com/request-sample/detail/2680
Kepware's latest release of the KEPServerEX® version 6.5 industrial connectivity platform, in this regard is quite an example of the rising product innovation & diversification trends in the industrial control systems security market. The company's new product launch demonstrates its commitment to ICS security and its word in providing customers with best tools and services that support defense-in-depth programs. According to reports, the 6.5 version, which existing users can now avail for free, includes features such as enhanced password configuration, greater project file protection, comprehensive secure deployment guidelines, and other updated security components. Kepware, a business arm of PTC, also claims that it will introduce a Shared Responsibility Model that will enable the company to work together with its customers and address security issues experienced by industrial organizations of all sizes.
Industry experts speculate that in today's security landscape, the real pressure on all the industrial enterprises is to secure their operational networks. And Kepware's commitment in adding new security features and maintaining up-to-date components that would help customers reduce exposure to cyber-attacks and vulnerabilities will in turn strengthen its footprints in the competitive landscape of the global ICS security industry.
The partnership between Rockwell Automation and Claroty is another fine instance that portrays how leading industrial control systems security market players are constantly expanding their reach through such strategic collaborations. The partnership between the two is expected to develop a purpose-built anomaly detection software for the industrial network security.
Numerous other leading ICS security industry players like Cisco, Honeywell, IBM, Schneider Electric, and GE Digital are also expected to keep pace with the changing dynamics of cyberattacks while ensuring the delivery of comprehensive security solutions. On grounds of these efforts being undertaken by the industry players to innovate advanced & efficient products, industrial control systems security market is certain to tread along a lucrative roadmap in the years ahead. As per Global Market Insights, Inc., the overall industrial control systems security market size has been forecast to be pegged at USD 7 billion by 2024.
Author Name : Ojaswita Kutepatil
Endpoint security market, tagged as a revolutionary subset of the smart technology space, seems to have garnered the status of a niche vertical in the recent years. This growth can be precisely attributed to the fact that malware attacks have gained ferocity in stealing identities, draining bank accounts and generally bringing services to a standstill. In May 2017 for instance, a colossal cyberattack sealed down files and badly affected businesses, government bodies and the National Health Service of UK. Unfortunately, NHS back then, was still using an outdated version of the Windows operating system, the consequence of which led to MHS paying a heavy ransom in the form of bitcoins to retrieve the files.
Endpoint Security Market Size, By Application, 2016 & 2024 (USD Million)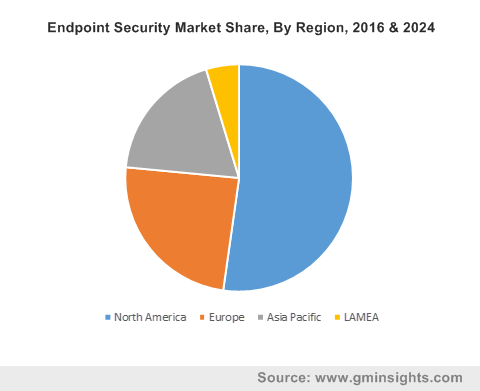 This revolutionary cyberattack which was later named WannaCry was an eye opener for the IT sector, which rapidly deduced that such attacks will only become more commonplace in the future if nothing definite and foolproof is done to thwart their onslaught. While numerous other incidences have served as focal drivers, this particular event was speculated to have a direct impact on endpoint security market trends.
Endpoint security market outlook from software component sales
Endpoint security systems essentially comprise centrally located software, that quite overtly categorizes software as a vital component of this business space. Driven by large-scale installations of antispyware, antivirus, firewall, login authentication and a host of intrusion prevention systems, endpoint security market has much to gain from the deployment of essential software. Indeed, estimates claim that software accounted for 80% of the overall endpoint security market share in 2016.
As budgets to improve client threat management witness an increase, endpoint security industry outlook from the software segment is likely to undergo an even more positive transformation. It is prudent to mention however, that the success and effectiveness of endpoint security depends on the proper implementation and updation of the endpoint protection that has to combat with constantly evolving threats. This has consequently added a considerable boost to the service-based endpoint security industry share as well, which is likely to witness favorable growth over 2017-2024.
Get a Sample Copy of this Report @ https://www.gminsights.com/request-sample/detail/1620
Public sector to adopt proactive approach to endpoint security
As the threat of malwares is becoming exponential and cyberattacks are increasingly demonstrating how crippling their effect can be, the public sector is changing its approach towards endpoint security. Sectors like BFSI and healthcare have emerged as pivotal growth avenues for endpoint security market, as they have begun to deploy the system in the dynamically changing customer and patient scenario. In fact, the financial institution demands the maintenance of strong web security. Consequently, the BFSI sector has turned to employ multilayered security to provide robust solutions against impending threats.
Endpoint security has become a major layer of security as it is software based and is targeted towards user devices like laptops, computers, smartphones and tablets. Therefore, the government has also enforced stringent norms to protect financial data, urging institutions to adopt such a host-based solution. This indeed led the BFSI sector to hold the largest share in endpoint security market in 2016 and lay the groundwork for further progress over 2017-2024.
The healthcare sector has also faced threats from cybercriminals who have put patients' lives on the line by hijacking data and installing malware. The deployment of patient friendly devices for healthcare has created a challenge that required the deployment of robust endpoint security to maintain a safe IT ecosystem. As on today, the healthcare sector has to provide a seamless means of communication and collaboration among stakeholders. Not to mention, the rate of information flow and access has also risen at a commendable pace, increasing the risk of malicious content finding its way into the system. The criticality of endpoint security has thus been recognized to keep patient and stakeholder information safe in the healthcare sector, making it a viable avenue for endpoint security industry.
The latest trends in cybercrime rely heavily on social engineering, using legitimate software as cyber weapon, ranging from spam to phishing. Leading endpoint security industry players like Symantec, Kaspersky, McAfee, Microsoft, Trend Micro, Comodo, Cisco, and Panda Security are therefore continually upgrading and expanding their scope through research and development programs to keep pace with the changing dynamics of cyber threats. For instance, Kaspersky Lab recently released its flagship product called Kaspersky Endpoint Security for Business, which included next generation threat detection, increased visibility and granular security controls like credential detection and vulnerability management. This provides an apt demonstration of the efforts being undertaken to innovate highly advanced and efficient products in this business space. As per estimates, endpoint security industry size has been forecast to be pegged at $7.5 billion by 2024.
Author Name : Paroma Bhattacharya