Inventory Management
Over the last few years, the revenue graph of OSS/BSS market has been depicting an exponential growth, on account of the surging digitization across the telecommunication, BFSI, and IT industries which have been deploying new communication technologies to accelerate the organizational workflow. The lure for inexpensive, safe, and time-saving operations has been encouraging companies to implement OSS and BSS solutions at the workspace. In addition, for empowering intelligent network management and automation, most of the industries have been giving preference for operational support services on a large scale.
The noteworthy transformation across the IT, transportation, telecom, and BFSI sectors with the emergence of next-generation technologies such as blockchain, IoT (Internet of Things), and AI (artificial intelligence) will thus have a considerable impact on the OSS/BSS industry share over the years ahead.
Europe BSS Market Share, 2017 & 2024 (USD Million)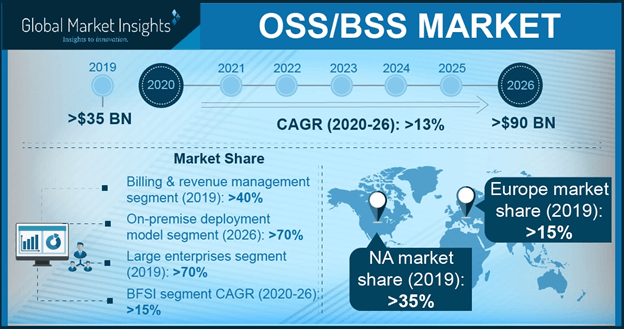 In line with the implementation of 5G networks across the telecom sector, players in the OSS/BSS market have been observing lucrative business opportunities. In fact, some telecom industries have been looking forward to strengthening their networking portfolio by automating working processes with regards to the use of 5G networks. For instance, recently, the Swedish multinational and telecommunication company, Ericsson acquired CENX to enhance its Operations Support Systems facilities. The acquisition will improve Ericsson's service assurance and closed-loop automation capabilities which will help it to leverage network visualization and automate the telecom network to serve enterprise customers effectively. The surging use of 5G networks with the assistance of OSS for improving the connectivity in service assurance, resource-inventory management, order management, product management, customer management, network management, and revenue management will strongly fuel the OSS/BSS market size.
Over the last few years, the increasing popularity of blockchain for decentralizing Network-as-a-Service (NaaS) for securing web wallets and wallet servers has also contributed toward the expansion of OSS/BSS industry. Leading technology companies have been deploying public blockchains to monetize their network resources that allow companies to analyze their operational and financial data. Considering the capability of OSS/BSS systems to secure financial data, BSFI companies have been shifting their focus toward the automation and digitization of financial processes, consequently demanding OSS/BSS technologies on a large scale. Powered by the surging adoption of modernized network security services, OSS/BSS market size from the BFSI sector will grow at an annual growth rate of more than 11% over 2018-2024.
Get a Sample Copy of this Report:@ https://www.gminsights.com/request-sample/detail/2911
Taking into account the vast expanse of OSS/BSS market, most of the software companies have been acquiring firms involved in the development of the operational support systems environments. For instance, recently, the U.S. based leading supplier of telecommunication equipment, software, and services, Ciena acquired DonRiver which provides service inventory management software for OSS environments. This acquisition has helped Ciena improve its business process through network resource planning and utilization of closed-loop automation. The software control and programmable infrastructure of DonRiver will further optimize the Ciena's inventory control solutions.
The shifting focus of end-use sectors toward the adoption of Software as a service (SaaS) and Cloud-based digitized deployment platform for fueling the use of automation and the effective network management has been augmenting the OSS/BSS industry outlook remarkably. The integration of Machine Learning and Artificial Intelligence technologies in the network services will transform the future of OSS/BSS market with its capability to manage complex network issues and improve the customers' experience.
The transition of companies towards automated operations from traditional manual processes to improve the working efficiency and accuracy is likely to stimulate the product demand over the years ahead. Indeed, the rising concerns among financial institutions, IT and telecom companies about data security and operational breaches are poised to increase the valuation of OSS/BSS market, slated to accumulate more than USD 50 billion by the end of 2024.
Author Name : Sunil Hebbalkar
Endorsed with a rich portfolio of digitally empowered consumers, artificial intelligence in retail market has been acclaimed as one of the most progressive verticals in the recent years. In the year 2017, this business space registered a global share of USD 650 million and is forecast to record a CAGR of 40% over 2018-2024, which is indeed humongous. With retail space becoming affluent with more number of e-commerce platforms as well as startups with huge technology appetite, the adoption of AI in retail market is bound to proliferate. Add to it, the technology is witnessing a slew of opportunities in sync with the hi-tech trends including the like of blockchain, AR, and Internet of Things establishing its footprints in the retail domain. Amidst all these tech interventions, the focal point of this consumer-driven industry remains delivering unrivaled shopping experience to the customers as well as ensuring optimal management of resources and stocks.
U.S. Artificial Intelligence (AI) in Retail Market Share, By Technology, 2017 (USD Million)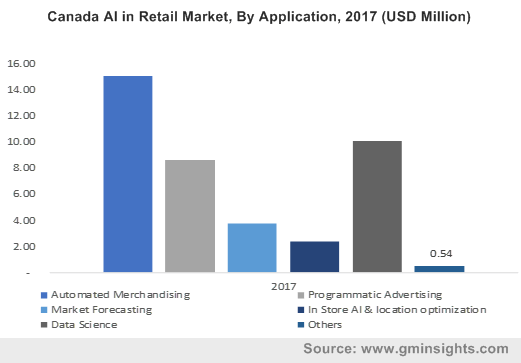 One of the classic examples of leveraging the AI technology is of Baidu, China's renowned artificial intelligence market player. The company grabbed the headlines with its attempt to promote its AI technology in aiding convenience stores manage their food stock more efficiently and resourcefully. For the record, the search engine giant has been supporting Ping++, an AI service provider since September 2017 to work with Today, convenience store chain with regard to a fresh food project. Under the terms, the company utilizes PaddlePaddle, a deep learning platform by Baidu along with its CTR model. Reportedly, the implementation of these technologies had a positive impact on the sales, post which Baidu introduced this model to dozens of stores for testing. In testing stores, the profits surged by 20% and food waste dropped by 30%. The instance vividly portrays the huge scope of artificial intelligence in retail industry. Since the past two years Baidu has invested over USD 1.5 billion in AI research in addition to its investment of USD 200 million for the development of a new R&D facility.
In fact, the Chinese market having the three most powerful names of the retail and tech space – Alibaba, Baidu, and Tencent (collectively touted as BAT), is betting big in the global AI in retail industry space. The three giants which are claimed to have a cut throat competition with the U.S. in terms of resources and capital are positioning themselves to become the 'future AI platforms'. The trio is also expanding in other Asian countries and investing heavily in U.S. based AI startups to leverage the power of AI. Backed by such powerful initiatives and presence of these conglomerates, APAC AI in retail market is forecast to be the fastest growing region, with an anticipated CAGR of 45% over 2018-2024.
Get a Sample Copy of this Report @ https://www.gminsights.com/request-sample/detail/2568
Further elaborating on the geographical trends, North America having procured more than 50% of the global share in 2017, has been leading the regional landscape of AI in retail market. U.S. has a major credit in the phenomenal regional trends with over 65% of investments (including M&As, private equity, and venture capital) in artificial intelligence technology. Add to it, the region is a major hub for startups in tandem with the presence of tech titans such as Google, IBM, and Microsoft.
Analyzing the aforementioned trends and the penetration of AI in retail industry, it is overt that the traditional retail model is bound to witness a disruption of sorts. The technology penetration will reshape the entire inventory management and operation cycle of the retail stores, thus providing a renewed shopping experience to the customers. Not only the efficiency and sales of the retail space will see an upsurge but through the proliferation of AI in retail market, the worldwide economy will progress massively, opening doors for several hi-tech startups and a plethora of new job opportunities. In terms of profitability scope, the overall AI in retail industry share is anticipated to surpass USD 8 billion by 2024, with untapped economies gaining major traction in terms of investment.
Author Name : Ojaswita Kutepatil
IoT in healthcare market has been forecast to witness remarkable growth prospect in the years ahead, subject to the robust enhancements in healthcare infrastructure. Digitization, having paved its way toward healthcare, has prompted numerous hospitals and regional governments to undertake initiatives to deploy IoT in the healthcare sector, owing to the rise in the requirement for mobility and communication in medical care. With the implementation of IoT facilities, healthcare service providers may be able to deal with the challenges related to consumer data sharing, since this technology is highly capable of dealing with patient data operations very efficiently. The emergence of the internet of things has significantly impacted the overall IoT in healthcare industry trends since the last few years. Statistically, in 2016, IoT in healthcare market held a revenue of more than USD 2 billion.
US IoT healthcare market, by application, 2016 & 2024 (USD Billion)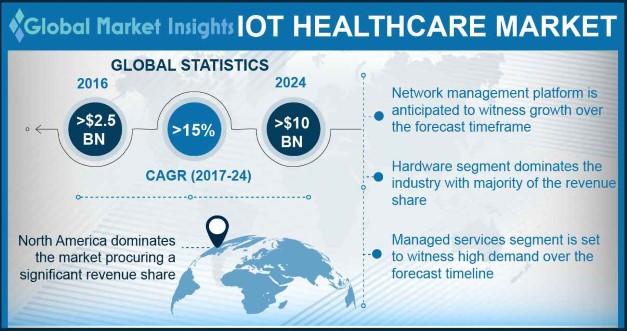 Nowadays, medical research institutes and healthcare product manufacturers have been joining hands to accelerate digitalization across the healthcare sector by deploying technologically advanced digital health products. For instance, Oxford University and National Institute for Health Research (NIH) have signed a five-year agreement with the London based giant in IoT in healthcare market, Drayson Technologies to build and commercialize digital healthcare tools. Through this research agreement, the Oxford Biomedical Research Center aims to deliver excellent benefits to patients from hospital to the comfort of their homes. For this research and development program, NIH has provided funding to Drayson Technologies, which also raised USD 53 million from several other funding agencies.
Get a Sample Copy of this Report:@  https://www.gminsights.com/request-sample/detail/2103
Recently, the integration of the internet of things with artificial intelligence (AI) has changed the outlook of healthcare institutions, having fortified medical care data maintenance with improved storage capability, robust connectivity, and high security. The well-known participants in IoT in healthcare market are also focusing on AI-based IoT healthcare facilities. For instance, IBM has recently developed an AI system for hospitals that will help to carry out tedious tasks much more efficiently and flawlessly than humans. In fact, IoT has helped bring about a paradigm shift in healthcare, subject to the introduction of smart devices that help provide and secure patient data. IoT also enables doctors to get in touch with patients staying in remote areas very easily through video conferencing, on account of which patients can eliminate the need for routine checkups. With numerous benefits under consideration, healthcare professionals are increasingly adopting IoT systems, which is certain to have a positive impact on IoT in healthcare industry.
The stand taken by regulatory bodies and regional governments have also influenced IoT in healthcare market outlook considerably. In fact, it has been observed that governments have been pressurizing healthcare centers to implement IoT, on the grounds of which numerous hospitals and clinics have deployed IoT technology to maximize patient comfort. In addition, many countries have commenced smart city programs incorporating healthcare IoT projects, which would also push IoT in healthcare market share. For instance, the Singapore government has collaborated with Intel and Dell to deploy the Internet of things for eldercare patient pilot project at the Saensuk Smart City. The large-scale deployment of smart city projects across several other countries will further stimulate IoT in healthcare industry size over the years ahead.
In the future, the integration of IoT in healthcare facilities is likely to increase the possibility of operating analytical tools and maintaining electronic health records. The growing renovation of established healthcare facility centers is another major factor that will push IoT in healthcare industry size, slated to cross USD 10 billion by 2024.
Author Name : Sunil Hebbalkar