IT & Telecom
In world being blitzed with emerging applications that include Internet of Things, 5G network and 4K video streaming, GPON market is expected to find immense growth opportunities over 2018-2024. For instance, earlier in 2018, SK Broadband of South Korea announced that it will be launching high-speed internet service that will be capable of delivering 2.5 gigabit per second. The service will allow users to download high volumes of content using multiple devices while the service will be 3 times faster than most of the South Korean internet services that are already quite fast.
Europe GPON Market Revenue, By Application, 2017 & 2024 (USD Million)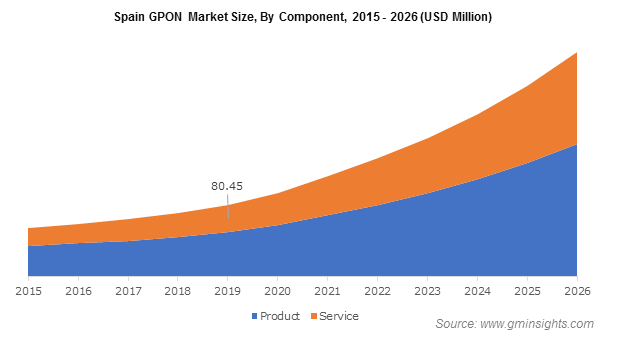 The technology at the basis of making this possible is Gigabit Passive Optical Network or GPON and while SK Broadband's current coverage is 40%, the company plans to invest 1 trillion won and expand up to 80%. Korean rival KT is also planning to roll out similar services and the South Korean government is also planning to roll out 5G wireless internet in 2019. With such developments not being bound to South Korea alone, it is predictable that the GPON market will witness significant growth in the ensuing years.
The world, currently replete with an increasing number of connected devices and robust development in machine to machine communication, is swiftly preparing itself to implement 5G technology. The only viable way to benefit from such emerging applications is by having the right network backbone in place – which paves the way for the growth of GPON market. According to reliable statistics, the global IoT market nearly doubled in size between 2014 and 2017. There were nearly 23.14 billion IoT devices in the world in 2018 which is estimated to cross 31 billion by 2020. The global IoT market is anticipated to register its name in the trillion-dollar industry space by 2019 with 20.35 billion devices across the globe as smart, connected cities that will be using connectivity, communication technology and information to solve urban problems deploying IoT for the purpose. With IoT market having already chronicled its name in the billion-dollar vertical, IoT proliferation is further expected to add to the growth of the GPON industry.
Get a Sample Copy of this Report:@ https://www.gminsights.com/request-sample/detail/2954
Speaking of IoT it is imperative to mention the onslaught of 5G networks and their support in bringing a whole new dimension to the GPON market. the business world is looking forward to the adoption of 5G as when it is becomes a widely used reality, 5G is poised to become a disruptive force. Applications such as virtual reality, augmented reality, artificial intelligence and telepresence, that have been built on underlying technologies are expected to benefit from massive data pipes and ultra-low latency. While industrial automation and robotics will become a reality, cars and drones will become capable in communicating with each other taking machine to machine communication to a whole new level. With enhancement in machine communication capabilities it is expected that increasing innovation will further increase the need for better 5G performance and eventually lead to expansive prospects for the GPON market.
Notably, NG-PON2 would be the fastest growing segment in the GPON market with a CAGR of approximately 20% over 2018-2024. The emergence and progress of 5G will act as the most important driver for the NG-PON2 segment and this has been underlined by Altice, the international network operator that has announced that it will be expanding its NG-PON2 capabilities as it prepares for disaggregated radio access network architectures and potentially overwhelming data traffic volumes brought about by the advancement of 5G. The operator aims at supporting 5G services with full support for residential, commercial, fronthaul and backhaul service requirements and strategizing to save deployment costs while creating a positive business case for fiber as an enabler of 5G services.
With the demand for futuristic technological development on the rise, GPON market is expected to register significant profits as it becomes the enabler of disruptive forces like 5G network.
Author Name : Paroma Bhattacharya
Over the last few years, the revenue graph of OSS/BSS market has been depicting an exponential growth, on account of the surging digitization across the telecommunication, BFSI, and IT industries which have been deploying new communication technologies to accelerate the organizational workflow. The lure for inexpensive, safe, and time-saving operations has been encouraging companies to implement OSS and BSS solutions at the workspace. In addition, for empowering intelligent network management and automation, most of the industries have been giving preference for operational support services on a large scale.
The noteworthy transformation across the IT, transportation, telecom, and BFSI sectors with the emergence of next-generation technologies such as blockchain, IoT (Internet of Things), and AI (artificial intelligence) will thus have a considerable impact on the OSS/BSS industry share over the years ahead.
Europe BSS Market Share, 2017 & 2024 (USD Million)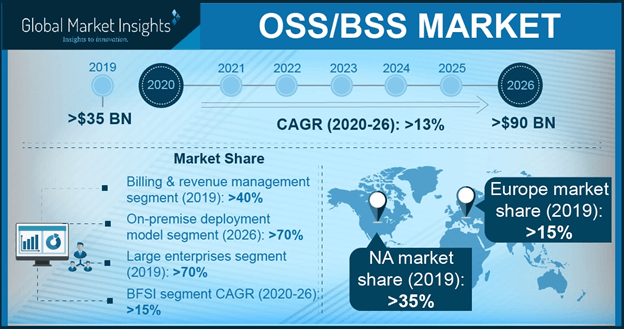 In line with the implementation of 5G networks across the telecom sector, players in the OSS/BSS market have been observing lucrative business opportunities. In fact, some telecom industries have been looking forward to strengthening their networking portfolio by automating working processes with regards to the use of 5G networks. For instance, recently, the Swedish multinational and telecommunication company, Ericsson acquired CENX to enhance its Operations Support Systems facilities. The acquisition will improve Ericsson's service assurance and closed-loop automation capabilities which will help it to leverage network visualization and automate the telecom network to serve enterprise customers effectively. The surging use of 5G networks with the assistance of OSS for improving the connectivity in service assurance, resource-inventory management, order management, product management, customer management, network management, and revenue management will strongly fuel the OSS/BSS market size.
Over the last few years, the increasing popularity of blockchain for decentralizing Network-as-a-Service (NaaS) for securing web wallets and wallet servers has also contributed toward the expansion of OSS/BSS industry. Leading technology companies have been deploying public blockchains to monetize their network resources that allow companies to analyze their operational and financial data. Considering the capability of OSS/BSS systems to secure financial data, BSFI companies have been shifting their focus toward the automation and digitization of financial processes, consequently demanding OSS/BSS technologies on a large scale. Powered by the surging adoption of modernized network security services, OSS/BSS market size from the BFSI sector will grow at an annual growth rate of more than 11% over 2018-2024.
Get a Sample Copy of this Report:@ https://www.gminsights.com/request-sample/detail/2911
Taking into account the vast expanse of OSS/BSS market, most of the software companies have been acquiring firms involved in the development of the operational support systems environments. For instance, recently, the U.S. based leading supplier of telecommunication equipment, software, and services, Ciena acquired DonRiver which provides service inventory management software for OSS environments. This acquisition has helped Ciena improve its business process through network resource planning and utilization of closed-loop automation. The software control and programmable infrastructure of DonRiver will further optimize the Ciena's inventory control solutions.
The shifting focus of end-use sectors toward the adoption of Software as a service (SaaS) and Cloud-based digitized deployment platform for fueling the use of automation and the effective network management has been augmenting the OSS/BSS industry outlook remarkably. The integration of Machine Learning and Artificial Intelligence technologies in the network services will transform the future of OSS/BSS market with its capability to manage complex network issues and improve the customers' experience.
The transition of companies towards automated operations from traditional manual processes to improve the working efficiency and accuracy is likely to stimulate the product demand over the years ahead. Indeed, the rising concerns among financial institutions, IT and telecom companies about data security and operational breaches are poised to increase the valuation of OSS/BSS market, slated to accumulate more than USD 50 billion by the end of 2024.
Author Name : Sunil Hebbalkar
Global automated infrastructure management (AIM) solutions market size is expected to gain significant traction in the forthcoming years due to growing dependence on data center solutions for the management and processing of data across various end-use segments. Evolving digitization trends have resulted in increased adoption of cloud-based technologies in data centers. These ensure efficient management of various IT operations.
Cloud infrastructure automation tools offer numerous benefits such as automatic software updates and increased collaborations that help ensure fast and flexible delivery of service. One of major advantage of cloud computing is that it provides high competitiveness to the system, ensuring efficient management of complex and hybrid cloud environments. These tools facilitate delivery of optimized infrastructure solutions by accelerating the organizational process, particularly for mission critical applications.
The use of online data management platforms has risen substantially over the past few years. Data volumes equivalent to several terabytes need to be handled and processed regularly. Consequently, this has created a strong need for reliable software applications to help perform critical operations including seismic interpretation, well-path planning, and unconventional system engineering. Robust demand for high-performance computing, data processing, data transfer and data back-up solutions is driving global AIM solutions market outlook.
On the basis of applications, global AIM solutions industry share is segmented into device discovery, asset management, and incident management. Device discovery solutions are projected to record a healthy 14% CAGR over 2019-2025. These solutions are predominantly used to detect the insertion or removal of patch cables. Device discovery tools play a key role in collecting and storing information regarding cabling connectivity. These tools are responsible for providing information pertaining to connected devices and reporting their statuses in the IT infrastructure.
Get a Sample Copy of this Report:@ https://www.gminsights.com/request-sample/detail/2891
Device discovery software further allows to connect the acquired information with other sources via Application Program Interfaces (API). The software enables users to discover network devices within the facility and help track their exact position. All the aforementioned benefits offered by device discovery solutions will lead to increased adoption of the software, opening up promising new opportunities for AIM solution developers worldwide.
Asia Pacific automated infrastructure management solutions industry is poised to amass substantial gains in the years to come. This can be primarily attributed to rising penetration of IT and telco companies across various APAC countries. These companies are rapidly adopting AIM tools for efficient data management and facilitate work operations of their data centers. This has resulted in a tremendous rise in the construction of data center sites across the region, stimulating the demand for cutting-edge AIM hardware and software.
Rapid expansion of the manufacturing sector in major APAC countries such as China, India and Japan has led to a sharp rise in export activities. Subsequently, this is pushing the need for automation of data center facilities. Manual handling and management of data poses several challenges and issues which is promoting the adoption of infrastructure automation tools. In addition, complexity relating to document management of cabling networks is further encouraging data center operators to switch to enhanced solutions, fostering APAC AIM solutions industry forecast.
Author Name : Hrishikesh Kadam
The surging implementation of IT in several end-use sectors including banking, retail, and telecom is likely to fuel data center cooling market. Currently, data centers play a pivotal role in the functioning of several business enterprises, given that any failure in data center operations can have a rather negative impact on business growth. In fact, data center heat removal is one of the essential back strategies to maintain data centers. The growing priority for precise cooling and heat rejection facilities in order to collect unwanted heat from data centers is slated to stimulate data center cooling industry share. The ongoing innovations in cloud computing and data center platforms has also been favoring the growth of this business vertical. In addition, the emergence of IoT and artificial intelligence has also positively influenced the revenue potential of data center cooling market size, pegged at USD 8 billion in 2016.
China data center cooling market size, by service, 2016 & 2024 (USD Million)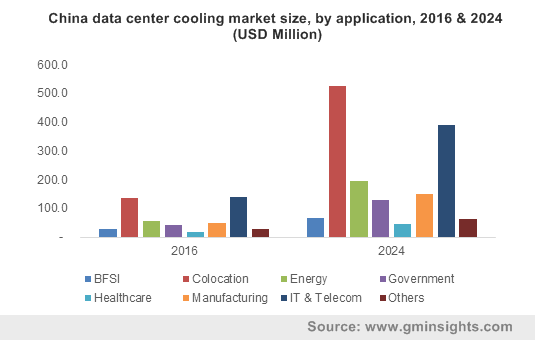 Data center cooling is one of the primary challenges ahead for data center users, owing to the adverse effects of excess heat and high temperature on the performance and lifespan of date centers. In order to enhance operational performance, many organizations are deploying more blade servers, which however results in high electricity requirement. The rise in electricity and cooling demand not only hampers the productivity of data centers but also increases the cooling costs. In this regard, several business enterprises are investing heavily in the development of efficient cooling and heat management facilities, which would considerably impact data center cooling industry trends. For instance, well-known internet giants Facebook and Google have declared an investment plan of USD 700 million to construct data centers in Iowa across U.S, which would help impel the commercialization scope of the regional data center cooling market. Thus, the rising number of investments in data center infrastructure development by leading tech behemoths is likely to influence data center cooling market outlook positively over the years ahead.
Get a Sample Copy of this Report @ https://www.gminsights.com/request-sample/detail/423
Traditionally, in order to construct a new data center, nearly 35% of overall expenditure should be invested on cooling equipment. In fact, the increasing usage of emerging technologies such as Internet of things (IoT) and AI are fueling the requirement of powerful and larger data centers. In this regard, many of the giants in data center cooling market including Black Box Corporation, Schneider Electric SE, Rittal GmbH & Co. KG, Nortek Air Solutions, AdaptivCOOL, and Airedale International Air Conditioning are investing heavily in research and development activities to develop efficient and cost-effective cooling technology. As of now, most of the business organizations are primarily giving preference to liquid cooling systems, pertaining to its capability to consume lesser energy as compared to other systems. Some of the pointers supporting the deployment of these systems have been enumerated below.
Reduction in required floor space: Liquid cooling system takes 50% to 75% less floor space, which may help to install a new data center within available space.
Simplified infrastructure: Pertaining to the removal of components such as ducting, chillers, small PDUs and CPS, LCS's simple infrastructure allows data centers to fit more IT facilities within the same space, thus augmenting data center cooling industry trends.
Safety: Liquid cooling systems offer complete safety when used alongside electronic components.
The robust growth in digitalization across the globe and the increasing demand for big data and cloud computing are likely to have a tremendous influence on data center cooling market. More importantly, increased application development and the fierce competition may help generate lucrative opportunities for data center cooling industry players, thus favoring the growth of the overall business vertical.
Author Name : Sunil Hebbalkar
Nlyte's partnership with the IBM Watson IoT group is an exemplar precedent underlining rapid expansion of data center infrastructure market. Recently inked, through this deal, the companies intend to leverage maximum potential of advanced analytics and AI in its data centers.  Speaking of the strategic agreement, one of the spokesperson of Nlyte has been quoted saying that the complexity, scalability, and optimization of modern data centers demand the requirement of advanced analytic solution integration. Reportedly, Nlyte is amalgamating its patent NEO (Nlyte Energy Optimizer) with IBM Watson's advanced AI abilities in a quest to provide data centers with new heights of operational comprehensiveness. This alliance, as per experts' opinion, has surely strengthened Nlyte's stance in data center infrastructure market that pegged a valuation of USD 40 billion in 2017.
Europe data center infrastructure market, by product, 2017 & 2024 (USD Million)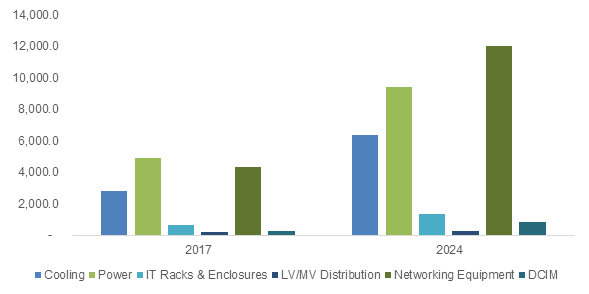 A stringent regulatory framework speaks volume and has much to contribute in data center infrastructure industry augmentation. With cyber-attacks becoming a global concern, various regulatory bodies have mandated guidelines to identify and continuously monitor potential vulnerabilities in digital infrastructure. Companies partaking in data center infrastructure market therefore, now are extremely particular to develop solutions that are completely in compliance with regulatory standards. In this regard, recently Nlyte Software made its way to headlines, for receiving the much awaited approval for its DCIM solution from the Department of Homeland Security.
Allegedly, the latest approval makes the America data center infrastructure industry giant to become the first DCIM solution provider in the United States that has strictly adhered to all the conditions mentioned in the Phase 1 of CDM program (Continuous Diagnostics and Mitigation) of the federal government. For the records, the U.S. federal government rolled out this aforementioned CDM Program few years back, in a bid to ensure integrity and security of hardware as well software assets of the nation. Not to mention, with increasing adoption of these regulations, U.S. data center infrastructure industry is certain to carve a profitable roadmap over the ensuing years.
Get a Sample Copy of this Report@ https://www.gminsights.com/request-sample/detail/2580
Citing yet another instance where governmental initiative has given a substantial boost to regional data center infrastructure market, the Northern Territory of Australia that has released its Budget for the year 2018-2019, has allocated a sum of AU$18.38 million to support initiatives that are under the Department of Corporate and Information Services. Reportedly, as a part of the scheme, the government has a plan to increase its number of physical servers and number of fully managed servers by 16 and 100 respectively in this financial year. With such enormous project in the pipeline, regional data center infrastructure market players are sure to gain monetary benefits in securing Australia's data center network.
Speaking of the regional aspect, it is prudent to mention that Asia Pacific is at the vanguard of data center infrastructure industry. In fact, Asia Pacific market is forecast to witness nearly 14% CAGR over 2018-2024. The growth can be primarily attributed to the increased penetration of digital technologies among consumers as well as businesses across this belt. Rapid industrialization along with robust growth in outsourcing activities especially in countries like India and China have led to a subsequent increase in organizational data traffic. In a bid to accommodate this huge traffic, companies are increasingly investing in new facilities, thereby proliferating APAC data center infrastructure industry.
Despite these growth opportunities, data center infrastructure market is still facing a challenge of bridging complex web of interconnections with a data center network. Nonetheless, with the advent of optimized workflow procedures, adoption of real-time monitoring system, and enhanced tools, the aforementioned stumbling block is likely to get overcome within a short span. Furthermore, the lure of big data analytics and extensive proliferation of cloud technologies would leave a complementary influence on data center infrastructure industry space. In terms of commercialization, the business space is forecast to exceed a massive valuation of USD 90 billion by 2024.
Author Name : Satarupa De
The unprecedented evolution of cloud computing technology is undeniably driving new levels of innovation in data center networking industry. The extensive penetration of Internet of Things (IoT) has brought a renewed dimension in the business model, where the modern change in traffic patterns expose the limitation of conventional network. In the light of the recent scenario, data center networks are expected to exhibit not only scalability and high performance, but also flexibility, agility, and enhanced automation. Companies ranging from enterprises to cloud service providers are highly influenced by the growing trend of data & network virtualization and are seeking to integrate advanced technology solutions to curtail the overall operational expenditure. Incidentally this has encouraged core tech juggernauts to come up with newer innovations that could potentially change data center networking market dynamics.
China data center networking market size, by end-use, 2017 & 2024 (USD Million)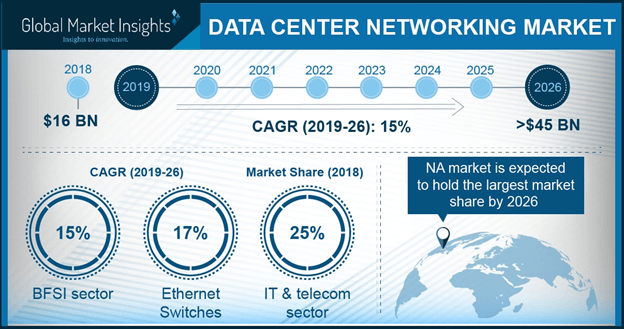 Globally acclaimed SDN solution provider, Nokia's Nuage Networks recently made its way to the front page with its latest data center transformation projects with China Mobile and Spanish multinational broadband, Telefónica. Reportedly in both these projects, Nuage's VNS (Virtualized Networks Services) has been used in a bid to provide more elasticity to these data center sites. Nuage Networks' initiatives, as per experts' opinion, coherently depict the progress of data center networking industry toward network slicing with SDN (software-defined networking).  For the records, Telefónica worked with Nuage in order to leverage its hefty yesteryear investment in SD-WAN infrastructure. The integration of VNS solution in its service is further to offer enterprises the facility of configuring and customizing value added services via a self-service portal. Not to mention, the extensive growth of cloud computing technology has indeed proved to be a catalyst in sowing the seeds for advancing the innovation in data center networking market.
Get a Sample Copy of this Report@ https://www.gminsights.com/request-sample/detail/2578
In yet another turn of events, American tech conglomerate, IBM Corporation last year announced its plan of launching four new data centers in the United States, in a bid to support the surging demand for cognitive capabilities. Experts believe the project is sure to leave a perpetual impact on U.S. data center networking market, as the transition to cloud-based software would necessitate the requirement of replacing the traditional networks. In fact, U.S. and Canada conjointly held almost a lion's share (40%) of data center networking industry in 2017. The subtly changing trends toward cloud-based software in tandem with growing popularity of streaming devices and social media is claimed to be a sure shot indicator of the fact that U.S. would experience an upper hand in data center networking industry over the ensuing years.
Data center networking market giants are betting big on highly advanced storage and memory technologies to gain a competitive edge. Klas Telecom for instance, has recently released an upgraded version of Voyager TDC. Christened as Voyager TDC 2.0, this groundbreaking technology claims to provide users the flexibility of the original system, in addition to NVMe and double storage capacity that ensure better and faster performance. If reports are to be relied on, the company will demonstrate how users can integrate AI and machine learning technology at tactical edge, leveraging the ultra-high-power process capability of Voyager TDC at SOFIC 2018. Yet another trend that is quite vivid in the competitive terrain of data center networking industry is technological proliferation via strategic partnerships. All in all, aided by the vast technology landscape where myriad companies are becoming consumer centric and data driven, data center networking market share is forecast to exceed a valuation of USD 35 billion by 2024.
Author Name : Satarupa De
The escalating demand for rapid query resolutions & online customer self-service are expected to propel intelligent virtual assistant (IVA) market alongside the path of progress. IVA has undoubtedly, in recent times, improved the users' online service experience as well as offered increased sales to e-commerce firms. Indeed, the product is becoming the preferred medium to gain information, make purchase decisions, and resolve issues. Companies like Microsoft and Google are adopting the technology to improve ease of access and streamline activities, and increasingly implementing the technology as well to enhance operational efficiency. For instance, ABIe, a virtual assistant developed by EIS for Allstate Insurance, efficiently helps agents to answer questions regarding business insurance policies.
Germany IVA market size, by application, 2017 & 2024 (USD Million)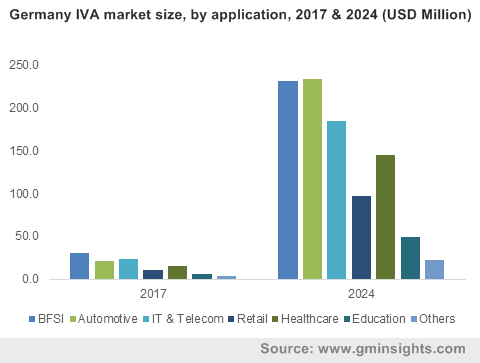 IVA is reportedly becoming more and more commonplace as consumer appetite for the product has been depicting an upsurge. According to an independent survey conducted with 1,500 consumers across Europe, 81% of the respondents said they would prefer interacting with a virtual assistant as it offers enhanced online customer experience. Close to 72% welcomed the product as a key part of every website while a similar proportion claimed that they would spend longer on a website that had one. This response can undeniably be credited to the fact that IVA can take on multiple roles on a website, such as performing various helpful tasks, answering customer queries and connecting to enterprise systems when needed. These features respond according to the marketing requirements of the customers, efficiently improving the site loyalty and experience.
In order to cater to the best plausible global clientele, companies are increasingly investing in IVA to reduce costs from fields such as email response, technical telephonic support, and assistance on call. The implementation of the technology will enable the reduction in the resolution time, call wait times and allowing call transfers when an issue escalates, thereby augmenting IVA market share. The growing deployment of IoT is also expected to supplement the IVA market growth. In fact, IoT is known to have increased the quality and quantity of data being collected by the product. IVAs responding to text or speech queries through apps and smartphones has further enhanced customer engagement, a fact that has further helped impel the IVA industry trends.
Get a Sample Copy of this Report:@ https://www.gminsights.com/request-sample/detail/1094
Speech recognition is one of the most vital technologies proliferating IVA market, as the system efficiently improves productivity, eliminating typing time, giving users additional time to focus on other work. Voice recognition software, in addition to being faster in task completion, are increasingly accurate when it comes to vocabulary. Speech recognition technology also makes invaluable contributions to businesses that offer customer services eventually reducing organizational costs. Furthermore, these systems improve interoperability owing to the adoption of IoT, further driving the IVA market size from speech recognition technology.
The Germany IVA market is expected to depict considerable growth in the years ahead, owing to the product's new-found usage in the region's thriving automotive market. Technological advancements in IVA have resulted in increased adoption of voice control and gesture control features in next-gen vehicles. IVA can now be integrated within vehicle systems such as automatic parking, lane change assist, adaptive cruise control, and other ADAS controls.
Regional automakers are constantly seeking ways to integrate the product in upcoming car segments to revolutionize driving experience. For instance, the German automotive giant, BMW has recently announced that its upcoming car segment would come with Intelligent Personal Assistant. Like Apple's Siri or Amazon Alexa, the new AI-based virtual assistant would reply to voice commands and could adjust the temperature, lighting mood and music, among other things in the car efficiently, claims the company.
North America, apart from Germany, is another region that is forecast to accumulate commendable gains by 2024, driven by the expansive technological advancements in the region. Major software companies, like, Microsoft & IBM, have also been investing in IVA, thereby enhancing the growth prospects for North America IVA market.
The competitive spectrum of intelligent virtual assistant market also comprises other players like Amazon, Google, Microsoft, Apple, Inc., Artificial Solutions, eGain Communications, IBM Corporation, Nuance Communications, and Speaktoit, Inc. These companies are known to increasingly invest in product development and innovation to bring in intelligent assistance into the mainstream. Meanwhile, several tech giant firms are adding the product to their portfolio to gain added sales. For instance, on January 7th, 2019, the world's leading television manufacturers Samsung, LG and Hisense announced that they would open their devices to Google Assistant and Amazon Alexa. As advancements in the fields of automation, machine & deep learning, conversation interfaces, and natural language processing continue to surge, IVA market share is certain to soar in the years to come.
Author Name : Mateen Dalal
A robust increase in the adoption of advanced technologies such as cloud computing and IoT will drive the identity and access management market in the upcoming years. IAM apparently makes businesses more agile, efficient and scalable, and also offers them considerable benefits such as reduced risk of data breaches, centralized access control, ensured regulatory compliance, improved user experience, and a significant reduction in IT costs. This has quite overtly led to a spurt in investments in IAM market from venture capitalists and enterprise organizations.
Japan Identity and Access Management (IAM) Market Size, By Solution, 2017 & 2024 (USD Million)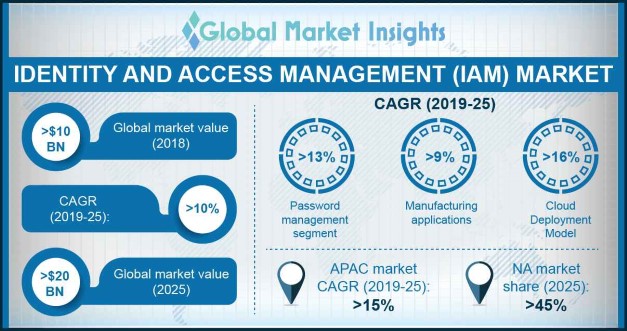 IAM industry has also received a considerable boost from robust investments in new artificial intelligence and machine learning solutions that are being undertaken for managing the rapid proliferation of identities and achieving least privileged access. For instance, recently Google established a collaboration with Facebook to develop their artificial intelligence to offer users a much better work experience.
Proliferation of workplace mobility is a major factor that would propel identity and access management market. Global acceptance of workplace mobility by businesses has empowered employees to work from anywhere, at any time and from any device. As per sources, by 2020, mobile workforce will reach to about 105.4 million people, that translates to roughly 72.3% of the total workforce in the U.S. On a global scale, the number is set to reach 1.87 billion by 2020, or 42.5% of the worldwide workforce. These statistics provide vital evidence to the fact that identity and access management market share is likely to soar in the years to come.
The Internet of Things has already redefined the concept of identity management. As IoT moves beyond consumer mainstream wearables and into massive enterprise deployments, IT teams are paying more attention towards securing access to the networks that connect to valuable products, including smart grid hardware, factory equipment, and more. IAM and privileged access management (PAM) demands are expected to become more complicated, with tougher obstacles and exponentially more endpoints. In consequence, the requirement of a strong IAM solution would become more commonplace, thereby augmenting the overall IAM industry.
Get a Sample Copy of this Report:@ https://www.gminsights.com/request-sample/detail/176
IT & telecom applications to drive the IAM market trends:
The rapidly escalating growth in the telecom & IT sector is certain to impel identity and access management market. As the IT & telecom industry works with a large user base, it is essential for the service providers to maintain the security of the sensitive user data. According to a survey by The Communications Fraud Control Association (CFCA), the telecommunications industry experienced $38.1 billion in fraudulent charges in 2016. As per CFCA, cyber fraudsters are seemingly working to develop new ways to siphon money from renowned, well-established organizations of various sectors.
The aforementioned survey results are a strong indicator of the fact that the IT sector will serve to be one of the most profitable growth avenues for IAM market. By implementing IAM solution business could be shielded by fraudsters and hackers, eventually saving billions in remuneration for organizations. According to Global Market Insights, Inc., identity and access management market size from IT and telecom applications was worth USD 1,420 million in 2017 and is expected to register a commendable growth rate over the ensuing years.
Unveiling North America IAM industry outlook:
North America is undoubtedly one of the most crucial regional generators for identity and access management market. In 2017, North America accounted for a mammoth 46% of the overall industry share, primarily on account of the changing workforce requirements and the surging adoption of cloud applications and BYOD. The U.S. the most dominant regional ground for North America IAM market, given that security is the foremost crucial parameter for the plethora of companies in the country.
North America IAM market has also received a considerable boost owing to the presence of a stringent regulatory landscape in the region. The continent is known to face periodic cybersecurity thefts – in 2017 alone, the average cost of a data breach was around USD 117,000 for SMEs and USD 1.3 million for large enterprises. On these grounds, the regional governments have undertaken stringent initiatives and invested extensively to come up with highly secure systems to protect user data, thereby propelling North America IAM industry share.
Some of the most prominent contenders in the global identity and access management market include IBM Corporation, SailPoint Technologies Holdings, Inc., Okta, Inc., Symantec, Gemalto, Crossmatch, Oracle, HID Global Corporation, CA Technologies, OneLogin, Inc., OpenText Corp., Ping Identity, ForgeRock, Net IQ, and Dell, Inc. These companies are often found conducting mergers and acquisitions to increase their business reach and expand their customer base. For instance, Marsh, a global leader in insurance broking and innovative risk management solutions, recently announced a collaboration with IBM Corp. to provide clients with a wider access to blockchain solution for ensuring proof of insurance.
IAM solutions have proven to be effective in reducing challenges faced by organizations with regard to security and privacy such as data loss, data leakage, insecure usage, and insider attacks. IAM also decreases burden on the IT departments due to its self-service functionality. Driven by the fact that IAM delivers secure ways for authentication, authorization, and management of users without compromising on convenience and usability, the global IAM market share is anticipated to grow at a CAGR of 10.4% over 2018-2024.
Author Name : Mateen Dalal