IT
The rising occurrence of a host of advanced, complex cybersecurity threats has helped impel the global virtual private network (VPN) market, given that these threats stand to jeopardize the integrity, privacy and data of businesses. With globalization becoming widely commonplace, and businesses striving to expand their sphere of influence to operate on an international level, the need for organizations to connect their business units together has also risen in proportion. These factors, over the last decade, have made the internet the preferred platform for companies and individuals to conduct their business. However, the vulnerability characterizing the internet has rendered it extremely inadequate in terms of security, a flaw that cybercriminals typically exploit to commit frauds & thefts.
U.S. VPN Market Revenue, By Component, 2017 & 2024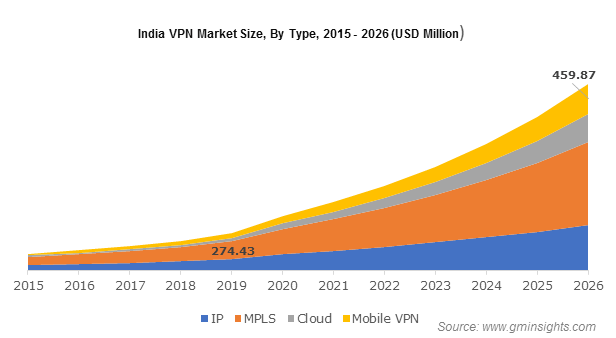 In a manner of speaking, the VPN technology facilitates a cost-effective and safe solution to the issue of safeguarding company networks. The growing prominence of wireless devices across different organizations & businesses would thus drive the growth of VPN market as improving internet speeds coupled with falling prices are catapulting the rate of adoption of a plethora of wireless & mobile devices. Given that such devices are commonly used across organizations to access several applications present on private company networks from remote locations, the VPN technology has consolidated itself as an extremely crucial business component, thereby driving VPN market trends.
Unveiling global virtual private network market trends from commercial applications:
The commercial sector is one of the most prominent application segments of the global VPN market. Comprising end-use domains such as the BFSI, healthcare, manufacturing, government and IT & telecommunication sectors, VPN market size from commercial applications is expected to grow at an impressive CAGR of about 15% over 2018-2024. This growth can be primarily attributed to the surging practice of digital recordkeeping and the adoption of cloud technology in these sectors that is completely changing the way customers access their information, rendering VPN technology as the backbone of these businesses.
Get a Sample Copy of this Report:@ https://www.gminsights.com/request-sample/detail/2756
While, organizations in these domains usually utilize a VPN of their own, a majority of them opt for commercial VPN services provided by private companies. According to Surveillance Self-Defense, an independent non-profit organization, a commercial VPN is a privately offered service that provides organizations a secure channel to relay their data over the service provider's own network. These services, if hosted in a foreign nation, while protecting users' data from cyber threats, also protect the information from local governments and allow the information to bypass national censorships.
Unveiling global virtual private network market growth via rising adoption of remote access connectivity:
Remote access connectivity has been touted to be one of the most deployed models in VPN market. The increasing need of organizations to find a secure as well as affordable way to relay secure company data from their private network to employees working at a remote offsite location is a primary factor driving the growth of the remote access-based VPN market. As opposed to site-to-site VPN, which allows a large-scale business to connect a cluster of its offices in several fixed geographical locations with each other, the ability of the remote access topology to connect individual hosts to their respective organization's private networks makes it an ideal match for small & medium-sized enterprises (SMEs).
Incidentally, the topology also allows employees from large organizations working through site-to-site VPN to connect to the company's network remotely and be able to perform their work from a remote location over home networks or public Wi-Fi networks without worrying about the security of company data. Aided by the convenience and reliability provided by this model, the remote access connectivity-based VPN market size is projected to register a CAGR of approximately 17% over 2018-2024.
Attributed to the rising need for facilitating proper secured channels for the exchange of data over an increasingly connected world, the global virtual private network is expected to successfully thrive in the overall technology space in the forthcoming years. According to a report by Global Market Insights Inc., driven by the increasing rate of VPN adoption in myriad businesses, the overall virtual private network market valuation is anticipated to surpass $54 billion by 2024.
Author Name : Akshay Kedari
Green data center market is gaining immense popularity lately with the rise in concerns about the increasing energy costs impacting operational and economic efficiency. Most companies are presently implementing strategies to improve cooling and power infrastructure which is one of the vital factors influencing organizational performance, reliability, and serviceability. The shifting trends toward the deployment of green data centers for storing, managing, and distributing information have helped many software companies reduce energy consumption as well as the total energy cost. In fact, energy conscious companies are heavily investing in development of these centers for regaining cooling and power capacities, thereby providing impetus to green data center industry share.
Germany green data center market size, by solution, 2017 & 2024 (USD Million)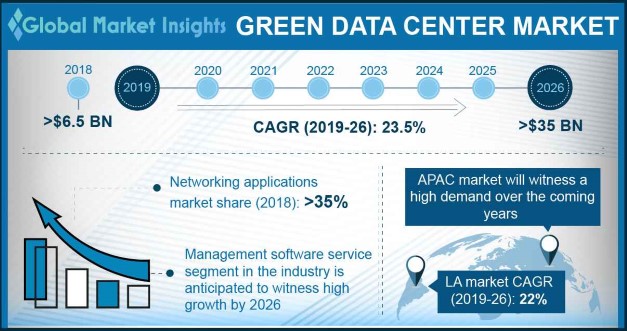 Though expensive, considering the long-term benefits of this technology, numerous companies ranging from internet giants to automotive biggies and manufacturing firms to software companies have been involved in green data center infrastructure development. The paragraphs below succinctly elaborate the contribution of myriad companies propelling efficient data center industry share.
In 2018, the leading industry behemoth, Siemens signed a deal with the Irish renewable energy contributor, CES Energy for providing on-site electrical generation services for data centers of various technology multinationals located in Ireland. This on-site energy generation is touted to be rather beneficial for data centers in terms of reducing carbon footprints and energy costs, in addition to helping them meet their data center timeframes with the supply of reliable power. The incidence validates that the availability of renewable energy facilities ensuring on-site generation assistance for achieving emission targets will prove to be a key factor reducing the carbon emissions across Ireland, strengthening green data center market trends.
Get a Sample Copy of this Report @ https://www.gminsights.com/request-sample/detail/2420
Ireland seems to be an ideal location for the establishment of data centers pertaining to climatic conditions, on the grounds of which green data center industry players have been focusing on facility expansion across the nation. Taking into account the shifting focus of technology companies, the regional government is striving to establish Ireland as the European data capital. A few months earlier, the renowned e-commerce contributor, Amazon received approval from the Ireland government to construct a new data center facility in Dublin. The government provided land of 223,000 square feet for the center and an investment of EUR 200 million, with the help of which Amazon plans to establish seven data centers. The implementation of high-profile projects such as the aforementioned is certain to propel Ireland effective data center market.
Presently, many tech giants are looking forward to investing in data center infrastructure development across well-established industrial parks. Through this business expansion strategy, these companies plan to facilitate most of the energy so generated for enhancing operational efficiency. Validating the aforementioned fact, recently, social media giant, Facebook made it to the headlines for planning to invest USD 750 million to develop a data center facility in Huntsville based in Alabama after receiving approval from the local officials. In order to supply power to this facility, Facebook plans to use 100% energy from renewables. The company's strategy is certain to help Alabama achieve economy benefits, as it is touted to receive about USD 300 million in new tax revenue from Facebook's future data center over the coming 30 years. It is thus overt that massive investments in renewable data center facilities are likely to impel green data center market size across several geographies.
In addition to already established behemoths like Google and Facebook, many start-up companies are also entering green data center market. For instance, the U.S.-Norwegian start-up company, Kolos is planning to build the world's largest data center in Northern Norway that will apparently use local hydropower and chilled air for minimizing energy costs. In order to develop this 600,000 sq/m, four-storey green data center building, Kolos has raised funds from the U.S. investment bank and several Norwegian investors. The start-up company declared that this project will be one of the world's largest green data center as this plant will receive all the required energy from wind and hydropower, which will reduce energy costs by 60% and provide cost-effective benefits to customers.
The increasing awareness regarding green energy among the regulatory bodies of various topographies is certainly a pivotal factor driving green data center market share. In fact, most of the European countries have already implemented strict regulatory norms to encourage the adoption of renewable energy facilities. In this regard, myriad technology contributors have also started deploying renewable energy powered data centers, which has considerably pushed product demand. The continuous investments in facility expansions for achieving higher working efficiency with the reduction of overall operational cost is likely to boost green data center industry share. For the record, by the end of 2024, green data center market will collect a revenue of USD 25 billion.
Author Name : Sunil Hebbalkar
The commercialization scale of data center infrastructure management (DCIM) market has been witnessing remarkable upswing in the recent years. The steady rise of this business space can apparently be accredited to the burgeoning complexity of managing large data centers and the limitations with regards to space and power. In addition to this, the robust proliferation of cloud technologies and big data along with the emergence of Internet of Things has necessitated numerous business verticals to focus on planning of physical infrastructure of IT based services. This has consequentially led to DCIM industry gaining tremendous traction over the past few years. In fact, according to reliable estimates, the overall revenue share of this business space is set to surpass USD 3 billion by 2024.
U.S. data center infrastructure management (DCIM) market size, by solution, 2017 & 2024 (USD Million)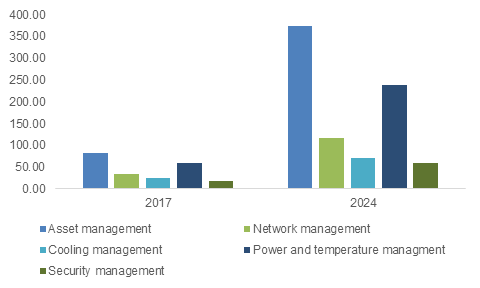 Government sector to emerge as one of the leading end use segments that would drive DCIM market expansion
In an era when cyber-attacks from 'nation state actors' have become an everyday occurrence across the globe, it has been observed that numerous governments are increasingly allocating massive resources to fortify network security. In addition to this, various regulatory authorities have mandated stringent guidelines to monitor and identify potential vulnerabilities in the digital infrastructure of developed and developing nations.
Get a Sample Copy of this Report@ https://www.gminsights.com/request-sample/detail/2496
Nlyte Software, one of the major US based DCIM market giant, has recently announced to have received the much-coveted approval of the Department of Homeland Security for its DCIM suite. Reportedly, the latest approval makes it the first DCIM solution across the U.S. to adhere to all the stipulations prescribed in the Phase 1 of Continuous Diagnostics and Mitigation (CDM) Program of the federal government. For the record, the U.S. federal government had rolled out a Continuous Diagnostics and Mitigation (CDM) Program a few years back to ensure security and integrity of software and hardware assets of the nation.
Apparently, industry experts claim that such approvals would provide advanced tools and capabilities to various governmental agencies to continuously monitor the safety of critical data centers across various nations. Furthermore, it is quite needless to mention that such encouraging developments would eventually impel the growth potential of the overall DCIM industry in the ensuing years.
Elaborating further, it would be prudent to mention a similar instance of governmental initiative that has provided a substantial boost to the firms operating in Australia's DCIM industry space. The Northern Territory government of Australia has recently declared its Budget for 2018-19 in which it has allocated a total sum of around AU$18.38 million to support initiatives under the Department of Corporate and Information Services.
As part of this scheme, the government plans to upscale the number of physical servers from 444 to 460 and intends to increase the number of its fully managed servers from 1600 to 1700 in the next financial year. With such enormous upgradation program in the pipeline, it is quite obvious that prominent firms partaking in DCIM industry of Australia sense an excellent opportunity to deploy their expertise in securing the nation's data center network.
One of the major challenges being faced by DCIM market players has been the responsibility of bridging the complex web of interconnections among a network of data centers. With the advent of enhanced automated tools, highly optimized management workflow procedures, and deployment of real-time monitoring systems, the aforementioned challenges are being gradually surmounted by DCIM industry stakeholders. This trend of improved functionality coupled with powerful IT-based applications would invariably have a favorable influence on the growth prospects of DCIM market share in the times to come.
Author Name : Saif Ali Bepari