Lactic Acid Market
Lactic Acid Market revenue is anticipated to observe a considerable growth over the coming seven years, driven by its extensive application in food & beverages, personal care, industrial, cosmetic, detergent, and pharmaceuticals sectors. Moreover, growing consumer preference for bio-based contents is expected to stimulate the market trends in the near future.  According to Global Market Insights, Inc., "Lactic acid industry size is expected to be worth USD 6.2 billion by 2024."
U.S. Polylactic Acid (PLA) Market size, by application, 2013-2024 (USD Million)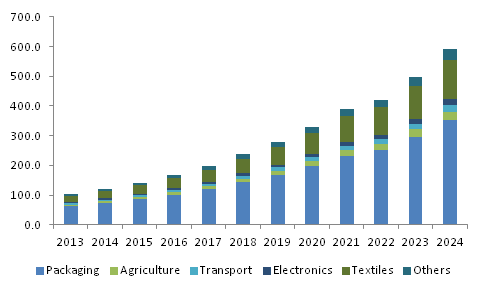 Polylactic Acid (PLA) market size is anticipated to witness a lucrative roadmap over the period of 2016-2024, owing to the rising consumer trend towards sustainable, recyclable, and green packaged products. Moreover, growing application of polylactic acid in the booming bioplastics industry along with government legislations favoring the use of bio-based products will further drive PLA industry size over the coming years. Furthermore, polylactic acid also finds wide applications in electronics, packaging, textiles, agriculture, and transport sectors. As per Global Market Insights, Inc., "Polylactic Acid (PLA) Industry size is projected to reach USD 4.3 billion by 2024."
Get a Sample Copy of this Report:@ https://www.gminsights.com/request-sample/detail/821
Taking into account the lactic acid application trends, lactic acid market size in the personal care sector is expected to grow at a significant rate over the timeframe, driven by its use in skin care, natural anti-aging, and anti-acne solutions. Its application in food & beverages sector will grow at a rate of 14% over the coming seven years. The growth can be credited to its emulsifying, antibacterial, acidulant, pH regulating, and flavoring characteristics.
As per the research study, PLA applications in the packaging sector, estimated at USD 300 million in 2015, are expected to grow noticeably over the coming seven years due to its use in jars, containers, bioplastic packaging, and food packaging. Furthermore, textile is yet another prominent application area, predicted to generate high growth opportunities for polylactic acid industry over the coming years. As per the research study, textile application is likely to grow at a rate of 19% over the timeframe, driven by the use of PLA in textile dyeing for biodegradable polymer production.
Geographically, Germany lactic acid industry is expected to generate high sales over the next few years, driven by the rise in number of manufacturing plants coupled with increasing emphasis on sustainability. Growing application of lactic acid to treat dry skin along with its use in metal formulations is expected to boost U.S. lactic acid industry growth in the pharmaceutical sector over the coming years. China personal care industry is expected to contribute significantly towards the market share over the coming timeframe. Lactic acid application as vital ingredient in the personal care products & antimicrobial cleaning along with growing consumer awareness towards the personal care item is expected to drive the regional growth.
France PLA market will experience a considerable surge over the period of 2016-2024, driven by favorable legislations coupled with penetration of bio-based products in the packaging sector. Increase in production capacity, abundant feedstock, and growing customer awareness is expected to drive Japan market revenue over the next few years. UK PLA market size in agriculture sector is expected to register significant gains at 15% over the coming seven years, owing to its ability to reduce soil compaction and improve moisture control.
Key industry players in lactic acid market include BioAmber Inc., DuPont, and Genomatica. Major market players in PLA industry include Pyramid Bioplastics, Danimer Scientific LLC, Synbra Technology BV, BASF, Futerro, Galactic, NatureWorks, and Musashino Chemical Laboratory.
Author Name : Dhananjay Punekar