Lane Departure Systems
Regarded as a business vertical that has remained quite unnoticed and away from the mainstream popularity, automotive camera market has been gradually making its presence felt in the humongous global transportation industry. The roll-out of the auto sector's first thermal camera-equipped commercial test vehicle by FLIR Systems, Inc., proves that automotive camera industry is evolving to cater the auto enthusiasts and professionals in this age of self-driving cars and is further expanding its sphere of influence across various business verticals.
Germany automotive camera market, by type, 2018 & 2025 (USD Million)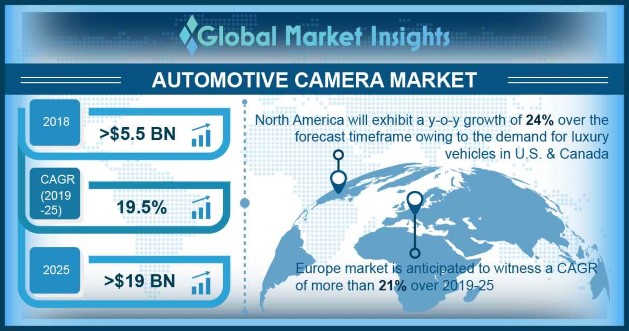 The co-relation between the regulatory guidelines and automotive camera market share
Most vehicle safety features made mandatory by policymakers, such as airbags and seat-belts, ensure protection of those travelling in the vehicle. As a result of such policies, numerous verticals such as automotive airbags market, which is slated to surpass a remuneration scale of USD 85 billion by 2025, have been proliferating at an unprecedented pace.
However, in a move that could change the mindset of the automakers and other prominent stakeholders, the US Department of Transportation's National Highway Traffic Safety Administration (NHTSA) has recently made it compulsory across the nation to install a rear camera in all new vehicles weighing under 10,000 pounds from May 2018.
The significance of this decision can be gauged from the fact that around 210 fatalities and 15,000 injuries are caused by a vehicle crashing into the other due to lack of visibility. Among these fatalities, adults aged 70 and more account for over 26 percent and children under five account for 31 percent. In this regard, reducing the risk of such accidents has long been recognized and the efficacy of rear-view cameras comes handy in ensuring the same. Numerous automakers have already made such technology standard equipment on many car models, essentially expanding the automotive camera market size.
Get a Sample Copy of this Report:@ https://www.gminsights.com/request-sample/detail/3340
Growing awareness and the need to educate vehicle drivers regarding usage of automotive cameras is fueling automotive cameras industry share
Even though the world is witnessing an unprecedented emergence of automation technologies and ADAS systems in passenger vehicles, the appropriate usage of automotive camera remains a cause of concern. It has to be noted that nine out of ten serious road accidents occur due to human behavior and these ADAS systems like automotive cameras possess the potential to save thousands of lives. Therefore, just sticking a camera in a car is of no use if people are not educated on the effective ways to use the information that is displayed on their screens and avoid crashes.
In this context, the auto regulators across developed and emerging nations are not only formulating rules for mandatory installation of rear automotive cameras but are also making efforts to educate people on the correct usage of these devices. Initiatives such as Global National Car Assessment Program in the U.S. and the programs unveiled by National Highway Traffic Safety Administration are of extreme importance in propagating the guidelines pertaining to passenger and pedestrian safety.
Speaking of the developing nations, India has taken centerstage in terms of rolling out improved version of the proposed road safety policy which includes awareness and education as some of the key features. Apparently, even automotive stalwarts are realizing that educating people is the right strategy choice and investing in one-off events is not. The prevalence of these trends across developed and emerging nations is undoubtedly helping to increase automotive camera industry size.
Challenges that may restrict automotive camera market share
The advent of trifocal cameras has enhanced the overall quality of automotive cameras. Moreover, these cameras are integrated with advanced LiDAR sensors which adds to the cost of the overall vision systems. Consequentially, it has been observed that price-conscious customers are reluctant to install automotive cameras in economic and low-cost vehicles, dampening the growth prospects of automotive camera industry.
However, with the launch of improved and technically-superior automotive cameras by startups, the prominent market players are making an effort to reduce the costs of popular automotive cameras. This trend might prove to be instrumental in revitalizing the automotive camera market size.
In the forthcoming years, automotive camera market is likely to be defined by numerous other challenges, though it is expected that core companies will, in all probability, figure out ways to deal with the constraints. As per an automotive camera industry analysis, the market size is forecast to surpass a remuneration figure of USD 19 billion by 2025.
Author Name :Saif Ali Bepari