Large Data Center
The increasing demand for digital services and unprecedented growth in AI and machine learning has helped push data center liquid cooling market share to new heights lately. Data centers demand efficient cooling systems to reduce power consumption as over 30% of the power is used for cooling purposes. Processor performance is also severely affected by overheating resulting in slower operations. However, with businesses increasingly shifting towards mainframes and supercomputers, liquid cooling technology seems to be an ideal solution for modern data centers. Furthermore, the consistently changing demands for new, uninterrupted digital has been prompting data centers to adopt innovative technologies that will help boost data center liquid cooling market in the coming years.
China data center liquid cooling market, by solution, 2018 & 2025 (USD Million)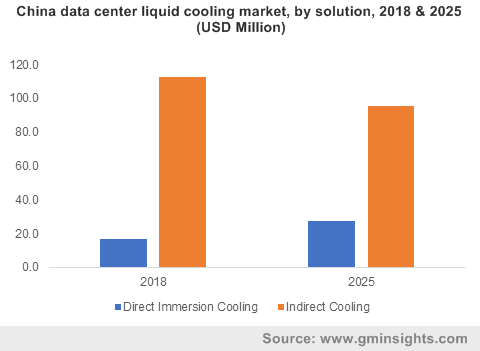 The growing implementation of artificial intelligence (AI), big data, cloud, and machine learning in newly developed software solutions has also been driving the industry growth. With the development of more powerful chips capable of rapidly processing data for new complex applications, the amount of power consumption has exponentially increased leading to more component heat generation. For instance, an increasing number of GPUs and FPGAs are nowadays pushing systems to their limits for smoothly running heavy applications like AI, big data analytics, HPC, media streaming, machine learning which in turn generate high amounts of heat. Reports claim that the heat profile for many GPU based servers is double than that of traditional servers. However, with the benefits of liquid cooling technology businesses can deploy applications at a much higher density with increased efficiency, that will lead to a commendably reduced carbon footprint, supplementing the data center liquid cooling industry growth in the upcoming years.
One of the most extensively used solutions for data center cooling is the direct immersion cooling solution. Also known as liquid submersion cooling, this solution is used to submerge full servers in a thermally conductive liquid to offer enhanced temperature control. The method is slowly gaining popularity with innovative datacenters across the world. Some ultra-high-speed supercomputers like IBM's Summit supercomputer already use liquid cooling technology to pump around 4,000 gallons of water per minute through its system.
Get a Sample Copy of this Report @ https://www.gminsights.com/request-sample/detail/3090
Direct immersion can significantly cool solid-state drives, which makes the entire process more efficient in comparison with traditional methods. The technology also reduces system humidity & heating effect, further offering high operational performance and speed. Additionally, solution developers offer efficient maintenance & installation services to data center clients which further supports industry expansion. Indeed, it comes as no surprise that the data center liquid cooling industry will gain substantial momentum from the robust adoption of direct immersion cooling solutions.
Hyperscale data centers – the latest trend that will proliferate data center liquid cooling market size
The increased focus on business agility and cost optimization has led to the rise and growth of cloud data centers which in turn has given birth to the trend of hyper scaling. Hyperscale cloud operators are increasingly offering better resources and bandwidth that support the growing demand for storing large chunks of data on the cloud. Compared to traditional models, hyperscale data centers require to operate in colder zones as these facilities constantly handle increasingly large amount data traffic, which expands IP connections and fulfills high storage demands, factors that make it essential for deploying servers with high-density cooling elements like liquid coolers and water-chilled metal boxes equipped with blowers to enable fast operation at ambient temperatures. The growing shift towards hyper scale cloud data centers will thus augment the growth of data center liquid cooling industry.
Speaking of the regional expanse of the data center liquid cooling market, it would be prudent to state that APAC and Europe are two prominent geographical revenue pockets for the industry. Asia Pacific data center liquid cooling market will witness significant growth over the ensuing years, driven by the increase in data capabilities brought forth by the growing digitalization in every possible industry sector.
The expansion of the Europe data center liquid cooling market can be majorly credited to the massive presence of numerous colocation facilities across the continent. Powered by the advent of robust digitization across the industries such as BFSI and medical care, in tandem with the rapid adoption of machine learning technology in the region, Europe data center liquid cooling industry share is set to soar high in the years to come.
Liquid-based cooling solutions have more heat removal capabilities & can reduce a data center's power consumption by about 70%. The paradigm shift toward high energy consuming applications and the deployment of AI, big data and machine learning will mandate the adoption of liquid cooling solutions for smoother operations in the years ahead. Reports from Global Market Insights, Inc. cite that the data center liquid cooling market size will exceed the $2.5 billion mark by 2025.
Author Name : Mateen Dalal