Large Enterprise
Rising demand for real-time rendering has created an expansive growth scope for 3D rendering market which has witnessed increasing investment in recent times. As technology advances and companies become increasingly digitalized, the complexity of the business process will also increase. To address these challenges, organizations are looking for more efficient, faster, and real-time rendering solutions, adding impetus to 3D rendering market trends.
Canada 3D Rendering Market Revenue, By Component, 2018 & 2025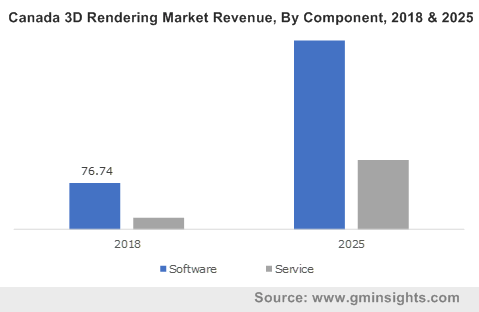 3D rendering is the process of fabricating an image based on 3D data stored within a computer. As the construction and real estate industries are witnessing exponential growth, real-time visualization and use of 3D rendering software have become integral part of the designing process, offering huge efficiencies to architects and engineers.
Architects, engineers and designers use architectural rendering software to transform their ideas into real-time design by exploring multiple options. In architecture, three dimensional images offer architects to review interiors and construction decisions before starting the project. This results in dramatically lowering costs, as expensive changes do not have to be made during the construction stage. Customers also get to view what the building may look like, including its interiors, before investing in it.
The healthcare sector is increasingly adopting advanced technologies, such as 3D medical animation and virtual reality, to create patient-specific surgical replication and personalized 3D printed medical devices. 3D medical modeling helps to understand the functions of body parts, the support of veins to muscles, internal organs and their functions, and its consistent adoption is also likely to fuel 3D rendering industry outlook.
Get a Sample Copy of this Report:@ https://www.gminsights.com/request-sample/detail/3953
3D biomedical image rendering provides a clear view of the complex process of the human body. By gathering data via 3D imaging from patients and integrating it with virtual rendering technologies, doctors are enabled to pre-plan the best approach for surgical intervention. 3D modeling platforms will allow medical scientists to generate high-quality models from complex data sets and integrate scan data with CAD product designs for research purposes and teaching. Deploying 3D rendering services in healthcare will positively impact the 3D rendering market share. As per Global Market Insights, 3D rendering market size from healthcare will grow at a CAGR of 25% over 2019-2025.
The gaming industry is expanding rapidly due to high internet connectivity and growing popularity of virtual reality games to bring immersive experiences to users. A trend has been witnessed where major gaming companies are investing both time and capital to provide their customers with the most absorbing gaming experience. Mounting developments in interactive graphics software, especially in the gaming industry will augment 3D rendering market share.
3D rendering industry is also gaining significant momentum from the growth of automotive industry and rapid growth of emerging economies of Asia Pacific region. In Asia Pacific automotive industry, 3D product modeling has gained momentum, as it helps to minimize the time associated with end-product development and allows designers to visualize the product and test it thoroughly before it is built. The mounting growth of the automotive industry has resulted in the adoption of 3D visualization and rendering services to save both time and cost associated with the manufacturing of a vehicle parts.
Asia Pacific 3D rendering market is estimated to grow at a CAGR of over 24% over 2019-2025. Rapidly expanding urbanization and industrialization will play crucial roles in the growth of 3D rendering industry.
Product marketing has been revolutionized by the advent of 3D rendering services. Marketers of hardware products have always been placed in a challenging position when it came to communicating functions, value and differentiators of their product. The challenge has been almost insurmountable for startups due to their tight marketing budgets. However, 3D rendering of products has helped in greater engagement of consumers on limited marketing expenditure. 3D rendering industry is expected to record 23% CAGR over 2019-2025 from product design & modeling segment.
As 3D visualization is becoming a crucial part in various industries including architecture, IT, healthcare, gaming, etc., 3D rendering market is projected to witness exponential growth over the forecast timeline.
Author Name : Aakriti Kakkar
Over the last few years, the revenue graph of OSS/BSS market has been depicting an exponential growth, on account of the surging digitization across the telecommunication, BFSI, and IT industries which have been deploying new communication technologies to accelerate the organizational workflow. The lure for inexpensive, safe, and time-saving operations has been encouraging companies to implement OSS and BSS solutions at the workspace. In addition, for empowering intelligent network management and automation, most of the industries have been giving preference for operational support services on a large scale.
The noteworthy transformation across the IT, transportation, telecom, and BFSI sectors with the emergence of next-generation technologies such as blockchain, IoT (Internet of Things), and AI (artificial intelligence) will thus have a considerable impact on the OSS/BSS industry share over the years ahead.
Europe BSS Market Share, 2017 & 2024 (USD Million)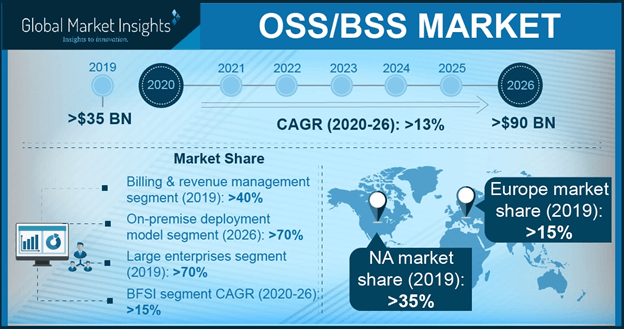 In line with the implementation of 5G networks across the telecom sector, players in the OSS/BSS market have been observing lucrative business opportunities. In fact, some telecom industries have been looking forward to strengthening their networking portfolio by automating working processes with regards to the use of 5G networks. For instance, recently, the Swedish multinational and telecommunication company, Ericsson acquired CENX to enhance its Operations Support Systems facilities. The acquisition will improve Ericsson's service assurance and closed-loop automation capabilities which will help it to leverage network visualization and automate the telecom network to serve enterprise customers effectively. The surging use of 5G networks with the assistance of OSS for improving the connectivity in service assurance, resource-inventory management, order management, product management, customer management, network management, and revenue management will strongly fuel the OSS/BSS market size.
Over the last few years, the increasing popularity of blockchain for decentralizing Network-as-a-Service (NaaS) for securing web wallets and wallet servers has also contributed toward the expansion of OSS/BSS industry. Leading technology companies have been deploying public blockchains to monetize their network resources that allow companies to analyze their operational and financial data. Considering the capability of OSS/BSS systems to secure financial data, BSFI companies have been shifting their focus toward the automation and digitization of financial processes, consequently demanding OSS/BSS technologies on a large scale. Powered by the surging adoption of modernized network security services, OSS/BSS market size from the BFSI sector will grow at an annual growth rate of more than 11% over 2018-2024.
Get a Sample Copy of this Report:@ https://www.gminsights.com/request-sample/detail/2911
Taking into account the vast expanse of OSS/BSS market, most of the software companies have been acquiring firms involved in the development of the operational support systems environments. For instance, recently, the U.S. based leading supplier of telecommunication equipment, software, and services, Ciena acquired DonRiver which provides service inventory management software for OSS environments. This acquisition has helped Ciena improve its business process through network resource planning and utilization of closed-loop automation. The software control and programmable infrastructure of DonRiver will further optimize the Ciena's inventory control solutions.
The shifting focus of end-use sectors toward the adoption of Software as a service (SaaS) and Cloud-based digitized deployment platform for fueling the use of automation and the effective network management has been augmenting the OSS/BSS industry outlook remarkably. The integration of Machine Learning and Artificial Intelligence technologies in the network services will transform the future of OSS/BSS market with its capability to manage complex network issues and improve the customers' experience.
The transition of companies towards automated operations from traditional manual processes to improve the working efficiency and accuracy is likely to stimulate the product demand over the years ahead. Indeed, the rising concerns among financial institutions, IT and telecom companies about data security and operational breaches are poised to increase the valuation of OSS/BSS market, slated to accumulate more than USD 50 billion by the end of 2024.
Author Name : Sunil Hebbalkar