Large Enterprises
Network as a Service market (NaaS) outlook is slated to demonstrate considerable transformation over the forecast years due to the rising demand for latest cloud-based services and integration of new technologies into business networks. Reportedly, enterprises had estimated in 2018 that they would invest on an average $3.5 million on clouds apps, platforms, and services in the year, suggesting the massive need for network products. NaaS has evolved to a new level with the proliferation of communication technologies and innovative cloud applications, driving the expansion of network as a service industry trends.
Europe Network as a Service (NaaS) Market Share, By Region, 2018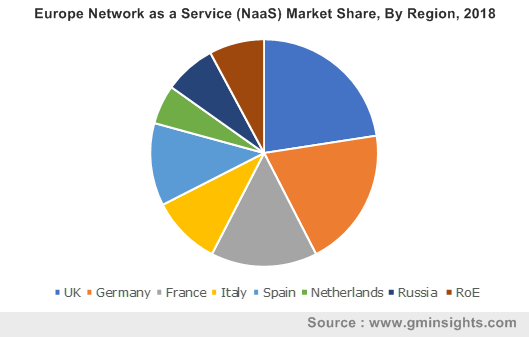 In order to keep pace with the competitive pressure of a rapidly changing network environment, service providers need to innovate promptly. Network services are not only providing business opportunity to IT & telecom segment but also encouraging customers to make the best possible use of the provider's primary services. With rapid advancements in NaaS network services, businesses can easily eliminate all the hassle of maintaining and managing the network themselves.
To keep growing their market share, tech and telecom giants are extensively adopting network services to simplify their architecture through virtualization and incorporating disparate software solutions onto common hardware. In this modern era, the telecom sector is accelerating global presence by addressing customer needs to better serve an ever increasing population base. Consistent growth and enhancement of telecommunication services over the coming years will propel network as a service market size.
Telus, a Canadian telecommunications company, had unveiled its partnership with Nuage Networks in 2017 to initiate Telus NaaS, a software defined wide area network platform. Apparently, several other telcos like Telia, Telefonica, China Telecom and BT had teamed with Nuage for advancing and automating their WAN connections. The prevalence of such collaborations will impact the future of NaaS globally and will propel NaaS industry size in the years to come.
Get a Sample Copy of this Report:@ https://www.gminsights.com/request-sample/detail/1218
In terms of the regional landscape, Asia Pacific NaaS market is expected to register a CAGR of over 40% from 2019 to 2025. Growing preference for cloud services and the need to lower operational costs can be accredited to the massive shift in business priorities. Subsequently, IT & telecom companies are opting for high-quality managed and security services to raise their business proficiency. NaaS industry in the region could reach a commendable presence across the tremendously large small and medium sized business environment in APAC.
Telecom sector throughout APAC has been leveraging new NaaS models and enjoying greater flexibility and agility in a quickly changing environment. In addition, several telecom companies have been encouraged to come up with innovative offerings  that could potentially change network as a service market dynamics. In terms of the regional dominance, countries including China, Japan, and South Korea could lead other nations owing to the extensive deployment of NaaS platforms, driven by technologies like NFV and SDN.
Japan is ranked among the top Asian countries in terms of cloud readiness, network services and broadband quality. In 2016, NEC Corporation, a Japanese multinational provider of information technology services and products, had collaborated with Netrounds and other partners to accelerate agile deployments of assured network services to increase efficiency and reduce operational expenditures. Similar moves by telecom firms, domestically and internationally, would create tremendous demand for NaaS market players around the globe.
Adopting open and standard technologies like network service enables telecom companies to virtualize their networking solutions by recognizing more advanced ways to operate and manage their networks, with minimal or no dependency on underlying hardware. The variable network connectivity and cloud access through NaaS becomes equally vital for power redundancy and to provide security benefits as per Tier 3 data center specifications.
IT & telecom sector is seemingly a prime target for advanced and innovative strategies for improving network services, that would provide them with agility, flexibility, and facilitate efficient expansion with new application workloads. Upsurge in cloud-based services coupled with the augmented growth in data traffic is certain to fuel NaaS industry share. Global Market Insights, Inc. has projected that global network as a service market will surpass a valuation of USD 50 billion by 2025.
Author Name : Deeksha Pant
Rising demand for affordable and reliable communication services worldwide will be one of the key trends driving voice over internet protocol (VoIP) market growth over the forecast period. VoIP is a rapidly advancing technology that uses internet to make phone calls rather than conventional telephone systems. The cost of using a VoIP service is relatively low, especially for long-distance communication. Companies are increasingly leveraging VoIP solutions to improve their productivity and enhance mobility.
APAC VoIP Market Size, By Country, 2018 & 2025 (USD Billion)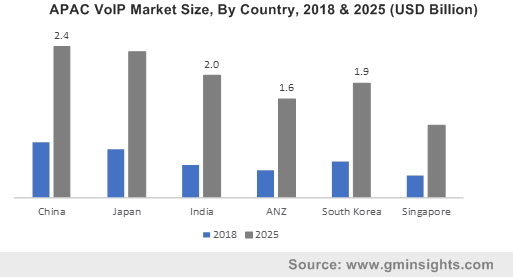 The voice over internet protocol (VoIP) market has garnered major share in developed nations owing to presence of high-speed broadband infrastructures which eliminate the need for maintaining a separate telecommunications network. In addition to making voice calls, VoIP can also conduct video conferencing calls, eventually allowing businesses to visually communicate with co-workers and clients to discuss deals, files, documents and agendas more effectively.
VoIP makes recording calls more efficient and easier, further enabling companies to integrate different communication services into a single device or software. With rapid technological advancements and recent innovations, VoIP market outlook has witnessed an immense transformation lately. For instance, in 2019, caller ID app Truecaller announced the beta-testing of its new app feature that allows users to make voice calls over IP. With such advancements, VoIP market trends are likely to expand and the industry players may garner a huge customer base, thereby augmenting business growth over the forecast period.
Voice over Internet Protocol (VoIP) market share is slated to record significant gains from the international VoIP call segment. Demand for international VoIP calling services is estimated to increase exponentially over coming years, on account of its low-cost service offering. Several affordable international calling plans are being offered by VoIP service providers that allow organizations to conduct business across borders at low calling rates. Credible reports also estimate international VoIP calls market to hold major share of over 50% by 2025.
Get a Sample Copy of this Report:@ https://www.gminsights.com/request-sample/detail/2989
VoIP providers also allow users to make calls to landline and mobile phone numbers without any restrictions. Being internet-based, the technology can effectively handle media types such as images, videos and texts along with voice. Rising technological advancements will propel VoIP industry growth. For example, VoIP service plans come with advanced features like caller ID with name, call waiting, conference calls and call forwarding among other.
An instance of initiatives that will effectively generate new growth opportunities in VoIP market include the one made by North Dakota Department of Human Services which recently awarded a $3.3 million worth call center contract to Noridian Healthcare Solutions. The grant will support North Dakota's Medicaid providers and customers by answering queries associated with Medicaid claims payment, submission of claims, and prior authorization.
Europe voice over internet protocol (VoIP) market will witness commendable growth over the coming years. Especially across Germany, the VoIP industry is recording lucrative growth on account of the region's strong telecommunication infrastructure. Consumer demand and adoption of broadband high-speed Internet services is also considerable within the nation. With rising demand for cheaper communications service and increasing use of VoIP solution, the region is forecast to be a major ground for VoIP market growth over the coming years.
Supportive government initiatives are also likely to expand Europe VoIP market size over coming years. For instance, as per Europe 2020 strategy, all Europeans are expected to own fast broadband services (over 30 Mbps) by 2020, a mission for which EU has implemented a series of regulatory measures and policies and has made around €15 billion available to Member States in the period 2014-2020.
Voice over Internet Protocol (VoIP) is an advanced communication technology that enables organizations to cost-effectively streamline different communication platforms to improve business productivity. International call centers are increasingly using VoIP to reduce cost expenditure and facilitate voice calls at affordable prices.
With growing traction in European countries and extensive use of internet-based voice communication apps worldwide, demand for VoIP solutions will increase significantly over coming years. Report from Global Market Insights, Inc., estimates voice over internet protocol (VoIP) market size to exceed USD 55 billion by 2025.
Author Name : Mateen Dalal
Rising digitalization and use of e-payment platforms are driving cloud POS market growth. Cloud-based POS is an adaptable, easy to implement and cost-effective solution compared to traditional POS systems. It is integrated with features like inventory management, customer relationship management, loyalty programs and more. For small-to-medium sized businesses (SMBs), a cloud POS system can ensure enhanced customer experience whilst coping up with rapidly upgrading technology.
U.S. SMEs cloud POS market, by application, 2018 & 2025 (USD Million)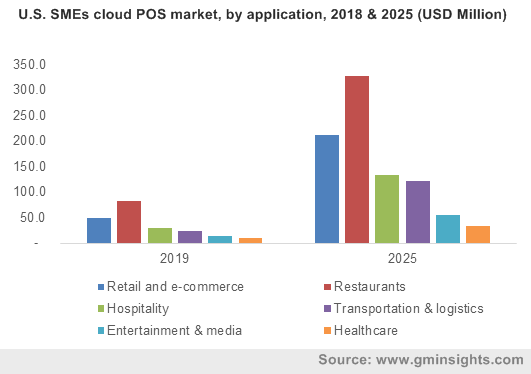 With cloud POS, SMBs can quickly, safely and securely access information using their mobile device. Using tools like data monitoring, inventory tracking, transaction history and more, cloud-based systems can offer enhanced profitability and become an invaluable resource for SMBs.
Notably, cloud POS can be integrated into existing system, increasing security and visibility of restaurant or retail store information. Additionally, it can easily be upgraded, and can track application growth and essential business needs. Product lines, features or stores can also be added to its software. Aided by such profound features, product demand has increased significantly over recent years, expanding cloud POS market size.
Cloud POS market is gaining massive proceeds from the restaurant and hospitality sector. A restaurant cloud POS system is an integral part of daily operations as it helps conduct tasks like billing, ticketing, tax management, invoicing and more. The system aims on delivering superior customer experience and cost control while further growing store revenues and overall profitability.
It enables restaurants to manage orders, make payment, and conduct promotions, and even supports the latest cashless and e-payment platforms that consumers use. The robust use of the system is rather overt from the extensive growth of restaurant POS terminals market as well. Indeed, with growing technological advancements, cloud POS has become a complete restaurant management system providing features like stock and inventory management, detailed reporting and analytics customer relationship management, marketing and more.
Get a Sample Copy of this Report:@ https://www.gminsights.com/request-sample/detail/3418
Growing demand and use of e-payment transactions will augment the cloud POS industry share in the restaurant sector. Furthermore, according to a recent study, the number of credit card payments have reportedly grown by 10.2% in the year 2016 to 37.3 billion with a total value of $3.27 trillion, while digital wallets such as Apple Pay and Android Pay are expected represent $503 billion in transactions by 2020. These instances aptly prove that cloud POS market is here to stay.
APAC cloud POS market is growing robustly on account of rapid digitalization and increased use of cashless payments. India's foodservice sector in particular, continues to grow rapidly on account of rising number of restaurant dining and foreign tourists. Increasing consumer income has made restaurant dining more accessible. International hotel brands have also been expanding their presence in the continent, that has further fostered the regional cloud POS industry size.
With cloud POS, restaurant outlets can acknowledge orders directly to these aggregators. Moreover, with growing technological advancements, the APAC cloud POS is poised to register increased demand in the forthcoming years. Indeed, it has been speculated that the Asia Pacific region will observe a commendably high adoption of restaurant POS solutions, on account of the increase in the usage of POS systems for food delivery. As per estimates, APAC cloud POS market size will register a CAGR of 27% over 2019-2025.
Cloud POS systems are web-hosted solutions that store information on remote servers which can be accessed online. The system is increasingly used in restaurants and retail stores for recording data, taking orders, making bills, managing inventory and more. Reports from Global Market Insights, Inc. estimate cloud POS market to surpass USD 6 billion by 2025.
Author Name : Mateen Dalal
Wireless LAN controller market is estimated to exceed USD 3 billion by 2025, owing to the increasing business need to manage widespread and intricate LAN infrastructure along with the surging acceptance of cloud-based WLAN controllers for managing network devices. Increasing Bring Your Own Device trend, which necessitates the presence of robust network security in enterprises, will drive WLAN controller market growth through 2025. The rising need for integrated connectivity and security for mobile clients also impacts WLAN controller market trends.
APAC Wireless LAN Controller Market Size, By Region, 2018 & 2025 (USD Million)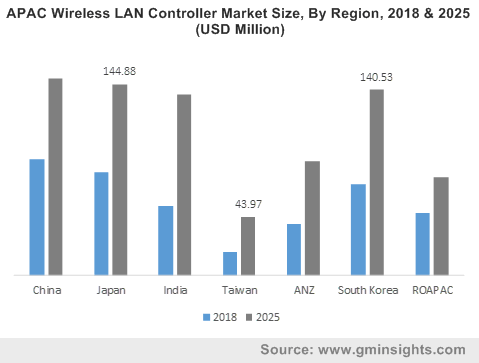 In terms of the application landscape, wireless LAN controller market is bifurcated into government and public sector, IT and telecom, healthcare, BFSI, manufacturing, transportation & logistics, retail, and others. The retail segment is anticipated to exhibit substantial growth between 2019-2025, primarily fueled by surging acceptance of latest technology by the retail sector to offer better customer experience and convenience. The constant increase in the number of retail companies across the globe will further advance WLAN controller market size. For instance, Aldi, supermarket chain with over 10,000 stores in 20 countries, has recently declared plans to open a new store in Chattanooga city, Tennessee, USA this fall.
WLAN controller market size from the BFSI segment is projected to witness modest growth in the foreseeable future, attributed to high adoption of digital platforms, workforce mobility trend, and increasing network complexity. The growing use of network devices and smartphones has burdened network administrators with complex network management tasks, resulting in the adoption of wireless LAN controllers by banking & financial institutions, for optimizing networks and boosting performance.
Get a Sample Copy of this Report:@ https://www.gminsights.com/request-sample/detail/3321
The establishment of new financial institutions and technological enhancements in Wi-Fi technology along with the fast-paced expansion of Wi-Fi market will elevate the revenue share of WLAN controller market from BFSI applications. For instance, HSBC, a renowned multinational banking and financial services company, has recently declared plans to open fifty new retail branches in the United States where it previously had no existence. Reportedly, this move is a part of British banking behemoth's plan to expand services to newer geographies with no prior foothold.
The rapid upsurge in digital data has led to the introduction of AI in BFSI market, which has positively impacted wireless LAN controller market share. Financial enterprises are leveraging artificial intelligence technology to gather, analyze, and report huge chunks of data to retrieve actionable insights regarding customers to serve their requirements better. Expanding artificial intelligence market size, owing to surging adoption across automotive, manufacturing, retail, healthcare, media & advertising, agriculture, and BFSI, would push network management requirements, thereby propelling WLAN controller market size over the future.
Rising urbanization and commercialization, especially across developing nations, will impact the industry growth. According to a report published by Our World in Data website, approximately 4 billion individuals resided in urban areas, whereas 3.4 billion individuals resided in rural regions, in 2016. Over the last 50 years, the share of people living in urban areas more than quadrupled in Nepal and Mali, and more than tripled in Nigeria and Kenya. By 2050, the global population is projected to reach 9.8 billion, and it is anticipated that the number of people living in the urban area (6.7 billion) will be double of that in the rural area (3.1 billion).
Growing urbanization and commercialization directly influence infrastructure development, healthcare, IT and Telecom, retail, manufacturing, transportation, BFSI, and various other sectors. As these sectors are the leading consumers of wireless technology, they are projected to support WLAN controller market share over the future. Expansion of the enterprise wireless local area network market is also bound to fuel WLAN controller market growth.
The increasing number of efforts by major companies present in wireless LAN controller market, to gain a competitive edge, will substantially fuel market share. Many organizations are taking huge steps towards innovation and new product development, to accelerate the shift towards cloud-enabled network services and ensure enhanced management & security of wireless LAN solutions. Global Market Insights, Inc. claims that large enterprises will accrue over 55% of wireless LAN controller market share through 2025.
Author Name : Nikita Chaurasia
The surging adoption of advanced technologies along with rising globalization trend will propel the process orchestration market growth in the years to come. Businesses nowadays are primarily focusing on reducing production cost, improving operational functioning, gaining enhanced competitive skills and delivering improved customer satisfaction to clients, functions that can be fulfilled by means of adopting process orchestration. The technology effectively helps design, implement, integrate and monitor customer process applications and integration scenarios more quickly and flexibly, helping businesses innovate faster and respond to changing business demands more efficiently.
Latin America Process Orchestration Market Revenue, By Professional Service, 2018 & 2025 (USD Million)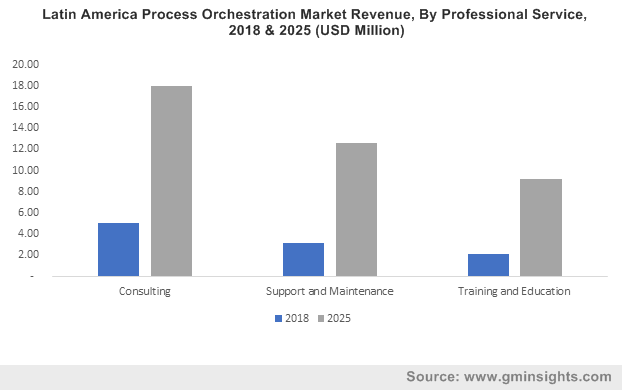 Speculating the technique's profound benefits, companies are now investing in developing innovative solutions for transforming their businesses and to deliver unique customer satisfaction. For instance, in 2018, around 55% of the start-ups adopted digital business strategy, while around 85% intend to invest in digital transformation in the future. Moreover, major sectors include energy & utilities, retail, manufacturing, healthcare, IT & telecom are also adopting process orchestration solutions for improving business efficiency, that would quite overtly expedite the industry growth over 2019-2025.
With the increasing adoption of advanced technologies such as AI and machine learning, the demand for process orchestration solutions to efficiently manage, integrate, and optimize computer systems and cloud architectures to further help serve and retain customers has only been surging. The deployment of the cloud has also been of concern to numerous businesses as their data and information is located in off-premises servers, making the adoption of process orchestration vital for managing cloud-based application and services.
Get a Sample Copy of this Report @ https://www.gminsights.com/request-sample/detail/3143
Speaking along similar lines, it is prudent to mention that the process orchestration market has been depicting quite some growth from the deployment of the cloud. Cloud-based process orchestration services help in simplifying deployment and centralizing automation processes, making it easier for expanding and transforming processes at a lower cost and at a faster speed. Given the cloud's off-premise feature, orchestration brings dependency management, high availability, failure recovery, scaling and numerous other tasks and attributes all into a single process, significantly reducing staff effort. The rapid growth and adoption of cloud solutions across SMEs are thus contributing majorly to the expansion of cloud-based process orchestration industry.
Enumerating the application landscape of the process orchestration market, the retail & consumer goods sector is anticipated to emerge as a pivotal avenue for this industry. With increasing market competition and rapidly evolving consumer needs, it has become vital for the retail sector to improve its service offerings. Process orchestration solutions will enable such businesses to transform their operations and enhance customer reach, and will also help in automating manual processes, minimizing operating costs, improving customer shopping experience and identifying new revenue streams in the highly competitive sector. This in consequence would majorly accelerate process orchestration market share from retail & consumer goods applications, slated to depict a CAGR of 14% over 2019-2025.
Speaking of the regional terrain, it comes as no surprise that the Asia Pacific region is primed to evolve as a highly competitive ground in the years to come. The key factors contributing to market demand across the continent include rapid globalization, increasing demand for industrial automation and strategic government initiatives targeted towards the manufacturing sector. The growing awareness regarding process orchestration benefits, such as the elimination of process redundancy and enhanced business planning, will act as a driving factor for APAC process orchestration industry. Powered by the increasing use of IT infrastructure and resources to gain cost optimization, APAC process orchestration industry share will register the fastest growth rate of 18% over 2019-2025.
Proliferation in the retail sector coupled with the integration of advanced technologies, such as AI and machine learning will contribute to the growing adoption of process orchestration. Businesses are continuously launching newer products in the market to meet the growing customer requirements, further driving market growth. The growing demand for cloud technologies is also contributing to the process orchestration industry growth. According to Global Market Insights, Inc., the process orchestration market size will exceed $9 billion by 2025.
Author Name : Mateen Dalal
With global enterprises rapidly embracing cloud platforms as well as other networking technologies, cybersecurity market is anticipated to observe a massive upscale in revenue. As more and more organizations transition into the cloud and work to minimize security risks, making the enterprise network less vulnerable to a plethora of cyber-attacks, the average annual spending on cybersecurity is expected to rise significantly. In fact, back in 2017 the average spending on cybersecurity solutions by organizations went up as much as 23% accounting for more than $11.7 million. This increasing cyber security budget in several organizations globally is expected to be one of the most prominent growth inducing factors propelling cybersecurity market.
U.S. Cybersecurity Market Revenue, By Product, 2017 & 2024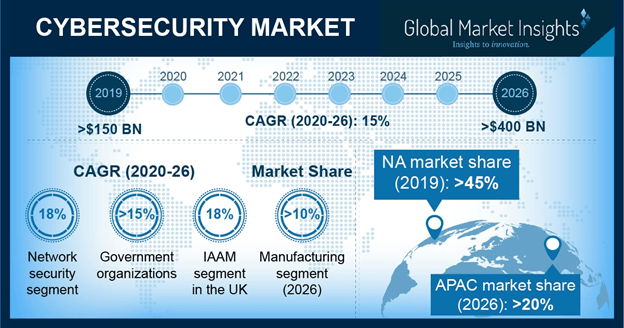 While the topic of cybersecurity once received perfunctory response from global governments, the scenario has undergone a drastic change today. A number of nations have increasingly begun looking for ways to protect their government agencies from malicious attacks by boosting their cybersecurity preparedness efforts. The potential of the threat is so much that in 2018, the World Economic Forum launched Global Centre for Cybersecurity to protect the world against hackers. These cyber security efforts were further magnified in late 2018 when more than 50 countries signing an international cyber security principles agreement that aims to put an end to malicious cyber-activities in peacetime – an act that is bound to significantly drive the growth prospects of cybersecurity industry.
Hefty adoption by large enterprises to fuel global cybersecurity market size
As businesses worldwide undergo a digital transformation, wherein they move the critical applications of their enterprise network onto the cloud, the issue of cybersecurity has garnered mainstream attention. The digital transition has undeniably allowed organizations to significantly improve their operating efficiencies, but has also made them vulnerable to a plethora of cyberthreats that could bring their operations to a grinding halt if they fail to manage the security risks properly. In fact, according to Telstra, over 59% organizations across Asia experience a business-interrupting cyberattack at least once a month due to inadequate cyber security measures.
Get a Sample Copy of this Report @ https://www.gminsights.com/request-sample/detail/3078
Driven by the threat potential of cyberattack more and more large enterprises are embracing cyber security solutions. Indeed, large enterprises accounted for over 60% of the global cybersecurity market share in 2017. It is also prudent to mention that 2017 was witness to one of the biggest cyberattacks ever, where the WannaCry ransomware, which affected over 400,000 machines across 150 nations, cost the world approximately $4 billion in losses. Large enterprises on an average lost over $10 million because of cyber security breaches.
Prompted by the WannaCry attack, that enabled the average cyber-attack cost to rise as much as 11%, enterprises were further encouraged to embrace more advanced security solutions. The cybersecurity market is also expected to attract sizable gains on account of the growing Bring Your Own Device (BYOD) trend, wherein businesses are allowing their employees to utilize their personal devices on the job.
How has the new U.S. national cyber strategy impacted the cybersecurity industry trends?
The United States of America has been facing consistent threats from an increasing number of highly-sophisticated malicious entities that are motivated by a whole host of different factors ranging from ideological & political interests to espionage & financial gains. The Armed Forces Communications and Electronics Association (AFCEA), in September of 2018 had pointed out that the U.S. government did not possess a comprehensive cyber security strategy leaving U.S. critical infrastructure and federal agencies extremely vulnerable to cyberattacks. In the days that followed, the Trump administration released the National Cyber Strategy, the nation's first, fully-articulated cyber strategy in over 15 years.
Propelled by the cyber strategy, in conjunction with the rising adoption of cybersecurity solutions by an extensive number of enterprises spanning the nation, the U.S. cybersecurity industry is anticipated to crop up as one of the most prominent regional markets over 2018-2024.
It is rather overt that the global cybersecurity market is well positioned to establish itself as a lucrative investment ground. As per Global market Insights, Inc., cybersecurity industry size, driven by the growing number of cyberthreats that are frequently cropping up, is anticipated to be pegged at $300 billion by 2024.
Author Name : Akshay Kedari