Laser
The tremendous surge in the adoption of solar panels, thanks to government initiatives, will fuel solar panel recycling management market. The increase in the number of solar panel installations indicate an equal increase in the number of decommissioned panels, which in turn will drive the industry trends. Most companies nowadays are also intent on establishing newer recycling facilities to encourage the green revolution, further stimulating solar panel recycling management market. For instance, recently, Veolia Environnement S.A., the French environmental solutions provider, announced its plan about implementing a new solar module recycling facility at Rousset, south of France, for recycling decommissioned solar modules.
U.S. Solar Panel Recycling Management Market size, by process 2013-2024 (USD million)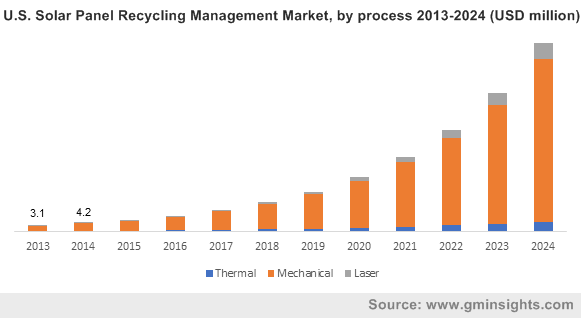 Ideally, solar panels have a regular shelf life of 30 years. Post this 3-decade period, these panels will need to be disassembled and recycled for further use. Strict government directives regarding solar panel recycling and environmental maintenance will propel solar panel recycling management industry, which is anticipated to grow at a CAGR of more than 35% over 2016-2024. As per the report by Global Market Insights, Inc., "Having registered more than USD 20 million in 2015, Solar Panel Recycling Management Industry will cross USD 360 million by the year 2024."
Get a Sample Copy of this Report @ https://www.gminsights.com/request-sample/detail/1153

Solar panels can suffer normal losses or early losses. In case of the former, the panels function until the end of their shelf life, after which they are decommissioned, accumulated, and recycled. Solar panel recycling management market share from normal losses is expected to cross USD 300 million by 2024. When solar panels cease to function efficiently due to maintenance issues, technical problems, and unfavorable weather conditions, they are said to suffer early losses, in which case, they are decommissioned earlier than their usual shelf life and then recycled. Solar panel recycling management market from early losses is said to grow at a CAGR of 35% over 2016-2024.
Global solar panel recycling management industry is slated to be fiercely competitive owing to the existence of several companies involved in the manufacture of solar panels and the increasing preference toward sustainable energy sources. Key players include Canadian Solar, PV Recycling, LLC, PV Recycling, LLC, Envaris, Reiling Glass Recycling, First Solar, Rinovasol, Silcontel, ECS Refining, Silcontel, Eiki Shoji Ltd, Chaoqiang Silicon Material, Cellnex Energy, REMA PV Systems, IG Solar Private, Darfon Electronics Corporation, and Suzhou Shangyunda Electronics. Companies engage in tactics such as product innovation and enhanced recycling procedures to sustain their position in solar panel recycling management market.
Solar panels can be recycled by means of thermal, laser, and mechanical processes. The mechanical recycling process is deemed to be one of the safest, owing to which solar panel recycling management industry share from mechanical process will surpass USD 300 million by 2024. Solar panel recycling by thermal process places a strain on the environment due to the presence of excess silicon in the panels. However, with companies striving to innovate environment-friendly thermal procedures, solar panel recycling management industry from thermal process, worth more than USD 1 million in 2015, will grow substantially over 2016-2024.
Thin-film PV cells are extensively adopted for solar panels subject to their excellent quality and affordability, which will in turn, fuel thin film solar cells industry over 2016-2024. Increasing adoption rate of these cells coupled with their most favorable property of longer shelf life will also drive solar panel recycling management market from thin film PV cells, which is anticipated to witness a y-o-y growth rate of more than 40% over 2016-2024.
Polycrystalline solar cells possess excellent properties such as high efficiency and enhanced battery power. High adoption of sustainable energy resources coupled with the aforementioned properties will fuel solar panel recycling management market from polycrystalline cells, which is slated to cross USD 220 million by 2024.
In Germany, the number of dismantled panels amounted to more than 75,000 tons in 2015. An exponential rise in the number of decommissioned panels annually, strict government norms, and the establishment of solar farms will propel Germany solar panel recycling management market, which is expected to cross USD 24 million by 2024.
Chile is anticipated to hold a volume of more than 45,000 tons of decommissioned solar panel waste, which makes it a lucrative market for panel recycling. Chile solar panel recycling management industry is expected to observe a CAGR of more than 40% over 2016-2024.
High volume of decommissioned solar panels in the U.S. (30,000 tons in 2016) and rising adoption of solar panels will drive U.S. solar panel recycling management market size over the next seven years, which was worth more than USD 5 million in 2015.
Solar energy is one of the most widely-adopted renewable energy sources globally. The increasing implementation of solar panels, government directives regarding waste disposal, and the increase in the number of decommissioned panels will significantly propel solar panel recycling management industry over the years to come.
Author Name :Saipriya Iyer
In recent times, barcode printers market has been witnessing rapid expansion owing to the cutting-edge products being unveiled by prominent industry players and their consistent adoption of strategic growth tactics. Citing an instance of the latest product innovation, Printronix Auto ID Inc., one of the global leaders partaking in industrial barcode printing industry, has launched a high-performance thermal barcode printer, the T6000. Equipped with advanced features such as an enhanced print speed of 14 inches per second, an interactive screen which lowers downtime, postscript and pdf support for complex labelling requirements, and improved RFID capabilities, this product is indeed revolutionary.
It would also be imperative to state that this latest thermal barcode printer seamlessly integrates with any network infrastructure with plug and play facility and comes with unique online data validation process which assists in producing barcodes that eliminate exorbitant compliance fees. Such dynamic and encouraging technological advancements in product development are set to favorably influence the growth prospects of barcode printers market in the upcoming years. According to research analysts, the global barcode printers industry size stood at USD 2.4 billion in 2017.
UK barcode printers market, by application, 2017 & 2024 (USD Million)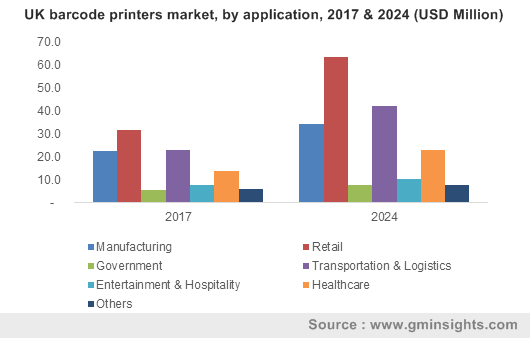 Thermal barcode printers have indeed found commendable traction over the years in various industry domains due to their outstanding thermal transfer technology. Embedded in thermal barcode printers, this technology offers long-lasting labeling applications, which have in turn found extensive usage in printing cards, magazines, posters, picking and shipping labels, receipts, and books. Evidently, the adoption of these printers has had a major impact on barcode printers market outlook. Indeed, thermal-based printers account for more than 65% of the overall industry share and are likely to gain commendable returns in the ensuing years owing to their excellent durability and low operational costs.
Concurrently, the diverse applications of barcode printers are increasingly being deployed in the healthcare industry. Noteworthy applications such as desktop barcode printers in particular, are contemplated as an ideal product for the healthcare industry, as they have helped boost the efficiency and productivity of medical care operations. The product has emerged to be of immense use in hospitals as it offers accurate patient information, enhanced medicine administration, parcel post, specimen collection and identification, shipping/receiving labels and patient identification. The growing demand for products such as barcode-based wristbands for patient identification will thus drive desktop barcode printers market trends over 2018-2024.
Get a Sample Copy of this Report:@ https://www.gminsights.com/request-sample/detail/147
Meanwhile, it would be well advised to enumerate the challenges that would impede the growth potential of barcode printers industry in the longer run. The vertical apparently, has been marred by the low printing quality of labels, add to it the rising prominence of Radio Frequency Identification (RFID) tags. In the years to come however, these restraints are likely to take on a turn for the better, as companies continue to conduct R&D activities to develop innovative solutions with a high level of reliability.
Speaking of the regional expansion outlook, Europe barcode printers market is likely to garner appreciable return in the coming years. This growth can be primarily attributed to the rising deployment of these products to improve customer experience and visibility. The ability of these systems to enhance efficiency and lower costs incurred through errors in shipping, packing, and manual input enables companies to achieve high Return on Investment (ROI), thereby impelling the regional barcode printers industry share.
This business fraternity is anticipated to witness intense competition among the major industry players such as Printonix Auto Id Inc., Epson America Inc., Toshiba Tec Corporation, Zebra Technologies, Honeywell Scanning and Mobility, Dascom, Printek, Seiko Epson Corporation and Godex International Co. Ltd., etc. In a bid to strengthen their positions across the vertical, companies have been highly vigilant as far as conducting robust collaborations and alliances is concerned, as enumerated by the partnership between the leading barcode printers' producer, Epson America Inc. and the barcode labeling software manufacturer TEKLYNX International. The alliance features the seamless integration of TEKLYNX barcode label design software and Epson's inkjet color label printer that would provide GHS-compliant chemical barcode labeling for all the sizes in the manufacturing industry.
As the adoption of lucrative growth tactics among market participants surges in the years ahead, barcode printers industry trends are likely to undergo a major transformation. Having been pegged at a valuation of 3 million units in terms of shipments in 2017, barcode printers market size has been forecast to register a CAGR of 5% over 2018-2024.
Author Name : Saif Ali Bepari