LCD
Automotive digital instrument cluster market size is projected to gain massive momentum in the decades to come owing to the shifting trends towards the adoption of smart vehicles. The accelerated rise of new technologies and the rising integration of digitalized components in vehicles have propelled the integration of digital instruments along with many technological components.New business models and digitalization have revolutionized the automotive sector by giving rise to emerging trends such as autonomous driving, connectivity, and electrification. With the increased complexity of vehicle electronics, there is a greater demand for more cost-effective, user friendly, and lucrative solutions to reinforce a wide range of features. Electronic clusters can be reconfigured by letting consumers customize the display contents and allowing better interactivity.
Cluster manufacturers are directing rigorous efforts to develop newer systems to combine infotainment with these panels and enabling the display of electronic information in a single panel by using a system on a chip platform. These chips are known for delivering high-quality displays in 3D and 2D graphics for mid-size cars. Smart vehicles are moving automakers towards information-rich graphical displays, driving automotive digital instrument cluster industry forecast.
12 inch display segment is anticipated to witness over 24% CAGR between 2019-2025. OLED is estimated to gain a high demand among new vehicle display panels as it is extensively used to produce flexible, slim and light displays. Manufacturers are widely utilizing these displays for several vehicle applications such as navigation, internal & external lightening, head-up display, and instrument cluster.
Due to advanced features, car manufacturers are widely adopting OLED as an advanced automotive lighting component which will further stimulate automotive digital instrument cluster market trends. In 2018, LG Display had collaborated with Cadillac, Mercedes, and Tesla for the development of FHD 12.3" curved plastic-based flexible OLEDs. OLED provides new possibilities in lamp and luminaire designs and as panel radiators, they are apt for use as taillight, signal light, or even interior lighting.
As the competitive pressure mounts in the automotive sector, there has been a reduction in electronics and digital system manufacturing costs for passenger vehicles, while bringing new advancements in instrument clusters. Moreover, instrument clusters are evolving rapidly with the addition of color displays and high-display solutions which provide an opportunity to develop greater display panels.
Get a Sample Copy of this Report:@ https://www.gminsights.com/request-sample/detail/4389
Many companies and business incubators are looking forward to commencing the installation of several algorithms in the e-cockpit like fisheye detection, around-view mirror (360-degree AVM) rearview monitoring, and Driver Monitoring System (DMS) creating the need for big instrument clusters. In May 2019, Visteon Corporation had announced the introduction of a SmartCore cockpit domain controller in India.
This system formed a key part of the digital & hybrid instrument cluster and infotainment system in TATA Harrier SUVs. Similar moves by manufacturers and companies to adopt the automotive digital instrument cluster could highlight the trend in automotive sector. It is estimated that global automotive digital instrument cluster industry size may be pegged at USD 7 billion by 2025.
Asia Pacific automotive digital instrument cluster industry size is increasing rapidly due to the strong vehicle and component manufacturing sector in emerging economies like Japan, China, and South Korea. Most of the regional governments have been instigating a supportive regulatory framework to enhance the deployment of the digital instrument cluster in automobiles that will fuel the product demand in coming years.
Other Asian countries including South Korea, Japan, and India are also witnessing a robust expansion of the automobile sector due to the low manufacturing costs, consumption of passenger vehicles, and increased export activities in the region. The rising use of digital technology in vehicles for achieving sustainability and better performance will certainly bolster automotive digital instrument cluster market outlook.
Author Name : Deeksha Pant
The consumer electronics sector is soaring with the growing popularity of UHD TVs. The UHD/4K panel market has already generated a heavy momentum in this space with the development of next generation TVs. Ultra HDTV has gradually emerged from a techie's dream to consumer reality in the recent past. This UHD technology is unlocking transformative, awe-inspiring, and enhanced viewing experience with a minimum resolution of 3840 x 2160 pixels. 4K resolution provides around 8 million pixels and is called so as a result of the images being about 4,000 pixels wide.
The increasing number of platforms offering higher resolution of HD content will further expand UHD panel industry growth.  Moreover, government initiatives to minimize custom duties particularly in India and China and the dropping prices of 4K panels will stimulate UHD market over the coming years. UHD/4K Panel Industry is estimated to grow at a rate of 11% over the period of 2016-2024.
North America UHD/4K panel market size by application, 2013-2024 (USD Million)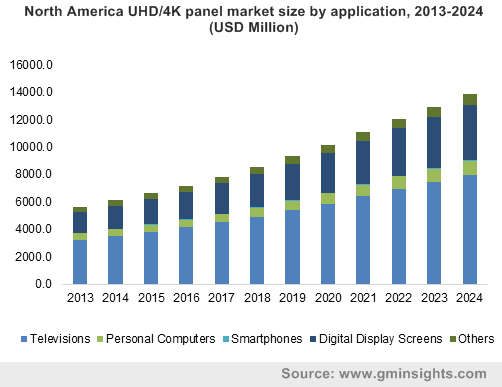 In 2015, the television application accounted for over 55% of revenue share and is set to register a CAGR of 11% over the period of 2016-2024. Demand for better customer viewing due to improved picture quality will propel 4k panel industry growth.
Retail is another booming sector which has been penetrated by the UHD technology. This is undoubtedly helping retailers to display their products with minute details and supreme clarity. A memorable shopping experience with UHD displays owing to its superior quality is attracting larger consumer base, thus driving ultra-high definition panel market. Digital display screens market worth USD 4 billion in 2015 is set to witness a significant growth curve, owing to rising demand from the advertising and publishing sectors. The growth of digital signage market due to rising commercial application in advertising is also worth noticing.
Get a Sample Copy of this Report @ https://www.gminsights.com/request-sample/detail/724
Devices equipped with UHD panel are highly energy efficient and durable. LG, Toshiba, Sony Electronics, Panasonic, Philips, Sharp, BOE Technology Group, Hisense Group, and Samsung Electronics are the major players accumulating maximum share of ultra-high definition panel industry. These players are highly emphasizing on product development and customer service to keep up with growing competition for providing better image quality. The demand for 60-inch and above screen size is projected to record a substantial growth in UHD/4k panel market.
For achieving better displays of mobile and tablet screens, LED technology is used which accounted for more than 45% in 2015 and is estimated to grow at an annual rate of 8.8% over the period of 2016-2024. LCD segment is another booming technology, projected to record USD 18 billion by 2024, owing to its lower power consumption feature. LCD uses the light modulating properties of liquid crystals which is gaining high preference in global UHD panel industry.
In terms of regional split, Asia Pacific ultra-high definition panel market share catered for over 20% of the overall industry in 2015 and is set to hit a CAGR of 11.6% over 2016-2024.  North America 4K panel market, led by the U.S., is estimated to generate a revenue share of over USD 19 billion by 2024. The regional growth is subject to huge tech-savvy consumer base and intensive adoption of HD technologies.
Early deployment of this technology is likely to show tremendous growth prospects for future trends in 4K panel industry. Heavy investments in research and development will send strong undercurrents for the future of consumer electronics. Developments in this area are really going to be interesting to watch over, in the next couple of years.
Author Name : Ojaswita Kutepatil
Industry Overview
Global Digital Signage Market size was greater than $15 billion for 2015 and is predicted to register CAGR of 5.2% during forecast timeframe. Innovations in display panel production techniques have led to substantial price decline predicted to positively affect global digital signage industry trends. Software dealers are growingly concentrating on entry level items. Execution of flip clip technology leading to good dissipation of heat, reduced LED failure and large availability of light angles is predicted to lessen digital signage market price trend.
However, lack of standards to assure interoperability between these two equipment kinds is one of the key challenges to industry growth. Creating advanced solutions with already available commercial media players and displays is a key threat to the growth of the industry due to interface compatibility.
Producing and distributing contents through digital signage technology is rapid and cost effective. For example, a hotel can make use of digital signage to promote its shopping amenities, dining services and recreation facilities.
View a summary of the "Digital Signage Market Size, Industry Analysis Report" @ https://www.gminsights.com/industry-analysis/digital-signage-market-report
Application Trends
The industry is segmented into various applications like retail application and healthcare application. Retail application contributed more than 40% of global industry share for 2015. It is predicted to continue its domination in future.
Healthcare segment features positive regulatory scenario for industry growth. It is predicted to register 7% CAGR during forecast timeframe. Pharmaceutical Research and Manufacturers of America has made such regulations that disallows pharmaceutical firms from following the traditional practice of distributing notepad and branded pens to physicians for marketing their products. The new rules have compelled the firms to explore 3D technology based digital signage as a feasible marketing tool. Further, this technology assists in reducing perceived patient waiting times by curbing their anxiety through entertainment.
Display Technology Trends
LCD display technology contributed to greater than 55% of the industry share for 2015 but is predicted to expand at sluggish rate than global average during forecast period. Large screen sizes like those bigger than 50 inch displays are predicted to experience higher acceptance during forecast timeframe. In contrast to this, small sized displays are predicted to lose their industry share due to declining LCD costs and rising digital signage market size.
LED displays are attractive segment with CAGR predicted over 6% in future.
Regional Trends
U.S. digital signage market size was $4.4 billion for 2015. Rising demand across various application areas is predicted to positively affect the industry growth of the region.
Favourable application overview along with improved user experience is a key factor driving the industry growth in Asia Pacific. Regional demand for the digital signage across transportation segment is predicted to register a CAGR of about 7% during the forecast period.
Get a Sample Copy of this Report @ https://www.gminsights.com/request-sample/detail/392
Competitive Trends
Key industry players profiled in the report include Panasonic Corporation, Samsung Electronics, LG Electronics, NEC Display Solutions Limited, Scala Incorporation, Adflow Networks, Cisco Systems Incorporation, KeyWest Technology Incorporation, Microsoft Corporation, BrightSign LLC, Intel Corporation, Omnivex Corporation, Polk Audio and Winmate Communication Incorporation.
Author Name : Dhananjay Punekar