Leather
In the past few years, lithopone market has observed remarkable growth, primarily fueled by the growing investments in the paint, leather, paper, and cosmetic industries. The proliferating industrialization and globalization trends worldwide will further help prominent companies strengthen their consumer base. In addition to this, heavy investment in infrastructural development projects and the automotive industry will also drive the product demand over the coming years.
U.S. Lithopone 28% Market Size, By Application, 2018 & 2025, (Kilo Tons)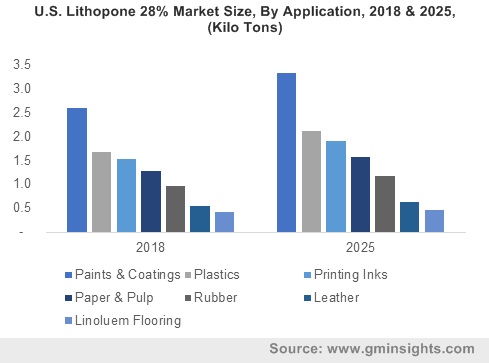 Leather is one of the most widely traded commodities across the globe. The leather industry is mainly driven by the increasing consumption of leather for footwear, interior design industries, and furniture. Owing to the sufficient availability of raw material along with huge population of cattle, India has emerged as one of the lucrative business destinations for leather trade globally. For instance, recently, it had been announced that the Punjab state government has been hoping to sign multiple agreements with French companies pertaining to various sectors, including leather industry. The substantial growth in synthetic leather market will have notable impact on lithopone industry share.
Environment concerns about the hazards caused to biodiversity due to extensive use of chemicals in the aforementioned industries have augmented the use of lithopone in leather, paint, and ink industries prominently. Before the development of lithopone, lead carbonate had been used as a pigment agent for various industrial applications, but due to its poor weathering, and toxic nature, lithopone is now preferred as an alternative. Shifting focus of regulatory bodies toward the deployment of stringent norms to reduce the impact of hazardous chemicals on the environment is slated to generate lucrative opportunities for lithopone manufacturers over the years ahead.
In the last few years, due to rapid urbanization and industrialization, soil pollution level has increased tremendously. The increasing use of plastic products and polythene bags are the prominent factors accelerating environmental hazards. In this regard, several countries have started framing laws for banning the use of plastic bags. As an alternative to the harmful plastic products, most of the companies have shifted their focus to manufacture paper bags, which would augment industry growth.
Get a Sample Copy of this Report @ https://www.gminsights.com/request-sample/detail/3518
As per the United Nations Environmental Program (UNEP), plastic packaging covers around half of all the plastic waste worldwide. The steps undertaken by regulators to control single-use plastic is likely to enhance requirement of lithopone in paper and pulp industry. According to Global Market Insights, Inc., lithopone industry share from paper and pulp application is estimated to surpass a revenue of USD 25 million by the end of 2025.
Countries like China have now banned the distribution of plastic bags, though the country has become one of the largest paper and paperboard producers and consumers. However, despite this, China has been importing raw material required across the paper making industry from the countries like UK, US, and Japan. In addition, now, China has become a hub for automotive manufacturers, that have been fueling the demand for paint, leather, and paper. Thus, it would be possible that China lithopone market thrives successfully over the years ahead.
It is to be noted that the exponentially growing automotive industry is one of the major consumers of leather, paints and coatings. The surge in the investment across automotive sector to meet consumers' requirement for several variants of vehicles comprising electric, hybrid, duel color will improve the industry trends noticeably. In line with the expanding automotive paints and coatings market size, lithopone market will also observe a remarkable rise in its revenue share.
Government policies deployed to maintain social and environmental health hazards will turn out be lucrative opportunity generators for lithopone manufacturers. Increasing awareness among the people about negative impact of plastic waste will further enhance the demand for lithopone over forecast years.
The involvement of international regulatory bodies like UNEP along with improved consumer living standards will majorly promote the use of lithopone for various applications. The global lithopone industry outlook, in the years to come, will be characterized by the impact of environment projects, transforming automotive industry trends, and changing lifestyles.
Author Name : Sunil Hebbalkar
In the recent times, sodium acetate market has witnessed a rather lucrative commercialization prospects owing to its extensive application across numerous business verticals including food processing, leather and textile, and pharmaceuticals. Prominently utilized as a food preservative, sodium acetate has further found widespread usage as a neutralizing agent, diuretic agent, and buffering & pickling agent across various end-use domains –  a factor that has contributed significantly toward sodium acetate industry share augmentation. Moreover, rapid industrialization and enormous FDI investment in emerging nations across the globe has spurred the growth potential of the aforementioned industry verticals, which has, in turn, driven the sodium acetate market size expansion.
U.S. Sodium Acetate Market Size, by Product, 2013 – 2024 (USD Million)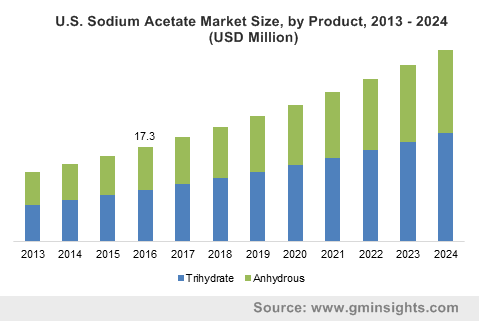 Food processing sector to emerge as a prominent end-user of sodium acetate industry
Owing to its excellent food preservation qualities, sodium acetate has been increasingly preferred by food processing industry over the past decade, which has proved to be quite beneficial for the overall sodium acetate market. The widescale applicability of this chemical can be attributed to the massive rise in the consumption of canned food items subject to fast-paced lifestyles and a drastic variation in dietary habits across developed and developing countries. This has, in consequence, provided a significant boost to the growth potential of sodium acetate industry. Apparently, sodium acetate is being utilized as an acid regulator to prevent the growth of harmful bacteria in canned meat, vegetables, and fruit. Furthermore, it would be prudent to mention that the addition of sodium acetate during the canning and drying procedures not only desists bacterial growth but also extends the shelf life of the product.
Get a Sample Copy of this Report:@https://www.gminsights.com/request-sample/detail/2408
Concurrently, sodium acetate market has found a major foothold in the global dairy sector, as the chemical is being utilized as an emulsifier and preservative in numerous dairy products. Apart from being widely used in condensed milk, sour cream, buttermilk, whey-based yogurts and drinks, sodium acetate has emerged as a preferred preservative in cheese preparations such as processed cheese, ripened cheese, cheese analogues, and processed cheese. In view of the rapid advancement of the global dairy sector, the growing prominence of sodium acetate as a preservative in the overall dairy industry is likely to impel the sodium acetate market size expansion.
Thus, the rising significance of sodium acetate in the global food processing sector can be validated from the aforementioned declarations. In fact, as per the research report compiled by Global Market Insights, Inc., food processing vertical accounted for more than USD 26 million of the revenue share of the total sodium acetate industry size in the year 2016.
The Asia Pacific region has indeed established itself as a profitable growth terrain for sodium acetate market stakeholders, as the expansion of numerous end-use verticals in this region has been much more pronounced when compared to other developing economies. For instance, sodium acetate is regarded as one of the most popular preservatives in Japan with the total demand for the chemical, as per reliable sources, being a humongous 3,500 tonnes. Apparently, such statistics demonstrate the necessity of sodium acetate across various verticals in the Asia Pacific region. For the record, Asia Pacific sodium acetate industry is estimated to have apportioned more than 55% of the total revenue share of this business space in 2016.
Elaborating further, it is quite imperative to mention that this multimillion-dollar business sphere is set to exhibit robust growth rate over the forthcoming years owing to the humongous deployment potential of sodium acetate – right from modest domestic uses to intricate chemical and industrial applications. In addition to this, the leading sodium acetate industry participants have been investing massively in vital research and development activities to strengthen their position in this swiftly emerging bulk and specialty chemicals vertical. Apparently, considering the aforementioned aspects, it quite undeniable that the sodium acetate market growth prospects appear to be substantially profitable in the ensuing years, with a target revenue of USD 220 million by 2024.
Author Name : Saif Ali Bepari