LiDAR Market Size
With an escalating upsurge in the demand for 3D imaging solutions, the growth graph of LiDAR market is poised to remain exponential in the forthcoming years. The application of LiDAR spans a stream of sectors such as the automobile, construction, archeology, land surveying, and river surveying industries. Perpetual advancements in automation, construction, flood modelling, cartography, navigation, meteorology etc. have also been driving the demand for LiDAR technology. The augmented use of LiDAR technology by governments for different activities, like topographical surveys, pollution modelling, flood modelling, mapping and surveillance, is expected to majorly propel LiDAR market growth ahead.
U.S. LiDAR Market Revenue, By Product, 2018 & 2025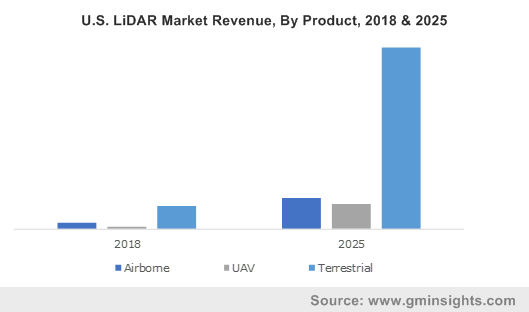 In initial times, heavy scanners were used for surveys, which called for an airplane with an entire managing team to compile the survey in question. The whole process was expensive and required a lot of manpower to complete the survey in a week. Only major government agencies could afford to conduct airborne LiDAR surveys, while the others had to rely on the data compiled by these official agencies.
Now however, with the advent of lightweight, low-cost scanners, equipped with advanced technological developments, the picture of the global LiDAR market has changed considerably. Many companies are incorporating LiDAR technology in their operations to embark on their own surveying activities. The continuous demand for LiDAR is bound to enhance its adoption, thereby fueling LiDAR market growth.
Back in day, companies struggled to procure detailed data for tropical surveys and other purposes due to scarce reliable alternatives. LiDAR however, has documented a revolution in terms of geospatial data and mapping. Currently, companies have started using LiDAR systems mounted onto a UAV for detailed and steadfast 3D mapping. Formerly, large historical sites used to take years for surveying, but now, entire cities can be mapped in 3D in a matter of minutes leveraging UAV aided with LiDAR technology. Versatility and ease of use, and the lure of accurate and visible details with effective mapping will further propel the expansion of LiDAR industry in the years ahead.
Get a Sample Copy of this Report:@ https://www.gminsights.com/request-sample/detail/421
Consumer demands have undergone a major upheaval in the last decade or so. Many leading companies – specifically automakers are seen striving to come up with something innovative by the day for expanding their consumer base. Say for instance, of late, automotive companies have been working tirelessly to manufacture efficient self-driving cars. These autonomous cars are incorporated with LiDAR technology to deliver a high-definition inch-precision map of the area where the vehicle is driving.
Specifically, automakers are known to incorporate mechanical LiDAR devices in the vehicles, given their excellent efficiency. This has also been attracting investments from many automotive companies, expediting the growth of the global mechanical LiDAR industry. As a matter of fact, the continuous spate of R&D activities to commercialize this technology in cars is expected to propel mechanical LiDAR market size, slated to record a CAGR of 32% over 2019-2025.
LiDAR technology has also found its deployment in environment applications. Airborne LiDARs are used to detect and map vegetation, deep waters and dense clouds. LiDAR is being used in oceanography to estimate general biomass and phytoplankton fluorescence in the surface layers of the ocean. LiDAR also enables scientists to determine the biodiversity of the forest helping to preserve ancient trees. This in consequence, is expected to drive LiDAR market share from environment applications, projected to register a CAGR of 32% over 2019-2025.
Boasting of numerous applications across several industries, LiDAR industry is slated to gain commendable traction across the globe. Core companies are focusing on enhancing their existing LiDAR portfolio and several other have been adopting LiDAR in their base operations as well. Driven by the escalating demand to collect highly accurate data across various project sites, LiDAR market valuation is expected to exceed USD 10 billion by 2025.
Author Name : Anchal Solanki