Low Profile Gastrostomy Device
With rapid technological advancement in medical devices & tools, the overall enteral feeding devices market has witnessed a rather lucrative growth in the recent years. Offering enhanced patient safety, reduced nursing time, decreased contamination risk, and lower tubing cost & formula wastage, enteral feeding devices, delivering nutrition by tubes, have been gaining tremendous demand from the hospitals and medical homecare applications. Speaking of the commercialization trends influenced by the escalating use of enteral feeding devices in hospitals, it is important to note that hospitals application segment accounted for significant revenue share in the overall enteral feeding devices industry.
U.S. Enteral Feeding Devices Market, By Product, 2013 – 2024 (USD Million)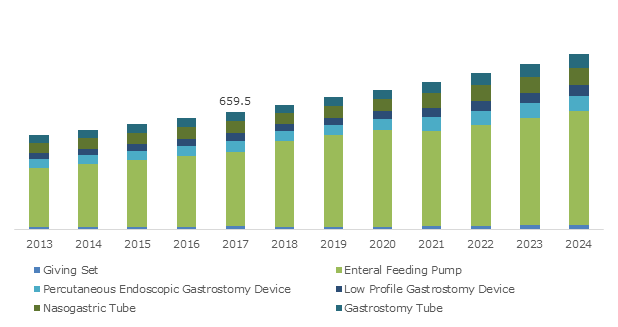 Elaborating further, enteral feeding devices market from hospitals segment accounted for USD 1.5 billion in 2017. The growing patient population suffering from gastrointestinal diseases, digestive, ingestion problems, and chronic conditions such as diabetes and cancer leading to increasing number of in-patient surgeries have prominently impacted the segment growth in the recent years. These disorders are also multiplying on a larger scale. According to WHO, in Europe alone, over 60 million people are suffering from diabetes and more than 60% of people over the age of 60 and above have at least one chronic condition. This rising prevalence has positively impacted enteral feeding devices industry growth from hospitals, which is estimated to record a y-o-y growth of 6% over 2018-2024.
Speaking about the geographical trends influenced by the growing number of hospitals and healthcare infrastructure, it is prudent to mention that Asia Pacific is emerging as a major investment hub and is dynamically drawing profitable investment opportunities. Rapid rise in geriatric population as well as increasing nutritional deficiency problems have favored the regional growth. Estimates claim that in India, there are over 190.7 million people who suffer from malnutrition and more that 53% of deaths occur due to some kind of chronic disease. The data simply goes on the validate that rising number of such incidences will prevail the growth of enteral feeding devices across homecare services and hospitals. Attributable to these regional trends, reports claim that India enteral feeding devices market is poised to record a CAGR of 7.1% over 2018-2024.
Get a Sample Copy of this Report:@https://www.gminsights.com/request-sample/detail/745
Impact of FDA's concerns over feeding tube misconnections on enteral feeding devices market
Recently in September 2018, the U.S. FDA in its letter addressed to hospitals, healthcare providers, and manufacturers of enteral feeding tubes, has raised concerns over the misconnections with enteral devices. Pointing toward the reports of two deaths, 32 device malfunctions, and 24 serious injuries, the agency has recommended to manufacture enteral feeding devices strictly according to the ISO standards and has recommended the clinicians and hospitals to make use of connectors that meet the international standards.
Prominent enteral feeding devices industry players including Boston Scientific, Baxter, Cook Medical, Cardinal Health, and other members of GEDSA in this regard have been making immense efforts in tackling the dangers of tube misconnections and designing safer devices. The GEDSA (Global Enteral Device Supplier Association) Group members are majorly adopting as well as recommending ENFit connectors that meet the ISO standards regardless of various suppliers.
Apart from this, several other companies operating in the enteral feeding devices market are also coming up with new alternatives. InventHelp, for instance, has recently developed FEED UP accessories to stabilize a feeding device machine and bag. Improving the function and mobility, the accessories ensure an uninterrupted and constant flow of nutrition through the device. VYGON group is another in line which has introduced an intuitive enteral feeding pump that address the major issue of misconnections and patient injuries. The pump connects to a nutrition bag and is armed with a digital interface that precisely controls and monitors the flow rate.
It is rather overt from the above-mentioned instances that the global enteral feeding devices market players are increasingly bringing forth technological innovations in a bid to mitigate the technical limitations associated with the devices. Powered by these competitive trends, ongoing scientific research, and supportive government norms, the global enteral feeding devices market is set to cross the overall remuneration portfolio of USD 3.5 billion by 2024.
Author Name :  Ojaswita Kutepatil