Lubricants
Endowed with a wide application spectrum, the growth prospects of the global phosphate esters market have been witnessing an upsurge in the recent years. The wide range of structures and links of phosphate esters that can be developed to adapt to specific applications and functional properties have in turn resulted into wide range of commercially valuable products. With the globally flourishing agricultural and construction industries, the demand for phosphate esters as a raw material in surfactants, agrochemicals, lubricants, fire retardants, and plasticizers have significantly favored this business sphere.
U.S. phosphate esters market size, by application, 2014 – 2025 (USD Million)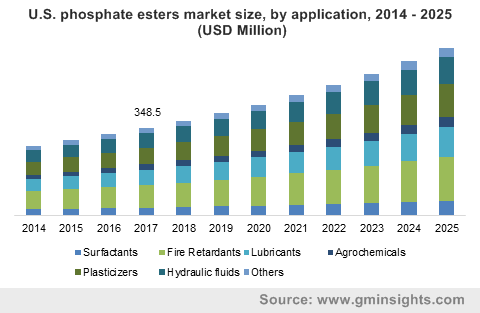 Elaborating further, it is prudent to mention that the emerging move away from the low molecular weight orthophthalate PVC plasticisers is set to have a significant impact on this industry expansion. The tightening of regulations coupled with the rapid emphasize on product development activity for alternatives that offer better properties have in turn impelled several companies to go the whole hog and take advantage of this situation.
Unveiling the application landscape of the global phosphate esters industry
Speaking of the application spectrum, estimates claim that the fire-retardant segment accounted for more than 20% of the overall phosphate ester market share in 2017. The rapidly growing population and construction sector are the most pivotal factor driving this application segment. The demand for phosphate esters as multifunctional additives for metal working fluids has also favored the segment growth.
Besides the fire-retardant application, two prominently emerging application segments of the global phosphate esters industry are the hydraulic fluids and agrochemicals. Reliable reports claim that the trend of fusion prototype and miniaturization in industrial and consumer goods segment will positively impact the demand for phosphate esters in the ensuing years. Phosphate ester hydraulic fluids are widely used in steel mill equipment, flight deck elevators, and aircraft catapult systems and including control fluid for steam turbines and hydraulic doors on blast furnaces. Consistent demand for these applications have significantly uplifted the growth of the hydraulic fluid segment, which according to reports will surpass a remuneration portfolio of USD 500 million by 2025.
Get a Sample Copy of this Report @ https://www.gminsights.com/request-sample/detail/3028
The agrochemical application segment is further likely to gain traction, given the rising demand for nitrogen and phosphate based fertilizers. In the recent years, aromatic phosphate esters are witnessing remarkable demand as adjuvants in compositions for agrochemical use in combination with at least one surfactant and agrochemical. Another prominent factor that has strongly propel the agrochemical application segment is the increasing consolidation of the agrochemical industry players.
Recently for instance, Eastman Chemical Company signed a deal with a global specialty chemicals leader Clariant to develop and distribute Eastman Chemical's Tamisolve NxG solvent – a low toxic and highly effective solvent used in the agrochemical industry. both the companies are expected to leverage their expertise and utilize their individual strengthen in developing more sustainable, efficient, and innovative agrochemicals for farmers worldwide. If industry analysts are to be believed, such deals in extension, will deliver significant business benefits to the global phosphate esters industry players.
BASF SE, Lanxess AG, Israel Chemical Ltd, Solvay S.A., Lakeland Laboratories Ltd., Ashland Inc., Daihachi chemical company, Akzo Nobel N.V., and Elementis PLC are some of the other prominent companies operating the global phosphate ester market.
North America to merge as a major revenue pocket
In terms of volume, with U.S. at its foray, North America phosphate ester market is anticipated to register a CAGR of 7.5% over 2017-2025. The massive investment in research and development in industrial equipment and manufacturing components, particularly in the U.S., is poised to accelerate the regional industry expansion in the ensuing years. The overall use of non-halogenated phosphorus esters in myriad industrial applications is also expected to favor the product demand. Estimates claim that this surge in demand has mainly triggered the regional business for triaryl phosphate ester, which is alone forecast to exceed USD 350 million by 2025. The data also significantly goes on to validate that North America phosphate ester market is all set to experience a growing investment interest from potential stakeholders in the coming years.
All in all, thriving of the cusp of expanding application and regional landscape, the global phosphate esters industry is expected to continue on a lucrative roadmap in the years ahead. A presumption bearing testimony to the same id of Global Market Insights, Inc., that claims the overall phosphate esters market to exceed a valuation of USD 3 billion by 2025.
Author Name : Ojaswita Kutepatil
The global epoxidized soybean oil (ESBO) market, in the years to come, is estimated to register significant growth prospects, attributed to the product's vast end user landscape. Epoxidized soybean oil is commonly used as a plasticizer and heat stabilizer in several food contact materials, particularly in vinyl chloride or PVC films and gaskets. Currently, the product's immense popularity can be primarily credited to the enforcement of stringent regulations against the use of phthalate stabilizers.
U.S. Epoxidized Soybean Oil Market Size, By End-Use, 2017 & 2024, (Kilo Tons)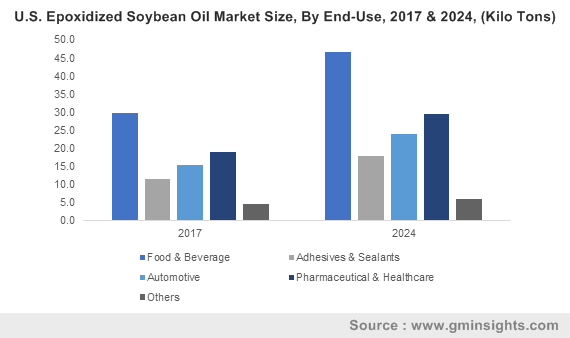 Speaking of which, phthalates are a group of synthetic chemicals that are extensively used in several consumer products that include medical devices, building materials, packaging and children's toys and childcare products made from polyvinyl chloride (PVC). Lately, the chemical has been identified as a developmental and reproductive toxicant. Moreover, the US EPA classified DEHP and BBP as possible human carcinogens respectively. Epoxidized soya bean oil serves as the perfect alternative against phthalates in order to build plasticizers and heat stabilizers, thereby propelling ESBO market size.
The rapid emergence of biocompatible lubricants due to stringent regulations applicable to mineral-oil-based lubricants and their non-biodegradable toxic wastes may also impact the epoxidized soybean market positively. Before hitting the market, vegetable lubricants made from vegetable oil are required to overcome some poor performance characteristics like thermal and oxidative instabilities. This helps demonstrate the improved performance of epoxidized soybean oil in certain high-temperature lubricant applications.
Get a Sample Copy of this Report:@ https://www.gminsights.com/request-sample/detail/1723
The problems associated with vegetable oils like poor oxidization and low-temperature properties can be enhanced by attributing functional groups at the sites of unsaturation occurred due to chemical modifications. In several countries, about 40 percent of a lubricant can be lost to the environment and with rising petrol prices, development of new industrial products from soybean seem economically feasible. Although soybean oil shows superior lubricity, vegetable-oil-based lubricants possess a weaker oxidative stability and flow under low temperatures but by attaching some functional groups at the site of unsaturation these problems can be resolved. The fact that vegetable-oil properties can be improved for lubrication through functionalization methods will drive the epoxidized soybean oil market in the years to come, as they are deployed as industrial lubricants.
The epoxidized soybean oil market may witness significant growth in Europe, driven by highly developed countries such as France and Germany, that boast of an expanding regional food and beverage industry. Incidentally, in 2017 the Committee for Social-Economic Analysis backed a proposal by the European Chemicals Agency and Denmark to limit the use of four phthalates namely BBP, DEHP, DBP and DIBP in articles comprising plasticized materials. In 2018, The European Environmental Bureau and CHEM Trust sent a letter to EU Member State representatives on the REACH Committee bringing to attention that the restriction excludes the use of phthalates in food contact materials even though maximum exposure to DEHP comes from food.
The restriction of phthalates from FCMs is likely to encourage the use of epoxidized soybean oils for creating gaskets of glass jars and on food and beverage can coatings, that would eventually augment the epoxidized soybean oil market.
The transesterification of epoxidized soybean oil often helps in preparing epoxidized methyl esters Transesterification is achieved within 10 minutes at 50 degree Celsius without losing epoxide function. Epoxidized methyl esters characterize a renewable substrate that is readily turned into fuels, surfactants, additives and other industrial products. Therefore, the transesterification process can increase the availability of epoxidized methyl esters and endorse the development of new bio-based products, impelling the growth of epoxidized soybean oil industry.
The epoxidized soybean oil market is indeed slated to record commendable gains attributed to the product usage as a raw material for various applications including polyol replacements, functional fluids, fuel additives, and agricultural and pharmaceutical molecules. Owing to its high molecular weight, the product can resist volatilization, extraction, and migration and act as a polymeric plasticizer. Driven by its widespread demand credited to its highly beneficial characteristics, the global epoxidized soybean market is anticipated to exceed $650 million by the year 2024.
Author Name : Krithika Krishnan