Magnesium Phosphate Market Research
Powered by a rather lucrative application prospect in agricultural and pharmaceutical domains, magnesium phosphate market has witnessed remarkable proceeds over the recent years. Testament of the fact is the billion-dollar valuation pegged by the market in 2017.  A large credit of this goes to the technological advancements in medicinal sector that has significantly upscaled the product utilization as a DNA carrier in modern drugs. Moreover, extensive utilization of fused magnesium phosphate in fertilizers and water treatment applications has further boosted overall magnesium phosphate industry demand. For the records, the typical nutrient content in fused magnesium phosphate fertilizers is almost 20%, that gives it a competitive edge over other synthetic fertilizers. With the growing necessity of maintaining an optimum phosphorous content in soil, magnesium phosphate industry stands to gain immensely from fertilizer applications over the ensuing years.
North America Magnesium Phosphate Market, By Product, 2017 & 2024, (Kilotons)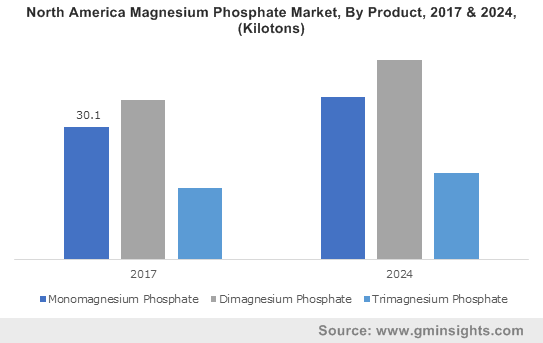 Nutritional deficiency, of late, has become a subject of discussion in the field of medical science, having been claimed as an important determinant triggering widespread epidemic of chronic diseases. Magnesium being a vital component of the nutrition chain has generated a substantial momentum in terms of its demand graph worldwide, particularly in the pharmaceutical space. The ongoing research programmes focusing on the harmful impact of magnesium deficiency and the subsequent requirement for magnesium repletion have created a considerable product demand worldwide.
As per reliable studies, magnesium deficiency has been cited as a root cause of many of the mental and physical ailments, driven by which magnesium phosphate market has strongly established its stance in the pharmaceutical sector. Magnesium is claimed to be fourth common mineral in human anatomy after calcium, sodium, and potassium and is involved as a cofactor in over 300 enzyme systems. The product is highly necessary for effective biomedical functioning of multiple metabolic pathways. Significant advancements in biomedical sector, particularly in the field of osteoporosis and arthrodesis, have also allowed magnesium phosphate industry to collect copious monetary benefits, given the product's extensive deployment in bone graft substitutes.
Get a Sample Copy of this Report @ https://www.gminsights.com/request-sample/detail/2707
As per a recent review by American Osteopathic Association, optimum magnesium level has been cited as an important prerequisite for Vitamin D in the body to be metabolized. According to the study, Vitamin D supplement can increase a person's phosphate and calcium level which may lead to vascular calcification, if the magnesium level in the body is not high enough. It has been also affirmed by the scientists that optimum magnesium level requires less vitamin D supplementation for achieving sufficient Vitamin D levels.  Not to mention, these kinds of research projects have substantially boosted the penetration of magnesium phosphate market in clinical healthcare.
Regionally, the magnesium phosphate market drift has been quite commendable across the United States, with heavy applications in pharmaceutical sector. The increasing geriatric population base which has been heavily spending in orthopaedics and dental care has been one of the vital contributors to the regional magnesium phosphate market growth. As per the estimates by CDC, arthritis incidence in the United States is estimated to surpass 78.4 million by 2040. With U.S. at the growth front, overall North America magnesium phosphate industry procured 15% of the global share in 2017 and is estimated to register a CAGR of 3% over 2018-2024.
Despite encompassing such a lucrative end-use landscape, one of the major challenges being faced by the market players is the supply demand gap in the business model. Historically, magnesium phosphate is manufactured by melting serpentine rock and phosphate rock together. Now, uneven geographical distribution of these phosphate rock reserves is somewhat hampering the production rate across some of the regions, while the increasing product demand is prompting manufacturers to go for substitute development alternatives. However, in a bid to combat the production challenge, companies are heavily investing in R&D projects to bring forth innovative approach in the production process.
All in all, with the shifting governmental as well as consumer focus toward healthy lifestyles, magnesium phosphate industry demand is poised to uptick considerably. What remains to be seen is how the emerging economies such as India and China exhibit progressions pertaining to the magnesium phosphate demand graph. The favorable socio-economic conditions in these geographies is certainly going to push the magnesium phosphate market demand, particularly in the food and agriculture sectors.  As per a market assessment report by Global Market Insights, Inc. APAC magnesium phosphate industry, led by China and India, is forecast to exceed USD 700 million by 2024.
Author Name : Satarupa De