Magnesium
The escalating development of global automotive sector will generate lucrative growth avenues for automotive wheel market. Automobile producers have been adopting new manufacturing techniques to comply with emission control regulatory norms. Researchers have also been implementing novel product designs and improvised concepts to increase the fuel efficiency of vehicles, which in turn, will boost automotive wheel industry size. Rising spending capabilities of consumers across the globe is also fueling the product demand. Of late, consumers have been prioritizing comfort, durability, and product design, which will provide a significant impetus to global automotive wheel industry. In fact, estimates claim automotive wheel market to collect a revenue of USD 91.6 billion in terms of revenue and 600 million units in terms of volume, by 2024, having held a valuation of USD 82.2 billion in 2016.
Europe Automotive Wheel Market Size, By Vehicle, 2016 & 2024 (USD Million)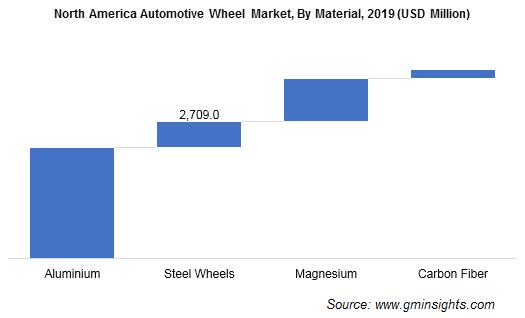 Major automotive manufacturers across North America and Europe are treading towards the production of lightweight vehicles, owing to the increasing concerns over environmental pollution. Aluminum is one of many materials that is used to construct these light weight vehicles, and has also been gaining popularity pertaining to the benefits it provides such as low weight, improved design, and excellent performance. As per estimates, aluminum-based automotive wheel market will surpass a revenue collection of USD 55 billion by 2024. The implementation of strict regulatory norms to reduce carbon emissions mainly across Europe and U.S. will propel automotive wheel industry growth.
U.S. automotive wheel industry will generate a revenue of more than USD 14 billion by the end of 2024. The country is renowned for the excessive deployment of vehicle safety policies, which will influence the product demand noticeably. In addition, the nation has been experiencing a rising need for efficient braking systems, which will eventually stimulate U.S. automotive wheel market. The industry giants across this region are also investing heavily in technological advancements and R&D activities to enhance manufacturing operations and product designs. Speaking of which, the key participants in automotive wheel market are Alcoa, maxion wheels, mefro wheels GmbH, Ronal Group, Borbet, UniGroup, magnetto wheels, Fondmetals, Enkei Wheels, and Trelleborg.
Get a Sample Copy of this Report@ https://www.gminsights.com/request-sample/detail/1706
Surging innovations in product design has generated lucrative opportunities for various OEMs to penetrate automotive wheel market. In fact, automotive wheel market size from OEMs was valued at USD 67 billion in 2016 and will exhibit considerable annual growth rate over the coming timeframe. Emergence of the V2V technology and significant changes in the IC engine will stimulate market size positively. OEMs have also benefitted from supportive manufacturing policies implemented by numerous Asian countries. On that note, Asia Pacific automotive wheel industry will collect a significant revenue by 2024 with a CAGR of more than 5% over the coming seven years.
Rapid urbanization trends across the globe have changed the consumer standards of living, on account of which people across the globe have been giving preferences to personal cars. As per research, in 2016, passenger cars dominated the vehicle segment of automotive wheel industry by accounting more than 80% of the revenue share and will generate notable valuation by the end of 2024.  China is one of the major producers of passenger cars production, which is evident from the statistics – the nation manufactured more than 24 million units of passenger cars in 2016.
Apart from passenger cars, LCVs (light weight commercial vehicles) have also been gaining prominence among consumers. Research states that automotive wheel market from LCVs will register an annual growth rate of more than 4% over 2017 to 2024, owing to the growing urbanization and goods transportation. The EU has deployed emission norms such as Euro 6/VI and 6 for heavy duty and light duty vehicles respectively, which will subsequently influence this segment. Spain, Germany, Belgium, Austria, Netherlands, and Finland are the major contributors of the Europe regional automotive wheel industry growth.
OEMs, in recent times, have been making strategic agreements with suppliers to expand the business space. Innovations in product design and manufacturing processes will create numerous growth opportunities for industry players in automotive wheel market. Mergers & acquisitions and joint ventures will continue to remain the key growth strategies that major companies will adopt, in order to stay ahead of their rivals in automotive wheel market.
Author Name : Sunil Hebbalkar
Lignosulfonates Market is expected to witness a striking growth over the next few years, owing to the widespread product applications in oil well additives, animal feed binders, concrete admixtures, and dust control. Key factors driving lignosulfonates market growth include the rising global population along with the escalating demand for high-grade infrastructure facilities across the residential and non-residential sectors. The product is basically used as a water-reducing chemical and is available at affordable costs, which explains its huge popularity amidst numerous end-use sectors. According to Global Market Insights, Inc., "Lignosulfonates industry revenue, which was estimated at USD 700 million in 2015, is slated to hit USD 973 million by 2024."
U.S Lignosulfonates Market size, by application, 2013-2024 (USD Million)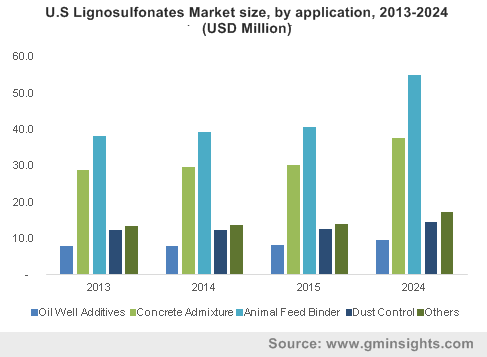 The thriving construction sector is expected to create lucrative growth opportunities for lignosulfonates industry, driven by the mounting product usage as a water-reducing agent in cement admixtures for enhancing its utility across construction activities at elevated temperatures. Cement admixture applications, which contributed to more than 25% toward lignosulfonates market size in 2015, are expected to witness a massive growth over the coming years. The growth can be attributed to high product usage in the construction projects.
Animal feed binder applications are forecast to grow at CAGR of more than 4% over 2016-2024, driven by the product's ability to increase the weight of animals. The product is also renowned to benefit the gastrointestinal tract of animals. Global animal feed size, which was assessed at 970 million tons in 2015, is forecast to surpass 1 billion tons by 2024, which in turn, will favorably leverage the lignosulfonates industry value in the near future.
Get a Sample Copy of this Report @ https://www.gminsights.com/request-sample/detail/786
Lignosulfonates industry size in the oil well additives sector, which was evaluated at USD 55 million in 2015, is anticipated to register a remarkable growth over the coming seven years. Growing explorations of oil wells across the Middle East and Africa and the U.S. will push the revenue. The product's ability to act as a cement retardant across the oil well additives sector will further boost the growth.
Considering the regional trends, North America lignosulfonates market, which produced a revenue of USD 130 million in 2015, is expected to display a substantial growth over the next few years. The growth can be attributed to thriving Animal Feed Additives Market across the region.  The U.S. is projected to make substantial contributions towards the regional revenue.
Asia Pacific lignosulfonates industry is expected to record notable gains of more than 4.5% over the years ahead, driven by the higher spending on construction activities across regions such as Japan, China, and India.
Magnesium, calcium, and sodium are the major lignosulfonates products. Sodium lignosulfonates industry size, which was estimated at USD 290 million in 2015, is projected to grow at a rate of over 3% during the period from 2016 to 2024. The growth can be ascribed to the product's commercial use as a plasticizer across concrete admixtures and pellet binders in the animal food. High product preference for dust control applications over the traditional chloride substances will further boost the demand.
Lignosulfonates industry share is highly consolidated with top six players contributing to more than 50% of the overall revenue in 2015. Industry players will try to increase their market share by implementing key business growth strategies such as product differentiation, strategic alliances and unique product developments. Domsjö Fabriker AB, Borregaard LignoTech, Nippon Paper Industries Company Limited, Tembec Incorporation, Green Agrochem, Burgo Group S.p.A., Qingdao New World Arts & Crafts Material Company Limited, Flambeau River Papers LLC, and Shenyang Xingzhenghe Chemical Company Limited are the key participants of Lignosulfonates market.
Author Name : Dhananjay Punekar