Magnesium
Hydrogen Engine Center's recent launched intake manifold technology has marked a quantum leap in automotive air intake manifold market. This new design will apparently overcome the air & fuel imbalance in all the V8 engines, leading to reduced power and operational inefficiency. In addition, the technology is designed to improve the overall power output between 4% to 8% on almost all the internal combustion engines and can work on any type of combustion engine with four or more number of cylinders. The fact that this design will halt the backfiring of V8 engines with the usage of hydrogen as a fuel would certainly impel automotive air intake manifold market in the years to come.
U.S. Automotive Air Intake Manifold Market Size, By Vehicle, 2013 – 2024 (USD Million)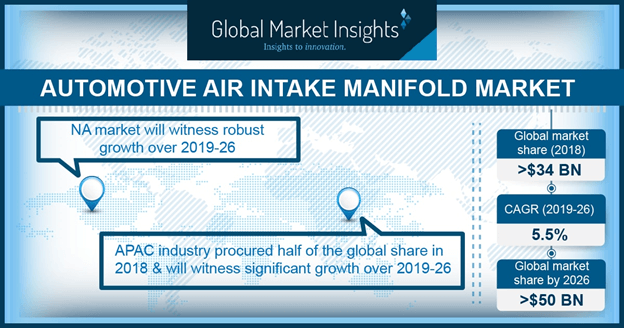 Recently, Ford India unleashed the 1.5-liter Ti-VCT, a three-cylinder petrol engine, that would open new growth avenues in India automotive air intake manifold industry. The manufacturing unit of the firm based in Sanand, Gujarat will manufacture this innovative petrol engine that will fulfill the demands of both the regional and global automobile sector, as it offers enhanced fuel efficiency and helps reduce the carbon emissions in the environment.
Key automobile manufacturers have been striving to expand their production base lately, given the intense competition and product demand. Holley Performance Products Incorporation, for instance, has established a manufacturing unit at Franklin in the U.S, which is likely to augment the vehicle production and increase the number of jobs across the automotive sector. The numerous developments underlining the automotive domain and automotive aftermarket have led experts to predict that automotive air intake manifold market will indeed experience lucrative growth prospects over 2017-2024.
Get a Sample Copy of this Report @ https://www.gminsights.com/request-sample/detail/1810
The substantial rise in the demand for vehicles across Indonesia, China, and India has led to an improvement in the vehicle production capacity, which would certainly augment APAC automotive air intake manifold industry. Furthermore, APAC has been predicted to contribute over 45% toward global automotive air intake manifold market revenue by 2024, driven by the ever-expanding automotive sector in the region.
Germany on the other hand, houses some of largest automobile manufacturing firms such as Volkswagen, Audi, Mercedes Benz, and BMW, which would considerably stimulate Germany automotive air intake manifold market. In addition, escalating demand for passenger cars across the region, resulting in an increase in the vehicle production will further augment the regional growth.
Reputed players such as MAHLE Gmbh, Aisin Seiki Company Limited, Keihin Corporation, Röchling Group, Mikuni Corporation, and Sogefi S.p.A partaking in automotive air intake manifold industry share have been focusing on expanding their consumer base and brand visibility across myriad geographies. Citing an instance, in the second quarter of 2017, Rochling Group commissioned its first automobile manufacturing plant in Mexico.
Favorable trade policies and the prevalence of effective product distribution channels have also considerably augmented this business space. Manufacturers have lately been adopting just-in-time strategies that has resulted in high product penetration across the automotive sector, thereby stimulating automotive air intake manifold industry. As per Global Market Insights, Inc., automotive air intake manifold market will cross a targeted revenue margin of USD 51 billion by 2024.
Author Name : Dhananjay Punekar
The escalating development in global automobile sector is poised to generate commendable growth avenues for automotive wheel market in the ensuing years. Automobile producers have been adopting new manufacturing techniques to comply with emission control regulatory norms. Researchers have also been implementing novel product designs and improvised concepts to increase the fuel efficiency of vehicles, which in turn, will boost automotive wheel industry size. Another pivotal factor making a significant impact on the product demand is the rising spending capabilities of consumers. Of late, consumers have been prioritizing comfort, durability, and product design, which has undoubtedly provided a significant impetus to global automotive wheel industry size. As per the estimates, automotive wheel market was pegged at USD 80.8 billion in 2016 and is projected to exceed a valuation of USD 105 billion by 2024.
North America Automotive Wheel Market, By Material, 2013-2024, (Thousand Units)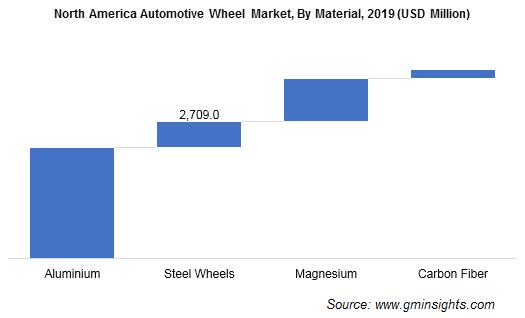 Major automotive manufacturers across North America and Europe are treading toward the production of lightweight vehicles, owing to the increasing concerns over environmental pollution. Aluminum is one of many materials that is used to construct these light weight vehicles, and has also been gaining immense popularity of late, pertaining to its benefits such as low weight, improved design, and excellent performance. As per estimates, aluminum-based automotive wheel market will surpass a revenue collection of USD 55 billion by 2024.
Speaking of the geographical aspects, North America and Europe have been experiencing massive expansion of automotive wheel industry over the recent years. As per estimates, North America and Europe automotive wheel industry are projected to register a CAGR of 4.5% and 4% respectively over the coming seven years. One of the major factors that has significantly influenced the regional trends is the implementation of strict regulatory norms to reduce carbon emissions by the government entities. Elaborating further on the U.S., automotive wheel market trends, the country's excessive deployment of vehicle safety policies, rising need for efficient braking systems, heavy investments in technological advancements, and large-scale R&D activities by the manufacturing giants are few of the major factors providing a remarkable push to the regional industry growth.  Some of the renowned participants in the competitive hierarchy of automotive wheel market include Alcoa, Maxion wheels, Ronal Group, Borbet, UniGroup, magnetto wheels, Fondmetals, Enkei Wheels, and Trelleborg.
Get a Sample Copy of this Report@ https://www.gminsights.com/request-sample/detail/1706
Surging innovations in product design have generated lucrative opportunities for various OEMs to penetrate automotive wheel market. In fact, automotive wheel market from OEMs in 2016, registered sales of over 368,512.5 thousand units. Emergence of the V2V technology and significant changes in the IC engine will stimulate market size positively. OEMs have also benefitted from supportive manufacturing policies implemented by numerous Asian countries. On that note, Asia Pacific market is estimated to collect a significant revenue worth USD 53 billion by 2024, with China and India as the chief revenue pockets.
Rapid urbanization trends across the globe have changed the consumer standards of living, on account of which people have been giving preferences to personal cars. In fact, subject to this factor, passenger cars have made a humongous contribution toward the overall automotive wheel market size. As per the estimates, passenger cars vehicle segment is expected to account for more than 75% of the global automotive wheel market share by 2024 generating a notable valuation of USD 77 billion.
Apart from passenger cars, LCVs (light weight commercial vehicles) have also been gaining prominence among consumers. Research states that automotive wheel market from LCVs will register a significant growth rate over 2017 to 2024, owing to the growing urbanization and goods transportation. The EU has deployed emission norms such as Euro 6/VI and 6 for heavy duty and light duty vehicles respectively, which will subsequently influence this segment. Spain, Germany, Belgium, Austria, Netherlands, and Finland are the major contributors of the Europe regional automotive wheel industry growth, which was valued at USD 20 billion in 2016.
The business landscape is expected to be highly characterized with strategic collaborations between OEMs and suppliers coupled with plethora of innovations with regards to product design and manufacturing processes. In terms of market size, Global Market Insights, Inc. projects the worldwide automotive wheel market to surpass a volume of 643 million units by 2024.
Author Name : Sunil Hebbalkar
Lignosulfonates Market is expected to witness a striking growth over the next few years, owing to the widespread product applications in oil well additives, animal feed binders, concrete admixtures, and dust control. Key factors driving lignosulfonates market growth include the rising global population along with the escalating demand for high-grade infrastructure facilities across the residential and non-residential sectors. The product is basically used as a water-reducing chemical and is available at affordable costs, which explains its huge popularity amidst numerous end-use sectors. According to Global Market Insights, Inc., "Lignosulfonates industry revenue, which was estimated at USD 700 million in 2015, is slated to hit USD 973 million by 2024."
U.S Lignosulfonates Market size, by application, 2013-2024 (USD Million)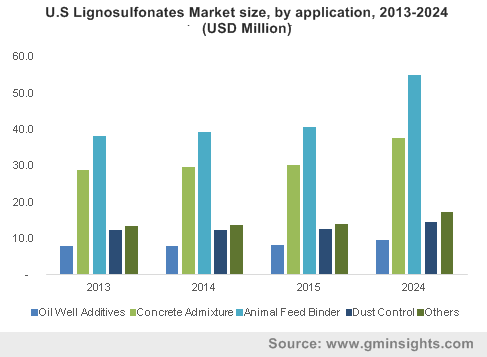 The thriving construction sector is expected to create lucrative growth opportunities for lignosulfonates industry, driven by the mounting product usage as a water-reducing agent in cement admixtures for enhancing its utility across construction activities at elevated temperatures. Cement admixture applications, which contributed to more than 25% toward lignosulfonates market size in 2015, are expected to witness a massive growth over the coming years. The growth can be attributed to high product usage in the construction projects.
Animal feed binder applications are forecast to grow at CAGR of more than 4% over 2016-2024, driven by the product's ability to increase the weight of animals. The product is also renowned to benefit the gastrointestinal tract of animals. Global animal feed size, which was assessed at 970 million tons in 2015, is forecast to surpass 1 billion tons by 2024, which in turn, will favorably leverage the lignosulfonates industry value in the near future.
Get a Sample Copy of this Report @ https://www.gminsights.com/request-sample/detail/786
Lignosulfonates industry size in the oil well additives sector, which was evaluated at USD 55 million in 2015, is anticipated to register a remarkable growth over the coming seven years. Growing explorations of oil wells across the Middle East and Africa and the U.S. will push the revenue. The product's ability to act as a cement retardant across the oil well additives sector will further boost the growth.
Considering the regional trends, North America lignosulfonates market, which produced a revenue of USD 130 million in 2015, is expected to display a substantial growth over the next few years. The growth can be attributed to thriving Animal Feed Additives Market across the region.  The U.S. is projected to make substantial contributions towards the regional revenue.
Asia Pacific lignosulfonates industry is expected to record notable gains of more than 4.5% over the years ahead, driven by the higher spending on construction activities across regions such as Japan, China, and India.
Magnesium, calcium, and sodium are the major lignosulfonates products. Sodium lignosulfonates industry size, which was estimated at USD 290 million in 2015, is projected to grow at a rate of over 3% during the period from 2016 to 2024. The growth can be ascribed to the product's commercial use as a plasticizer across concrete admixtures and pellet binders in the animal food. High product preference for dust control applications over the traditional chloride substances will further boost the demand.
Lignosulfonates industry share is highly consolidated with top six players contributing to more than 50% of the overall revenue in 2015. Industry players will try to increase their market share by implementing key business growth strategies such as product differentiation, strategic alliances and unique product developments. Domsjö Fabriker AB, Borregaard LignoTech, Nippon Paper Industries Company Limited, Tembec Incorporation, Green Agrochem, Burgo Group S.p.A., Qingdao New World Arts & Crafts Material Company Limited, Flambeau River Papers LLC, and Shenyang Xingzhenghe Chemical Company Limited are the key participants of Lignosulfonates market.
Author Name : Dhananjay Punekar