Magnetic Sensor Market Size
Magnetic sensor market trends are likely to depict substantial expansion over the forecast period, owing to increasing emphasis on automobile safety. Stringent laws necessitating the integration of magnetic sensors in automobiles, as well as implementation of navigation systems in numerous applications including transportation & delivery services, gaming consoles, smartphones, tablets, etc., will also augment the industry outlook.
U.S. magnetic sensor market size, by end-use, 2018 & 2025 (USD Million)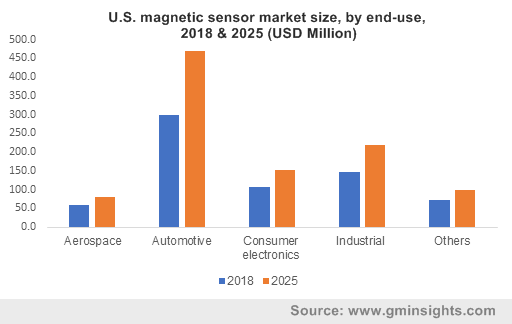 Magnetic sensing devices provide an effective way to measure multiple mechanical quantities including angle of rotation, position sensing and speed sensing. Magnetic sensors are highly durable, as they do not require physical contact for measurements. Likewise, there are various other advantages including sustainability at different environmental conditions, low power consumption and compact size, which have helped to augment magnetic sensor industry growth.
Expansive use of GMR (Giant Magnetoresistance) technology is anticipated to favorably impact the magnetic sensor market size as its applications are diverse, including non-volatile magnetic memories, hard disk drives, automotive sensors, microelectromechanical systems and biosensors.
One of the major technological applications of giant magnetoresistance technology is in the data storage industry. GMRs can be integrated with several standard technologies including CMOS chips, thereby substantially augmenting magnetic sensor market share.
Get a Sample Copy of this Report:@ https://www.gminsights.com/request-sample/detail/2994
Aerospace magnetic sensors play a pivotal role in accurately detecting the direction and magnitude of external magnetic fields in aircrafts. These sensors are integrated in aircraft along with the magnets as safety interlocks to ensure that the aircraft components are precisely positioned. The aerospace industry is witnessing rapid growth, particularly in the United States. As per the U.S. Department of Commerce, the U.S. aerospace industry contributed $151 billion to export sales of the country in 2018.
The aerospace industry is a cooperation of public and private industries and is expanding in both the sectors. The use of magnetic sensors for sensing magnetic field in aircrafts is indispensable and is providing high growth potential to the aerospace magnetic sensor market.
Magnetic sensors are also used for security and military applications such as detection and localization of ferromagnetic objects, navigation, position tracking and antitheft systems. The development of magnetic sensors is of great importance in monitoring, surveillance, intelligence and security applications. This is especially advantageous for military applications where vehicles require timely updates of their movements along with precision targeting of armed enemy troops.
Magnetic sensors are essential elements for many security applications as magnetic field is invisible and penetrates through most of materials. The earth's field is pervasive and cannot be switched off, so it gives backup to all navigation systems. Rise of magnetic sensor usage in military and for security purposes will significantly expand magnetic sensor industry size.
According to the European Automobile Manufacturers Association, in 2017, 19.6 million motor vehicles were manufactured in Europe, contributing to 20% of the global production. Europe is one of the chief regions in the magnetic sensor market due to the presence of a massive automotive industry and several automotive manufacturers including BMW, Volkswagen, Mercedes-Benz and others.
Magnetic sensor industry players are investing products to drive market growth. For instance, Honeywell Inc., a US-based engineering services and aerospace systems providing company introduced HTMC1021D, a high-temperature magnetic sensor for angle/position sensing, signal transformation and proximity sensing. The device, which operates in temperatures between 55-225°Celsius, works in applications where flux sensors were traditionally used. The device comes in a ceramic dip package, rough enough to handle high vibration and other hostile environments.
Growing trends for integration of IoT, navigation and tracking system coupled with stringent government policies for safety, will fuel growth of the market in the region. With the widespread application of magnetic sensors, the magnetic sensor market is estimated to witness an exponential growth rate. Global Market Insights, Inc., estimates the magnetic sensor market size to surpass $3.5 billion by 2025.
Author Name : Aakriti Kakkar
This entry was posted in Electronics and Media and tagged Aerospace, AMR, Automotive, Consumer Electronics, Detection, GMR, Hall Effect, Industrial, Magnetic Sensor Market, Magnetic Sensor Market Report, Magnetic Sensor Market Share, Magnetic Sensor Market Size, Navigation & Electronic Compass, NDT, Position Sensing, Speed Sensing, TMR.