Maintenance
Automotive diagnostic scan tools market share is gaining immense traction owing to integration of modern electronic components and various innovative scanning devices being introduced for different purposes. With the advent of technological advancements and supportive policies to curb emissions, maintaining vehicle performance and ensuring maximum fuel efficiency has become more important than before. Car manufacturers, dealers, and suppliers are looking to add more electrical systems in vehicles to boost connectivity and ease performance adjustment, offering notable prospects for automotive diagnostic scan tools industry players.
Canada Automotive Diagnostic Scan Tools Market Revenue, By Vehicle Type, 2018 & 2025 (USD Million)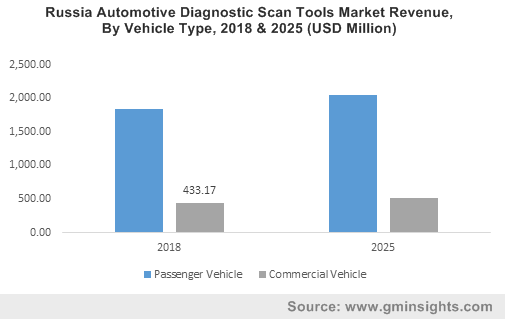 Major automakers have incorporated a vast amount of technologies into their products due to the shifting preferences of consumers from manual functions to hi-tech automated systems. Such transformations will ultimately advance automotive diagnostic methods for easily identifying problems and provide easy to operate interface to the consumers. More than 95.6 million vehicles had been produced in 2018 worldwide and the tremendous population of vehicles on road today will ensure consistent demand for automotive diagnostic scan tools industry over the years to come.
Today's automobiles represent the most sophisticated electronic control units that are responsible for functions like infotainment control, automatic gear shifts and fuel injection. ECUs are also enabling advanced driver assistance technologies that meet consumer needs for convenience, comfort, and safety as well as improve performance and energy efficiency. Adoption of these technologies makes diagnosis of system failures or malfunction more difficult. Addressing these challenges, OEMs as well as their hardware and software partners will consistently seek developments in ECU diagnosis solutions, propelling automotive diagnostic scan tools market size.
Get a Sample Copy of this Report:@ https://www.gminsights.com/request-sample/detail/3262
Over the past decade, the transportation sector has changed considerably owing to social trends, various converging market forces, and quick availability of auto and business finance. Apparently, the most transformative process which holds the potential to revamp the experiences for transport agencies and commuters is the inception of the Mobility-as-a-Service (MaaS). Automotive diagnostic scan tools will become a vital part of every-day operations of mobility providers as increasing penetration of MaaS is boosting the demand for commercial vehicles, which in turn will escalate diagnostic requirements.
Increasing potential for diagnostic tools can be understood from the fact that a developing country like India is anticipated to be a frontrunner in shared mobility by 2030. It projected that shared miles in the country will account for 35% of all the miles travelled in India and will further rise to 50% by 2040. Increase of shared mobility simultaneously gives rise to vehicle sales and strong customer demand for self-driving taxis in low-density locations. This network will open up a huge market for professional and DIY diagnostic scan tools, augmenting the regional industry trends.
Asia Pacific automotive diagnostic scan tools industry size is slated to witness a CAGR of around 8% over the projected period. The automotive manufacturing sector in the region is growing rapidly owing to an active push towards infrastructural development and growing industrialization, which has created plethora of opportunities for automobile OEMs. In addition, local OEMs are thriving with their in-depth understanding of regional consumers. Strategic advantages could certainly influence the ability of OEMs to place vital diagnostic solutions across dealerships, reinforcing automotive diagnostic scan tools market outlook over the forecast period.
The Bosch Group and Byton, an electric vehicle developer, had signed a strategic cooperation agreement in 2018 which was fully focused on driver assistance systems, braking systems, and powertrain technology. This partnership aimed to provide safe and steadfast electric mobility solutions to the consumers. Indeed, such collaborations will certainly benefit enterprises and represent the opportunities for automotive diagnostic scan tools industry from electric vehicle applications in the future.
Several prominent companies and manufacturers are augmenting the scope of their business by unveiling unique product portfolios equipped with the latest technologies. DG Technologies, Actia Group, Snap-on Incorporated, General Technologies Corp, Autel Intelligent Technology, BMW, Bosch Automotive Service Solutions, Delphi Automotive, Volkswagen and Volvo Group are some of the key players operating in the industry. Global Market Insights, Inc. has projected that automotive diagnostic scan tools market size will reach USD $49 billion by 2025.
Author Name : Deeksha Pant
The global industrial communication market has thrived successfully in the recent decade as growing adoption of these components in Industry 4.0 has effectively helped increased productivity in major industries. Labor reduction, waste reduction, repeatability, enhanced quality control, and integration with existing business systems have given companies an added advantage by lowering long-term costs, which could indirectly increase product output and revenue.
U.S. Industrial Communication Market Revenue, By Component, 2018 & 2025, (USD Million)

An industrial communication network is the backbone for any automation system architecture as it can offer powerful means of data exchange, controllability and flexibility to connect to various devices. The use of digital communication networks in industries can also lead to improved end-to-end digital signal accuracy and integrity.
Communication networks like LAN (Local Area Network) or WAN (Wide Area Network) can communicate large amounts of data via limited number of channels. Whereas industrial networking enable implementing various communication protocols between field devices, digital controllers and several automation related software tools and external systems. Therefore modern industries have demonstrated increased adoption of industrial communication networks over traditional LAN and WAN. This has led to industrial communication market size depicting a substantial increase lately.
For instance, according to renowned automation conglomerate ABB, and one of the notable players in industrial communication market, the firm's revenue increased by 5% to $7,395 million in 2018. This has been credited to the strong growth in robotics & motion, robust performance achieved from electrification products and a steady result owing to industrial automation.
Some of the trends that industrial communication market is being defined by are mentioned below:
Long-term application of industrial communication in the industrial automation sector
Growing demand for increased data processing speed will foster industrial communication market size in the automation sector. As industrial operations are becoming more complex and variable, the market has registered immense growth over recent years. Indeed, a greater number of network-based programmable controllers and mechanisms are required within modern industries to attain faster decisions and increased productivity and efficiency.
With network-based automation, companies can also attain increased saving in work force, energy, raw material, better control on product quality and enhanced plant availability and operational safety. In fact, the technology can help in raising the levels of process control & continuity with improved efficiency, eventually bringing potential production figures to the nominal plant capacity by cutting downtime, corrective maintenance and the lack of raw material supply to minimum.
With efficient real-time communication system like PROFIBUS-DP or PA, Fieldbus and more, distributed peripherals such as Input/output (I/O) modules, transducers, drives, valves and operational panels can also communicate with automation systems more accurately.
Thus, with the advent of the automated systems that are based on advanced industrial communication and technology, the automation sector will attain enhanced benefits in terms of maintenance, and increase plant productivity, further augmenting industrial communication market size.
Get a Sample Copy of this Report:@ https://www.gminsights.com/request-sample/detail/3367
S. to emerge as a pivotal revenue pocket for industrial communication market in the forthcoming years
Being a major producer of automation equipment, U.S. is anticipated to drive massive growth in industrial communication market. Citing International Trade Association (ITA) reports, the country is the leading producer of hardware components that are used in automated systems as well as a major supplier to manufacturing or production industries across the globe.
In fact, in 2015, U.S. exported nearly $10.5 billion worth of automation equipment to foreign markets, claims ITA. Sources suggest that supportive government policies and the presence of global automation players like General Electric, Honeywell, Rockwell, Emerson Electric and more will pave the way for industrialization in the region. Additionally, the increasing adoption of Industry 4.0 will boost the demand for the industrial communication technologies in the coming years, successfully proliferating U.S. industrial communication industry size.
Wireless communication technologies to enhance industrial operations
Advancements in wireless communication along with growing adoption of advanced tech-based devices will drive the industrial communication industry. The key advantage of wireless systems is that they can be installed in remote locations in an efficient and cost-effective manner. As battery-powered transmitters don't require wired infrastructure or power supply, they can be installed across areas that are far away from power wiring and wired fieldbus.
They can also be installed in sites where setting up power and cabling systems would be dangerous or too expensive. This flexibility allows use of wireless in both Greenfield projects and ongoing Brownfield projects.
Owing to the low-power nature of Wireless HART devices, users can also operate such equipment for several years without replacing the battery. Moreover, engineering, procurement, and construction contractors and plant owners can increasingly shift to wireless communication technology as it is beneficial in terms of reducing physical fixed infrastructure, managing schedule risk and cost escalation, and reducing space requirements and weight.
According to reports, adopting wireless solutions have reduced commissioning time by 50% for some contractors. The technology further helped in streamlining the design and engineering process, maintaining project schedule and improving user's ability to manage change on their project. The prominence of this technology is rather overt from the estimate that wireless charging market size is slated to cross $14 billion by 2024.
Moreover, with industry-leading process plants installing wireless infrastructure, industrial communication market size from the wireless communication protocol is estimated to grow at a CAGR of over 22% over 2019-2025.
In a nutshell, it would not be incorrect to quote that industrial communication industry is likely to come up as a highly profitable vertical of the overall electronics cosmos. As per estimates, global industrial communication market size is anticipated to exceed USD 160 billion by 2025.
Author Name :Mateen Dalal
One of most profound factors driving the growth of India aerospace & defense market is the extensive number of initiatives undertaken by the Indian government. The government's decision taken a few years before, for instance, to increase the FDI limit from 26% to 49% in the defense sector, is remnant of the fact that India aerospace & defense market represents a vital sector in the national landscape. The raise in the FDI limit had apparently permitted foreign institutional investors, venture capital organizations, and foreign portfolio investors to make maximum capital investments up to 24% in defense firms thereon. With the ample availability of a highly-skilled workforce and the 'Make in India' initiative gaining greater prominence across the country, Indian firms are expected to play a vital role in the aerospace & defense value chain comprising research & development, training, production, quality control, and maintenance, which would further transform India aerospace & defense industry outlook.
India aerospace & defense market size, by air solution, 2016 & 2024 (USD Million)

India procures nearly 70% of its defense supplies via imports, through which the country has earned the tag of being one of the largest importers of aerospace & defense equipment across the globe. The remainder of the 30% of defense equipment is supplied by the private sector, the Ordnance Factory Board (OFB), and the Defense Public Sector Undertakings (DPSU). A substantial number of components for the defense materials are also procured from the overseas. The Indian government has been undertaking tremendous efforts to overcome this drawback through its 'Make in India' Program, which may certainly have a remarkable impact on India aerospace & defense market trends in the ensuing years.
Get a Sample Copy of this Report@ https://www.gminsights.com/request-sample/detail/2113
In a recent move that has been anticipated to spur India aerospace & defense industry share, Sika Interplant Systems Limited, a Bangalore-based engineering firm providing services to marine, aerospace, and automotive sectors, has formed a joint venture with a UK-based aviation & aerospace giant, Aerotek Aviation Engineering Limited, in India. The strategic partnership is a part of 'Make in India' initiative and will offer services such as production and MRO (maintenance, repair, and overhaul) of landing gears for airplanes and helicopters.  A recent unveiling of new aerospace & defense component manufacturing facility by Nucon Aerospace, a key participant across marine, ground & aerospace sector, in Hyderabad is also expected to provide a boost to the 'Make in India' program, which would ultimately stimulate India aerospace & defense market size.
Aerospace & defense equipment are extensively used by the Indian military, navy, and the air force.  Thus, the large -scale production of aircrafts, communication equipment, helicopters, and missiles in the country have contributed significantly toward augmenting India aerospace & defense market revenue. In addition, the escalating need for increasing the aircraft fleet size with the inclusion of supporting aircrafts such as rescue, emergency & repair, and medic aircrafts have been forecast to impel the business landscape.
Major firms such as Bharat Dynamics Limited, Tata Advanced Systems Limited, Hindustan Aeronautics Limited, Lockheed Martin, BAE Systems AB, and Tata Power Strategic Engineering Division have been attempting to innovate numerous equipment, in a bid to substantially augment India aerospace & defense market share. Aided by substantial government support, India aerospace & defense industry size has been forecast to surpass USD 23 billion by 2024.
Author Name : Dhananjay Punekar