Managed Service
The rapidly growing demand for connected devices across the globe is one of the pivotal factors driving enterprise networking market, given that these devices help facilitate real-time communication. In an effort to cope with and overcome the rapidly rising bandwidth bottleneck & network traffic issues, organizations worldwide are embracing network management solutions that keep the traffic flowing while also ensuring network security. The exponential surge in the number of IoT-enabled devices has drastically increased security risks, on the grounds of which organizations are rolling out enterprise network security solutions to obtain visibility of endpoints and unsecured applications & devices.
Europe Enterprise Networking Market Size, By Product, 2017 & 2024 (USD Million)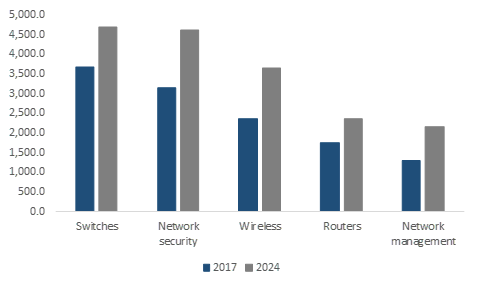 According to a 2018 Enterprise Networking Trends report by Cisco, the company in 2017 had redefined networking with the launch of the first intent-based networking system in the world. The company anticipates that going further, intent-based networking would be the future of networking and would also be responsible for fundamentally changing the way companies think about networks & empowering IT and help the firms with disruptions caused by IoT & cloud.
Enterprise networking market trends are also expected to witness a transformation on account of changing customer preferences toward converged network architecture as well as the network virtualization technology to strengthen the network functions. Shifting user inclination has further enabled organizations to enhance network efficiency at reduced operational costs, which would provide renewed growth prospects for enterprise networking market.
Get a Sample Copy of this Report:@ https://www.gminsights.com/request-sample/detail/2978
Unveiling Asia Pacific enterprise networking market trends:
APAC enterprise networking market is primarily driven by the large-scale adoption of cloud-based infrastructure in the region as the organizations are actively transferring their workloads onto the public cloud. According to a report by the not-for-profit organization, Cloud Security Alliance (CSA), in APAC, Japan, South Korea, Singapore & China are some of the primary nations that have witnessed the highest cloud adoption rate in 2017. The rising prominence of the cloud computing environment has further enabled network architectures that are disparate in nature to contribute to the increasing operational burden. These circumstances have led to a significant rise in demand for virtualization technology which makes the computing environment more agile, effectively addressing the growing network demands.
According to a research report by IT security company, Barracuda Networks, approximately a third of enterprises in the APAC region have already rolled out SD-WAN on a majority of their sites, while more than 55% organizations in the region are in the process of adopting SD-WAN. Propelled by the robust deployment of advanced networking solutions, APAC enterprise networking market is expected to depict the fastest growth rate of 8% over 2018-2024.
Analyzing enterprise networking market trends in terms of switch sales:
In an effort to keep up with the rising need for organizations to facilitate secure & real-time communications while effectively managing network traffic & bandwidth bottleneck issues, enterprises heavily rely upon high-speed ethernet switches. Switching is a crucial networking technology that is used across several organizations' premises to construct their local area networks (LANs) and also across vast distances to facilitate wide area networks (WANs) making switches one of the most widely used networking equipment across the world. According to a 2017 annual report by Cisco Systems, the company witnessed a 5% increase in revenue (approximately $452 million) from the sales of LAN fixed-configuration switches. The increase in the revenue was primarily due to the boost in sales of the company's Nexus & Catalyst series of switches.
According to a 2017 report by Forbes, in 2016 Cisco System's network switches division was responsible for approximately 40% of the product sales, representing more than 30% of the company's net revenue. Switches, having accounted for more than 25% of the enterprise networking market share in 2017, are expected to continue adding momentum to the industry growth, given the surging demand for high-speed data services that has fueled the adoption of network switching technology.
Attributing to the increasing network capacity needs across several global enterprises, the growth graph of enterprise networking market is projected to witness an exponential incline in the years ahead. According to Global Market Insights Inc., enterprise networking market size is expected to be pegged at a mammoth $90 billion by 2024.
Author Name : Akshay Kedari
In world being blitzed with emerging applications that include Internet of Things, 5G network and 4K video streaming, GPON market is expected to find immense growth opportunities over 2018-2024. For instance, earlier in 2018, SK Broadband of South Korea announced that it will be launching high-speed internet service that will be capable of delivering 2.5 gigabit per second. The service will allow users to download high volumes of content using multiple devices while the service will be 3 times faster than most of the South Korean internet services that are already quite fast.
Europe GPON Market Revenue, By Application, 2017 & 2024 (USD Million)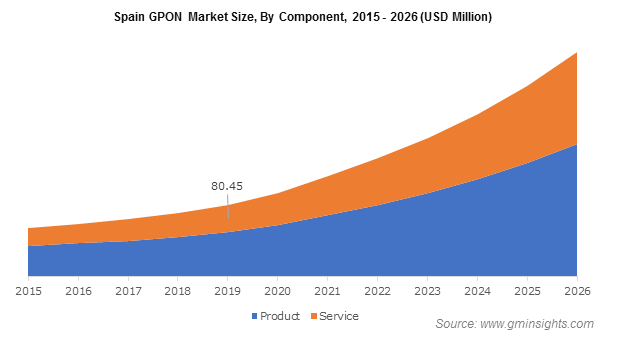 The technology at the basis of making this possible is Gigabit Passive Optical Network or GPON and while SK Broadband's current coverage is 40%, the company plans to invest 1 trillion won and expand up to 80%. Korean rival KT is also planning to roll out similar services and the South Korean government is also planning to roll out 5G wireless internet in 2019. With such developments not being bound to South Korea alone, it is predictable that the GPON market will witness significant growth in the ensuing years.
The world, currently replete with an increasing number of connected devices and robust development in machine to machine communication, is swiftly preparing itself to implement 5G technology. The only viable way to benefit from such emerging applications is by having the right network backbone in place – which paves the way for the growth of GPON market. According to reliable statistics, the global IoT market nearly doubled in size between 2014 and 2017. There were nearly 23.14 billion IoT devices in the world in 2018 which is estimated to cross 31 billion by 2020. The global IoT market is anticipated to register its name in the trillion-dollar industry space by 2019 with 20.35 billion devices across the globe as smart, connected cities that will be using connectivity, communication technology and information to solve urban problems deploying IoT for the purpose. With IoT market having already chronicled its name in the billion-dollar vertical, IoT proliferation is further expected to add to the growth of the GPON industry.
Get a Sample Copy of this Report:@ https://www.gminsights.com/request-sample/detail/2954
Speaking of IoT it is imperative to mention the onslaught of 5G networks and their support in bringing a whole new dimension to the GPON market. the business world is looking forward to the adoption of 5G as when it is becomes a widely used reality, 5G is poised to become a disruptive force. Applications such as virtual reality, augmented reality, artificial intelligence and telepresence, that have been built on underlying technologies are expected to benefit from massive data pipes and ultra-low latency. While industrial automation and robotics will become a reality, cars and drones will become capable in communicating with each other taking machine to machine communication to a whole new level. With enhancement in machine communication capabilities it is expected that increasing innovation will further increase the need for better 5G performance and eventually lead to expansive prospects for the GPON market.
Notably, NG-PON2 would be the fastest growing segment in the GPON market with a CAGR of approximately 20% over 2018-2024. The emergence and progress of 5G will act as the most important driver for the NG-PON2 segment and this has been underlined by Altice, the international network operator that has announced that it will be expanding its NG-PON2 capabilities as it prepares for disaggregated radio access network architectures and potentially overwhelming data traffic volumes brought about by the advancement of 5G. The operator aims at supporting 5G services with full support for residential, commercial, fronthaul and backhaul service requirements and strategizing to save deployment costs while creating a positive business case for fiber as an enabler of 5G services.
With the demand for futuristic technological development on the rise, GPON market is expected to register significant profits as it becomes the enabler of disruptive forces like 5G network.
Author Name : Paroma Bhattacharya
The increasing importance imparted to network stability & wireless communication to speed up network capability has been stimulating private LTE market share. Nowadays, private LTE is used extensively for numerous beneficial purposes such as real-time monitoring, geo positioning activities, in the mobile devices, energy utilities, telecommunication applications, and automotive equipment. The rapid acceptance of long-term evolution (LTE) for high-speed wireless communication across numerous industrial sectors has been encouraging companies in private LTE market to adopt LTE network connectivity.
Europe Private LTE Market Revenue, By Infrastructure, 2017 & 2024 (USD Million)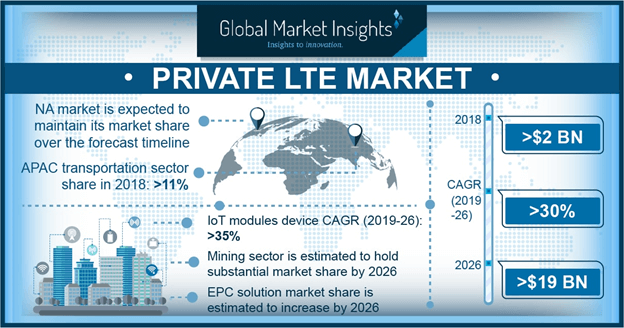 Over the last few years, most of the mobile network providers have shifted to LTE services from 2G and 3G coverage to improve existing communications. The surging digitalization and modernized mobile services have also substantially enhanced data services. Recently in India, the nation's largest telecom company, Airtel has decided to switch to LTE network services to boost data speed. This move will turn out to be rather beneficial for Airtel as it already has a widespread, far-reaching network coverage. The shifting focus of telecom service providers to LTE to phase out older networks is slated to fuel private LTE industry share.
Taking into account the network benefits of high-speed data services, most of the energy companies have been signing deals with wireless network providers that will have a positive influence on the product demand. For instance, a month before, the Brazilian power distributor, Elektro collaborated with Nokia for deploying a private LTE network in its City of Atibaia based electric grid. The deployment of LTE services is slated to help improve the efficiency and reliability of the electric grid that has been serving approximately more than 75,000 business and homes. Through this network, it is also possible to operate smart meters, grid equipment, substation and distributed energy generation sources.
Get a Sample Copy of this Report:@ https://www.gminsights.com/request-sample/detail/3013
Such strategic deals will help players in the private LTE market strengthen their customer base and diversify the traditional telecommunication practices. The surging adoption of digital technologies such as IoT and machine learning will thus further propel the use of private LTE service in the energy sector. For the record, as per estimates of Global Market Insights, Inc., private LTE market from energy applications is slated to depict a commendable CAGR over 2018-2024.
In order to achieve a dominant stance in the market, telecom firm Nokia has also lately been adopting myriad business tactics. Recently, it has collaborated with China Unicom to deploy a private LTE network at BMW Brilliance Automotive Ltd plant based in the Liaoning province. With the use of private LTE connectivity, BMW can carry out smart manufacturing activities and ensure communication for critical applications including video surveillance, object tracking, and analytics at the plant.
The integration of private LTE network in the enterprises to secure data and voice communication, wireless video communication, ensure indoor investigation, and inspect the production line maintenance is slated to fuel the product demand over the years ahead. Heavy investments to develop digitalized, modern factories with a secured and transparent work culture will further propel private LTE market share considerably.
The emergence of LTE connectivity has also turned out to be rather useful for maintaining peace across the globe. That is to say, the UN (United Nations) has been working continuously to resolve the several global issues for which it has been using LTE network for providing critical communication capabilities. Peacekeeping troops are able to effectively use this LTE network for secure, stable, and future-proof broadband services while operating through the tough geographic terrain. Currently, UN is working on fourteen peacekeeping operations across the globe and it is planning to establish high-speed LTE networks by 2019 to accelerate the communication throughout the missions.
Substantive use of LTE connectivity for ensuring digital and standardized work output in the industrial as well as the defense sectors is likely to propel the product demand over the years ahead. On-going changes in the telecommunication technologies to enhance the network connectivity will further stimulate the industry trends. As per estimates, with the surging acceptance for network connectivity across various application sectors, private LTE market is poised to surpass a revenue collection of USD 11 billion by the end of 2024.
Author Name : Sunil Hebbalkar
Owing to the increased focus on customer service and digitization of processes across numerous industry sectors, the contact center software market registered revenue worth USD 14 billion in 2017, driven by the demand for efficient customer handling solutions. Massive investments have been made by companies to upgrade contact centers to more productive and cost-effective software-based facilities for coordinating services among different channels. This has eventually allowed many emerging technology companies to tap into the services sector. Increasing adoption of online services by BFSI, telecom and hospitality consumers has transformed the contact center software industry with the need for ensuring quick and accurate responses.
Europe Contact Center Software Market Share, By Software, 2017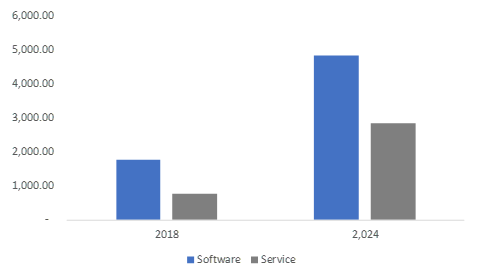 Rising consumer spending on electronics, clothing and other product categories has tremendously bolstered the retail segment worldwide, propelling the contact center software market revenue globally. Reports show that consumers rate customer service in retail sector higher than low prices and product quality, making it the most important part of the businesses retailers should be focusing on. Good customer service leads to more recommendation from consumers, which directly boosts product sales. Subsequently, retail is an ideal application base for the contact center software market, helping companies provide timely and dedicated service for taking care of any problems the customers communicate.
Major retail brands have employed contact centers to handle hundreds to thousands of queries, frequently asked questions and complaints they receive throughout their worldwide businesses. As these centers start to provide services like billing and telemarketing in addition to customer service, the contact center software industry will experience challenges from coping with enormous amounts for customer requests and data analysis. The advent of ecommerce retail has further given a remarkable boost to digital services, connecting more consumers with businesses and creating a demand for higher number of customer contact executives.
In 2017, the global ecommerce retail sales amounted to about USD 2.3 trillion, out of which world's top three e-retailers contributed nearly USD 100 billion. This includes Amazon.com, which operates 13 country-specific websites and services at least 16 countries in all, including the U.S., U.K., India, Germany, Spain, France, among others. The vast ecommerce operations of Amazon indicate the probability of customer service requests from millions of people from diverse cultures, as it sells thousands of products in each country every day. Various other local and international e-retail platforms face similar concerns, offering outstanding growth prospects for the contact center software market from hundreds of online businesses.
Get a Sample Copy of this Report:@ https://www.gminsights.com/request-sample/detail/2972
According to statistics, there were approx. 1.66 billion digital buyers around the world in 2016, representing the extensive customer service difficulties and opportunities e-retailers have to deal with. These businesses have to cater to several requests via tele calling, email, mobile text messages as well as social media, since it is impossible for all customers to communicate with them on the same platform. Receiving requests, identifying problem areas and providing solutions to consumers across these distinct channels has defined the contact center software industry's evolution over the years, further intensified by the growing utilization of online payment options.
Over the years, technological advances have enabled wider implementation of virtual assistants and interactive voice features by retailers, allowing software makers to provide innovative solutions. The contact center software market has further benefited from the growing awareness among retailers about the role of analytics and reporting in guaranteeing improved customer experience. Managing customer-employee interaction, behavior, customer requirements have critical impact on business revenues. Speaking further on the analytics and reporting component of the contact center software industry, retailers can reduce potential loss of sales and negative consumer responses by analyzing how they are being serviced.
As the time taken to handle a request, origin of the request, behavior on the call and other factors are recorded by the software, companies can use the information to train their staff better. The success or failure of email and telemarketing campaigns can also be analyzed to enhance or modify their processes, as consumer trend is key for retailers to achieve profits. Essentially the retail segment, with expanding popularity of ecommerce, is expected to contribute significant revenues towards the global contact center software market. Global Market Insights, Inc., forecasts the overall contact center software industry to surpass a valuation of USD 40 billion by 2024.
Author Name :Pankaj Singh 
The increasing importance for geospatial technologies for visualizing and analyzing geospatial data has stimulated mobile mapping industry trends. The advent of new technologies such as Lidar, AI, and IoT has also significantly transformed mobile mapping technology over the last few years. With more innovations across this technology, it has become easier and effective to carry various tedious projects like urban development, rail-road creation, and power plant construction across inaccessible areas. Thus, the increasing use of this technology to survey numerous mobile platforms is poised to propel mobile mapping industry share.
U.S. Mobile Mapping Market Revenue, By Component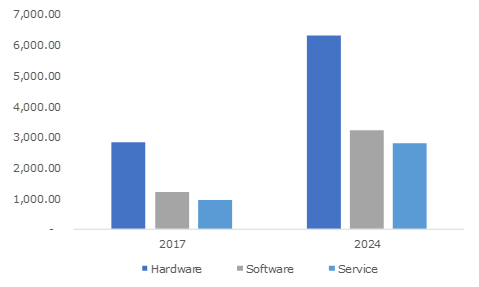 The involvement of companies in novel product development activities for high efficiency and productivity will have a notable impact on the business over the years ahead. In the last few years, companies have come up with a diverse set of products that can deliver remarkable benefits to users and asset owners. Validating the aforementioned fact, in February 2018, the California based software development company, Trimble developed a next-generation mobile mapping system, which has been designed with multi-camera imaging, mobile lidar system, and field software. This newly launched Trimble MX-9 mobile mapping technology has the capability to capture 360-degree immersive geo-referenced imagery with the help of already installed laser scanning sensors, GNSS technology, and spherical camera. The improved accessibility of such newly developed mobile mapping devices via smartphones and tablets will augment the growth of mobile mapping market.
Speaking more about the recent advancements, it is prudent to mention that 3D mobile mapping is also one of the latest developments in geospatial technologies that helps users to record, measure, visualize, and understand environments. The advent of 3D mobile mapping has overcome the limitations of conventional mobile mapping systems and helps to carry out a detailed visualization of climatic conditions. In 2018, a German company which develops software and hardware to navigate, map, and digitize the indoors, NavVis made it to the headlines for generating a fully integrated product for indoor mapping aided with six cameras. NavVis has developed this product in accordance with customers' request to have sophisticated and more versatile systems. This product is likely to prove beneficial for the end-users like construction product manufacturers, construction companies, and AEC (architecture-engineering-construction) professionals to generate high-quality data owing to its capability to capture immersive imagery.
Get a Sample Copy of this Report:@ https://www.gminsights.com/request-sample/detail/2652
The increasing importance for geospatial technologies has also been encouraging the players in the mobile mapping market to carry out vigorous research and development activities for capturing more business space. For instance, the Italy based SITECO Infomatia SRL has been proactive in developing varieties of products from road-scanners to pave-scanners. In 2018, it has launched software assisted mobile mapping devices. The integration of software and LiDAR system has helped the company to enhance the performance of mobile mapping platform. The widespread availability of multi-scanners and high-performance mobile mapping platforms is slated to propel the industry growth over the years ahead.
In addition to higher performance, cost-effectiveness is also one of the major factors promoting mobile mapping market size. As of now, Google is one of the leading contributors of navigation applications, but due to rise in subscription amounts for accessing its Google Maps, other contributors in mobile mapping market have been able to race ahead with the launch of low-cost navigation features. For instance, a few days before, a digital mapping company, TomTom has started offering free software development kits to Android and iOS users to access maps and traffic information for free. Such initiatives will help IoT companies and autonomous vehicle manufacturers to load the traffic and routing data free of cost.
The advancement in consumer electronics and shifting trends toward the deployment of autonomous vehicles for the betterment of the environment will have a positive influence on the mobile mapping industry share. As of now, most of the automotive companies have been involved in the development of highly modernized infotainment systems for improving the driving experience that is likely to enhance the product demand. In accordance with the expanding end-use sectors, the strategies adopted by the key player will help them to strengthen their business position over the years ahead. Reportedly, driven by new product launches, mobile mapping market will generate a revenue more than USD 40 billion by the end of 2024.
Author Name : Sunil Hebbalkar
Powered by a strict regulatory frame of reference formulated to control vehicular emissions, on-board diagnostics (OBD) aftermarket has emerged as a highly lucrative business sphere over the last few years. Lately, many regulatory bodies have established emission control facility centers to resolve the issues related to the effective working of OBD.  In the U.S. specifically, the National Center for Automotive Science & Technology has established the National OBD Clearinghouse for facilitating the understanding of the on-board diagnostics technology, for which U.S. Environmental Protection Agency (EPA) has even provided a grant. In order to comply with the Clean Air Act, EPA has been encouraging people to conduct vehicle maintenance and inspection that will ultimately control the vehicle emission. As of now, a majority of vehicles are incorporated with the OBD technology for meeting the national air quality standards.
Europe On-board Diagnostics (OBD) Aftermarket Share, By Application, 2017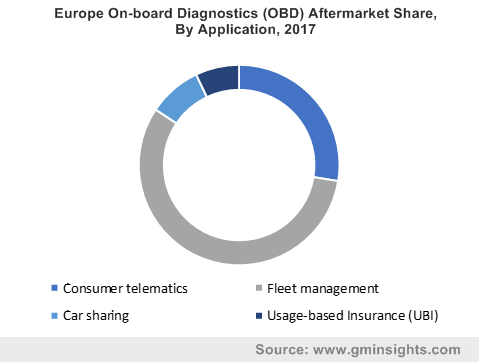 The OBD system is one of the integral parts of the electronic control unit (ECU) and is used for diagnosing and repairing vehicle subsystems and rectifying the malfunctions associated with the systems. The integrity of the emission control unit is maintained with the help of external tools that re-flash and re-configure the vehicle emission parameters. The increasing use of external vehicle diagnostic tools to maintain the shelf life of the vehicle is slated to propel on-board diagnostics (OBD) aftermarket considerably.
Taking into account the strict regulatory norms formulated to curb and monitor vehicle emissions, many diagnostic equipment providers are currently developing new OBD tool facility centers to check problems associated with the engine. For instance, in 2017, the leading suppliers of test equipment and diagnostic reporting for the automotive aftermarket, Innova Electronics Corp launched a modern on-board diagnostic tool line which is totally featured with its newly invented products that will be helpful for excellent diagnostic reporting.
Get a Sample Copy of this Report:@ https://www.gminsights.com/request-sample/detail/2839
The advent of a new range of technologies including cloud computing, Internet of Things (IoT), and smartphones have also had a remarkable influence on the on-board diagnostics aftermarket. In line with the recent product launches, many on-board diagnostics (OBD) aftermarket contenders have been developing new product portfolios comprising the modern technology aids. It has become very easy now for the vehicle owners to calibrate their vehicles' emission control unit. Recently, one of the leading players in on-board diagnostics aftermarket, Verizon has launched a next-generation aftermarket vehicle diagnostic service device that works just by plugging into vehicle's OBD computer port. As soon as it does, it connects to the OBD system of the vehicle and notifies the driver about any maintenance issue. In addition, Verizon has incorporated a smartphone software application as well as GPS technology that will help to resolve the mechanical issues in case of an emergency.
Though the government has mandated the deployment of vehicle health monitoring facilities, many vehicle owners are disabling and tampering on-board diagnostics and pollution control systems. They have also been tampering with laboratory test results and are bypassing emissions around monitoring devices. In U.S., the criminal office of the Environmental Protection Agency (EPA) and the Department of Justice (DOJ) in fact, had sued the employees of Rockwater Northeast LLC which provides operational services across oil and gas sector. The employees of this hydraulic fracturing firm had modified the OBD system and emission control unit of the company's heavy-duty diesel trucks. This strict stand taken by the regulatory bodies for the infringement of Clean Air act has depicted the significance regulations have on the North America on-board diagnostics aftermarket industry growth.
The significant benefits associated with the deployment of on-board diagnostics system to improve air quality through vehicle maintenance and inspection is slated to fuel the product demand across the globe. The installation of vehicle health inspection systems ultimately helps the owners to maintain the vehicle before it violates the air quality standard set by the government. In this regard, many vehicle owners have been implementing OBD systems to monitor and maintain their vehicles which will favorably stimulate on-board diagnostics aftermarket industry size over the years ahead. For the record, driven by a strict regulatory frame of reference, the overall on-board diagnostics (OBD) aftermarket will surpass revenue collection of USD 1.5 billion by the end of 2024.
Author Name : Sunil Hebbalkar