Managed Service
The excellent growth dynamics of the global artificial intelligence (AI) in BFSI market can be traced by the recent instance of Metromile, a leader in pay-per-mile car insurance in the U.S., launching its new AI-based smart claims assistant, AVA. The automated system reportedly utilizes machine learning capabilities to reconstruct the accident scene and promptly ascertains if claim details are true. Apparently, the claim is approved within seconds after the details are verified and the AI-based tool further notifies the car owner of the expedited claim. With the increasing adoption of high-grade technologies such as IoT and Big Data, the commercialization potential of AI in BFSI industry has observed a marked uptick in the past few years.
U.S. Artificial Intelligence in BFSI Market Share, By Solution, 2017 (USD Million)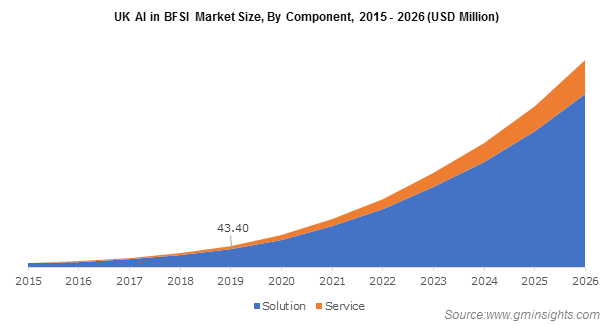 Elaborating further, the unveiling of AVA signifies the transformative phase being witnessed across the worldwide insurance sector where prominent AI in BFSI industry players have been increasingly deploying advanced algorithms to enhance the underwriting process. This has, in turn, impelled the insurance segment of the AI in BFSI market which is forecast to register an outstanding y-o-y growth rate of over 38% during 2018-2024.
A brief insight of how banking sector has been shaping AI in BFSI industry trends
Over the past few years, numerous globally renowned banking institutions have been pouring in massive funds to develop cutting-edge AI applications that have invariably assisted them in optimizing performance, consolidating remuneration streams, and better serving their customers. In this regard, banks are increasingly forming partnerships with fintech corporations to integrate the latest technologies into banking products and services which has resulted in the development of advanced customer behavior analytics inventions, chatbots, and customer relationship management (CRM) solutions. Enumerated below is a succinct outline of how banks have been readily embracing AI-based solutions that has subsequently transformed the strategic and competitive landscape of AI in BFSI market:
Embarking on its AI and automation journey in September 2017, State Bank of India unveiled its first AI-powered chat & voice assistant, named as SBI's Intelligent Assistant or SIA. The chatbot reportedly aids customers with everyday banking tasks just like a bank representative and has a remarkable capacity to handle close to 10,000 enquiries per second or 864 million in a day. Arguably, the deployment of an AI-based solution of this scale is cited to be first of its kind in the banking segment of the global AI in BFSI market. With an astonishing customer strength of around 420 million, State Bank of India's latest move towards integrating AI is being viewed as a major leap of faith for India's banking sector.
Regarded as one of the world's largest banks, the U.S. based JPMorgan Chase has recently launched a digital platform that analyzes legal documents and extracts the relevant data. The AI-based invention, named as Contract Intelligence (COiN) platform, is an outcome of the initial implementation through machine learning technology and has an exceptional ability to revise approximately 12,000 annual sales agreements within minutes. The platform is being aptly termed as revolutionary across AI in BFSI industry given the fact that it effectively eliminates the need to manually review the said number of sales agreements which generally takes around 360,000 hours.
Get a Sample Copy of this Report@ https://www.gminsights.com/request-sample/detail/2605
Owing to the launch of intuitive, easy-to-use, and highly-efficient AI-based tools, the banking segment of the AI in BFSI market has been proliferating at an exceptional pace in the recent times. In fact, as per a research report compiled by Global Market Insights, Inc., the banking segment apportioned more than 50% of the total remuneration portfolio of AI in BFSI industry in the year 2017. With the unveiling of advanced AI technologies that provide real-time insights into every aspect of banking operations and leverage the abundance of data to gain a granular understanding of consumer behavior, the banking segment is slated to lead the end use spectrum of this business space over the ensuing years.
Infusing AI-based applications across a diverse set of operations has brought about a momentous shift in the ability of organizations, working in the BFSI domain, to swiftly analyze, comprehend, and respond to vast amounts of data which has consequentially augmented the revenue share of companies operating across AI in BFSI market. With the advent of advanced machine learning algorithms, data analytics solutions, natural language processing techniques, the AI in BFSI industry space is anticipated to register an overwhelming CAGR of 30% over the estimated timeframe.
Author Name : Saif Ali Bepari
Endpoint security market, tagged as a revolutionary subset of the smart technology space, seems to have garnered the status of a niche vertical in the recent years. This growth can be precisely attributed to the fact that malware attacks have gained ferocity in stealing identities, draining bank accounts and generally bringing services to a standstill. In May 2017 for instance, a colossal cyberattack sealed down files and badly affected businesses, government bodies and the National Health Service of UK. Unfortunately, NHS back then, was still using an outdated version of the Windows operating system, the consequence of which led to MHS paying a heavy ransom in the form of bitcoins to retrieve the files.
Endpoint Security Market Size, By Application, 2016 & 2024 (USD Million)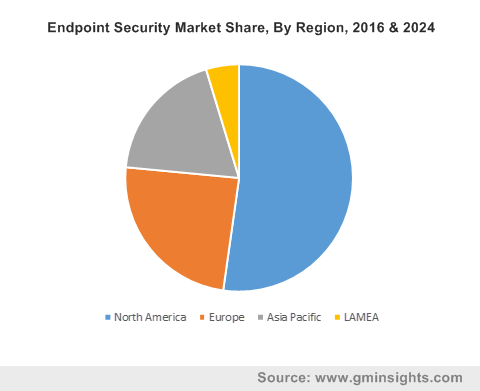 This revolutionary cyberattack which was later named WannaCry was an eye opener for the IT sector, which rapidly deduced that such attacks will only become more commonplace in the future if nothing definite and foolproof is done to thwart their onslaught. While numerous other incidences have served as focal drivers, this particular event was speculated to have a direct impact on endpoint security market trends.
Endpoint security market outlook from software component sales
Endpoint security systems essentially comprise centrally located software, that quite overtly categorizes software as a vital component of this business space. Driven by large-scale installations of antispyware, antivirus, firewall, login authentication and a host of intrusion prevention systems, endpoint security market has much to gain from the deployment of essential software. Indeed, estimates claim that software accounted for 80% of the overall endpoint security market share in 2016.
As budgets to improve client threat management witness an increase, endpoint security industry outlook from the software segment is likely to undergo an even more positive transformation. It is prudent to mention however, that the success and effectiveness of endpoint security depends on the proper implementation and updation of the endpoint protection that has to combat with constantly evolving threats. This has consequently added a considerable boost to the service-based endpoint security industry share as well, which is likely to witness favorable growth over 2017-2024.
Get a Sample Copy of this Report @ https://www.gminsights.com/request-sample/detail/1620
Public sector to adopt proactive approach to endpoint security
As the threat of malwares is becoming exponential and cyberattacks are increasingly demonstrating how crippling their effect can be, the public sector is changing its approach towards endpoint security. Sectors like BFSI and healthcare have emerged as pivotal growth avenues for endpoint security market, as they have begun to deploy the system in the dynamically changing customer and patient scenario. In fact, the financial institution demands the maintenance of strong web security. Consequently, the BFSI sector has turned to employ multilayered security to provide robust solutions against impending threats.
Endpoint security has become a major layer of security as it is software based and is targeted towards user devices like laptops, computers, smartphones and tablets. Therefore, the government has also enforced stringent norms to protect financial data, urging institutions to adopt such a host-based solution. This indeed led the BFSI sector to hold the largest share in endpoint security market in 2016 and lay the groundwork for further progress over 2017-2024.
The healthcare sector has also faced threats from cybercriminals who have put patients' lives on the line by hijacking data and installing malware. The deployment of patient friendly devices for healthcare has created a challenge that required the deployment of robust endpoint security to maintain a safe IT ecosystem. As on today, the healthcare sector has to provide a seamless means of communication and collaboration among stakeholders. Not to mention, the rate of information flow and access has also risen at a commendable pace, increasing the risk of malicious content finding its way into the system. The criticality of endpoint security has thus been recognized to keep patient and stakeholder information safe in the healthcare sector, making it a viable avenue for endpoint security industry.
The latest trends in cybercrime rely heavily on social engineering, using legitimate software as cyber weapon, ranging from spam to phishing. Leading endpoint security industry players like Symantec, Kaspersky, McAfee, Microsoft, Trend Micro, Comodo, Cisco, and Panda Security are therefore continually upgrading and expanding their scope through research and development programs to keep pace with the changing dynamics of cyber threats. For instance, Kaspersky Lab recently released its flagship product called Kaspersky Endpoint Security for Business, which included next generation threat detection, increased visibility and granular security controls like credential detection and vulnerability management. This provides an apt demonstration of the efforts being undertaken to innovate highly advanced and efficient products in this business space. As per estimates, endpoint security industry size has been forecast to be pegged at $7.5 billion by 2024.
Author Name : Paroma Bhattacharya
One of the latest trends proliferating retail analytics market is that of multiple operational channels. Or, as the experts say so – omni-channels. The technique has brought about a modest amount of consolidation in retail analytics industry, surreptitiously eliminating supply chain chaos and location glitches. While global markets have been attempting to emulate high-grade technology and big data analytics, the retail sector has quietly been engaging with omni-channels to entice more customers, keep them continually engaged, draw data from a stream of sources, and bring about extensive social engagement to trigger a better understanding among consumers regarding the distribution chain. This initiative fosters the deployment of efficient analytics, which will ultimately usher in a new dawn for retail analytics market. The extensive reach of the retail business, in conjunction with the steadfastly developing e-commerce sector, is also certain to act as a catalyst to Retail Analytics Market, which, as per experts, is forecast to cross a valuation of USD 13 billion by 2024.
U.S. Retail Analytics Market Size, By Function, 2016 & 2024 ($Mn)

Retail analytics is essentially the process of delivering critical insights about a myriad range of retail verticals such as supply chain models, distribution chain, inventory levels, sales, and consumer demand, that form the crux of making crucial decisions, In a nutshell, retail analytics industry encompasses an enormous scope, given the fact that the deployment of data analytics in the retail market gives companies an inherent overview of business, processes, and customer insights, thereby opening up the channels for improvement and progress.  IBM's recent partnership with SAP for jointly developing data solutions for the retail sphere is an instance of how companies have been forging partnerships to lead retail analytics market on the path of progress.
Top trends underlining retail analytics market:
Cross-platform analytics
With the retail space spread across numerous distribution channels, the onus is on big data analytics solutions to track data as minutely as possible. Consumers may use one or more channels to view a product and make an informed choice. Analytic solutions need to able to penetrate this barrier and unearth the audiences through all these platforms in order that retail giants are able to provide a seamless shopping experience.
The extensive demand for real-time data to be communicated across the value chain – sales staff, consumers, distributors, and the like will thus, prompt retail analytics market players to come up with a range of effective solutions. Lately, the proliferation of technology has led to the massive deployment of both on-premise and cloud-based solutions, which will eventually result in the development of retail analytics market.
Get a Sample Copy of this Report@ https://www.gminsights.com/request-sample/detail/319
The proliferation of IoT
IoT is the latest incantation being followed by major giants partaking in retail analytics industry share. With the retail sector, consumer is king, and high-grade consumer experience can only be obtained via the deployment of IoT and augmented reality. The former in fact, is nearly on the verge of encapsulating retail analytics market. If estimates are to be believed, retailers may spend more than USD 2 billion on IoT-enabled devices by 2020. Furthermore, more than 65% retailers will depict an earnestness to integrate connected devices in their business models – a fact which may transform the face of retail analytics market.
The deployment of IoT has a plethora of benefits to offer, right from efficient data collection, consumer movement monitoring, real-time supply and demand analysis, and so on. Considering the vast expanse of the retail sector and the intense competitive aura that permeates this space, it is certain that the adoption of connected technology will augment retail analytics market.
An inherent shift of dynamics has been observed in the deployment of predictive analytics lately. This type of analytics basically entails guesswork regarding consumer behavior and choices and has proved to be fairly successful in retail analytics industry, in the initial years of inception. With the passage of time however, the need for a more efficient, practiced methodology arose in retail analytics market, which resulted in the genesis of an explanatory business model. This type of analytics gives an extended explanation of data – inventory requirement, store requirements, consumer demand, and product trends -in other words, this type of analytics identifies trends that may have a sizable impact, which is a godsend in retail analytics market.
What can be deduced from this transformative trend is that the retail sector has been on the lookout for novel technologies to forge a connection with consumers. In order to be a part of this ever-changing spectrum, it is essential for retailers to bring about a change in their outlook to create value. This modified school of thought is certain to usher in a unique speculation of sorts for retail analytics market giants, who have been bending over backwards to codify a new set of advanced solutions for the retail sector. Inadvertently, it is expected that their efforts will bear fruit, and retail analytics market will establish new frontiers of growth in the years ahead.
Author Name : Saipriya Iyer