Managed Services
​The increasing demand for commercialization of the next-generation 5G technology will propel Intent-based networking (IBN) market size. Given the extreme data speeds of the 5G technology, the commercialization will enable the service providers to launch several customized virtual private networks (VPNs) targeted toward specific applications and customers.
Additionally, intent-based networking technology allows the enterprises to have software defined control over many aspects of the network including the segmentation, content filtering, Quality of Service (QoS) and malware detection. This AI-based smart technology also allows enterprises to automate the configuration of these network devices according to the changing business objectives.
How will networking hardware segment perform during the forecast period?
Networking hardware segment is expected to grow at a CAGR of over 30% during the forecast timeframe . Networking solution providers foresee expansion of their support for 5G technology owing to the increase in data-centric applications. This will create immense demand for networking components such as routers and switches. Rapidly changing business requirements in accordance with technology change is slated to drive IBN market share from networking hardware segment.
Get a Sample Copy of this Report:@ https://www.gminsights.com/request-sample/detail/2758
How will the cloud computing trend influence cloud deployment-based IBN market outlook?
The cloud deployment model is anticipated to achieve a steady growth rate of more than 32% over 2019-2025. The growth is mainly attributed to the growing adoption of cloud computing services across the enterprises. Network solution providers have been looking forward to developing cloud data center supporting IBN solutions that will accelerate the demand for cloud deployment model over the years ahead.
How will digitalization across SMEs impact APAC intent-based networking market forecast?
Enterprises across APAC region have been increasingly deploying NFV technologies to support rapid deployment of services and applications. The APAC intent-based networking market is projected to record a CAGR of more than 31% over 2019-2025, owing to the increasing digitalization across small and medium scale enterprises (SMEs). Growing deployment of virtual network across the region will further augment the product demand over the estimated timeframe.
Author Name : Amol Kothekar
​
Network as a Service market (NaaS) outlook is slated to demonstrate considerable transformation over the forecast years due to the rising demand for latest cloud-based services and integration of new technologies into business networks. Reportedly, enterprises had estimated in 2018 that they would invest on an average $3.5 million on clouds apps, platforms, and services in the year, suggesting the massive need for network products. NaaS has evolved to a new level with the proliferation of communication technologies and innovative cloud applications, driving the expansion of network as a service industry trends.
Europe Network as a Service (NaaS) Market Share, By Region, 2018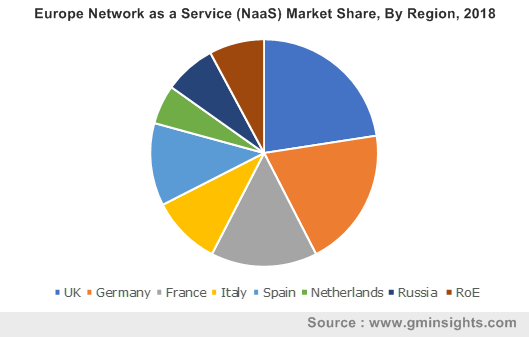 In order to keep pace with the competitive pressure of a rapidly changing network environment, service providers need to innovate promptly. Network services are not only providing business opportunity to IT & telecom segment but also encouraging customers to make the best possible use of the provider's primary services. With rapid advancements in NaaS network services, businesses can easily eliminate all the hassle of maintaining and managing the network themselves.
To keep growing their market share, tech and telecom giants are extensively adopting network services to simplify their architecture through virtualization and incorporating disparate software solutions onto common hardware. In this modern era, the telecom sector is accelerating global presence by addressing customer needs to better serve an ever increasing population base. Consistent growth and enhancement of telecommunication services over the coming years will propel network as a service market size.
Telus, a Canadian telecommunications company, had unveiled its partnership with Nuage Networks in 2017 to initiate Telus NaaS, a software defined wide area network platform. Apparently, several other telcos like Telia, Telefonica, China Telecom and BT had teamed with Nuage for advancing and automating their WAN connections. The prevalence of such collaborations will impact the future of NaaS globally and will propel NaaS industry size in the years to come.
Get a Sample Copy of this Report:@ https://www.gminsights.com/request-sample/detail/1218
In terms of the regional landscape, Asia Pacific NaaS market is expected to register a CAGR of over 40% from 2019 to 2025. Growing preference for cloud services and the need to lower operational costs can be accredited to the massive shift in business priorities. Subsequently, IT & telecom companies are opting for high-quality managed and security services to raise their business proficiency. NaaS industry in the region could reach a commendable presence across the tremendously large small and medium sized business environment in APAC.
Telecom sector throughout APAC has been leveraging new NaaS models and enjoying greater flexibility and agility in a quickly changing environment. In addition, several telecom companies have been encouraged to come up with innovative offerings  that could potentially change network as a service market dynamics. In terms of the regional dominance, countries including China, Japan, and South Korea could lead other nations owing to the extensive deployment of NaaS platforms, driven by technologies like NFV and SDN.
Japan is ranked among the top Asian countries in terms of cloud readiness, network services and broadband quality. In 2016, NEC Corporation, a Japanese multinational provider of information technology services and products, had collaborated with Netrounds and other partners to accelerate agile deployments of assured network services to increase efficiency and reduce operational expenditures. Similar moves by telecom firms, domestically and internationally, would create tremendous demand for NaaS market players around the globe.
Adopting open and standard technologies like network service enables telecom companies to virtualize their networking solutions by recognizing more advanced ways to operate and manage their networks, with minimal or no dependency on underlying hardware. The variable network connectivity and cloud access through NaaS becomes equally vital for power redundancy and to provide security benefits as per Tier 3 data center specifications.
IT & telecom sector is seemingly a prime target for advanced and innovative strategies for improving network services, that would provide them with agility, flexibility, and facilitate efficient expansion with new application workloads. Upsurge in cloud-based services coupled with the augmented growth in data traffic is certain to fuel NaaS industry share. Global Market Insights, Inc. has projected that global network as a service market will surpass a valuation of USD 50 billion by 2025.
Author Name : Deeksha Pant
The exponential growth graph depicted by the global threat intelligence market in the recent years can undoubtedly be credited to the massive surge in the number of connected endpoints. Presently, there are more than 3 billion end-users across the world that are connected to the Internet, while connected-devices are anticipated to surpass the 50 billion mark by year 2020. Having understood the dependency of these endpoints on the Internet to be able to interact with each other, cybercriminals have been exploiting the reliance to obtain an unauthorized access to the connected endpoint devices to undertake numerous malicious activities.
U.S. Threat Intelligence Market Revenue, By Component, 2018 & 2025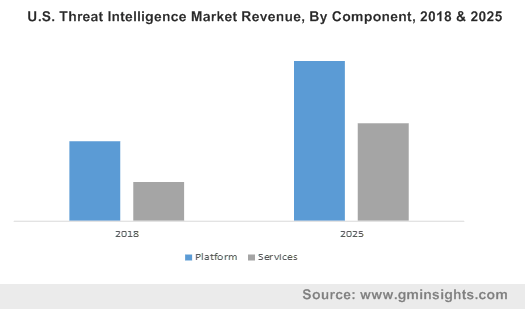 Threat intelligence market | Impact of rising mobile cyberattacks
The global threat intelligence market is expected to amass substantial returns from mobile-based solutions, due to the exponential rate at which cases of mobile cyberattacks & mobile frauds are growing. According to a 2018 report by ThreatMetrix, the first two quarters of 2018 witnessed the cases of mobile attacks across the globe reach the 150 million mark with attack rates growing 24% year-over-year. While the growing penetration of mobile devices has undoubtedly been a crucial factor in the rise of digital commerce, the trend has also proved to be extremely conducive for numerous malicious entities to carry out fraudulent activities.
Moreover, other growing trends such as Choose Your Own Device (CYOD) & Bring Your Own Device (BYOD) being adopted across a number of enterprises, while facilitating greater convenience, are creating more vulnerabilities in the organization networks. Fueled by these trends the global threat intelligence market share from mobile-based solutions will grow at a CAGR of more than 18% over 2019-2025.
Get a Sample Copy of this Report @ https://www.gminsights.com/request-sample/detail/3151
Threat intelligence market | Impact of the growing healthcare cyberattacks
As the global healthcare sector goes through a digital transformation, wherein it is adopting new technologies to enhance the level of patient care & medical treatments while continuing to facilitate patients with life-critical services, the vulnerabilities that are being created or exposed by this transformation phase are being treated as opportunities by criminal & malicious entities for their own personal gain. According to the Center for Internet Security, these threats range anywhere between malwares, that are designed to compromise the privacy of the patients & the integrity of the systems, to Distributed Denial of Service (DDoS) attacks, that are designed to hamper a facility's ability of providing proper patient care. While these issues plague other industrial & infrastructural sectors as well, the ramifications of a cyberattack on a healthcare facility go far beyond financial losses & privacy breaches.
According to the Southern Medical Association, as cyberattacks continue to proliferate, the global healthcare industry remains a primary target. In fact, 2017 witnessed the most successful data breaches in history, bringing legal consequences & detrimental financial losses to the victims and costing organizations more than $5 billion in accumulated financial losses & estimated total payouts. As healthcare organizations store a copious amount of information associated with their patients, cyberattacks, aiming to gain access to these data reserves, would be continuing to occur in the sector, generating significant opportunities for the threat intelligence market contenders. Indeed, the global threat intelligence market is projected to witness a CAGR of 13% over 2019-2025 from the healthcare industry.
Threat intelligence market | Impact of increasing cyberattacks on Government Institutions
As with other sectors, the world's government institutions are also making their transition to the digital world, leaving their conventional pen & paper practices behind for higher operating efficiencies. This trend has provided cyber-criminals an ideal opportunity, wherein they target specific government institutions for their own financial or idealistic gains. One recent instance of this is the cyberattack that targeted the local government of Atlanta, USA. According to the American Bar Association, the entire city of Atlanta was trapped in a hostage situation, wherein the city's digital infrastructure was taken over by a powerful ransomware.
The criminals disabled internet access, encrypted the files stored on the system and demanded an upfront Bitcoin payment in exchange for the decryption key that restored access to these files. According to federal authorities, the ransomware attack caused losses of more than $30 million and could cost taxpayers & the city more than $17 million to completely recover from the damages caused.
Attributing to these three determinants, it is unmistakably clear, that the global threat intelligence market would be witnessing tremendous growth in the years to come. In fact, according to a report by Global Market Insights, Inc., the overall threat intelligence market size is slated to surpass the $13 billion renumeration mark by 2025.
Author Name : Akshay Kedari
With evolving emphasis on location-based marketing in retail space, geofencing market has indeed gained a widespread recognition in the mainstream tech cosmos. Over the recent years, it has been observed that the share battle between online and offline business platforms is intensifying. As a result, bricks and mortar giants have been increasingly looking for ways to implement e-commerce alternatives, the fundamental factor that has impelled geofencing industry share. Quite comprehensible from the terminology, geofencing is a service that, via an app utilizes RFID or GPS technology to increase the virtual boundary around a particular geographic location. Apparently, the technology is being extensively deployed in retail stores nowadays in an attempt to enhance in-store consumer experience.  In fact, on grounds of its far-reaching acclaim, numerous tech behemoths have been trying their hands with the technology in recent years, attempting to bring forth a slew of innovative applications in geofencing market.
Geofencing Market Size, By Application, 2016 & 2024 (USD Million)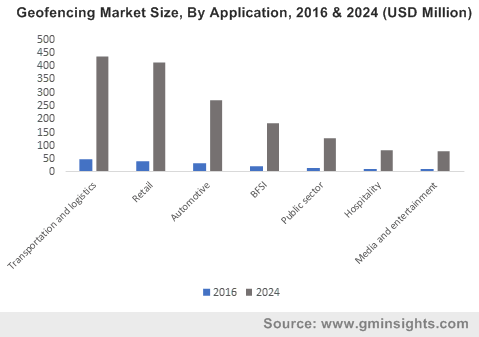 Unveiling geofencing market trends with reference to its application landscape:
American Eagle, one of the renowned clothing and accessories retailers, in the year before last, launched a groundbreaking reward scheme for its customers to encourage purchase. Reportedly, the U.S. headquartered company has utilized geofencing technology to create this app, which in a way is pushing consumers to add more items in their shopping carts to see what they can receive in return. Since the strategy compels the users to at least consider the items that might be otherwise left on the rail, the probability of more purchases undoubtedly increases. This absolutely innovative strategy applied by the American retail giant grabbed the headlines back then and has been stamped as a benchmark in geofencing market growth.
Get a Sample Copy of this Report:@ https://www.gminsights.com/request-sample/detail/222
2016 has indeed been a breakthrough year for geofencing market, with leading food giants striving hard to exploit the potentialities of this technology in their business model. McDonalds, for instance, had started incorporating geofencing service in its mobile app for optimizing the food preparation time. Sources claim, the fast food giant's decision of implementing this app comes in the wake up of long wait queues in front of McDonalds outlet and amidst the chances of receiving cold food. The geofencing based app designed by the company aptly detects when the customer gets closer to the counter and simultaneously alerts the staff to start preparing the order. Needless to mention, growing deployment of these kinds of innovative technologies have enhanced instore consumer experience, which by extension has stimulated geofencing market expansion.
The application matrix of geofencing industry is not just replete with retail domain, though it is undeniable this sector is a lucrative growth avenue for the entire business space.  Besides, retail space, geofencing market share stands to gain much from security and defense applications. Numerous companies participating in the business space have been creating a whole hog to bring about significant advancements in the capabilities of this solution with enhanced integration and accuracy functionalities. In this regard, China has recently made it to the headlines with the announcement of its decision of integrating geo-fencing based facial recognition system for security and surveillance in Xinjiang. Reportedly, these geofencing tools alert authorities when targeted people venture 300 meters beyond the designated safe area zone. These kinds of appreciable efforts undertaken by tech giants and governmental bodies toward promoting geofencing technology is certain to bring forth a plethora of opportunities for geofencing industry participants in the coming years. Validating the declaration is the estimate by Global Market Insights, Inc. that forecasts the global geofencing market to surpass a valuation of USD 1.7 billion by 2024.
Author Name : Satarupa De
The explosive amplitude of IoT, spanning virtually every sphere, has a pivotal role to play in the expansion of fog computing market. Still considered a plausible tech sub-space by mere mortals, this business domain, an inherent extension of the cloud computing industry, is likely to actually emerge as a viable niche vertical, starting 2018, as per the predictions of The US office of National Institute of Standards and Technology (NIST). Subject to its extraordinary ability to support latency-sensitive and vertically-isolated applications by means of providing a scalable, ubiquitous, distributed, and layered network connectivity, storage, and computing, fog aims to simplify processing and IoT infrastructure. In consequence, there has been an increasing surge in exploiting the unused IT infrastructure for fog computing applications that need to compute resources in a global network. Subsequently, this has led to fog computing market gaining heavy momentum, reinforcing the buzzword of 'fog technology' across myriad domains.
U.S. Fog Computing Market Size, By Component, 2016 & 2024 ($Mn)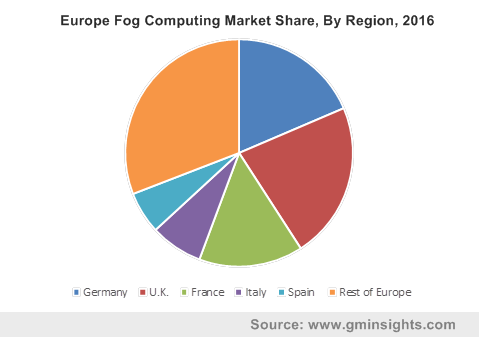 The far-reaching application spectrum of fog computing industry is quite evident from the numerous instances of companies tapping the fog space making headlines. A recent precedence is that of Storj Labs and SONM teaming up to enable fog computing through blockchain technology. Elaborating further, Storj Labs, a software provider has joined hands with Supercomputer Organized by Network Mining (SONM) in order to bring about distributed instances of persistent storage implemented by Storj Labs available to organizations incorporating SONM's blockchain. Accordingly, SONM plans to build a peer-to-peer blockchain network – effectively a fog computing instance that would deal with the computing and storage of resources on the edge of a global network. The partnership marks substantial importance in fog computing marketing, having established the fact that blockchain technology and fog computing are two strongly intertwined mechanisms.
Get a Sample Copy of this Report:@  https://www.gminsights.com/request-sample/detail/2295
The end-use landscape of fog computing market is rather humongous and versatile, though this does not exactly come as a surprise, given how minutely IoT has brought every object under the umbrella of the Internet. As per reliable estimates, the data analyzed on devices functioning on IoT will soon approach a mammoth 40%. It has also been speculated that by the year 2020, 10% of global data will be generated by edge devices. This would fuel the demand for highly efficient fog computing solutions that simultaneously deliver holistic intelligence and low latency, subsequently driving fog computing industry size, slated to cross USD 700 million by 2024. Numerous real-time instances of the benefits of this technology have already made inroads in fog computing market – recently, the IoT company Plat One made headlines for having tapped into fog computing for improving data processing management in its 1 million sensors.
It is pivotal to mention that mainstream hardware component developers, such as Intel, Cisco, and Dell have been making a headway in fog computing industry, as is evidenced from their interest in joining forces with vendors dealing in machine learning and IoT analytics. Through the proposed dealerships, these companies would be able to deliver IoT gateways that support fog computing. Recently in fact, Cisco took a dive in fog computing market with the acquisitions of Jasper, an IoT platform provider and ParStream, a reputed company specializing in IoT analytics. Unrefutably, these buyouts would help the electronics giant to incorporate its networking component infrastructure with highly efficient computing capabilities, which would subsequently reinforce its position in the fog computing market. Following Cisco's lead, numerous analytics software companies have also been attempting to develop new tools for fog computing – Apache's Spark for instance is apt for real-time processing of fog-generated data. In effect, it would be diplomatic to state that fog computing market indeed would emerge as one of most remunerative business spaces of the next decade, traversing a highly profitable growth path over 2017-2024.
Author Name : Saipriya Iyer
Robust advancements in technology have led to a rise in the deployment of IT-based solutions, impelling GPU as a service market size. Nowadays, GPUs (graphics processing units) are being predominantly integrated with the CPU (central processing unit) in self-driving cars, artificial intelligence, and high processing power computing, subject to consumer demands for the installation of graphics in their systems.
APAC GPU as a Service Market Share, By Region, 2018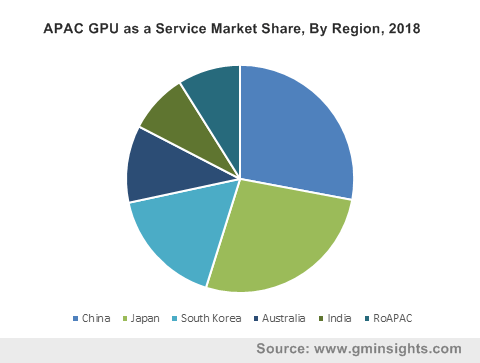 In the coming years, it is expected that the surging automation in vehicles for ADAS, internal infotainment, and other significant applications are likely to contribute toward enhancing GPU as a service industry outlook. It is prudent to mention that several product developers also prefer software-based systems such as CAD and CAM for improving the overall output efficiency and accuracy, which would considerably propel GPU as a service market over the years ahead.
Considering the benefits of GPUs, numerous educational institutes have been extending invitations to industry biggies for supercomputer installation. For instance, the Central China Normal University has called upon Inspur to build a petaflop supercomputer, which will help the educational organization host deep learning workloads and traditional HPC applications.
The deployment of artificial intelligence in particular, is slated to have a significant impact on GPU as a service industry trends, on account of which numerous companies have been striving to improve their AI-based programs and products for learning institutions. The robustly increasing adoption of AI-based technologies across scientific and industrial disciplines is thus anticipated to play a key role in the growth of GPU as a service market.
Get a Sample Copy of this Report:@ https://www.gminsights.com/request-sample/detail/2143
In recent times, the role of graphics in the automotive domain has increased to quite an appreciable extent, given the massive deployment of electronic content in vehicles. In-car electronics have moved beyond fancy HMI and entertainment displays to passenger protection and safety monitoring systems. Automotive OEMs that implement consumer-centric infotainment and innovative safety features are now attracting more consumers, stimulating the demand for GPUs. Thus, the surging deployment of 3D graphics and safety applications in automobiles would heavily drive GPU as a service market share in the forthcoming years.
Numerous automakers, as on today, have been deploying advanced automotive safety features such as advanced driving assistance systems in vehicles to comply with regulatory norms for occupant and automobile safety. Consumers have also been observed to give more preference for safety features while purchasing the vehicles. It goes without saying that on account of the aforementioned fact, the demand for GPU based built-in computational units that effectively work on safety monitoring would increase by several notches, thereby augmenting the revenue graph of GPU as a service market.
In addition, some automakers are looking forward to speed-up real-time response by reducing the time required for parallel algorithm execution in ADAS with the help of parallel processing power of graphical process units (GPU), further boosting this business vertical. In essence, the shifting trends toward the development of autonomous cars is likely to boost GPU as a service industry share in the future.
The latest trend proliferating GPU as a service industry is the growing utilization of 3D graphics in the expanding iOS and Android mobile applications. Undeniably, 3D gameplay, UI, and visual captive content are mandatorily being implemented in every mobile operating system. Each one of these implementations demands the deployment of a graphics card for improved functionality, that would commendably impact GPU as a service market share.
Effectively, the escalating usage of 3D graphics in mobile devices and the development of fancy UIs incorporating 3D graphics will stimulate GPU as a service market size, forecast to cross a revenue of USD 7 billion by 2025.
Author Name : Sunil Hebbalkar