Manufacturer Retail Store
Growing automobile sales coupled with the increasing penetration of software in vehicles has led to the global automotive software market emerging as a lucrative hotspot worldwide. Today, the incorporation of automotive software components in any given automobile is rather commonplace, providing a positive impetus to the overall automotive software industry outlook.
Canada Automotive Software Market Revenue, By End Use, 2018 & 2025 (USD Million)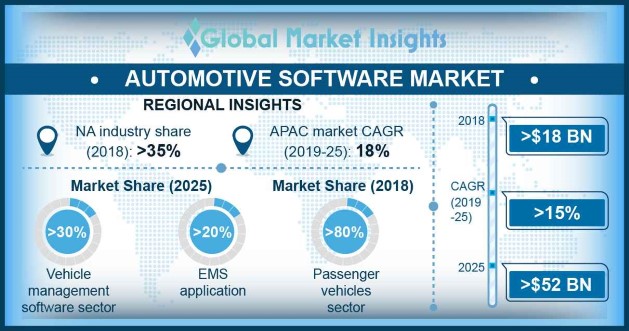 Over the past decade, the automobile has evolved from a mechanical & electrical set-up to a sophisticated software-driven machine. The discipline of automotive software development is further slated to make the vehicle of the future easier & more enjoyable to drive while making the ride safer for the drivers. Moreover, owing to significant advancements in automotive Artificial Intelligence and the Internet of Things (IoT), automobiles of the future are projected to become smarter and more connected.
In fact, according to the World Economic Forum, automotive software development is increasingly moving towards complete connectivity between automobiles, municipal services & traffic through sensor-embedded infrastructure & roads. This will allow for more efficient traffic management or automated driving, paving the way toward proliferating automotive software market trends.
Impact of autonomous driving on automotive software market size
The Potential: Autonomous driving technology holds the potential of completely transforming the global automotive industry. A number of automotive software companies are increasingly making significant inroads in the field of self-driving, wherein vehicle drivers aren't required to take control of the steering to drive the vehicle, which would be further elevating automotive software market outlook to new heights.
The Projection: While there have been substantial developments in autonomous driving, owing to the unforeseen nature of the technology, there are no laws that dictate & regulate the use of fully-automated vehicles across the world.
Get a Sample Copy of this Report @ https://www.gminsights.com/request-sample/detail/3214
According to the Union of Concerned Scientists, the benefits of this novel and rapidly updating technology are still largely undiscovered as it has yet to witness widespread deployment.
However, the technology's potential, such as significantly improving road safety and making transport more accessible, is estimated to bring in substantial growth opportunities to the global automotive software market contenders. Indeed, the Victoria Transport Policy Institute predicts that automated driving would be replacing most of human driving by 2030. As per estimates, autonomous driving software market is projected to record a CAGR of 17% over 2019-2025.
The MVP: The most prominent automated driving software company is Alphabet Inc's Waymo. According to Bloomberg Hyperdrive, the Google sibling, through its capabilities which have enabled it to lead the launch of driverless cars, has placed itself in a lucrative position to capitalize on the business opportunities automated driving would be bringing forth in the years to come. In fact, the company in 2018, was valued to be a $175 billion startup.
Role of in-vehicle infotainment technology on automotive software market share
The most glaring noticeable change in newer automobile models as opposed to the older ones is the in-vehicle infotainment system.
The Potential: The automotive infotainment technology has witnessed significant advancements in recent years, wherein it has transformed into the vehicle's centralized controlling unit which could control several vehicular features such as selecting driving modes, ride suspension and select a radio station or pick up an incoming call on your cellphone.
The Projection: The sub-segment of the in-vehicle infotainment system, owing to growing customer demands, is further slated to become a common feature of a majority of automobiles in the forthcoming years. In fact, according to Intel, driven by the demand for more features the overall share of an in-vehicle infotainment industry is slated to reach a considerable billion-dollar remuneration by 2022.
Additionally, the World Economic Forum estimated that advancements in the infotainment technology would be adding $65 billion worth of operating profits to the global automotive industry value chain.
Fueled by significant technological advancements in the sub-domains of automated driving & in-vehicle infotainment systems, the global automotive software market size is expected to depict substantial growth over 2019-2025. According a research report by Global Market Insights, Inc., automotive software industry size will surpass the $52 billion renumeration mark by 2025.
Author Name : Akshay Kedari
This entry was posted in Automotive & Transportation and tagged ABS, Air bag control, Anti-Lock Braking System, Auto Part Wholesaler, Automotive Dealer, Automotive Repair Store, Automotive Software Market, Automotive Software Market Forecast, Automotive Software Market Report, Automotive Software Market Share, Automotive Software Market Size, Autonomous Driving Software, Car Navigation System, Commercial Vehicle, Engine Management System, Global Automotive Software Market, Infotainment Software, Infotainment System, Manufacturer Retail Store, Mobility Service, Passenger Vehicle, Safety Software, Security Software, Vehicle Management Software.