Manufacturing
Over the recent years, the global data center colocation market has been witnessing remarkable pace of growth owing to the increasing complexity of managing humongous data centers and the shortcomings with regards to power and space. In addition to this, the emergence of the Internet of Things along with the rapid proliferation of big data and cloud technologies has compelled several business verticals to focus on planning the physical infrastructure of IT-based services. Moreover, large enterprises and SMEs are increasingly shifting to colocation hosting as building a new facility requires a large amount of initial investment, thereby boosting the revenue scale of data center colocation industry.
China Data Center Colocation Market, by application, 2017 & 2024 (USD Million)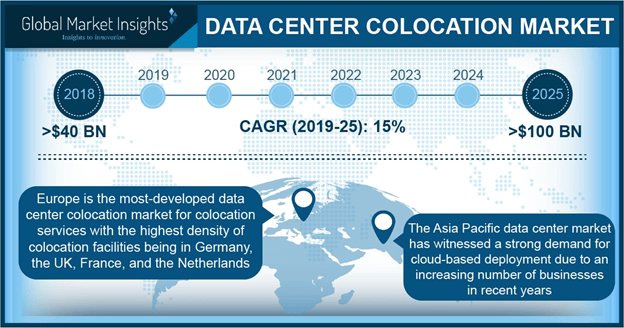 Elaborating further, the process of hosting an onsite facility needs skilled professionals to safeguard the data center from cyberattacks, which is the most pervasive threat. To tackle all these challenges, several data center colocation service providers are combining innovative solutions in their facilities to offer modern enterprises with secure infrastructure at the very initial stage of colocation.
In this context, it would be imperative to take note of Cyxtera Technologies which has recently integrated AppGate SDP, a new software-defined perimeter solution, with its high-performing data centers to apply the principle of least-privileged access to the network, which lowers the possibility of a cyberattack. Phasing out obsolete security approaches, the new solution gives fine-grained access to ensure that individuals only connect to the network resources. Needless to mention, the introduction of such unique solutions is proving to be beneficial for the overall data center colocation industry.
Get a Sample Copy of this Report:@ https://www.gminsights.com/request-sample/detail/2419
Prominent technology companies appear upbeat about the growth prospects of the data center colocation market in the APAC and Europe regions. The APAC nations especially have been mirroring the incredible growth trajectory experienced in the U.S. over the past few years. Enumerated below is a brief overview of how facility expansion activities by tech giants and the entry of colocation specialists have been transforming the contours of the APAC data center colocation industry:
Highly specialized colocation service provider Colt Data Centre Services (Colt DCS) is set to begin the construction of a hyperscale data center campus in Mumbai, the financial capital of India. With a power capacity of nearly 100MW, the facility is anticipated to become operational in the second half of 2020. In this regard, it would be prudent to mention that Colt DCS is the first major western data center operator to foray in India data center colocation market, which is presently served by small-scale local service providers.
Tech giant Facebook had recently announced that it would construct its first purpose-built data center in Asia. The new multi-story facility would be the largest single data center in Singapore and will offer 170,000 square meters of space. Owing to the ease of fiber connectivity and presence of highly-skilled professionals, numerous tech companies have been choosing Singapore as their regional hubs for data center colocation, propelling the commercialization potential of the APAC data center colocation industry.
In December 2018, the U.S.-based multinational data center company Equinix announced that it would build a new International Business Exchange data center in Helsinki, Finland. Reportedly, the new data center is slated to enable improved colocation and interconnection capabilities for businesses undertaking digital transformations. For the record, Equinix is a renowned name in the data colocation market given that it operates Platform Equinix, the name of its global data center network made up of 200 data center facilities spread across 52 nations.
Driven by a widespread application segment which includes retail, IT & telecom, manufacturing, healthcare, government & defense, energy, and BFSI, the data center colocation market is set to garner commendable proceeds from various geographies in the upcoming years. Additionally, the drastically changing technology trends and the favorable impact of big data, IoT, and AI on cloud infrastructure would further open up new opportunities for the companies partaking in the data center colocation industry, which is slated to surpass USD 90 billion by 2024.
Author Name : Saif Ali Bepari
The rising occurrence of a host of advanced, complex cybersecurity threats has helped impel the global virtual private network (VPN) market, given that these threats stand to jeopardize the integrity, privacy and data of businesses. With globalization becoming widely commonplace, and businesses striving to expand their sphere of influence to operate on an international level, the need for organizations to connect their business units together has also risen in proportion. These factors, over the last decade, have made the internet the preferred platform for companies and individuals to conduct their business. However, the vulnerability characterizing the internet has rendered it extremely inadequate in terms of security, a flaw that cybercriminals typically exploit to commit frauds & thefts.
U.S. VPN Market Revenue, By Component, 2017 & 2024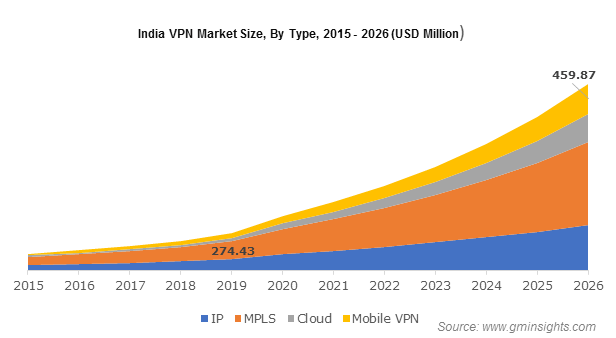 In a manner of speaking, the VPN technology facilitates a cost-effective and safe solution to the issue of safeguarding company networks. The growing prominence of wireless devices across different organizations & businesses would thus drive the growth of VPN market as improving internet speeds coupled with falling prices are catapulting the rate of adoption of a plethora of wireless & mobile devices. Given that such devices are commonly used across organizations to access several applications present on private company networks from remote locations, the VPN technology has consolidated itself as an extremely crucial business component, thereby driving VPN market trends.
Unveiling global virtual private network market trends from commercial applications:
The commercial sector is one of the most prominent application segments of the global VPN market. Comprising end-use domains such as the BFSI, healthcare, manufacturing, government and IT & telecommunication sectors, VPN market size from commercial applications is expected to grow at an impressive CAGR of about 15% over 2018-2024. This growth can be primarily attributed to the surging practice of digital recordkeeping and the adoption of cloud technology in these sectors that is completely changing the way customers access their information, rendering VPN technology as the backbone of these businesses.
Get a Sample Copy of this Report:@ https://www.gminsights.com/request-sample/detail/2756
While, organizations in these domains usually utilize a VPN of their own, a majority of them opt for commercial VPN services provided by private companies. According to Surveillance Self-Defense, an independent non-profit organization, a commercial VPN is a privately offered service that provides organizations a secure channel to relay their data over the service provider's own network. These services, if hosted in a foreign nation, while protecting users' data from cyber threats, also protect the information from local governments and allow the information to bypass national censorships.
Unveiling global virtual private network market growth via rising adoption of remote access connectivity:
Remote access connectivity has been touted to be one of the most deployed models in VPN market. The increasing need of organizations to find a secure as well as affordable way to relay secure company data from their private network to employees working at a remote offsite location is a primary factor driving the growth of the remote access-based VPN market. As opposed to site-to-site VPN, which allows a large-scale business to connect a cluster of its offices in several fixed geographical locations with each other, the ability of the remote access topology to connect individual hosts to their respective organization's private networks makes it an ideal match for small & medium-sized enterprises (SMEs).
Incidentally, the topology also allows employees from large organizations working through site-to-site VPN to connect to the company's network remotely and be able to perform their work from a remote location over home networks or public Wi-Fi networks without worrying about the security of company data. Aided by the convenience and reliability provided by this model, the remote access connectivity-based VPN market size is projected to register a CAGR of approximately 17% over 2018-2024.
Attributed to the rising need for facilitating proper secured channels for the exchange of data over an increasingly connected world, the global virtual private network is expected to successfully thrive in the overall technology space in the forthcoming years. According to a report by Global Market Insights Inc., driven by the increasing rate of VPN adoption in myriad businesses, the overall virtual private network market valuation is anticipated to surpass $54 billion by 2024.
Author Name : Akshay Kedari
The increasing importance imparted to network stability & wireless communication to speed up network capability has been stimulating private LTE market share. Nowadays, private LTE is used extensively for numerous beneficial purposes such as real-time monitoring, geo positioning activities, in the mobile devices, energy utilities, telecommunication applications, and automotive equipment. The rapid acceptance of long-term evolution (LTE) for high-speed wireless communication across numerous industrial sectors has been encouraging companies in private LTE market to adopt LTE network connectivity.
Europe Private LTE Market Revenue, By Infrastructure, 2017 & 2024 (USD Million)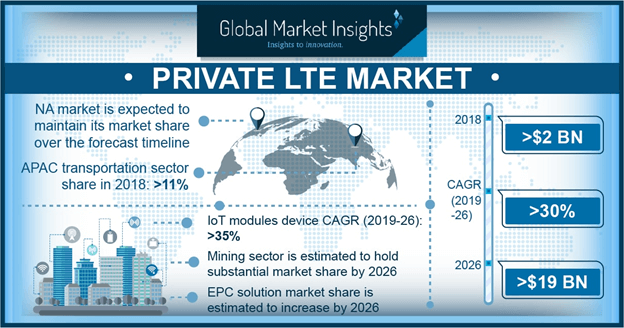 Over the last few years, most of the mobile network providers have shifted to LTE services from 2G and 3G coverage to improve existing communications. The surging digitalization and modernized mobile services have also substantially enhanced data services. Recently in India, the nation's largest telecom company, Airtel has decided to switch to LTE network services to boost data speed. This move will turn out to be rather beneficial for Airtel as it already has a widespread, far-reaching network coverage. The shifting focus of telecom service providers to LTE to phase out older networks is slated to fuel private LTE industry share.
Taking into account the network benefits of high-speed data services, most of the energy companies have been signing deals with wireless network providers that will have a positive influence on the product demand. For instance, a month before, the Brazilian power distributor, Elektro collaborated with Nokia for deploying a private LTE network in its City of Atibaia based electric grid. The deployment of LTE services is slated to help improve the efficiency and reliability of the electric grid that has been serving approximately more than 75,000 business and homes. Through this network, it is also possible to operate smart meters, grid equipment, substation and distributed energy generation sources.
Get a Sample Copy of this Report:@ https://www.gminsights.com/request-sample/detail/2757
Such strategic deals will help players in the private LTE market strengthen their customer base and diversify the traditional telecommunication practices. The surging adoption of digital technologies such as IoT and machine learning will thus further propel the use of private LTE service in the energy sector. For the record, as per estimates of Global Market Insights, Inc., private LTE market from energy applications is slated to depict a commendable CAGR over 2018-2024.
In order to achieve a dominant stance in the market, telecom firm Nokia has also lately been adopting myriad business tactics. Recently, it has collaborated with China Unicom to deploy a private LTE network at BMW Brilliance Automotive Ltd plant based in the Liaoning province. With the use of private LTE connectivity, BMW can carry out smart manufacturing activities and ensure communication for critical applications including video surveillance, object tracking, and analytics at the plant.
The integration of private LTE network in the enterprises to secure data and voice communication, wireless video communication, ensure indoor investigation, and inspect the production line maintenance is slated to fuel the product demand over the years ahead. Heavy investments to develop digitalized, modern factories with a secured and transparent work culture will further propel private LTE market share considerably.
The emergence of LTE connectivity has also turned out to be rather useful for maintaining peace across the globe. That is to say, the UN (United Nations) has been working continuously to resolve the several global issues for which it has been using LTE network for providing critical communication capabilities. Peacekeeping troops are able to effectively use this LTE network for secure, stable, and future-proof broadband services while operating through the tough geographic terrain. Currently, UN is working on fourteen peacekeeping operations across the globe and it is planning to establish high-speed LTE networks by 2019 to accelerate the communication throughout the missions.
Substantive use of LTE connectivity for ensuring digital and standardized work output in the industrial as well as the defense sectors is likely to propel the product demand over the years ahead. On-going changes in the telecommunication technologies to enhance the network connectivity will further stimulate the industry trends. As per estimates, with the surging acceptance for network connectivity across various application sectors, private LTE market is poised to surpass a revenue collection of USD 11 billion by the end of 2024.
Author Name : Sunil Hebbalkar
With the tremendous growth in the industrial, retail, and e-commerce sectors, inventory management software market has gained massive impetus over the past years. Quite undeniably, managing and tracking inventory has become an essential part of conducting business and inventory management software in this regard are efficiently solving the challenges related to vendors, inventory, orders, sale, stocks-outs and much more. This has significantly led to rapid adoption of these software programs, in turn driving inventory management software market growth which was pegged at USD 2 billion in 2017.
North America Inventory Management Software Market Share, By Type, 2017 & 2024 (USD Million)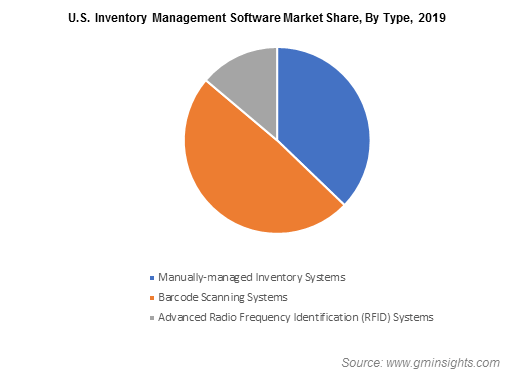 The vast expanse of omnichannel retailing and increasing penetration of smartphones have also been identified as the inherent factors impacting the revenue graph of the global inventory management software industry. If reports are to be believed, given the increasing rate of paperwork errors, supplier fraud, employee theft, and shoplifting activities SMEs, SMBs, and the retail sector are the prominent end-use segments that are rapidly adopting inventory management software systems. These activities have also been deemed as the major sources of inventory shrinkage and are therefore favoring effective implementation of IMS programs in the retail sector, which is expected to dominate the overall inventory management software industry by accounting for a 40% share over 2018-2024. It is important to mention that according to the National Retail Federation's NRSS (National Retail Security Survey) on retail theft, the retailers globally incurred inventory shrinkage losses of over USD 49 billion in 2016.
Driven by these subsequent threats leading to inefficient inventory management, the demand for robust inventory management software for optimization is expected to increase consistently in the ensuing years.  In fact, as per estimates, the global inventory management software market from inventory optimization application is expected to grow at a lucrative rate of 9% over 2018-2024.
Get a Sample Copy of this Report:@ https://www.gminsights.com/request-sample/detail/2364
The contribution of the industry participants in developing optimal inventory management systems is vast and these players are constantly looking for adopting new technologies that can improve the overall productivity. Recently for instance, HighJump, a global provider of supply chain solutions and renowned inventory management software market player has introduced HighJump Warehouse Control System integrated with the HighJump Warehouse Management System. This inventory management solution provides supply chain professionals with a comprehensive suite that can fully capitalize on the automated and connected warehouse operations the modern-day chain professionals are adapting to handle shorter delivery windows, e-commerce, and enhanced consumer expectations.
With such globally reputed players working toward introducing more technologically upgraded and value added solutions, inventory management software industry share is expected to nothing but proliferate in the ensuing years. Further endowed with the integration of recent technologies such as automation, big data analytics, RFID, cloud, Artificial Intelligence, and IoT this business sphere has become a lucrative hub for investments. Leveraging these technologies for more insightful solutions in inventory management, several industry participants are providing real-time analytics solutions and improved connectivity to supply chain and inventory management professionals. For instance, using connected networks such as computers, sensors, and smartphones, IoT can transfer the product information with the help of RFID tags/barcodes and transmit the data to the cloud-based inventory management software.
Such technological integration techniques are typically used by the large-scale organizations that move thousands of orders daily. Reports state that the barcode scanning system held more than one half of the inventory management software market share in 2017, while the RFID segment is projected to register an impressive CAGR of over 11% over 2018-2024.
Quite undeniably, these technologies have empowered the small and large-scale enterprises to grow and streamline their business models by harnessing the power of the advanced inventory solutions, in turn propelling the global inventory management software industry outlook. Lastly, it wouldn't be wrong to say that along with shrinking workforce and increasing rate of stressed logistics systems, inventory management software programs will witness massive adoption in the ensuing years. A presumption shedding light on the same is of Global Market Insights, Inc., that forecasts the overall inventory management software market share to register a CAGR of 6% over 2018-2024.
Author Name : Ojaswita Kutepatil
Automated infrastructure management (AIM) solutions market has been experiencing considerable growth lately with the increasing need for automated documentation in data centers and commercial buildings. With the implementation of AIM solutions at the workplace, network administrators can improve the monitoring and provisioning of network connectivity. Prior to the advent of AIM solutions, myriad companies dealing with data management had been using manual tools which were prone to human errors. In addition, network technicians had to spend more time for updating and maintaining these documents, making the entire process time-consuming and expensive.
Considering the difficulties associated with cumbersome documentation processes, the need to obtain cost-effective returns and operational benefits became all the more rampant, leading companies in IT, telecommunication, banking, and manufacturing sectors to preferably deploy automated infrastructure management systems on a large scale. The increasing acceptance for AIM systems for speeding up operations in the workplace is thus slated to fuel automated infrastructure management solutions industry size.
UK Automated Infrastructure Management Solutions Market, by end-use, 2017 & 2024 (USD Million)

As of now, most of the businesses are becoming digitally dependent and have been striving to transform their technology infrastructure. The initiatives taken by companies to develop digitized products and services will thus emerge to be one of the driving forces of automated infrastructure management solutions market. It is noteworthy to mention that the shifting focus of companies toward enhancing their operational efficiency by reducing the number of manual tasks with the help of automation is also certain to fuel the product demand over the years ahead.
Taking into account the increasing acceptance of AIM systems, most players in the automated infrastructure management solutions industry have been continuously harnessing new technology trends such as IoT, AI, and AR. In 2016 for instance, BMC, New Relic, and Splunk incorporated artificial intelligence (AI) features in their IT monitoring tools to analyze data very effectively. The launch of application-centric advanced data management systems will thus lead to more companies wanting to use AIM solutions to resolve several IT infrastructural related issues, thereby propelling automated infrastructure management solutions market trends.
Get a Sample Copy of this Report:@ https://www.gminsights.com/request-sample/detail/2891
The IT sector has constantly been on the lookout for simplifying their everyday tasks and saving copious amounts of time, on the grounds of which they have been looking forward to harnessing suitable problem-solving solutions. Validating the aforementioned fact, recently, the American multinational information technology company, Dell Technologies recently revealed a new IoT solution that can automate and provide scalable solutions for computing and IoT use cases. In cooperation with Intel, Dell has strengthened its computer vision and analytics technologies which will turn out to be beneficial for customers to support the workload through cloud services. The incorporation of artificial intelligence has also made AIM solutions more cost-effective, actionable, and efficient.
Countries like the U.S. and Canada which have been prominently preferring automation for enhancing productivity will experience operational simplicity with the development of such IoT and cloud computing solutions, further advancing AIM solutions market growth. Incidentally, in 2017, North America held an appreciable 40% of the overall automated infrastructure management solutions market share on account of the robust digitalization and adoption of colocation services across both the aforementioned nations.
Nowadays, the effectiveness of AIM systems to modify network security is making it highly popular across the globe. Companies operating across the BFSI sector have also been deploying AIM systems to restrict malicious and unauthorized users from accessing the server. In fact, it will be easier to locate any unusual remote activity on the system network with the help of automated infrastructure management (AIM) solutions. In this regard, for mitigating security issues related to the leakage of vital information and data storage, most of the financial institutions have been adopting AIM solutions.
The growing importance of AIM for security, asset management, and problem-solving across commercial business spheres is likely to impel the product demand in the future. More importantly, the transformation of a physical infrastructure into data centers aided by software intelligence will help companies to commendably enhance their operations. The surging deployment of AIM systems across myriad domains for improving data management facilities is poised to stimulate automated infrastructure management (AIM) solutions market size, which is expected to surpass a revenue collection of USD 3.5 billion by the end of 2024.
Author Name : Sunil Hebbalkar
Disrupting the conventional ways of building digital infrastructure, the network automation market has emerged as one of the most enterprising niche verticals of the sustainable and smart industry. Prominent tech giants and multinational corporations around the globe have increasingly focused on implementing new methodologies to reduce manual configuration errors which are believed to cause the majority of network outages.
China Network Automation Market Share, By Application, 2017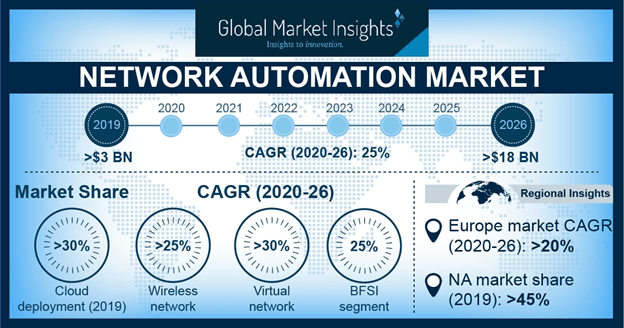 In this context, network automation has evolved into one of the crucial technologies that have enabled businesses to decrease manual configuration errors and risk through effective compliance reporting, improved network service availability, enhanced performance and staff efficiency, and augmented data security infrastructure. As per reliable estimates, the overall network automation market size had been pegged at an appreciable USD 1.7 billion in the year 2017.
Besides providing a wide range of connectivity applications, the SD-WAN technology has assisted numerous business verticals to reduce complexities in physical network infrastructure. The advent of advanced computing technologies such as machine learning and artificial intelligence has disrupted the digital business models – a factor that can be attributed for large scale adoption of SD-WAN technology in the last few years. In fact, as per a research study compiled by Global Market Insights, Inc., the SD-WAN technology apportioned more than 67% of the total revenue share of network automation market in 2017 and is anticipated to hold a prominent spot in the overall software segment in the upcoming years.
Get a Sample Copy of this Report:@ https://www.gminsights.com/request-sample/detail/2805
Concurrently, traditional networks are increasingly being replaced by virtual and cloud-based applications which has fundamentally transformed the growth strategies of major firms partaking in network automation market in the recent times. Numerous startups have been developing automation solutions that can configure manually-managed network devices, improve security capabilities, and supervise service offerings more efficiently. In this context, it would be prudent to mention that prominent tech giants have focused on acquiring these startups as it would assist them in augmenting their resources to deliver next-generation solutions that would serve all size and scale of customer needs. Enlisted below are a few instances that underscore how these acquisitions are shaping the network automation industry trends:
To strengthen its service management portfolio and optimize its digital assets, IBM acquired the California-based network automation software provider Intelliden in 2017. Reportedly, Intelliden assists telecom firms to manage, configure, and scale their networks and automate an array of other services. Apparently, the technology of Intelliden would be integrated into IBM's Tivoli Software which is known to enable various businesses to combine service delivery and significantly accelerate the automation of networks.
With an aim to offer its customers an SD-WAN solution that is easy to deploy across enterprise branch offices and other WAN installations, Cisco has recently acquired an emerging WAN solutions provider Viptela for USD 610 million. Even though Cisco has a robust WAN product portfolio consisting of Intelligent WAN and Meraki SD-WAN, the addition of Viptela's unique technology would reportedly expand and improve the overall functionality of the company's WAN solutions in the times to come.
Implementing network automation solutions through cloud-based services has lowered capital expenditure and operational costs, enabling enterprises to scale their technological capabilities at a faster pace. Primarily driven by growing opportunities to offer enterprises with additional services like monitoring, security, and application optimization beyond basic automation tasks, the network automation industry share is anticipated to expand vigorously over the estimated timeframe. With rising investments by major tech firms coupled with innovative products being launched by startups, the network automation market size is forecast to register an excellent y-o-y growth rate of 22% over 2018-2024.
Author Name : Saif Ali Bepari