Manufacturing
The telecommunication sector is probably embarking on a transformational shift in recent years. Software Defined Networking (SDN) market is deemed to be a major stipendiary of this transition. Telecommunication networks, apparently, have migrated from traditional hardware and appliance centric deployment to cloud based model, with software playing a pivotal role in network functionality. The increasing popularity of SDN industry can be majorly attributed to this fundamental aspect.
Software defined networking emerged as an advanced architecture paradigm, amalgamating different technological capabilities applied to management of network functions, design, and service platforms. Pertaining to these benefits, numerous IT service companies have been feverishly changing their perspective toward adoption of software-based solutions for resolving several business challenges, which in a way is impelling SDN industry share. It had been stipulated by Cisco in one of its Cloud Index reports, that over 65% of all data centers would adopt SDN technology partially or fully by the end of 2021, a sharp rise from the 2016 records.
U.S. Software Defined Networking Market Share, By Solution, 2018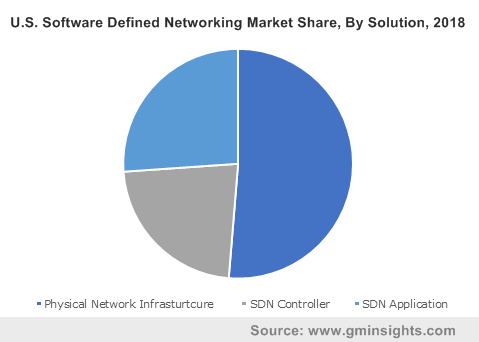 Cradlepoint, one of the formidable players dealing with SDN services, made it to the headlines a while ago, with the launch of its NetCloud service package, that reportedly includes advanced IBR1700 mobile router. Reportedly, this newly designed solution package for its NetCloud platform, brings the benefits of SD-WAN (Software-Defined Wide-Area-Network) to LTE mobile networks for transit operators, first responders, and other fleet-based organizations. As claimed by the cloud-4G network service provider, the new solution is in compliance with the security and performance requirements of FirstNet, the independent authoritative entity under NTIA within U.S.
In a bid to reinforce its position in SDN market, Orange Business Services signed a collaborative agreement with Cisco a while back. Apparently, in consequence of this deal, the former is planning to showcase the onboarding of Cisco's SD-WAN virtual network function on Cisco ENCS (Enterprise Network Compute System). In fact, with the aforementioned platform under its belt, Orange Business Services' customers would gain a fully functional visualized solution for their network services, as a part of Orange universal CPE offering.
The U.K. based telecommunications behemoth, Colt Technology Services, had apparently declared its plan of expanding its On Demand SDN service across APAC belt. Powered by Colt IQ Network, the firm's On Demand SDN services are characterized by high flexibility, real-time bandwidth variation, and agility. Making a profound headway in APAC SDN market share with the successful launch of these services in Japan, Colt had also planned to introduce the same On Demand SDN services in Hong Kong and Singapore as well.
Get a Sample Copy of this Report:@ https://www.gminsights.com/request-sample/detail/2395
Tremendous technological interventions in the telecom sector have evidently narrowed the gap between developing and developed nations, giving SDN industry players lucrative opportunities to extend their geographical reach. However, considering the immense investments by U.S. telecom service providers in software defined networking, the regional SDN market has undoubtedly turned out to be hotbed for potential investors. For instance, American telecom giant AT&T has recently poured in USD 200 million to support startups that mainly focusses on promoting SDN technology and connected services. These kinds of hefty investments toward integrating new age software facilities in the existing telecommunication network is certain to leave a positive impression on U.S. SDN market size.
Speaking of its commercialization potential at the global scale, overall SDN industry size is forecast to exceed a valuation of USD 100 billion by 2025. With incessant efforts undertaken by the tech giants to unlock software-based technology potentialities in telecommunication industry, which has, of late, become more insight driven, SDN market demand is claimed to be on a robust incline. In fact, looking at the pace of advancements and expansion in its application spectrum, this particular business vertical is deemed to be one of the most fascinating spheres to watch unfold, claim analysts.
Author Name : Saipriya Iyer
Technological advancements and digitization is setting high goals for the enterprise application market, which is expected to hit a revenue of USD 287.7 billion by 2024, as per Global Market Insights, Inc. Enterprise application is a highly complex system deployed across corporate bodies to ensure real- time information flow along with smooth business operations. Growing demand for efficient IT infrastructure, rising internet connectivity, rapid adoption of cloud computing technologies, and growth in smartphones and mobile devices are the vital factors influencing the enterprise application market share worldwide.A huge adoption trend across various end-use industries such as Healthcare, BFSI, Manufacturing, Government, Retail, Telecom & IT, and Aerospace & Defense is boosting the global enterprise application market size. Enterprise application provides these industries with a wide set of solutions such as CRM, SCM, ERP, Business Intelligence [BI], Web Conferencing, BPM, EAM, and CMS. These solutions enable the users with better inventory management, quality management, customer engagement, and supply chain management.
Asia Pacific Enterprise Application Market Size, by end-use, 2013-2024 (USD Billion)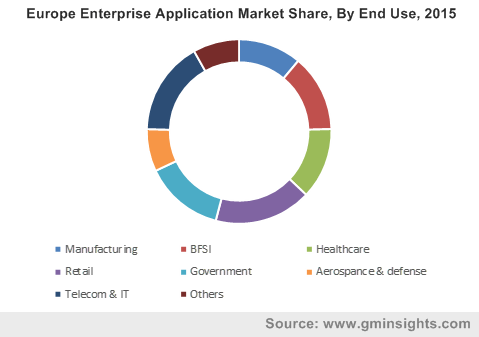 ERP market which accounted for 20% of the overall enterprise application share in 2015, is anticipated to register a CAGR of 7.7% over the coming eight years. Website content management, which has become an integral part of any organization is driving the growth of the CMS (Content Management System) market. CMS market share is estimated to exceed USD 8.5 billion by 2024. Owing to the growing demand for customer engagement management, CRM segment will also witness significant growth over the coming years, accounting for over 25% of the overall enterprise application market share by 2024.
Get a Sample Copy of this Report: @ https://www.gminsights.com/request-sample/detail/701
Cloud based enterprise application, which accounted for 30% of the overall share in 2015, is gaining popularity among various sectors, particularly manufacturing and retail, due to increasing focus on cost optimization, growing internet connectivity and demand for enhanced accessibility. Also, on-premise deployment model is projected to witness a CAGR of 4.5% over the period of 2016-2024.
The implementation of enterprise application across various industries solely depends upon the requirements from the respective sectors. Enterprise application in the healthcare industry was worth USD 16.5 billion in 2015 and is forecast to grow at a CAGR of 8.9% from 2016-2024. The growth will primarily be driven by growing demand for real-time data transparency across this sector. Retail industry will also witness huge adoption of this system to ensure better customer management.
Global enterprise application market worth USD 150 billion in 2015, is forecast to register a CAGR of 7.6% over the period of 2016-2024. The North America market size is estimated to account for 30% of the overall revenue by 2024, driven by modern organizational structure and customer-centric approach of the companies across this region. The Asia Pacific market is anticipated to record a CAGR of 9.5% over the coming eight years, hitting USD 75 billion by 2024.  Technological advancements coupled with cloud-based solution demand by SMBs is likely to drive the regional demand.
Novel IT developments like Big Data and Internet of things will bring immense growth opportunities for the market players. The participants will spend largely on R&D to develop innovative products and solutions in order to meet growing technological needs and most importantly to sustain competition. Startups and small scale industries will also share decent business space over the coming timeframe. Key market participants are IBM, Oracle, , Microsoft, SAP, Epicor Software, IFS, Infor, Hewlett-Packard, and QAD.
Author Name : Shikha Sinha
A robust increase in the adoption of advanced technologies such as cloud computing and IoT will drive the identity and access management market in the upcoming years. IAM apparently makes businesses more agile, efficient and scalable, and also offers them considerable benefits such as reduced risk of data breaches, centralized access control, ensured regulatory compliance, improved user experience, and a significant reduction in IT costs. This has quite overtly led to a spurt in investments in IAM market from venture capitalists and enterprise organizations.
Japan Identity and Access Management (IAM) Market Size, By Solution, 2017 & 2024 (USD Million)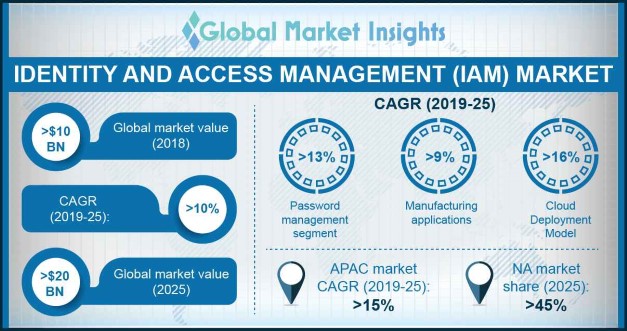 IAM industry has also received a considerable boost from robust investments in new artificial intelligence and machine learning solutions that are being undertaken for managing the rapid proliferation of identities and achieving least privileged access. For instance, recently Google established a collaboration with Facebook to develop their artificial intelligence to offer users a much better work experience.
Proliferation of workplace mobility is a major factor that would propel identity and access management market. Global acceptance of workplace mobility by businesses has empowered employees to work from anywhere, at any time and from any device. As per sources, by 2020, mobile workforce will reach to about 105.4 million people, that translates to roughly 72.3% of the total workforce in the U.S. On a global scale, the number is set to reach 1.87 billion by 2020, or 42.5% of the worldwide workforce. These statistics provide vital evidence to the fact that identity and access management market share is likely to soar in the years to come.
The Internet of Things has already redefined the concept of identity management. As IoT moves beyond consumer mainstream wearables and into massive enterprise deployments, IT teams are paying more attention towards securing access to the networks that connect to valuable products, including smart grid hardware, factory equipment, and more. IAM and privileged access management (PAM) demands are expected to become more complicated, with tougher obstacles and exponentially more endpoints. In consequence, the requirement of a strong IAM solution would become more commonplace, thereby augmenting the overall IAM industry.
Get a Sample Copy of this Report:@ https://www.gminsights.com/request-sample/detail/176
IT & telecom applications to drive the IAM market trends:
The rapidly escalating growth in the telecom & IT sector is certain to impel identity and access management market. As the IT & telecom industry works with a large user base, it is essential for the service providers to maintain the security of the sensitive user data. According to a survey by The Communications Fraud Control Association (CFCA), the telecommunications industry experienced $38.1 billion in fraudulent charges in 2016. As per CFCA, cyber fraudsters are seemingly working to develop new ways to siphon money from renowned, well-established organizations of various sectors.
The aforementioned survey results are a strong indicator of the fact that the IT sector will serve to be one of the most profitable growth avenues for IAM market. By implementing IAM solution business could be shielded by fraudsters and hackers, eventually saving billions in remuneration for organizations. According to Global Market Insights, Inc., identity and access management market size from IT and telecom applications was worth USD 1,420 million in 2017 and is expected to register a commendable growth rate over the ensuing years.
Unveiling North America IAM industry outlook:
North America is undoubtedly one of the most crucial regional generators for identity and access management market. In 2017, North America accounted for a mammoth 46% of the overall industry share, primarily on account of the changing workforce requirements and the surging adoption of cloud applications and BYOD. The U.S. the most dominant regional ground for North America IAM market, given that security is the foremost crucial parameter for the plethora of companies in the country.
North America IAM market has also received a considerable boost owing to the presence of a stringent regulatory landscape in the region. The continent is known to face periodic cybersecurity thefts – in 2017 alone, the average cost of a data breach was around USD 117,000 for SMEs and USD 1.3 million for large enterprises. On these grounds, the regional governments have undertaken stringent initiatives and invested extensively to come up with highly secure systems to protect user data, thereby propelling North America IAM industry share.
Some of the most prominent contenders in the global identity and access management market include IBM Corporation, SailPoint Technologies Holdings, Inc., Okta, Inc., Symantec, Gemalto, Crossmatch, Oracle, HID Global Corporation, CA Technologies, OneLogin, Inc., OpenText Corp., Ping Identity, ForgeRock, Net IQ, and Dell, Inc. These companies are often found conducting mergers and acquisitions to increase their business reach and expand their customer base. For instance, Marsh, a global leader in insurance broking and innovative risk management solutions, recently announced a collaboration with IBM Corp. to provide clients with a wider access to blockchain solution for ensuring proof of insurance.
IAM solutions have proven to be effective in reducing challenges faced by organizations with regard to security and privacy such as data loss, data leakage, insecure usage, and insider attacks. IAM also decreases burden on the IT departments due to its self-service functionality. Driven by the fact that IAM delivers secure ways for authentication, authorization, and management of users without compromising on convenience and usability, the global IAM market share is anticipated to grow at a CAGR of 10.4% over 2018-2024.
Author Name : Mateen Dalal