Marine Diesel Engine Market
The world is witnessing a proliferation in seaborne trade, which is likely to stimulate marine diesel engines market over the years ahead. The cost of the fuel is a major factor that is influencing the trade profitability. Recent fluctuations in the fuel price which is currently on a higher end, is turning out to be favorable for the industry players. According to a report by UNCTAD (United Nations Conference on Trade and Development) in 2015, sea borne trade expanded over 4% from 2012 to 2014, subject to the significant increase in dry bulk trade. Alongside, easy availability of spare parts, trained repairing personal, and repair networks have also catalyzed the adoption of these diesel engines. As per a report by Global Market Insights, Inc., "Marine Diesel Engines Market is slated to exceed a revenue of USD 7 billion by the end of 2024, with a CAGR projection of 5% over 2016-2024."
Europe Marine Diesel Engines Market Size, By Application, 2016 & 2024 ($Mn)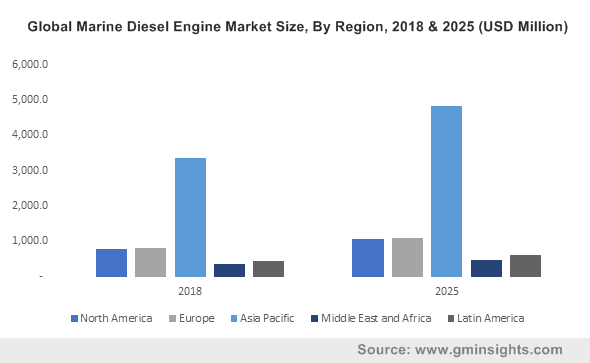 Increasing demand for economically viable engines that are best fit to fulfill reliability, durability, and fuel optimization is further complementing marine diesel engines market penetration. Over the past few years, the shipping industry has been largely emphasizing on developing advanced engines that improve the fuel efficiency and reduce carbon dioxide emission. Marine diesel engines operate at an average efficiency of 40% to 50% depending upon the age of the engine, deadweight tonnage, and vessel size.  Phasing out of traditional steam engines from various utility sectors is further providing a significant push to marine diesel engines market.
Get a Sample Copy of this Report @ https://www.gminsights.com/request-sample/detail/158
Regionally, China has established strong grounds enhancing the market dynamics. The country, counted as one of the most developing nations across the world, is significantly increasing its investment in strengthening the naval force. In 2014, Chinese Government had issued a financial stimulus package that facilitated the money stock. The escalating growth of the regional market can be majorly credited to the rigorous number of business activities that have significantly uplifted the marine diesel engines market outlook. In 2015, for instance, MAN Diesel & Turbo had signed a 10-year agreement with CISC and CSSC to manufacture low speed diesel engines in China. Statistics depict that China accounted for one-fourth of the APAC marine diesel engines market in 2016. Such examples of promising initiatives by the government along with growing import of marine diesel engines in the country which almost accounted for USD 1.05 billion in 2015, is projecting a lucrative growth prospect for China marine diesel engines market in the years ahead. Germany, on the other hand, represented 20% of the Europe market in 2016. With increasing government spending on military and specialized ships, Germany is aiming to amplify its revenue share toward the regional marine diesel engines market in the coming years.
Considering the technical designing, the overall marine diesel engines industry is predominantly segmented into low speed, medium speed, and high-speed systems. High speed systems accounted for more than 20% of the global share in 2016. With the significant improvement in the living standards of the consumers, the demand for cruise and ferries is accelerating, which in turn is driving this high-speed marine diesel engines market. Medium speed diesel engines which are mainly deployed in cargo ships, passenger ships, fast ferries are also witnessing a heavy adoption. This category based diesel engines market is expected to hit a revenue of more than USD 3 billion by the end of 2024. Low speed marine diesel engines market will also grow substantially at an annual rate of 4% over the coming seven years.
Merchant vessels are one of the prominent application domains that is prominently contributing toward the global industry size. Growing inclination toward LNG along with a significant rise in the sea borne trade have resulted in an increasing deployment of marine diesel engines in merchant vessels, thereby contributing to the industry share. As per estimates, marine diesel engines market from merchant vessels application is expected to chart a profitable road map at a CAGR of 5% over 2016-2024.
Despite the fact that the marine diesel engines are environmentally not so viable owing to the harmful carbon emissions from these, increasing research investments by the market players in the development of fuel efficient engines is likely to leave a positive impact on the marine diesel engines industry expansion in the years ahead. Some of the prominent companies engaged in marine diesel engines market include Rolls Royce, Caterpillar Inc., Cummins Engines, GM Powertrain and Wartsila Corporation.
Author Name : Satarupa De