Material
Additive manufacturing technologies over the past years have made a strong case in product innovation and 3D printing in automotive market, in particular, has significantly transformed the potential ways in which products are designed, manufactured, and distributed. The additive manufacturing techniques have also opened doors for lighter, cleaner, and more safe products with comparatively lower cost and shorter lead time. Quite overtly, these physiognomies have paved a lucrative way for the commercialization matrix of automotive 3D printing market, which has already chronicled its name in the coveted billion-dollar fraternity in 2017. According to a report by Global Market Insights, Inc., the global 3D printing in automotive market was estimated at over USD 1.4 billion in 2017, while registering annual sales of 3D printers over 110 thousand units.
U.S. 3D Printing in Automotive Market Revenue, By Component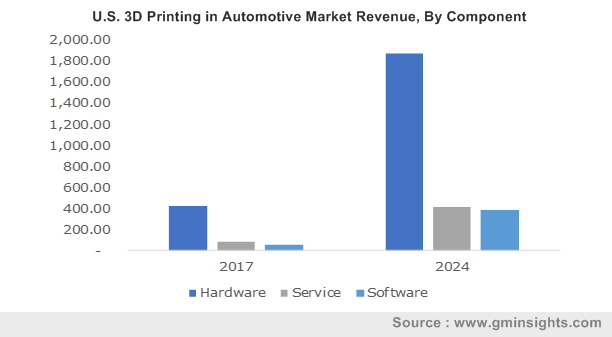 Given the proliferating 3D printers sale in the automotive sector, it has been identified that accelerating production is the highest priority the auto companies are relying on 3D printing for, climbing from 29% in 2017 to 39% in 2018. Auto manufacturers are increasingly relying on 3D printing to streamline and expand their possibilities of mass customization, build-to-order product strategies, and in increasing the production flexibility and sales.
The role of 3D printing in driving competitiveness
According to a report by Forbes, over 93% of companies in 2018 are using 3D printing and are gaining competitive advantages such as reduced time-to-market and flexible shorter production runs for potential customers. The technological advancements in 3D metal materials have further led this business sphere to depict a profound growth. Estimates claim that over 36% of the companies are using metal material for 3D printing in 2018, a considerably upswing from 28% in 2017. The data signifies the greater adoption of 3D printers for production operations, which in turn is propelling automotive 3D printing market growth.
While there is no doubt that additive manufacturing has taken the automotive industry by storm, it would to interesting to take note of some industry magnates who are leveraging the technical trajectory of AM in driving their revenue growth. Enumerated below are few recent instances that shed light on the increasing adoption of 3D printing in automotive industry.
Get a Sample Copy of this Report:@ https://www.gminsights.com/request-sample/detail/2838
Volkswagen is using 3D printing for mass production
Automotive industry behemoth Volkswagen has recently announced that it will be using the latest 3D printing technology for manufacturing different auto parts. The company will be using the technology with the HP Metal Jet process that is expected to simplify and speed up the metallic 3D printing. According to reports, a Volkswagen vehicle is manufactured from around 6000 to 8000 different parts and 3D printing has helped immensely in mass production of these parts.
Volkswagen with HP and GKN, is further planning to take the technology to next level that could be able to produce individualized design parts including gear knobs, tailgate lettering, and special keys with personalized lettering without a great deal of effort. Significantly reducing the time required for manufacturing parts and assisting in production of mass quantities, the automotive 3D printing market demand is expected to thrive several notches up in the ensuing years.
Nanosteel unveils Formetrix, aids commercialization of metal 3D printing
An advanced materials company, Nanosteel has recently unveiled that it has launched an enterprise focusing chiefly on materials for additive manufacturing. The new corporation, dubbed as the Formetrix, is expected to further the commercialization of 3D printing metals and as well offer on-demand production services. It has been reported that Nanosteel will be supporting two areas – steel powders and sheet steel for automotive lightweighting for 3D printing. This has grabbed the attention of several automotive 3D printing industry players for investment & development of their metal auto parts. Besides the automotive 3D printing industry, the company will be playing a key role in additive manufacturing components of the oil & gas, construction, and heavy machinery markets.
Audi accelerates automotive design with Stratasys 3D printing
This German auto maker has recently announced that it has adopted the Stratasys' J750 full-color and multi-material 3D printer for accelerating the design verification process and reducing the time required for prototyping. Leveraging the additive manufacturing technology, Audi claims that it has accomplished prototyping lead time cuts by as much as 50% for some parts. According to reliable reports, prototyping & tooling application accounted for 60% of automotive 3D printing industry share in 2017, and Audi's adoption of Stratasys 3D printing bears testimony to the rapid expansion of this segment.
With increasing number of big-name manufacturers embracing 3D printing in automotive industry, it wouldn't be wrong to say that this technology has come a long way and has the power to influence the direction in which auto design sector will head in future. Considering the sheer size of the global automotive industry, 3D printing is all set to be a game-changer in shaping automotive design and manufacturing trends. Soon to become an integral part, 3D printing in automotive market is poised to further unlock tremendous innovation potential and gather a remuneration portfolio exceeding USD 8 billion by 2024.
Author Name : Ojaswita Kutepatil
This entry was posted in Sustainable & Smart Technologies and tagged 3D Printing in Automotive Market, 3D Printing in Automotive Sector, Ceramic, Desktop, Direct Metal Laser Sintering, DMLS, EBM, Electron Beam Melting, FDM, Fused Deposition Modeling, Hardware, Industrial, Manufacturing, Material, Metal, plastic, Printer, Prototyping & Tooling, Research & Development, Selective Laser Melting, Selective Laser Sintering, Services, SLA, SLM, SLS, Software, Stereolithography.
In recent times, it has been observed that most of the leading players in thermal spray coating market have been constantly striving to transform the business vertical by means of bringing forth a plethora of innovative spraying systems. These firms have also been looking forward to developing sustainable spraying solutions considering the adverse effect of conventional coatings material on the environment. In this regard, in 2008, the EPA deployed new air pollution regulation rules, which have been applied for the existing thermal spraying processes that emit Hazardous Air Pollutants (HAP). Prominent HAP elements comprise manganese, lead, chromium, cadmium, and nickel. The EPA has also framed the National Emission Standards for Hazardous Air Pollutants (NESHAP) to implement regulatory compliances over the use of HPA emitting spraying process. In order to comply with such regulatory norms, many shipbuilding and refurbishment companies are continuously adopting sustainable and eco-friendly coating technologies, which would have a massive impact on thermal spray coating industry trends over the years ahead.
U.S. Thermal Spray Coating Market, By End-Use Industry, 2013-2024, (USD Million)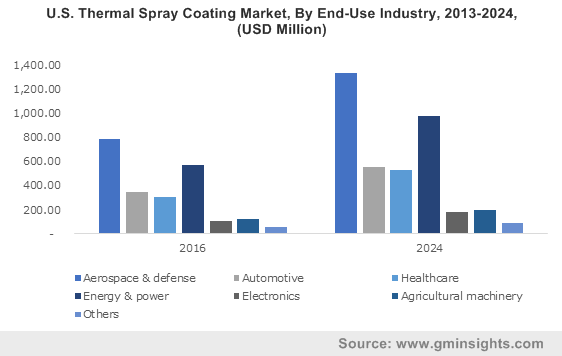 It is rather overt that myriad thermal spray coating market giants have been investing considerably in facility expansions in order to capture more business space. For instance, a joint venture of a leading player in thermal spray coating market, Praxair Surface Technologies and GE Aviation, PG Technology has recently decided to expand its coating facility plant based in Singapore considering the growing requirement of the product across the enormously intensifying aerospace sector. At this new facility plant, the company plans to double the electron beam physical vapor deposition coating capacity and install other important aviation-related coating processes. The facility is likely to become operational by 2019. PG Technologies' move has been projected to increase the competitiveness across Singapore thermal spray coating market. Indeed, this investment in the capacity expansion will also help other Singapore based small scale companies to enhance their capabilities.
Get a Sample Copy of this Report:@https://www.gminsights.com/request-sample/detail/1347
Jet engine manufacturers and companies in aviation sectors are looking forward to implementing next-generation coating technologies in order to enhance the capability of jet engines to withstand high stress and temperatures, which would propel thermal spray coating market outlook. Moreover, the versatility of thermal spraying technology, owing to which it can be used for any type of material including plastic, metal, and ceramic, is one the major benefits that can be credited for its rising preference. In order to maintain the cost-effectiveness and quality of coatings, leading aerospace companies have been signing long-term partnership agreements with pivotal participants in thermal spray coating industry. For instance, a year before, Praxair Surface Technologies, one of the notable thermal spray coating market firms, signed a 10-year contract with the well-known aero engine manufacturer, Rolls Royce. Praxair Surface Technologies' humongous expertise in coating operations will help Rolls Royce improve its engine efficiency and lifecycle. Thus, pertaining to the surging requirement of spray coatings in the aviation sector, in 2016, aerospace and defense held a revenue of USD 2.5 billion in thermal spray coating industry share.
With the increasing adoption rate of thermal spray coating technologies, several contributors in thermal spray coating market are focusing on the development of innovative and advanced coating technologies incorporated with the benefits of less energy consumption, lesser downtime, improved productivity, high quality products, extended shelf life of products, and lower operating costs. Indeed, in the ensuing years, the growing demand for next-generation engines and high-quality components is slated to generate lucrative opportunities for giants in thermal spray coating industry, that would eventually impact the revenue generation of this business space.
Author Name : Sunil Hebbalkar
This entry was posted in Bulk & Specialty Chemicals and tagged Alumina, Aluminum, Ceramics, Chromia, Cold Spray, Combustion Flame, Detonation, Electrical Energy, Fe-Al, High Velocity, Intermetallic, Low Velocity, Material, Metal, Molybdenum, Ni-Al, Ni-Ti, Nickel, Plasma Spraying, Polyester, polyethylene, polymer, Polytetrafluoroethylene, Stainless Steel, Thermal Spray Coating Market, Ti-Al, Titania, Titanium, Tribological Materials, Two-Wire Electric Arc Spraying, Yttria, Zirconia.