Media & Entertainment
The surging adoption of advanced technologies along with rising globalization trend will propel the process orchestration market growth in the years to come. Businesses nowadays are primarily focusing on reducing production cost, improving operational functioning, gaining enhanced competitive skills and delivering improved customer satisfaction to clients, functions that can be fulfilled by means of adopting process orchestration. The technology effectively helps design, implement, integrate and monitor customer process applications and integration scenarios more quickly and flexibly, helping businesses innovate faster and respond to changing business demands more efficiently.
Latin America Process Orchestration Market Revenue, By Professional Service, 2018 & 2025 (USD Million)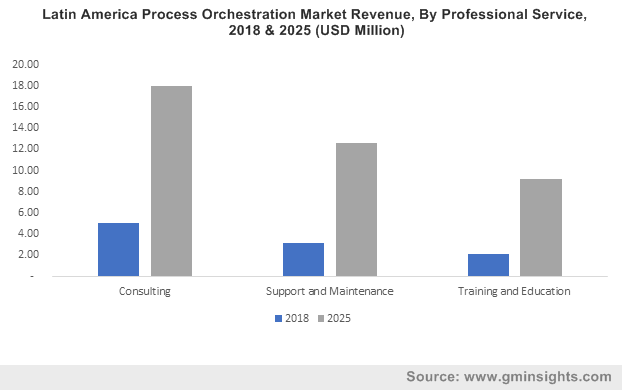 Speculating the technique's profound benefits, companies are now investing in developing innovative solutions for transforming their businesses and to deliver unique customer satisfaction. For instance, in 2018, around 55% of the start-ups adopted digital business strategy, while around 85% intend to invest in digital transformation in the future. Moreover, major sectors include energy & utilities, retail, manufacturing, healthcare, IT & telecom are also adopting process orchestration solutions for improving business efficiency, that would quite overtly expedite the industry growth over 2019-2025.
With the increasing adoption of advanced technologies such as AI and machine learning, the demand for process orchestration solutions to efficiently manage, integrate, and optimize computer systems and cloud architectures to further help serve and retain customers has only been surging. The deployment of the cloud has also been of concern to numerous businesses as their data and information is located in off-premises servers, making the adoption of process orchestration vital for managing cloud-based application and services.
Get a Sample Copy of this Report @ https://www.gminsights.com/request-sample/detail/3143
Speaking along similar lines, it is prudent to mention that the process orchestration market has been depicting quite some growth from the deployment of the cloud. Cloud-based process orchestration services help in simplifying deployment and centralizing automation processes, making it easier for expanding and transforming processes at a lower cost and at a faster speed. Given the cloud's off-premise feature, orchestration brings dependency management, high availability, failure recovery, scaling and numerous other tasks and attributes all into a single process, significantly reducing staff effort. The rapid growth and adoption of cloud solutions across SMEs are thus contributing majorly to the expansion of cloud-based process orchestration industry.
Enumerating the application landscape of the process orchestration market, the retail & consumer goods sector is anticipated to emerge as a pivotal avenue for this industry. With increasing market competition and rapidly evolving consumer needs, it has become vital for the retail sector to improve its service offerings. Process orchestration solutions will enable such businesses to transform their operations and enhance customer reach, and will also help in automating manual processes, minimizing operating costs, improving customer shopping experience and identifying new revenue streams in the highly competitive sector. This in consequence would majorly accelerate process orchestration market share from retail & consumer goods applications, slated to depict a CAGR of 14% over 2019-2025.
Speaking of the regional terrain, it comes as no surprise that the Asia Pacific region is primed to evolve as a highly competitive ground in the years to come. The key factors contributing to market demand across the continent include rapid globalization, increasing demand for industrial automation and strategic government initiatives targeted towards the manufacturing sector. The growing awareness regarding process orchestration benefits, such as the elimination of process redundancy and enhanced business planning, will act as a driving factor for APAC process orchestration industry. Powered by the increasing use of IT infrastructure and resources to gain cost optimization, APAC process orchestration industry share will register the fastest growth rate of 18% over 2019-2025.
Proliferation in the retail sector coupled with the integration of advanced technologies, such as AI and machine learning will contribute to the growing adoption of process orchestration. Businesses are continuously launching newer products in the market to meet the growing customer requirements, further driving market growth. The growing demand for cloud technologies is also contributing to the process orchestration industry growth. According to Global Market Insights, Inc., the process orchestration market size will exceed $9 billion by 2025.
Author Name : Mateen Dalal
Over the last few years, the revenue graph of OSS/BSS market has been depicting an exponential growth, on account of the surging digitization across the telecommunication, BFSI, and IT industries which have been deploying new communication technologies to accelerate the organizational workflow. The lure for inexpensive, safe, and time-saving operations has been encouraging companies to implement OSS and BSS solutions at the workspace. In addition, for empowering intelligent network management and automation, most of the industries have been giving preference for operational support services on a large scale.
The noteworthy transformation across the IT, transportation, telecom, and BFSI sectors with the emergence of next-generation technologies such as blockchain, IoT (Internet of Things), and AI (artificial intelligence) will thus have a considerable impact on the OSS/BSS industry share over the years ahead.
Europe BSS Market Share, 2017 & 2024 (USD Million)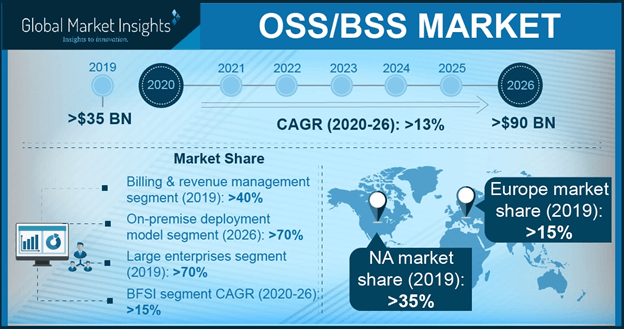 In line with the implementation of 5G networks across the telecom sector, players in the OSS/BSS market have been observing lucrative business opportunities. In fact, some telecom industries have been looking forward to strengthening their networking portfolio by automating working processes with regards to the use of 5G networks. For instance, recently, the Swedish multinational and telecommunication company, Ericsson acquired CENX to enhance its Operations Support Systems facilities. The acquisition will improve Ericsson's service assurance and closed-loop automation capabilities which will help it to leverage network visualization and automate the telecom network to serve enterprise customers effectively. The surging use of 5G networks with the assistance of OSS for improving the connectivity in service assurance, resource-inventory management, order management, product management, customer management, network management, and revenue management will strongly fuel the OSS/BSS market size.
Over the last few years, the increasing popularity of blockchain for decentralizing Network-as-a-Service (NaaS) for securing web wallets and wallet servers has also contributed toward the expansion of OSS/BSS industry. Leading technology companies have been deploying public blockchains to monetize their network resources that allow companies to analyze their operational and financial data. Considering the capability of OSS/BSS systems to secure financial data, BSFI companies have been shifting their focus toward the automation and digitization of financial processes, consequently demanding OSS/BSS technologies on a large scale. Powered by the surging adoption of modernized network security services, OSS/BSS market size from the BFSI sector will grow at an annual growth rate of more than 11% over 2018-2024.
Get a Sample Copy of this Report:@ https://www.gminsights.com/request-sample/detail/2911
Taking into account the vast expanse of OSS/BSS market, most of the software companies have been acquiring firms involved in the development of the operational support systems environments. For instance, recently, the U.S. based leading supplier of telecommunication equipment, software, and services, Ciena acquired DonRiver which provides service inventory management software for OSS environments. This acquisition has helped Ciena improve its business process through network resource planning and utilization of closed-loop automation. The software control and programmable infrastructure of DonRiver will further optimize the Ciena's inventory control solutions.
The shifting focus of end-use sectors toward the adoption of Software as a service (SaaS) and Cloud-based digitized deployment platform for fueling the use of automation and the effective network management has been augmenting the OSS/BSS industry outlook remarkably. The integration of Machine Learning and Artificial Intelligence technologies in the network services will transform the future of OSS/BSS market with its capability to manage complex network issues and improve the customers' experience.
The transition of companies towards automated operations from traditional manual processes to improve the working efficiency and accuracy is likely to stimulate the product demand over the years ahead. Indeed, the rising concerns among financial institutions, IT and telecom companies about data security and operational breaches are poised to increase the valuation of OSS/BSS market, slated to accumulate more than USD 50 billion by the end of 2024.
Author Name : Sunil Hebbalkar
The last decade has witnessed a dramatic acceptance of distributed ledger technology for data security, a shift that has led to blockchain market emerging as one of the most trending business spheres. The potential scope of blockchain technology for money saving, record-keeping, and digital information sharing has been remarkably attracting most of the technology giants to deploy the blockchain at their workplaces. Core companies across the banking, telecommunication, smartphone, and healthcare service sectors have also been looking forward to extensively adopting blockchain technology, thereby augmenting blockchain industry share over the years ahead.
UK Blockchain Market Share, By End-use, 2017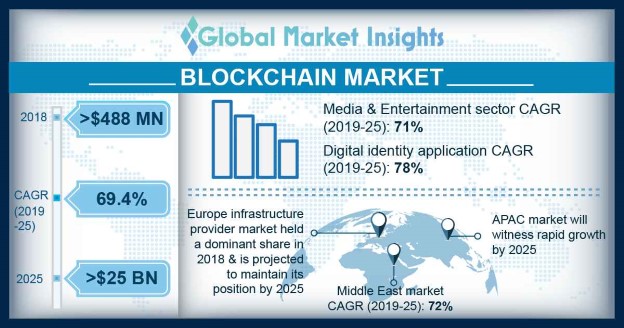 The emergence of blockchain in this modern technological era has indeed had a remarkable influence on the operational processes of several end-use sectors. The need for this technology has gained acceptance across several domains on account of its benefits over other existing technologies. A gist of how the implementation of the blockchain has impacted the BFSI sector has been enumerated in the paragraphs below.
How has blockchain technology proven to be an influential factor for BFSI?
The banking, financial services, and insurance (BFSI)industry is included among the most prominent business spheres that have successfully implemented the blockchain. The deployment of this technology has helped BFSI contenders reduce the infrastructure cost, owing to its capability of secure trading and cross-border payments. Taking into account the safety and financial benefits of blockchain, most of the banks are now looking forward to deploying compatible facilities alongside, which will favorably stimulate blockchain market size.
Validating the aforementioned fact, recently, the Bank of England updated its payments system to make it complement with blockchain technology. This announcement comes on the heels of BoE's efforts to modernize banking systems to handle transactions securely. In fact, the bank designed this blockchain supporting financial technology to reduce the number of cyberattacks that cause a nuisance while performing banking as well as trading operations.
Get a Sample Copy of this Report @ https://www.gminsights.com/request-sample/detail/2194
Speaking more about the impact of initiatives taken by the giants in the banking industry on blockchain market, it would be imperative to state that some of the contenders of the former are looking forward to bringing revolutionary facilities given the large number of transactions that banks carry out per day. In fact, some of the banking and financial service companies are investing in the development of private blockchain platforms, which could have a significant influence on blockchain industry trends.
Citing an instance justifying the aforesaid, one of the largest UK based banks, Barclays, recently submitted a patent application regarding the development of a private blockchain platform that could be used for cryptocurrency transfer. The bank also plans to store customers' information on its private blockchain. The streamlined deployment of blockchain technology across the BFSI sector is poised to boost product demand over the years ahead. For the record, in 2017, BFSI emerged as the dominant segment in blockchain market by accounting for 60% of the business share.
In addition to securing financial transactions, blockchain technology has also been used for a plethora of other applications that prioritize data security. In fact, many of the telecom providers have been eyeing blockchain technology to implement the same for communication networks. Recently, the Japan-based telecommunication firm Nippon Telegraph and Telephone company revealed its plan to develop a blockchain technology based contract agreement system. The telecom giant will use the invention to store contracts in an encrypted and decentralized manner.
Indeed, since the last few years, many enterprises have deployed blockchain technology to store contract agreements, driven by which blockchain market size from smart contract applications is slated to grow at an annual growth rate of more than 80% over 2018-2024.
Speaking along the same lines, a few days before, the South Korean telecom behemoth, KT Corp launched a new blockchain technology assisted commercial network – a wireless technology that can be used for numerous services such as energy management, identity authentication and roaming. This technology restricted the use of the Internet and various new technologies such as the Internet of Things, that allows it reduces the chances of hacking and identity theft. In addition to this new launch, KT Corp is looking forward to using blockchain based identity authentication technology for electronic voting services and local currency.
The surging adoption of blockchain technology by various companies for ensuring an easy workflow and data security is poised to push blockchain market share. Moreover, the noteworthy benefits of this newly developed distributed ledger technology are significantly attracting large companies as well as SMBs to develop private blockchain platforms. Driven by the increasing need for financial capitalization, data protection, and network enhancement, blockchain market will generate a revenue of more than USD 16 billion by the end of 2024.
Author Name : Sunil Hebbalkar