Medical Air Compressors
Advancements in the pharmaceutical industry and rising geriatric population have created huge growth opportunities for the medical gas equipment market. The increasing occurrence of chronic respiratory diseases and rising demand for point of care and home healthcare products will accelerate the medical gas equipment industry growth. According to Global Market Insights, Inc. "Medical gas equipment market  is projected to witness a CAGR of 7.7% over the period of 2016-2024." Medical gas equipment has wide range of applications in biotechnology and pharmaceutical industry, such as drug discovery and development, cell culture study, and pharmaceutical manufacturing, which in turn will drive the industry growth.
U.S. Medical Gas Equipment Market Size, by Product, 2012- 2024 (USD Mn)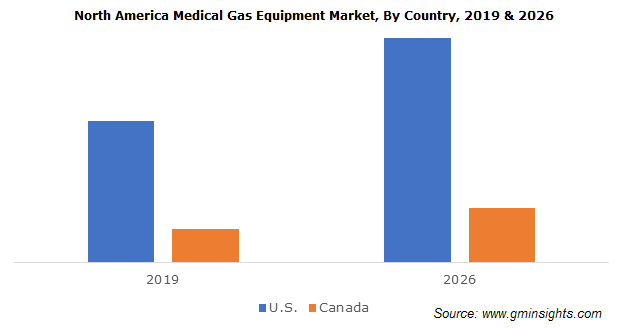 Considering the global trends, North America medical gas equipment market, led by U.S. is witnessing rapid surge, owing to favorable industry initiatives, rising demand for minimal medical interventions, and improved access to healthcare infrastructure. The U.S. medical gas equipment market is anticipated to surpass USD 2.4 billion by 2024.
Get a Sample Copy of this Report:@ https://www.gminsights.com/request-sample/detail/840
Europe being the second largest revenue generating region in 2015, is estimated to surpass USD 1.9 billion by 2024. Germany medical gas equipment industry is projected to exceed USD 533 million in coming seven years. Increasing assistance and support provided to the industry players from organizations such as European Industrial Gases Association and Medical Gas Association will promote the business expansion.
Asia Pacific region is also poised to observe escalating gains from China medical gas equipment market which is projected to grow at an annual rate of 10% over the period of 2016-2024. Growing geriatric population, rising number medical casualties, and high prevalence of pulmonary diseases will propel medical gas equipment market growth.
Major products in the medical gas equipment industry include manifolds, outlets, vacuum systems, masks, medical air compressors, regulators, and cylinders. Growing vacuum systems penetration and high cost should profit the vacuum systems industry share. Vacuum systems having had accounted for 30% of the overall medical gas equipment market in 2015, is projected to exceed a revenue of USD 2.2 billion by 2024.
Medical mask is another profitable product segment of the medical gas equipment industry growing at an annual rate of 9.2% over the period of 2016-2024. Due to its low manufacturing cost and high demand, the medical masks sector is likely to be the fastest growing segment of the industry. Moreover, other products including regulators, manifolds, and gas outlets are also poised to witness significant gains in the coming years.
Increasing healthcare spending capacities in the emerging economies such as India and China will hold high growth potential for the medical gas equipment industry. Moreover, implementation of favorable regulatory actions by U.S. FDA Safety and Innovation Act and another supportive organizations such as Compressed Gas Association (CGA) and Gases and Welding Distributors Association (GAWDA) will positively influence the growth of medical gas equipment industry. Global medical gas equipment market share is highly consolidated with key players such as Air Liquide and Linde Gas accounting for over 38% of industry revenue in 2015. Other key industry participants include Praxair, BeaconMedaes, Air Products and Chemicals, Matheson Tri-Gas, and Air Gas.
Author Name :  Ojaswita Kutepatil