Medical Devices
Increasing prevalence of chronic diseases and a surge in the number of surgical procedures worldwide will fuel capnography devices market size over the forthcoming years. According to World Health Organization (WHO), cases of chronic disorders like diabetes, cancer, asthma, heart and other diseases is projected to grow by 57% by the year 2020. Capnography equipment are widely adopted for major surgeries to improve patient safety and reduce adverse respiratory event, avoiding deterioration to a more critical or fatal condition. Consistent need to improve the quality of surgical procedures will considerably foster capnography devices industry trends over the forecast timeframe.
U.S. capnography devices market, 2018 & 2025 (USD Million and Units)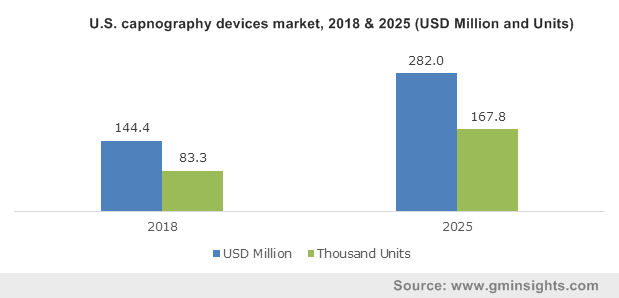 Capnography has been recognized as a standard of monitoring patient safety in ICUs, as well as for the surgical patients during anesthesia. A substantial rise in acute respiratory and chronic obstructive pulmonary diseases among elderly population will further propel capnography devices industry size. With development of advanced technologies and better scientific understanding of the value of capnography, healthcare providers are able to easily identify potential breathing complications and respond accordingly with a change in clinical management.
Capnography has been shown to be a useful tool in monitoring patients who are suffering from breathing disorders, as it provides an early warning of respiratory depression and prevents people from serious adverse events. Reports suggest that in 2018, the deployment of capnography devices in critical care patients was registered at USD 93.3 million globally. Growing number of people suffering from chronic conditions and increased admission of patients in hospitals will undoubtedly increase the need for patient monitoring, stimulating capnography devices market share.
Earlier in the year, Medtronic had informed about the results of PRODIGY, a multi-center study for identifying people having higher risk of opioid-induced respiratory depression. The tool is expected to help direct early intervention through continued capnography-based monitoring, such as using the Capnostream device of Medtronic. The system could enable hospitals detect potential risks among patients early, demonstrating the importance of close monitoring through novel devices. Such initiatives will certainly outline capnography devices market outlook over the coming years.
Get a Sample Copy of this Report:@ https://www.gminsights.com/request-sample/detail/2922
Cardiovascular disease is one of the leading causes of mortality in the United States, followed by chronic respiratory diseases and cancer. According to the American Heart Association, approximately half of the adults in U.S. have cardiovascular diseases. With gradual rise in the volume of patients suffering from cardio-respiratory diseases, there would be a wider utilization of monitoring devices in treatments and during surgeries, proliferating North America capnography industry share.
A notable development in the field of capnography devices was Masimo's FDA approved Root patient monitoring platform with Capnography. It had been observed that despite the advancement in medical tech, the lack of device integration and communication generates risks for patient safety in hospitals globally. To address these types of challenges, each Root can be used as a connectivity gateway to connect numerous standalone devices like hospital beds, ventilators, and other patient monitors. Reports confirm that in the year 2018, stand-alone capnography devices market size was recorded at USD 117.5 million.
With considerable efforts put in by high-end hospitals and surgical centers towards adopting and innovating safer and reliable patient care products, capnography device industry will exhibit notable growth rate in the next few years. WHO had informed that in 2016, there were nearly 251 million cases of chronic obstructive pulmonary disease all over the world, where most instances were a result of long-term asthma, exposure to tobacco and may other causes. Capnography clearly has a vast application space in the healthcare sector to tackle the prevalence of chronic disorders.
Prominent players including Masimo Corporation, Smiths Medical, CareFusion, Medtronic, and among others have strongly built their R&D capabilities and enhanced manufacturing processes, showcasing strong dominance over the industry. As per a recent research report compiled by Global Market Insights, Inc., capnography devices market size is projected to exceed USD 700 million by 2025.
Author Name : Deeksha Pant
Growing emphasis on consumer satisfaction and safety has proliferated testing, inspection, and certification (TIC) services market size as governments worldwide have implemented stringent quality regulations on almost every industry vertical. Whether it is construction, automobile, energy, healthcare or other segments, continuous advancement in products and components have necessitated upgraded testing and certification requirements.
What are the factors that will drive TIC services market trends over the forecast period?
Improvements in management, product quality, manufacturing processes, supply chains and service value have become imperative for the growth of any business, imposing the need for TIC services, which would eventually augment the industry outlook. Existence of recognized certifications such as ISO:9001 or ISO/TS 16949 make it easier for customers to search for companies that provide excellent product quality, better customer service and new, innovative solutions.
The global TIC services market share is anticipated to exceed USD 260 billion by 2025, driven by the obligation of companies towards meeting specific product requirements and to comply with international quality standards.
How will transportation application segment help propel the TIC services industry share?
Besides helping to control the quality, effective testing and inspection processes aid in minimizing rejections, reduce manufacturing costs and identify reasons for a defective output. The transportation segment, in general, constitutes a major part of the global manufacturing industry where thousands of components or auto parts go through daily quality checks.
Get a Sample Copy of this Report:@ https://www.gminsights.com/request-sample/detail/2318
As governments and international agencies are constantly raising the weight, material and other standards of automobile components to enhance the safety and efficiency of vehicles, the TIC services industry is subsequently gaining massive popularity. OEMs as well as small auto component vendors are striving to achieve high level of quality and get certified, to get documented and provide validity to their proficiencies and expertise.
Frequent inspection and evaluation of manufacturing processes by in-house or third party services to maintain a grip on the quality level will continually boost the TIC services market.
Will the life sciences segment help drive TIC services market outlook?
The TIC services market is rapidly witnessing demand from the healthcare and life sciences segment, with test and inspection reports of pharmaceutical equipment being critical in assessing whether the international standards are met. TIC companies are trying their best to evolve with technological developments and remain up-to-date with new regulations pertaining to safety and quality.
Products, apparatus and supply chains are subject to quality testing activities regularly, as pharmaceutical companies are responsible for providing vital therapeutic solutions. Even other parties involved in the supply chain must go through intense inspection by assigned representatives to be eligible to acquire critical certifications.
Author Name : Pankaj Singh