MES
Growing environmental concerns have led to a drastic change in consumer and manufacturer preferences. On similar grounds,
biosurfactants market
is witnessing a major turnaround with shifting inclination from synthetic products to bio-based products. Rising concerns regarding synthetically derived surfactants and favorable norms set by renowned bodies such as REACH and EPA to promote eco-friendly products are set to significantly push the overall biosurfactants industry growth. Demand for naturally derived and sustainable products especially in Latin America and Asia Pacific have significantly impelled the growth of this industry.
Europe Biosurfactants Market size, by application, 2015 & 2023 (USD Million)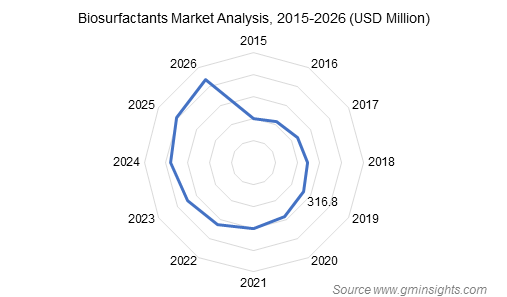 Sulfate free, sugar-based products, and neem extracts are the major bio-based products with biodegradable, low- toxicity and cost-effective properties. Driven by the escalating demand in detergents & personal care sectors owing to the product's high sustainability and longer shelf life, biosurfactants industry from these applications is projected to record substantial growth in the coming years. Biosurfactants market from household detergents collected revenue worth USD 785 million in 2015 and is likely to witness considerable demand in future.
Get a Sample Copy of this Report @ https://www.gminsights.com/request-sample/detail/484
Other application segments of biosurfactants industry include industrial cleaners, agricultural chemicals, textiles, food processing, oilfield chemicals, and personal care. These biosurfactants are derived from vegetable oils and fatty alcohols. In the food processing applications, biosurfactants are used as foams, emulsifiers, gels, and stabilizers. Biosurfactants market from food processing segment is anticipated to grow a rate of 4.5% over the period of 2016-2023. Industrial cleaner biosurfactants are widely used for oil surface cleaning and paint stripping and are estimated to register 4% CAGR from 2016-2023.
Based on the types of products, biosurfactants industry comprise rhamnolipids, methyl ethyl sulfonates (MES), sorbitan esters, sucrose esters, and alkyl polyglucosides (APG). The methyl ethyl sulfonates are biodegradable and are therefore primarily used in laundry detergent. Its high tolerance toward calcium ions also makes it preferable for laundry soaps. MES biosurfactants market collected a revenue of USD 580 million in 2015. Rhamnolipids is another prominent product in this industry, projected to witness highest CAGR of 7.5% over the period of 2016-2023. These are widely used in formulation of moisturizers and shampoos. Sophorolipids and monoglyceride have a strong application scope in personal care products as they possess intrinsic properties and biocompatibility with human skin. The Alkyl polyglucosides biosurfactants finds application in aluminum brighteners and metal cleaner detergents. Growing household based detergent demand is likely to boost APG biosurfactants market, which is set to record 4% annual growth rate over 2016-2023.
As per a report by Global Market Insights, Inc., the global biosurfactants market is expected to exceed 520 kilo tons in terms of volume and generate revenue over USD 2.6 billion by 2023. Consumer preference for bio-based ingredients in the U.S. have significantly influenced the regional biosurfactants industry. Growing regional demand coupled with increase in spending capacity is set to lead the U.S. biosurfactants market size to surpass 120 kilo tons by 2023. Furthermore, strong demand from personal care, textiles, chemicals and agricultural industries in the emerging economies of India and China has opened up huge growth prospects for the business expansion. China biosurfactants market is foreseen to grow at an annual rate of 4.5% over the period of 2016-2023.
Increasing investments in the research activities to develop 100% bio-based products along with robust technological developments will create huge opportunities for the market participants. The major challenge for these market players will be achieving cost effectiveness over the synthetic & petrochemical counterparts. Ecover, Saraya, BASF-Cognis, Urumqui, and MG Intobio Co. Ltd. are the key biosurfactants market players holding more than 65% of the overall business space. Other notable industry players include Mitsubishi Chemical, Lion Corporation, Croda International, Chemtura Corporation, Sun Products, and AkzoNobel.
Author Name :Ojaswita Kutepatil