Metallic Stearate Market Size
The global metallic stearate market has been the recipient of several mergers and acquisitions lately, owing to the remarkable upsurge in the requirement of various metallic stearates. Companies partaking in this vertical, it has been observed, have now been looking forward to enhancing their regional reach by investing in capacity expansions as well. The overall growth of the metallic stearate industry however, can be aptly attributed to the rising product demand across the cosmetics, plastics & coatings, and food industries. In line with the surging product demand, companies have been adopting newer growth tactics to sustain in the competitive business space and consolidate their stance in the industry.
U.S. Calcium Stearate Market Size, By Application, 2017 & 2024, (Kilo Tons)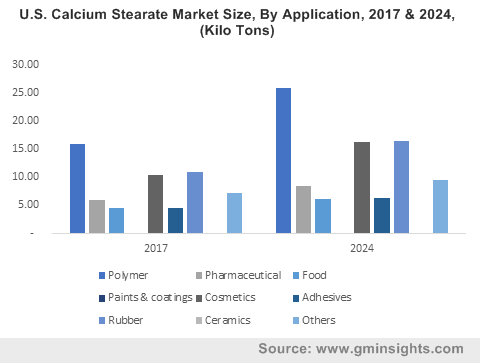 The increasing health hazards pertaining to the prevalence of a sedentary lifestyle have been resulting in the occurrence of numerous chronic diseases. Driven by the same, in tandem with the ever-changing diet consumption patterns and lifestyles, a rising trend of health consciousness has been observed among the masses. Consumers have found myriad ways to enhance their diet, one of which is consuming dietary supplements in the form of liquids, powders, capsules, and varieties of tablets. In this regard, many healthcare producers and food manufacturers have been formulating a new range of essential supplements. However, the increasing concerns about the shelf life and reducing nutrition value of the products a period of time have led to the requirement of metallic stearates. In fact, various forms of sucrose, glidant agents, starch derivatives, and lubricants comprising magnesium stearate and stearic acid have been used to hold nutrients and maintain uniformity in dietary supplements, which would gradually propel metallic stearate market share over the ensuing years.
Get a Sample Copy of this Report:@ https://www.gminsights.com/request-sample/detail/437
The competitive spectrum of metallic stearate market is indeed diverse, complete with a plethora of companies striving to augment the commercialization scope of this vertical. Enumerated below is a gist of the instances that have impacted metallic stearate industry in recent times:
In 2017, leading specialty chemical manufacturing company, Peter Greven disclosed its plan to extend its reach across U.S. with the acquisition of Norac Additives LLC. This acquisition will help the German oleochemical producer to strengthen its position in North America metallic stearate market pertaining to the value addition to its plastic additives and metallic soaps manufacturing portfolio. Reportedly, with the ever-increasing economic development and surge in the investment in healthcare infrastructure across U.S., this German company will gain commendable benefits ahead in metallic stearate market.
In another instance, a leading player in the metallic stearate market, Valtris Specialty Chemicals has acquired Akcros Holdings Limited in 2016. Akcros is one of the well-known suppliers of chemical additives for processing and production of paints, coatings, and polymers mainly across North America and Europe. This strategic acquisition has opened multiple new avenues for the company with the addition of different product ranges and a highly versatile customer base. In fact, this specialty chemical manufacturer, with this acquisition, is touted to strengthen its market position in North America as well as Europe metallic stearate industry. Moreover, Akcros is also well-known for its excellent R&D capabilities and product offerings that will also prove to be fruitful for Valtris to improve its future prospects.
In 2015, Univar USA Inc. purchased 100 percent stakes of Chemical Associates Inc., which prominently manufactures and distributes metallic stearates, calcium stearate, stearic acid, and many other chemical products. Through this acquisition, Univar had been touted to bring additional value to the firm's pivotal markets such as food, personal care, sanitation, lubricants, adhesives, coatings, and cleaning.
The on-going strategic involvement of companies in the enhancement of the existing product portfolio and the extension of their regional reach is slated to generate profitable business opportunities over the years ahead. The rise in the manufacturing capabilities of the companies over the last few years will also remarkably fulfil the increasing product demand. For the record, the overall metallic stearate market size is anticipated to cross a respectable revenue collection of USD 7 billion by the end of 2024.
Author Name :Sunil Hebbalkar
This entry was posted in Bulk & Specialty Chemicals and tagged Aluminum stearate, Calcium stearate, Ceramics, Construction, Cosmetics, Food, Global Metallic Stearate Market, Lithium stearate, Magnesium stearate, Metallic Stearate Market, Metallic Stearate Market Research, Metallic Stearate Market Size, Paint & Adhesives, Pharmaceutical, polymer, Rubber, Sodium stearate, Zinc stearate.