Metallic
The proliferation of positive growth trends in the global automotive paints and coatings market has been rather evident from the recent acquisition of the Germany-based automotive coatings manufacturer Hemmelrath by U.S.-based global supplier of paints and coatings – PPG Industries. Hemmelrath is renowned for manufacturing coatings for automotive OEMS and supplies coating materials to automotive plants across the world with 7 million vehicles being coated with Hemmelrath products every year. Both PPG and Hemmelrath are looking to expand their operations with this acquisition that has been making the headlines recently.
U.S. Automotive Paints & Coatings Market, By Vehicle, 2018 & 2025, (USD Million)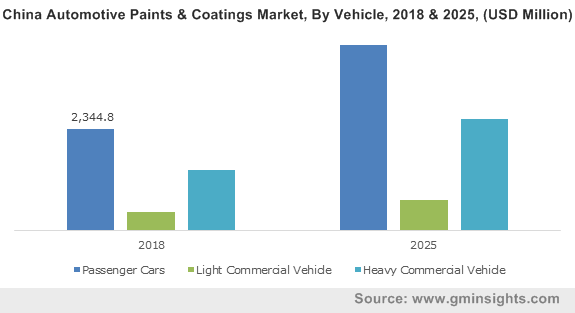 PPG Industries, one of the most recognized names in the automotive paints and coatings market, also recently announced that it is working on devising a new technology to coat a car's touchscreen infotainment systems that would reduce smudges and fingerprints. The new PPG coating is seemingly at par with what the latest smartphones like iPhone X use on their screens to remain smudge free and easy to clean. The difference is that the PPG coating is sprayed over the screen surface or the piano black interior finish of the vehicles rather than a coating film being applied. According to PPG, all major car makers will be using such smudge-resistant coatings in the near future.
On the other hand, Hemmelrath has been making further in-roads into the automotive paints and coatings market with plans to invest in expanding its subsidiaries in the U.S. and China. Hemmelrath produces waterborne primers in the USA and China but only in its own plants. However, the company is looking to be able to manufacture the entire range of products in these important automotive regions besides expanding in to the manufacturing of clearcoats, basecoats and primer-less systems.
Get a Sample Copy of this Report @ https://www.gminsights.com/request-sample/detail/3243
Since 2015 Hemmelrath has been producing its products at the Changchun site in China and has made the necessary preparations in 2018 for a much bigger production facility in north-east of China which is twice the size of Hemmelrath's main production plant in Klingenberg in Germany. Hemmelrath is also expanding its Duncan, South Carolina production facility with the aim of supplying customers in the NAFTA region. A production facility for primerless systems, basecoats and clearcoats is being built in Duncan besides expansion of laboratories, warehousing space and construction of an in-house application center. The move has been planned to make further expansion possible in parallel with customers' requirements indicating Hemmelrath's projection for consolidating its stance in the automotive paints and coatings market.
Robust innovation in coatings technologies is yet another driving factor for the automotive paints and coatings market. Rising awareness about the eco-friendliness of various materials has been a transformative factor for several industries and the automotive paints and coatings market has been no exception. Automobile coatings producers and their suppliers have become increasingly versatile innovators in order to stay competitive in a fast-evolving market. Paints have now transformed from being solvent borne to water borne to low volatile organic compounds (VOC). As market leaders move to waterborne and other solutions, the use of new complex molecules that can make thinner coatings, last longer, and need lower temperature to apply at lesser cost has also become more popular. Besides, waterborne, low VOC coatings have been found to be much more productive as they offer better color reproduction and color consistency.
The automobiles themselves are evolving, moving from being driven by fossil fuels to being powered by electricity, thus leading to a change in their paint and coating requirements. For instance, batteries and motors are the two most critical elements in EVs and the batteries have to be efficient for heat dissipation, cooling, longer battery and motor life. Coatings also play a significant part in ensuring that the batteries are able to insulate heat and withstand corrosion. Also, with the advent of autonomous vehicle, the automotive industry will be in the need of new types of paints and coatings that do not interfere with LIDARs or sensors but protect these sensitive devices just as well.
With paints and coatings industry giants like PPG, BASF, AkzoNobel, Nerolac, Axalta, 3M etc. gearing up to be competitive in an evolving automotive market landscape, the automotive paints and coatings market is expected to surpass $27.5 billion 2025.
Author Name : Paroma Bhattacharya
This entry was posted in Automotive & Transportation and tagged Acrylic, Aftermarket, Automotive Coatings Market, Automotive Paints & Coatings Market, Automotive Paints & Coatings Market Share, Automotive Paints & Coatings Market Size, Automotive Paints Market, Basecoat, Clearcoat, Electrocoat, Epoxy, Heavy Commercial Vehicles, Light Commercial vehicles, Matte, Metallic, OEM, Passenger Cars, Polyurethane, Powder, Primer, Solid, Solvent borne, UV Cured, Waterborne.
Endorsed by a massive end-use spectrum, the potential of global pigments market is being increasingly recognized by international chemical industry players. The extensive requirement of corrosion inhibition and color imparting across a plethora of expanding domains such as construction, paints & coatings, printing inks have led to a spike in demand for high performance specialty pigments. In consequence, this has also prompted companies partaking in pigments market to continually bring about innovations that could potentially disrupt the business dynamics.
China Pigments Market Size, By Product, 2014 – 2025 (USD Million)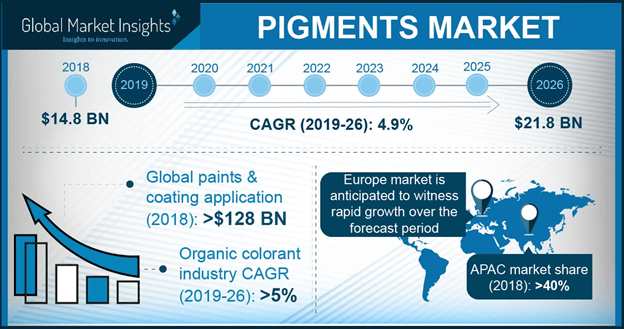 German chemical giant BASF has recently come up with its latest breakthrough product in pigments market. The globally acclaimed player has unveiled a revolutionary stir-in-pigment that claims to offer enhanced color depth, sparkle, and flop for automotive coatings applications. Christened as eXpand!™ Red (EH 3427), this groundbreaking pigment technology is reportedly the first pigment resulting from the strategic partnership between BASF and Landa Labs, which got through last year. Launched at the American Coatings Show this year, the full-fledged commercialization of the technology is certain to bring forth a disruption of sorts in the automotive coatings landscape. Not only this, the latest innovation is also claimed to have added a dynamism to the competitive terrain of the pigments market.
Speaking along similar lines, in a bid to sustain in the fiercely competitive scenario, some of the contenders of pigments industry share are also focusing on strengthening their distribution network for a better market hold. Terra Firma's recent expansive partnership with Ferro's Pigment Division is an exemplar precedent depicting the same. Reportedly, the U.S. based pigment supplier has chosen Terra Firma to represent its full product lines across Southeast, in effect from July this year. The private equity firm would be also distributing Ferro's recently acquired Cappelle line of technologies across the Southeastern and Northeastern belt of U.S, effective from August this year. Allegedly, the deal encompasses Ferro's full dry pigment range that include Nubiola, Ferro, and Cappelle. The deal, as per experts' opinion, would substantially enhance Ferro Pigment Division's stance in the global pigments market.
Get a Sample Copy of this Report:@  https://www.gminsights.com/request-sample/detail/742
Since half a decade or so, emerging countries of Asian belt like China, India have been observing a heavy onslaught of investments in construction and automobile domains, a factor that has had a rather appreciable influence on APAC pigments industry. Experts predict that the trend is likely to remain synonymous over the ensuing years, primarily on account of the rise in disposable incomes of the consumers and the increased investments in real-estate sector. The surge in demand for advanced pigments across Asia Pacific turf may be also credited to the robust growth in paints & coatings sector across nations like Japan, Malaysia, and Indonesia. All in all, it would be apt to state that Asia Pacific, backed by a lucrative end-use portfolio, has emerged to be an opportunistic investment spot for pigments industry giants.
Despite having a strong demand graph ahead, there are certain challenges restraining the pigments market growth – the major one being the product's fluctuating price trends. Since most of the raw materials used in pigment production are mainly petroleum derivatives or carbon based, inconsistency in oil & natural gas prices leaves a major impact on pigments industry dynamics. Another prominent growth restraining factor is the hazardous impact of some of the colorants like cadmium, lead sulfochromate, and molybdate sulphate on human health and environment. Amidst this backdrop, the impact of regulatory framework on pigments market landscape is a major trend to watch for, given the product's correlation with the health and environment. These dynamics are deemed to disrupt the product, competitive, and application landscape of pigments industry, which is anticipated to be along one of the most fragmented business spaces of recent times. In terms of renumeration, the global pigments market share is forecast to surpass USD 18 billion by 2025.
Author Name : Satarupa De
This entry was posted in Bulk & Specialty Chemicals and tagged Azo, Cadmium Pigments, Carbon Black, Chromium Oxide, Classic Organic, Complex Inorganic, Fluorescent, Global Pigments Market, High Performance Organic, Inorganic Pigments Market, Iron Oxide, Light Interference, Luminescent, Metallic, Organic Pigments Market, Phthalocyanine, Pigments Market, Pigments Market Report, Pigments Market Share, Pigments Market Size, Quinacridone, Specialty Pigments Market, thermochromic, Titanium Dioxide.
In the face of digital revolution, the global powder coatings market is unsurprisingly making an effort to keep up with the drastic changes being brought in by Industry 4.0 on a number of fronts. This includes incorporating better material handling techniques, automation controls linking machines together, allowing for better management of powder coating while spraying, and the launch of new products equipped with precision technologies.
North America Powder Coatings Market, By Application, 2017 & 2024, (USD Million)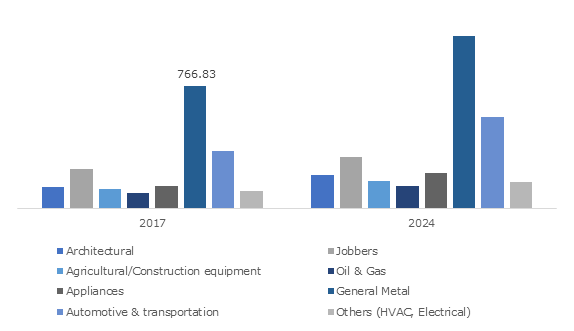 An exceptional instance of technological advancement pushing the limits of product development is of the new Encore manual powder coating spray gun range introduced by Nordson Industrial Coating Systems. Named Encore nLighten LED Kit, the new product illuminates the surface being coated, for easy inspection and precise powder application. An all-in-one inspection and application tool, the new spray leaves no margin for error and reduces the need for post-coating quality checks.
Speaking along similar lines, technological progression has resulted in excellent performance upgradation of numerous products being launched by leading powder coating manufacturers. AkzoNobel, for instance, has recently introduced a highly durable and sustainable range of coatings Collection Futura 2018-2021 under its Interpon powder coatings brand. Updated every four years, the new product range is created on globally-identified shifts for 2018-2021: Glam City, Time Out, Treasured Light and Wild Nature, essentially representing the environmentally viable products being developed by the foremost powder coatings industry players with the integration of technologically superior components.
Get a Sample Copy of this Report @ https://www.gminsights.com/request-sample/detail/379
Significance of the Asia Pacific region and the changing growth narrative: Why are major powder coatings market players building a robust presence in India and China?
Owing to the recent economic trends and the growing dominance of Asian politics, the 21st century is being increasingly projected as the Asian century. Apparently, India and China are termed as the growth engines of the Asian continent as their economy is based on strong fundamentals. Moreover, the estimates recently published by the World Bank corroborate the fact that these two Asian powerhouses are bound to perform well on the economic front in the years ahead despite temporary setbacks.
In this context, it is quite prudent to mention here that business verticals such as automotive & transportation components, electrical appliances, agricultural & construction equipment, and oil & gas are among the many significant industry sectors that contribute immensely toward the growth of Indian and Chinese economies. As per the recent trends, these sectors are set to register impressive growth figures in the times to come. Notably, these business verticals are also the major applications/end-users of the global powder coatings industry, which explains the resolve of prominent manufacturers to establish a strong base in India and China.
Enumerated below is a brief snapshot of initiatives being undertaken by well-known powder coating manufacturers that are reaching out to the emerging economies of Asia, especially tapping into the opportunities opened up across India and China:
AkzoNobel
In a bid to strengthen its manufacturing footprint and complement its existing production facilities in India, this Dutch paints and performance coatings giant recently inaugurated a new €9 million powder coating facility in Thane, Mumbai. Dedicated to manufacturing bonded metallic and functional powder coatings, the new facility is set to boost AkzoNobel's access to markets located in western and northern parts of India.
After opening an €11 million powder coatings facility in western China, AkzoNobel commenced production at its recently built largest powder coatings plant in Changzhou. To assure the plant's sustainable operation, the company would enable 100% recycling of waste water and zero emission. In addition to this, the new facility would become one of the few metal powder coatings manufacturing plant of the company in China.
Axalta
After setting up a high-grade technology center at Savli, Gujarat in 2016, this U.S.-based powder coating firm has recently built a new manufacturing facility at the same location. Over the past few years, Axalta has been gradually consolidating its presence in India with the help of massive investments and refurbishment of its training centers to deliver comprehensive coating solutions for the burgeoning automotive market and other industry sectors of the nation.
Arkema
In 2016, this French specialty chemicals and advanced materials firm announced that it would construct a new polyester powder coating resin production facility in Navi Mumbai, India – the first of its kind in the country. Representing an investment of about $US 15 million, the new facility would also include a dedicated laboratory to provide technical support and application development to the rapidly expanding powder coatings industry in India. Being built on its existing resin platform, the new facility would manufacture a low-VOC coating resins portfolio.
Considering the long-term implications of the aforementioned expansion bids by some of the prominent powder coating manufacturers, the Asia Pacific region, especially developing economies like India and China, are certain to fuel the growth prospects of powder coatings market. In fact, as per a research report of Global Market Insights, Inc., the Asia Pacific terrain recorded more than 40% of the total revenue share of the overall powder coatings industry in 2017 and is slated to maintain the growth momentum in the years ahead.
Author Name : Saif Ali Bepari
This entry was posted in Bulk & Specialty Chemicals and tagged Agriculture Equipment, Appliances, Architectural, Automotive & Transportation Components, Construction equipment, Europe Powder Coatings Market, Fusion Bonded Epoxy, General Metal, Global Powder Coatings Market, Jobbers, Metallic, Non Metallic, Oil & Gas, Powder Coating Manufacturers, Powder Coating Market Revenue, Powder Coatings Market, Powder Coatings Market Size, Resin, Substrate, Thermoplastic, Thermoset, World Powder Coating Market.