Metaspar
Global fluorspar market has been one of the most debatable business spaces of recent times with regards to its extensive utilization in hydrofluoric acid and fluorocarbons production. This is perhaps due to the fact that fluorspar mining has been open to question many a time by international regulatory bodies on grounds of its environmental concerns during blasting process. Nonetheless, subject to the materials' extensive application across a plethora of lucrative domains, such as aluminum and steel production, fluorspar industry has gained an appreciable popularity over the years. Bearing a testimony to the declaration is the past year valuation of the business space which depicts global fluorspar industry share to have garnered a revenue of USD 2 billion in 2016. Fluorspar mining, for the records, began in the year `1920, and since then the mineral has been recognized as one of the most versatile materials that can widely deployed for a variety of ceramic, metallurgical, and chemical process.
U.S. Fluorspar Market Size, by Application, 2013 – 2024 (USD Million)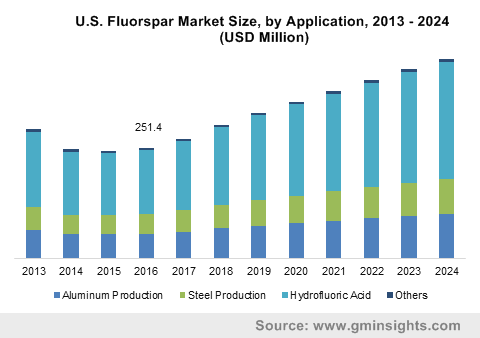 In this regard, it is imperative to mention that fluorspar industry has been witnessing a flux since a while now. Falling price trends of fluorochemicals along with soft demand for fluorspar are threatening new entrants in the competitive landscape, while some of the low-cost suppliers are striving hard to beat the market odds. Amidst this dynamically charged share battle, fluorspar mining activities across the globe had been a little backfooted for quite a prolonged period. However, technological advancements in the manufacturing processes in tandem with changing faces of end-use sectors has somewhat upscaled the mineral demand. This is evident from the significant attempts taken by the fluorspar market giants to expand the capacity of existing fluorspar mines.
Get a Sample Copy of this Report:@ https://www.gminsights.com/request-sample/detail/2397
Unveiling two of the recent projects in global fluorspar marketplace:
Afghanistan's sole fluorspar deposit, the Bakhud deposit, has made it to the headlines with the announcement of its decision of tripling the capacity within next six months, in bid to improve the volatile fluorspar market condition. For the records, the mining giant is set to expand the fluorspar capacity by 122,500 tonnes per year once fully operational. Established in the year 2010, the company currently has a production capacity of 60,000 tpy with a production volume of 3,000 to 5,000 tonnes per month. In effect of this project, the Bakhud deposit would be producing 500 tonnes/ day, with a total capacity of almost 182,500 tpy.
South Africa is also gearing up and as per experts' opinion, would prove to be a strong contender in the global business space over the ensuing years. South Africa is claimed to have world's largest fluorspar reserves, and Europe holds a major chunk of the regional export market with regards to production of aluminum fluoride and hydrogen fluoride beneficiation. Reportedly, the country is presently creating a whole hog on the new fluorspar mine by Nokeng Fluorspar Mine Ltd, the fully owned subsidiary of Sep Located at the north east of Pretoria, this R 1.7 billion mine project by the fluorspar market giant is reported to be the largest of its kind when compared to other investments around the world. Following the past success of Nokeng Fluorspar Mine's breakthrough project at Gauteng province, the company now aims to vertically integrate in the supply value chain of fluorspar industry.
Detrimental environmental impact of chlorofluorocarbons, which is one of the most frequently used cooling fluids in air conditioners and refrigerators, is deemed to be a major hindrance to fluorspar market expansion. CFCs pose a great threat to atmospheric ozone layer by speeding up the breakdown process, which ultimately allow maximum of the UV rays to hit the earth's surface.  Prolonged exposure to ultraviolet rays is very harmful for human health and sometimes even claimed to be the root cause for cancer and mutation.  This has led to banning of CFC across major nations, leaving a parallel impact on the regional fluorspar market size. Nonetheless, fluorspar is a valuable commodity and its contribution in the production of aluminum and steel is unrivaled. Since steel and aluminum are closely linked to a variety of remunerative business verticals, automotive sector in particular, expansive growth in these domains would overtly enable fluorspar market to revamp its position in the global landscape. In terms of commercialization, fluorspar industry is slated to exceed a valuation of USD 4 billion by 2024.
Author Name : Satarupa De
This entry was posted in Bulk & Specialty Chemicals and tagged Acidspar, Aluminum, Ceramic, Fluorite Market, Fluorspar Market, Fluorspar Market Report, Fluorspar Market Share, Hydrofluoric Acid, Metaspar, Steel, World Fluorspar Market.