Methyl Methacrylate
The last decade has witnessed an increased use of composites in structural applications, that has paved the way for composite adhesives market in the construction domain. Particularly in the aerospace and automotive sectors, composite materials are prominently used for achieving higher fuel efficiency and better strength. On these grounds, numerous composite adhesives industry players have been striving to develop highly advanced and effective adhesive solutions for structural composite materials. In fact, they are mainly focusing on developing products having non-VOC content. In this regard, it is also important to mention that myriad regional governments have also framed stringent regulatory norms to reduce VOC content in environment. In consequence, companies have been aggressively spending capital on extensive research and development activities, which are likely to stimulate composite adhesives market outlook in the ensuing years. For the record, in 2016, overall composite adhesives industry collected a revenue of USD 1.4 billion.
U.S. Composite Adhesives Market Size, By Product, 2016 & 2024 (Kilo Tons)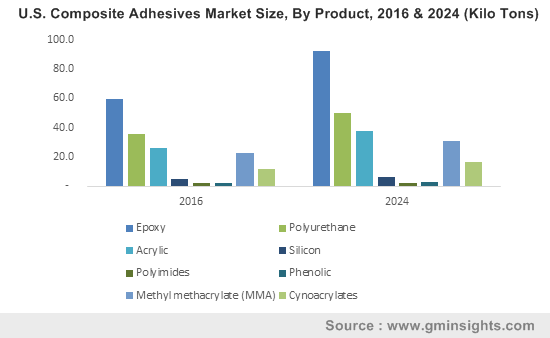 Customization has now occupied a prominent position in most industries. In order to obtain customized adhesive solutions, many automakers have been inking collaborations with core composite adhesive suppliers. For instance, Aston Martin has recently signed a technical partnership with Dow Automotive Systems to develop and implement innovative and customized solutions in powertrain efficiency and vehicle electrification. Through this agreement, the company looks forward to stimulating engineering excellence and innovation in composite adhesives market. As automotive sector marks a paradigm shift toward advanced mobility solutions, such strategic partnerships are likely to gain momentum and will help automakers demonstrate next-generation product ranges.
Get a Sample Copy of this Report @ https://www.gminsights.com/request-sample/detail/2439
Citing yet another recent instance, at JEC World 2018, Huntsman, one of the eminent composite adhesives market players, revealed its advanced portfolio of composites and adhesives for lightweight applications in numerous sectors. The firm also showcased its high-performance solutions for all aerospace and automotive applications – right from carbon hybrid composite wheels to the frame of a popular racing car. Incidentally, since the last six years, Huntsman has been collaborating with leading behemoths in the aerospace sector to establish wide range of processes and solutions in composite adhesives industry.
Of late, product manufacturers have been focusing on two essential pointers – advanced joining technology and the development of VOC content free products. With the aim to curb VOC content, numerous European and North American countries have already deployed stringent regulatory framework. Indeed, this will prove to be beneficial for the giants in composite adhesives market as they look forward to developing new products while adhering to safety and health concerns. For instance, 3M launched a next-generation low odor structural acrylic adhesive a few years back. In addition to health benefits, the product also provided the advantages of cost savings, performance, and productivity. This acrylic based structural adhesive particularly witnessed a huge demand across China, owing to its prominent use in the aerospace, construction, and marine sectors. Speaking of which, acrylic composite adhesives industry across China has been forecast to register a CAGR of more than 7% over 2017-2024. The increasing investments in constructional activities such as airports, roads, dams, and bridge building across China may be the driving factor for the growth of this regional industry.
The massive growth witnessed in the automotive and aerospace sectors is likely to emerge as a prominent driver for composite adhesives market. Numerous other firms in other application arenas have also been depicting a keen interest to adopt composites instead of regular material. As research continues to take an upper stand in composites adhesives industry as far as weight reduction is concerned, this business space is forecast to gain massive proceeds in the years ahead. As per estimates, global composite adhesives market size has been projected to cross USD 2 billion by 2024.
Author Name : Sunil Hebbalkar
Itaconic Acid Market has witnessed a dynamic change with the shifting trends from petrochemicals toward sustainable chemical materials. With rising concerns over diminishing fossil fuel resources, efforts are being made to produce chemicals from green or biomass feedstock. Growing inclination of the chemical industry base toward more high-tech and environment friendly products in order to replace petrochemicals has so far depicted strong growth chart for itaconic acid industry. This product finds key application in the production of methyl methacrylate (MMA), owing to the rising adoption of biotechnological methods in product manufacturing by the industry players. On these grounds, PMMA market, which is set to record USD 10 billion by 2024, is set to leave a remarkable impact on the worldwide itaconic acid industry.
U.S. Itaconic Acid Market size, by application, 2015 & 2024 (USD Million)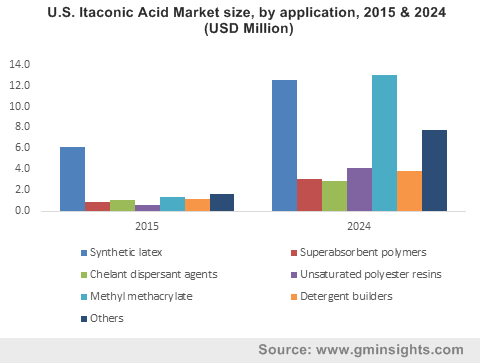 In 2004, itaconic acid was identified as one of the top 12 value added chemicals derived from biomass, which offered a suitable platform to produce polymers, biofuels, coatings, and chemical compounds. However, polymerization of itaconic acid was a key barrier to its commercial development which was later overcome by the researchers of University of Hampshire. This led to an escalated surge in the commercialization of itaconic acid industry worldwide.
Get a Sample Copy of this Report @ https://www.gminsights.com/request-sample/detail/782
Accounting for more than 50% of the global itaconic acid demand, Asia Pacific has emerged as a major avenue in the itaconic acid industry. China led the regional growth and is anticipated to collect USD 20 million by 2024. Asia Pacific is drawing significant attention of the prominent industry players, owing to favorable workforce conditions and taxation laws. The industrial production of itaconic acid is highly concentrated in China including major companies such as Jinan Huaming Biochemistry, Zhejiang Guoguang Biochemistry, and Qingdao Kehai Biochemistry. European norms to curb the production of sodium tripolyphosphate (STPP) based detergents is set to propel regional itaconic acid market share from detergent applications. Furthermore, favorable government regulations to promote bio-based production for the sake of environmental safety is substantially driving Germany itaconic acid market.
Exclusive properties of itaconic acid such as enabling high densities cell growth, robustness, easy to get genetically engineered, and stability have led to a higher product deployment in several applications including synthetic latex, unsaturated polyester resins (UPR), detergent builders, chelant dispersant agents, and methyl methacrylate across myriad industries such as pharmaceutical, agriculture, and lighting. Synthetic latex itaconic acid market held over half of the overall industry share in 2015, owing to its use to improve the finished product quality. Furthermore, itaconic acid is a potential green alternative to maleic anhydride in unsaturated polyester resins. The itaconic acid industry size is set to expand parallelly with the expanding UPR market, owing to the diversified product applications across transportation, construction, and marine industries.
Itaconic acid industry is gaining a huge valuation on account of being a potential intermediate for the manufacturing of eco-friendly chemical compounds. As per a report compiled by Global Market Insights, Inc., the global itaconic acid market collected revenue worth over USD 75 million in 2015 and is projected to reach USD 290 million by 2024, expanding at an annual growth rate of 16.8% over the period of 2016-2024.
Author Name :Ojaswita Kutepatil