Methyl Soyate
The global industrial solvents market is anticipated to make promising gains in the forthcoming years, on account of burgeoning demand for printing inks, paints & coatings, and cosmetics products across the globe. In addition to this, industrial solvents are also widely used in the pharmaceutical sector, impelling the industry share. For instance, pet shampoos utilize solvents to dissolve a medicinal drug for topical treatment, provide moisture, and soften animal hair & skin.
U.S. Oxygenated Solvents Market Size, By Application, 2017 & 2024, (Kilo Tons)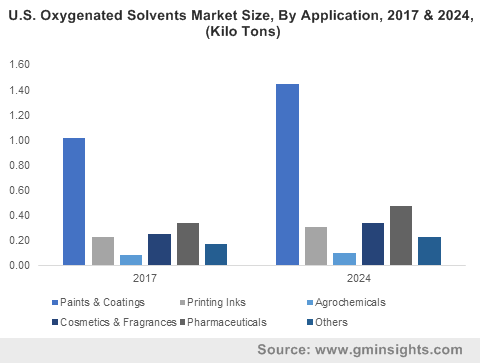 Industrial solvents are often used to dissolve ingredients and empower various solutions & manufacturing processes. They offer additional value in cosmetics, paints & coatings, adhesives, and lubricants because of their high solvency rate. For instance, Isopropyl alcohol is a multi-use solvent, which is often used as disinfectant in homes, and as an industrial solvent to dissolve substances, such as resins and oils, in production processes across various industries. The growth in manufacturing sector coupled with favorable regulatory outlook, especially in emerging economies, would positively favor industrial solvents market growth in the ensuing years.
The paragraphs below explore the growth prospects of the industrial solvents market with respect to the application landscape:
Paints & Coatings
The global paints & coatings market is anticipated to witness an upswing in terms of revenue in the approaching years, due to rising adoption across the building and construction sector. The paints & coatings industry is one of the biggest consumers of industrial solvents, attributable to the capability of solvents to disperse or dissolve the components in paint formation, to create paints of the desired consistency and eliminate globs or clumps. Apart from the construction sector, paints and coatings are widely used in the automobile industry. For instance, glycol ether esters are at times added to certain spray paints to avoid drying up in mid-air. The slow-paced evaporation of this powerful solvent group enables cars and other vehicles to get a smooth and flawless paint application for an appealing and durable finish.
Get a Sample Copy of this Report:@ https://www.gminsights.com/request-sample/detail/2706
In addition to the factors mentioned above, it is important to note that no single solvent has the capability of dissolving all of the film-forming ingredients employed in contemporary coatings. The application of optimal thinners and reducers is usually needed, which consists of blends of various solvents, wherein each can dissolve one or more ingredients within a given coating formula. This has been leading to increased product usage per application, thereby considerably contributing towards industrial solvents market growth.
Printing Inks
Numerous printing inks, used worldwide to print everything from books to food packs and labels, rely heavily on industrial solvents for accurate application to attain the vivid colors. In printing inks applications, solvents are implemented to regulate viscosity and permit flow without harming printing rollers. As with paints and coatings, solvents advance drying for contemporary fast-paced printing presses.
Printing inks applications have leveraged the potential of industrial solvents in a number of ways. For instance, the use of smudge-resistant ink in newspapers means no more finger staining and illegible print. Speaking of computer printer inks, they dry really very fast and are highly smudge resistant. Thus, the wide application spectrum of printing inks and brisk advancements in ink technology will create a powerful launch pad for industrial solvents market to reach new heights.
Cosmetic and Fragrances
The cosmetic industry relies heavily on industrial solvents to dissolve ingredients and increase the efficiency of products. Industrial solvents are widely used in lotions, shaving creams, face creams, and talcum powders to maintain the consistency of the product. For instance, Ethanol is hugely preferred by perfume companies as their solvent of choice due to its low odor. Indeed, the low boiling point of ethanol allows the solvent to evaporate rapidly and does not let it remain on the skin.
Likewise, acetone or Ethyl acetate is an important ingredient of nail paints and is especially looked upon for its fast-drying potential. Besides, it also finds applications in nail paint removal products, owing to its high solvency characteristic which enables the nail paint to be removed easily from the nail. Amidst this backdrop, it is prudent to mention that industrial solvents market share will soar high in the years to come, because of abundant product demand from cosmetic and fragrances applications.
Having realized the immense potential of the industrial solvents market, prominent companies such as Shell, Arkema, Honeywell, BASF, and Total have made considerable investments in R&D programs and product innovation to serve the evolving consumer demand better. Powered by the rapid expansion of the paints & coatings applications in tandem with growing infrastructure industry, the industrial solvents market is projected to attain commendable gains in the approaching years.
Author Name : Nikita Chaurasia
Pertaining to the surging importance of soybean pertaining to its many medicinal benefits, soy chemicals market has emerged as one of the most profitable spheres of the healthcare cosmos. Experts assert that the consumption of soy can lead to a reduction in cardiovascular diseases, breast cancer, as well as cosmetic and dermatological problems. In addition, soy injections help patients with diabetes mellitus to improve metabolism. Considering the nutritional benefits of soy, most of the nutritionists have been encouraging the consumption of soy and its food derivatives that has resulted in the demand upsurge for soy-based drugs and food products on a large scale. On these grounds, several medical companies have been developing soybean oil-based medicines, providing a push to soy chemicals market trends.
U.S. Soy Polyols Market Size, By Application, 2017 & 2024, (Kilo Tons)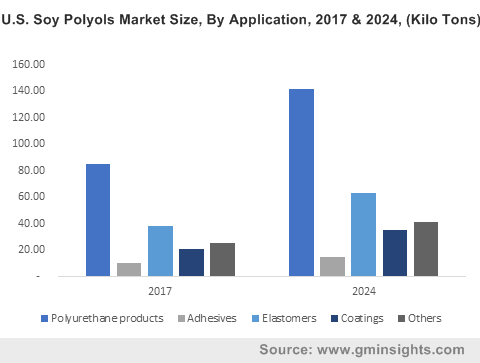 Nowadays, several restaurants and food companies have been making tall claims about having incorporated heart-healthy oils in their products such as dressings, bottled oils, baked goods, snacks, and dips to attract more consumers who have been trying to reduce the inclusion of saturated fat in their diet. The U.S. is one of the largest producers of soybean, accounting for more than 30 percent of worldwide production.  In America, soybean is one of the most used ingredients owing to its health potential. In this regard, the U.S. Food and Drug Administration (FDA) has been providing suitable support to pharmacies and biomedical companies that have been involved in the development of soybean oil-based medicines for reducing the risks associated with coronary heart disease and cancer.
Get a Sample Copy of this Report:@ https://www.gminsights.com/request-sample/detail/2973
Recently, the agribusiness and food ingredient company, Bunge North America received an approval from the U.S. FDA for its claim related to the consumption of soybean oil and its connection to coronary heart diseases. With its versatile portfolio, Bunge is continuously striving to disseminate the importance of soybean oil and its health benefits. Moreover, facilitated with in-depth scientific and clinical research, Bunge is looking forward to strengthening its business with strategic acquisitions and joint ventures. The growing North America soy chemicals industry is slated to generate such attractive business opportunities for players such as Bunge over the years ahead. Indeed, driven primarily by Canada, U.S., and Mexico, North America soy chemicals market, claim estimates, will register a CAGR of more than 5% over 2018-2024.
In order to target the leading consumers of soybean and its food products, globally renowned companies have been establishing suitable partnerships to commercialize their activities by reducing import costs. Validating the aforementioned fact, on February 2018, Cargill and Archer Daniels Midland company formed a JV to supply soybean meal and oil across Egypt. This JV has also acquired the crush plant of the Egypt based oil company located in Borg Al-Arab. In addition, Cargill also has been investing to expand its daily crush capacity from 3000 metric tons to 6000 metric tons with which it will decrease the soybean meal imports in Egypt. This strategy will help Cargill to expand its business across Egypt and North Africa to enhance its customer base by supplying affordable, safe, and healthy food. With the adoption of such business tactics, the players in the soy chemicals market are aiming to utilize their existing facilities and infrastructure in order to meet the growing regional product demand.
The increasing popularity of soybean oil and its byproducts among the manufacturers of consumer and industrial products over petroleum and other hazardous ingredients is slated to stimulate the industry trends over the years ahead. In addition to medicinal usage, the deployment of soybean products for manufacturing coatings, plastics, solvents, adhesives, rubber, and lubricants will also have a positive influence on business growth. Driven by the rising number of facility expansions, soy chemicals market size is anticipated to be pegged at USD 44.5 billion by the end of 2024.
Author Name : Sunil Hebbalkar