MF Plate
Global craniomaxillofacial devices market has witnessed steady consumption over the preceding years due to rising occurrence of injuries worldwide and the prevalence of congenital facial deformities among newborn children. Increased consumer spending on healthcare services and the subsequent development of medical device manufacturers has boosted the availability of suitable products. Advancements in surgery and implantation procedures as well as minimal risks to health that they offer have driven the craniomaxillofacial (CMF) devices industry growth. The augment of less invasive CMF devices that are efficient and do not cause undesirable bone damage has helped evolve the craniomaxillofacial devices market tremendously.
U.S. craniomaxillofacial devices market, by location , 2017 & 2024 (USD Million)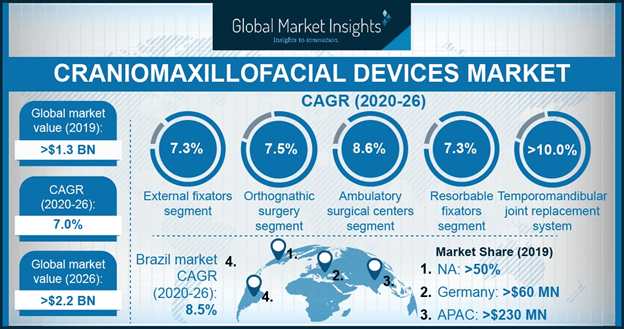 Consisting of the most advanced healthcare services and related technologies, the Europe and North America regions have experienced remarkable consumption of CMF devices in recent times. Eventually, the rising geriatric population in Asia-Pacific will contribute increasingly towards the propagation of the craniomaxillofacial devices industry, as older people are more vulnerable to serious injuries. Presently, the U.S. represents a prominent target market for CMF devices, with easy access to modern health facilities and equipment, as well as occurrence of large number of accidents or sports injuries every year. Reportedly, it is estimated that the U.S. craniomaxillofacial devices market will register a steady 5.8% CAGR from 2018 to 2024.
Regional overview of the North America craniomaxillofacial devices market with regards to growth prospects in U.S. 
Generally, sports injuries in the U.S. are quite a common occurrence owing to the vast number of sporting events taking place in the country on a regular basis, ranging from football, baseball and hockey to gymnastics. Statistics show that over 5 million teeth every year are avulsed in U.S., with a considerable amount of them attributed to sports activities. The Journal of the American Dental Association had reported that of all the sports-associated dental injuries, 2% to 18% are related to the maxillofacial, which could lead to major expenditures to repair the damage. Since diverse age groups are involved in physical sports activities all over the country, the craniomaxillofacial devices industry is expected to garner increasing revenues from sports-related injuries.
Get a Sample Copy of this Report:@ https://www.gminsights.com/request-sample/detail/432
Speaking further on the opportunities for CMF device manufacturers in the U.S., the country is one of the biggest automobile markets in the world and sees an alarming number of fatal and non-fatal vehicle accidents annually. Besides the injuries suffered by drivers and passengers involved in the crash, pedestrians are often injured by vehicles, becoming a victim of careless or drunk driving, among other reasons. The CDC had informed that in 2015, almost 129,000 pedestrians had been treated in hospitals for non-fatal accident-related injuries, and one can surmise the number of people who may have required CMF procedures. The gravity of the situation can be understood from the fact that in New York state alone, about 309,000 car accidents took place in 2017, demonstrating potential for the U.S. craniomaxillofacial devices market.
Enumerating advancements in healthcare technology that will drive the craniomaxillofacial devices industry expansion
Bioabsorbable materials have been used in medical procedures for some time now, as they lower the risk of infection, eliminate the need for removal procedures and gradually transfer load to healing parts of the body. The craniomaxillofacial devices market has become a promising application area for innovative bioabsorbable materials for countering problems associated with complications of permanent metal and polymer implants. Companies are designing alloys for CMF devices using elements found naturally in the body, for instance nanoMAG's BioMg® which uses magnesium alloy consisting of zinc and calcium to ensure the implant dissolves through natural degradation.
Increasing demand for CMF devices made from bioabsorbable materials will notably bolster the global craniomaxillofacial devices market, as consumers begin to realize their benefits while continuous development in technology will make them affordable. To elaborate further, 3D-prinitng, or additive manufacturing, is an innovation gaining momentum within the healthcare segment, being extensively used for producing medical devices. 3D-printing can be utilized to print bioabsorbable implants designed to assist in healing bones, giving way to a faster method of production and at lower costs, facilitating access to a wider consumer base.
All in all, with the consistent demand for CMF procedures instigating from car accidents, sports injuries and several other factors, the craniomaxillofacial devices market is anticipated to cross USD 1.9 billion in remunerations by 2024. Technological developments will significantly transform the dynamics of the craniomaxillofacial devices industry, which comprises of key players such as KLS Martin LP, Medtronic, Stryker Corporation and Zimmer-Biomet.
Author Name : Pankaj Singh
This entry was posted in Healthcare & Medical Devices and tagged Bioabsorbable Implants, Bioabsorbable Material, Bone Graft Substitute, Ceramic, CMF Distraction, Cranial Flap Fixation, Cranial Reconstructive Surgery, Craniomaxillofacial Devices Market, Craniomaxillofacial Devices Market Revenue, Craniomaxillofacial Devices Market Size, ENT, Global Craniomaxillofacial Devices Market, Joint Replacement, Metal, MF Plate, Neurosurgery, Orthognathic and Dental Surgery, Plastic Surgery, Screw Fixation, Temporomandibular Joint Replacement, Thorasic Fixation.