Microbiology
On-going research activities along with supportive regulations across the globe will revolutionize digital genome market. The growing implementation of this technology in the field of personalized medical care for efficient disease management will noticeably favor digital genome industry share. According to the Global Market Insights, "Worldwide digital genome market was worth USD 20 billion in 2015 and will exhibit a CAGR of about 9.5% over the coming years of 2016 to 2024."
The prominent applications of digital genome industry are microbiology, reproductive & genetic, research & development, transportation, and livestock & agriculture sectors. Microbiology application segment accounted for more than 22% of the revenue share in 2015 and will surpass a revenue collection of USD 10 billion by 2024. The growing demand for microbes across clinical, biological, and industrial sectors should drive the revenue. Research & development dominated the application landscape in 2015 and will contribute a revenue of more than USD 23 billion by 2024. The growth can be attributed to heavy investments by private and public sector firms in research activities.
Germany Digital Genome Market size, by product, 2012-2024 (USD Million)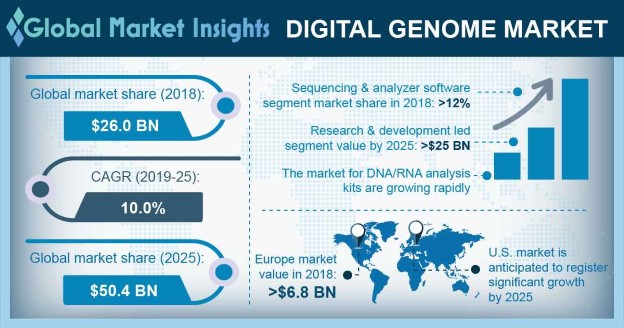 Sequencing and analysis software, one of the product bifurcations of digital genome market, will register an annual growth rate of 9.8% over the period of 2016 to 2024, owing to the increasing efforts to upgrade software packages. High investments in life science research will favor sequencing and analyzer instrument industry, which covered more than 40% of the global digital genome market contribution in 2015. Sample prep instruments, sequencing chip, and RNA or DNA analysis kits are the other notable products in digital genome industry.
Get a Sample Copy of this Report @ https://www.gminsights.com/request-sample/detail/1219
China digital genome market size will grow at an annual growth rate of more than 10% over the period of 2016 to 2024. The growth can be attributed to the supportive governmental activities in the favor of human genetic development. Moreover, the strategic partnerships between the biobanks and research institutes will influence the industry share noticeably.
U.S. digital genome market covered over 80% of the North America regional share in 2015 and will generate significant revenue over the coming seven years, owing to the genome sequencing technological enhancements along with availability of advanced healthcare infrastructure.
Brazil digital genome market is anticipated to record a considerable growth rate over the coming timeframe. The supportive rules and regulations regarding genetic and clinical testing will augment the business growth.
Russia digital genome market collected a revenue of around USD 290 million in 2015 and will exhibit lucrative growth over the coming years of 2016 to 2024, primarily driven by the fierce competition prevalent in the region. The Genome Russia project launched by St. Petersburg State University in Russia, aims to collect and scrutinize genome sequences from different regions across the country, which is also expected to generate a noticeable revenue over the coming seven years.
Collaborations, acquisitions, and novel product innovations are the business growth strategies of industry giants. The corporations operating in digital genome market are Becton Dickinson, Agilent Technologies, Qiagen, Thermo Fisher Scientific, Illumina, Pacific Biosciences, Perkin Elmer, Sigma-Aldrich, BioMarin Pharmaceutical, Fluidigm Corporation, Bio-Reference Laboratories, AVEO Oncology, and Agios.
Author Name :Sunil Hebbalkar
Touted to be one of the most pronounced verticals of the healthcare space, biotechnology market share, as claimed by experts, is all set to soar with numerous growth avenues springing by the day. The industry undeniably deserves credit for having brought forth numerous astounding products that have bolstered the quality of human life and solved integral problems. The global biotechnology market is projected to record a highly commendable y-o-y growth rate ahead, owing to the surging incidences of chronic conditions such as cardiac disorders, cancer,  diabetes, and others across the globe.
U.S. Biotechnology Market, By Application, 2017 & 2024 (USD Billion)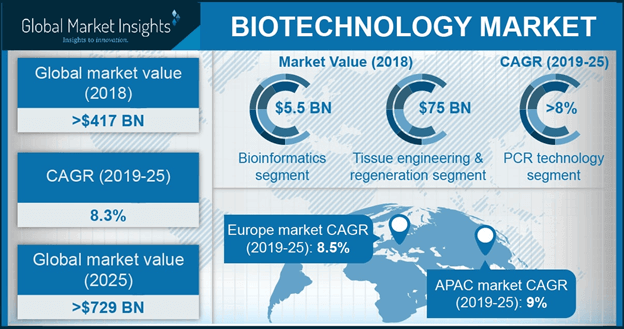 Logically speaking, as the burden of these diseases increases it becomes imperative to combat them on scale, and that is where biotechnology comes into play. From genetically modified foods to diagnostic & preventative agents to environmental products and bio-based pest control, biotechnology is ubiquitous and plays a prominent role everywhere.
Key players operating in the global biotechnology market are F. Hoffmann-La Roche, Abbott Laboratories, Amgen, Agilent Technologies, BioGen Medical Instruments, PerkinElmer, Danaher, Illumina, Merck, Qiagen, Bio-Rad Laboratories, and Thermo Fisher Scientific. These key players implement strategic initiatives such as new product launch, geographical expansion, mergers and acquisitions to fortify their product suite and boost their standing in the market. A recent instance providing validation to the above claim is of Staten Biotechnology which has entered into a collaboration agreement with Novo Nordisk to jointly develop preclinical dyslipidemia candidate of Staten – STT-5058.
Following is a precise summary of the top companies making a difference to the dynamics of biotechnology market:
Merck leverages the power of Cyclica's Ligand Express
Merck, a pharma major, has reportedly signed a licensing contract with Cyclica Incorporation for utilizing Ligand Express, a cloud-powered in silico proteome screening platform. Reportedly, Ligand Express is an AI augmented structural proteome screening platform being used to unleash new targets which are designed to interact with a small molecule.
The one year agreement will permit Merck to efficiently and quickly expound mechanisms of action, assess safety profiles, and discover further applications for numerous under-trial small molecules, including those acknowledged in highly disease-related phenotypic screens.
Get a Sample Copy of this Report:@ https://www.gminsights.com/request-sample/detail/784
Abbott seeks new acquisition to develop treatment for diseased mitral valves
Abbott has reportedly exercised its option to acquire Cephea Valve Technologies Incorporation, a medical device maker fabricating a minimally-invasive cardiac valve replacement technology for patients suffering with mitral valve disease. This acquisition would further augment Abbott's pinnacle position in the therapies market for mitral valve disease, a commonly occurring heart valve disease.
Amgen introduces AMGEVITA in the European market
In October 2018, Amgen has reportedly publicized that AMGEVITA, an adalimumab biosimilar, will be launched in the European market. Reportedly, AMGEVITA claims that it is the world's first adalimumab biosimilar to attain approval by the European Commission. AMGEVITA has been authorized for treating inflammatory conditions in adults and pediatric inflammations. AMGEVITA's launch would cover 28 member countries of the European Union along with Liechtenstein, Iceland, and Norway.
Bio-Rad Laboratories unveils NGC Fraction Collector
Bio-Rad Laboratories Incorporation has reportedly unveiled the NGC Fraction Collector to be used for NGC Chromatography Systems. The NGC platform augments purification efficacy and offers researchers consummate control over the processes. The NGC Fraction Collector enables researchers to elect how to gather and when to address the fractions. Reportedly, the system could be prompted to collect on the basis of pH, buffer percent from pump B, slope, and detector indications. Front-to-back dispensing offers ease of access to fractions before process completion for quicker downstream examination. It operates on ChromLab™ 5.0 Software and ensures no sample loss through auto sample tube calculation.
It is thus rather discernible that biotechnology market is on its way to crop up as one of the most prominently remunerative business spheres. The growth projection for the biotechnology industry appears to be rather pronounced in the coming times, given the intensifying commercial consumption of this technology across an array of industries. As per estimates, biotechnology market size is poised to exceed a colossal USD 775 billion by 2024.
Author Name : Nikita Chaurasia