Microprinting Market Share
Rising disposable incomes and continuous development of the banking, healthcare and packaging sectors have proliferated global microprinting market size, as more businesses are finding it essential to safeguard their products against fraudulent activities. Whether is microprinting on money to prevent counterfeiting or on pharmaceutical labels to establish authenticity, the technology has enabled companies to save considerable losses that would otherwise result from misuse or illegal transfer of goods.
U.S. microprinting market, by end-use, 2018 & 2025 (USD Million)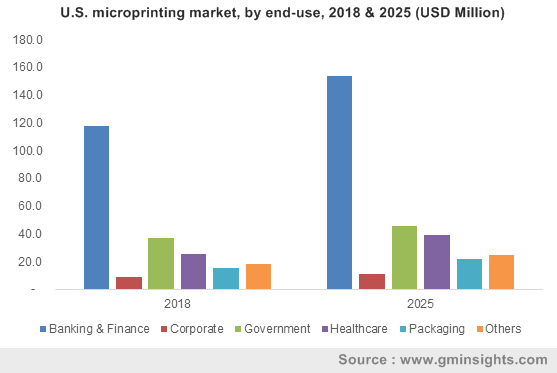 Currencies have become one of the prominent application areas for the microprinting industry, with countries like Australia, U.S. and the U.K. being some of the early adopters of the technique. Basically, microprints make it very difficult for counterfeiters to reproduce the extremely small text imprinted on modern currency notes, deterring them creating from circulating fake currency notes. Although the banking and finance sector has significantly helped to expand microprinting market size, evolving trends in the government, healthcare and packaging segments will further expand business prospects worldwide.
Security of National ID cards: Over the last decade, governments around the world have accelerated the promotion of digital transformation and have urged citizens to carry new and smart national identification cards. Generally, infusion of new technology brings with it several risks associated with illegal activities, in this case identity thefts and ultimate misuse of access cards. National IDs also face the similar risks and various players are providing microprinting printers that can help protect against counterfeiting risks.
Get a Sample Copy of this Report:@ https://www.gminsights.com/request-sample/detail/3307
Technically, reproduction of cards through simple scans or photocopying with standard resolutions using various consumer devices do not capture the microtext, making an ID extremely hard to forge. An eID card or a digitally accepted identification document has now become a norm in China, India, Malaysia as well as numerous developing nations in Africa. It is anticipated that by 2021, more than 3.6 billion people globally would be carrying a national eID card and securing these cards from theft and frauds would provide a remarkable growth platform for augmenting microprinting industry size.
Protection of Healthcare Products: While international regulations and standards make it mandatory to include composition and ingredients of medicines on the labels, and sometimes on the product, the problem of fake drugs has also prompted the adoption of microprinting technology. Manufacturers such as Xerox are now offering microprinting printers that can provide specialty imaging and fraud prevention technologies to healthcare firms. Metica, Videojet and other players are also enabling precise and compliant printing of relevant information on pharmaceutical labels or boxes.
Evidently, misspelled drugs and counterfeit medicines create considerable health risks to consumers, along with spelling large financial losses for producers. The World Health Organization has estimated that every year, almost US$82.29 billion worth counterfeit medicines are traded worldwide. In fact, the agency believes more than 30% medicines being circulated in some parts of South America, Asia and Africa are fake. Subsequently, microprinting market will amass substantial revenues from healthcare and pharmaceutical companies aiming to protect sensitive data with specialty imaging.
Avoiding Duplicity of Packaged Goods: As the technology moves beyond microprinting on money, the packaging sector has also realized its benefits in shielding products against duplicity, while simultaneously enjoying low cost and fast printing operations. The need for accelerating the efforts aimed at increasing product security has emerged due to gaining popularity of global e-commerce giants and local online retail businesses. The trend has further resulted in logistics challenges faced by sellers, and microprinting industry is pegged as a crucial solution to the existing problems with product tracking.
Growing preference of e-commerce can be gathered from the fact that just one online platform, Amazon.com, had accrued over US$141.92 billion in sales revenue in 2018, which was a 19.7% increase from the previous year. As e-commerce penetration among consumers expands and necessitates precise labeling and tracking of packages, the microprinting market size from packaging applications will catapult tremendously.
All in all, increasing need for securing identification cards, consumer products and pharmaceuticals will fuel the demand for reliable and accurate printing technologies that can be deployed across key substrate materials like plastic, metal and paper. Reports estimate that global microprinting market size will surpass US$800 million by 2025.
Author Name : Pankaj Singh
This entry was posted in Electronics and Media and tagged Banking & Finance, Color, Corporate, Double Sided, Global Microprinting Market, Government, Healthcare, Metal, Microprinting Market, Microprinting Market Share, Microprinting Market Size, Monochrome, Packaging, Paper, plastic, Print Type, Single-Sided, Substrate Type.