Military Aircraft
The aircraft refueling hose market is registering significant growth in recent times owing to exponential rise in deployment of aircraft fleets worldwide. Increased tourism and spending on business travel has also propelled the aviation sector in the past couple of years.
U.S. Aircraft Refueling Hose Market, By Application, 2018 & 2025, (USD Million)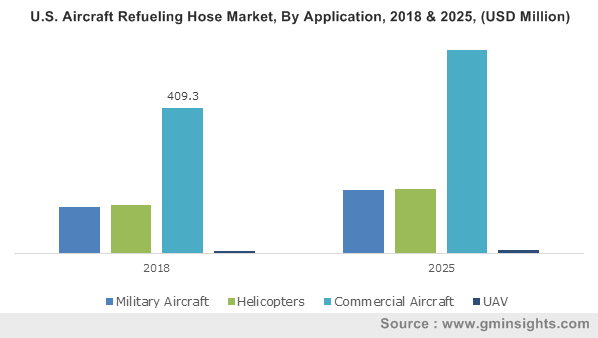 The International Air Transport Association (IATA) claims that the number of trips per person is forecast to increase by 4% – 8% annually for many emerging countries, and is projected to be as high as 10% – 11% per year in India and China. These growing trends necessitate radical infrastructural developments and the need for efficient refueling equipment like aircraft hose.
Aircraft hoses are made with utmost precision whilst keeping in mind the critical nature of their application. They can easily conduct refueling operations on land as well as in air – features that have considerably enhanced its significance in recent years.
Investment in defense infrastructure has offered immense impetus to aircraft refueling hose market. For instance, the U.S. Air Force 2020 budget anticipates an approximate US$165.6 billion investment, a 6% increase from the FY 2019 request, which involves continuing the procurement of F-35As and KC-46As, and initiating the refresh of the F-15 fleet with a new variant. These investments will most likely drive the global aircraft refueling hose industry share.
Get a Sample Copy of this Report:@ https://www.gminsights.com/request-sample/detail/3344
Expansion in commercial airline fleets along with a high-rise demand for lighter airplanes will boost aircraft refueling hose market share. Exponential increase air passenger traffic will positively influence product demand. For instance, IATA claims that, with present trends in air transport, it is likely that passenger numbers will double to 8.2 billion by 2037.
Aircraft major Boeing recently projected that the worldwide need for new airplanes will grow rapidly between 2018 and 2037, during which about 42,730 new airplanes deliveries are expected with a market value of $6.3 trillion. This growth will be increasingly witnessed across Asian countries like China and India and will drive the regional industry. In fact, Boeing claims that China alone is expected to order 6,810 new airplanes worth over $1.025 trillion over the aforementioned period.
Rising efforts by domestic airlines to increase their flight network by adding new, advanced aircrafts will drive the industry share. Expanding aircraft fleets helps to increase the size of the airline's network and will eventually help to boost aircraft refueling hose market trends.
North America aircraft refueling hose market will generate substantial proceeds by 2025 on account of rising demand for military aircrafts along with a considerable increase in defense budget. In a bid to attain improved system performance and efficiency, eminent industry players are developing lightweight and technologically advanced refueling hoses. Global Market Insights, Inc., claims that North America aircraft fueling hose industry size will depict a CAGR of 3% over 2019-2025.
In recent times, new highly advanced aerial refueling tankers are being deployed to conduct refueling operations in air, further contributing toward enhancing operational efficiency and reducing flight downtime. For instance, in 2019, the U.S. Air Force started accepting the first few production copies of Boeing's military aerial refueling aircraft, KC-46. Official reports claim that the Air Force will accept 19 additional KC-46s by the end of August 2019 that would help drive the regional industry share.
The U.S. Navy plans to finalize its MQ-25 drone program by 2019 with an aim to craft drones that could fly off an aircraft carrier and refuel other aircraft mid-flight. Proliferating trends pertaining to drone development and deployment will propel North America aircraft refueling hose market size.
Helicopters are gaining traction in aircraft refueling hose market owing to increasing use of helicopter in-flight refueling (HIFR) systems. In the past decade, the worldwide fleet of civil helicopters has grown by 37.38% to reach 30,895 aircraft, claims the General Aviation Manufacturers Association (GAMA). Increased helicopter usage in O&G industry for getting to offshore oil rigs and conducting rescue operations in remote locations will drive aircraft fueling hose industry size from helicopters .
The global aircraft refueling hose market is driven by rapid deployment of commercial and military aircraft fleets in the aviation sector. Increasing number of air passengers and rising defense budget will augment business growth. Reports from Global Market Insights, Inc., estimate aircraft refueling hose market size to reach USD 2.5 billion by 2025.
Author Name : Mateen Dalal
The proliferating tourism industry along with the surging consumer spending on air travel have indeed pushed aircraft door market trends lately. Doors, being one of the most critical components of aircraft, are quite overtly designed with utmost precision to offer easy access control and management of various aircraft compartments as well as ensure passenger safety by maintaining required air pressure within the aircraft. With the global expansion of the aviation industry, aircraft door designers and manufacturers are now focusing on reducing the overall door weight to enhance the aircraft's fuel efficiency and profitability. The rising focus on weight reduction solutions in air carriers will thus drive the aircraft door market size over the forthcoming years.
U.S. Aircraft Door Market, By Door, 2018 & 2025, (Units)
Given the escalating air traffic across the globe, the fact that the frequency of aircraft production has surged comes as no surprise. According to the International Air Transport Association (IATA), by 2036, the number of passengers using air transit services is expected to reach over 7.8 billion – nearly twice of the 4-billion-mark recorded in 2017. With rising disposable incomes along with the escalating annual spending in emerging nations, the demand new, advanced and luxury airliners will also increase, scaling up air carrier deliveries and subsequently impacting the global aircraft door industry share.
It has been observed that of all different types, cargo doors are significant more popular, perhaps on account of the rise in cargo transport. According to the IATA, the air freight transportation in the year 2018, surpassed 60 million tons with an increase of close to 4.5% as opposed to 2017. Indeed, air cargo transportation is known to be potentially significant and accounts for about 35% of the worldwide trade by volume. With the expansion of the e-commerce industry, online retail carriers and integrators are enhancing their package sorting and automation capabilities, in addition to extending networks in a bid to gain a larger fraction of the growing trade. Powered by the robust expansion of air cargo transportation and the massive requirement of efficient doors in aircraft to ease loading and unloading, cargo aircraft door market share will experience a commendable incline in the years ahead.
Latin America is anticipated to be tagged as one of the profitable regional grounds for the expansion of the global aircraft door market. Quite discernibly, the growth of the LATAM industry can be attributed to the fact that domestic airliners are consistently expanding their commercial and regional jet fleets in order to accommodate more passengers. Citing an instance of the aforementioned, in Q3 2018, Embraer had received an order of more than 20 regional jets from the reputed Azul Linhas Aereas Brasileiras.
Get a Sample Copy of this Report @ https://www.gminsights.com/request-sample/detail/2434
Driven by the expansion of the regional aviation industry and the efforts undertaken by prominent domestic players to consolidate their position in the global space, LATAM aircraft door market size is forecast to register a CAGR of 6.5% over 2019-2025.
The Indian air transport sector has also depicted strong growth in the recent years, a fact that would serve to proliferate the regional aircraft door industry. Reports from IATA forecast that in the next 20 years the number of annual air passenger journeys will increase by over 350 million, hitting almost 520 million journeys in 2037.
The regional civil aviation industry has also emerged as one of the fastest growing verticals in the recent years, and is expected to soon overtake the stalwarts in the domain in the global race. The strong performance of India's aviation industry and the subsequently escalating demand for the production of technologically advanced aircraft, have thus served to expedite the growth map of India aircraft door market.
Aircraft doors in essence, play a vital role to maintain specific air pressure in an aircraft cabin, offering enhanced security and assurance to traveling passengers. With a rising proportion of the global populace opting for air travel owing to surplus disposable incomes and the growing trade initiated by e-commerce giants, worldwide aircraft door market size is poised to hit a remuneration mark of USD 9.5 billion by 2025.
Author Name :Mateen Dalal
Over the recent years, the global aerospace landing gear market share has observed an exponential growth owing to a significant uptick in air passenger traffic and the consequent increase in the demand for lightweight aircrafts. Owing to the criticality of these subsystems, which support aircraft weight during landing and ground operations, the commercial airlines have focused on incorporating high-grade landing gears in the recent times. Moreover, the swift escalation in the number of commercial aircraft production across the world has emerged as one of the foremost factors to have contributed toward rapid growth of the aerospace landing gear industry.
U.S. Aerospace Landing Gear Market, By Position, 2013-2024, (Units)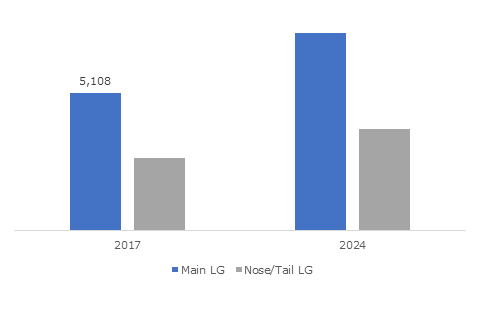 Elaborating further, the U.S. based Boeing for instance, delivered an astonishing 763 commercial airplanes in the year 2017. Reportedly, the aerospace behemoth surpassed its previous delivery record set in 2015. In this context, it would be prudent to mention that 2017 was the seventh consecutive year that registered a decent increase in the delivery of commercial aircrafts by foremost manufacturers.
Apparently, the number of commercial aircraft deliveries stood at 1740 in 2017. This remarkable surge in the total fleet of the commercial airplanes, which was estimated to be around 31,000 worldwide in the same year, has been instrumental in establishing the prominence of commercial aircrafts in the aerospace landing gear market. In fact, the commercial aircraft space is projected to be the major growth segment in the overall aerospace landing gear industry in the upcoming years. Incidentally, commercial aviation held over 58% of the aerospace landing gear market share in 2017 and will emerge as a dominant segment by 2024.
Get a Sample Copy of this Report:@ https://www.gminsights.com/request-sample/detail/2343
Concurrently, it has been observed that there has been a gradual uptick in the number of collaborations being formed between firms operating in MRO (maintenance, repair and operations) industry and various commercial microsatellites & orbital transportation service providers. Needless to mention, these collaborations have invariably boosted the commercialization scale of the overall aerospace landing gear market in the recent times. The U.S. headquartered Triumph Group for instance, has recently teamed up with a systems integrator specializing in microsatellite services, Sierra Nevada Corporation (SNC), to provide landing gear system for the Dream Chaser spacecraft.
In this regard, the agreement mentions that Triumph Group's Washington based Integrated Systems business unit will work together with SNC to supply the main and nose landing gear to a lifting-body vehicle, the Dream Chaser. Reportedly, this spacecraft would be utilized to support NASA's Commercial Resupply Services 2 project that is slated to resupply the International Space Station. The partnership is being increasingly termed as quite remarkable in the aerospace landing gear industry given that the contract further includes the supply of integrated actuation solutions for the landing gear and door systems which would be developed by both the firms.
Speaking in the similar context, numerous dominant commercial and defense aircraft manufacturers around the globe have continued assisting airline operators to leverage exchange offerings of landing gears and overhaul of performing equipment as well. Powered with a robust global network of repair service centers, these aircraft manufacturers are well-positioned to lower maintenance time and provide reliable landing gear repair services to major airlines. To cite an instance of the same, Boeing had declared the launch of its new landing gear exchange programs in 2014 for Air Canada's 777-200LE (Longer Range) and 777-300ER (Extended Range) airframes.
As per the contract, the American aerospace behemoth had agreed to provide certified and fully overhauled landing gear shipsets for a total of 23 aircrafts belonging to the largest domestic and international airline in Canada. Apparently, such cost-effective offerings by prominent aircraft manufacturers have optimistically influenced and proliferated the aerospace landing gear industry space over the past few years.
The prominent aerospace regulating authorities such as Federal Aviation Authority and Civil Aviation Safety Authority have laid out strict guidelines to deploy advanced technologies including Radio-Frequency Identification and wireless sensor network to enhance operational safety of airplanes. Furthermore, the increasing adoption of advanced landing gear systems across major airlines would impel product penetration, cite analysts. Driven by a rapid increase in commercial aircraft deliveries coupled with the burgeoning air passenger traffic, the aerospace landing gear market is slated to grow at an exceptional pace in the years ahead. In fact, as per a research report collated by Global Market Insights, Inc., the revenue portfolio of aerospace landing gear industry is estimated to surpass USD 21 billion by 2024.
Author Name : Saif Ali Bepari
Titanium sponge for aerospace & defense market share has been witnessing a sharp uptick in the recent years owing to an increased emphasis on enhancing the fuel efficiency and lower the weight of military and commercial aircrafts. At the same time, it has been observed that numerous companies have been focusing on building technologically advanced facilities to manufacture environment friendly titanium sponge which has consequentially benefited the overall business space. Citing an instance that affirms this declaration, a group of private firms operating in titanium sponge for aerospace & defense industry have recently unveiled the first production facility in Europe that recycles aeronautical-grade titanium.
U.S. Titanium Sponge for Aerospace & Defense Market, By, 2017 & 2024, (Metric Tons)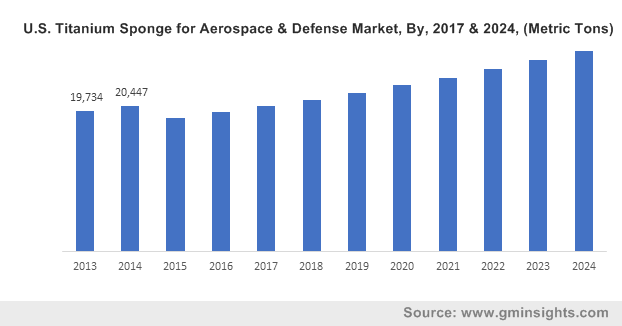 Elaborating further, the facility, named as EcoTitanium, would utilize four times less energy than the traditional supply chain and would ensure titanium-ingot production to be highly eco-friendly. Here, it would be prudent to mention that this instance complements the efforts being undertaken by various European nations to indigenously manufacture a substantial amount of titanium sponge as to reduce the net imports of this metal and lower the dependence on Russian and American suppliers. Furthermore, the facility is slated to ramp up it's manufacturing of titanium ingots to several thousand tons per annum in the times to come – a factor that would propel the growth prospects of titanium sponge for aerospace and defense market across Europe.
Apart from the emergence of eco-friendly titanium sponge, a new trend that is being observed across titanium sponge for aerospace & defense market is that of the manufacturing of titanium sponges by prominent space research institutions of a few nations for strategic purposes. For instance, in a bid to fulfill the ever-increasing titanium requirement for its space programs, the Indian Space and Research Organization's (ISRO) Vikram Sarabhai Space Centre, in 2015, completed the construction of a full-fledged titanium sponge manufacturing plant at Chavara in the state of Kerala.
Get a Sample Copy of this Report@ https://www.gminsights.com/request-sample/detail/2581
Reportedly, the latest facility is slated to manufacture around 500 metric tons of titanium sponge per annum. Reportedly, the foremost space agency requires a total of 200-300 metric tons of titanium sponge on an annual basis to seamlessly conduct its ambitious space programs. Interestingly, the latest plant is being termed as a significant achievement of the ISRO as it is the only integrated facility across the overall titanium sponge for aerospace & defense industry that carries out all activities right from mining of titanium to production of aerospace-grade titanium sponge at the same location.
The above instance further reinforces the prominence of titanium alloys that possess unique characteristics like excellent corrosion resistance and high strength to weight ratio. Apparently, these properties have made titanium alloys highly useful in liquid propellant tanks, interface rings for satellites, inter tank structures, and gas bottle/liners. Needless to mention, the aforementioned statements go on to explain the rising interest of space agencies across the globe to have in house titanium sponge manufacturing facilities that would quicken the pace of their space programs.
Concurrently, the escalating demand for high tensile strength and light weight metals that are being increasingly deployed in armor plating & missiles, helicopters, fire walls, landing gear, and naval ships would further accelerate the titanium sponge for aerospace & defense market share expansion. Moreover, the rising utilization of components made from these material alloys in engine mounts, turbines, seat rails, floor beam, fuselage frame, and doorframes would undoubtedly augment the commercialization potential of titanium sponge for aerospace & defense industry in the forthcoming years. In fact, according to a research report collated by Global Market Insights, Inc., the overall remuneration portfolio of this business sphere is estimated to surpass USD 1.9 billion by 2024.
Author Name : Saif Ali Bepari
The rising deployment of fleet services for transportation & military operations has been driving aerospace & defense fluid conveyance systems market considerably since the last few years. With increasing disposable incomes and subsequently changing lifestyles, air transportation has lately gained substantial momentum, fueling the need for commercial aircraft. In addition, in order to eliminate terrorist activities, which have been increasing rapidly since the last few decades, many countries have been deploying unmanned aerial vehicles and high-speed jets. Aided by changing military strategies and heavy investments in the defense sector, aerospace & defense fluid conveyance systems industry size is anticipated to witness a massive upsurge over 2018-2024.
U.S. Aerospace & Defense Fluid Conveyance Systems Market, By Fluid, 2017 & 2024, (USD Million)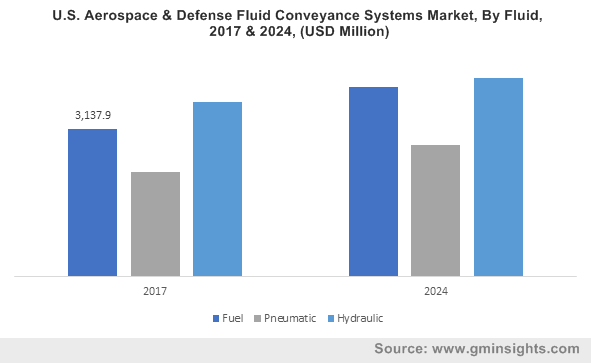 Taking into account the primary need of fluid conveyance systems in aircraft production, leading aircraft manufacturers have been establishing partnerships with fuel system manufacturers. An instance of the aforementioned is GKN Aerospace's contract signed with General Atomics Aeronautical Systems Inc., in 2017, for developing, designing, and manufacturing fuel conveyance systems. GKN Aerospace, through this development agreement, apparently looked forward to developing fuel systems for UAV (unmanned aerial vehicle) applications. The firm planned to manufacture fuel bladders through a vacuum forming process in conjunction with the latest polyurethane (PU) material that is durable and lightweight. Given that UAVs are prominently used in the defense sector for performing various surveillance and other military tasks, GKN is likely to strengthen its stance in aerospace & defense fluid conveyance systems market through this deal, in addition to encouraging its fellow adversaries to increase their investments in the development of military UAVs.
The surging deployment of aircraft for defense as well as commercial purposes has been creating lucrative opportunities not only for original equipment manufacturers but also for aftermarket product developers. In fact, in order to rake in maximum capital, aircraft companies are signing long-term deals with aftermarket product suppliers. The collaboration of airline companies with aftermarket product distributors is proving rather beneficial for this vertical, in terms of reduced maintenance cost and improved fleet reliability.
Get a Sample Copy of this Report@ https://www.gminsights.com/request-sample/detail/2518
Citing a recent instance justifying the aforementioned statement, in 2016, Emirates signed a 10-year aftermarket agreement with Unison Industries to upgrade the GE90 and GP7200 engine fleets. Emirates back then, could leverage Unison's expertise in the areas of upgrades, exchange programs, and repairs with mutual goals of the highest quality support. The deal testified that requirement of the aftermarket is vitally important for maintaining fleet services. Indeed, as per estimates, aerospace & defense fluid conveyance systems market size from the aftermarket distribution channel is slated to register a CAGR of 3.5% over 2018-2024.
Elaborating further on the growth strategy scenario in aerospace & defense fluid conveyance systems market, it is noteworthy to mention in 2015, Parker Aerospace signed a long-term deal with Emirates to provide a maintenance package to its Airbus A330/A340 and Boeing 777 engines and aircraft. As per the agreement, Parker will establish its repair facilities and network outstations across the globe to support Emirates, which will emerge to be advantageous for regional companies and local support teams to generate a sufficient inventory pool for fleet maintenance. This in consequence would have a remunerative impact on the overall aerospace & defense fluid conveyance systems industry outlook over the years ahead.
The mutual cooperation between aircraft companies and product suppliers is likely to be one of the major driving forces of aerospace & defense fluid conveyance systems industry. The surging deployment of UAVs for performing military operations will also have a remarkable impact on product demand over the years ahead. Driven by the escalating demand for fleet components and the robust competitive hierarchy, aerospace & defense fluid conveyance systems market share will increase at a CAGR of 3% over 2018-2024.
Author Name : Sunil Hebbalkar