Military
The exponential growth map of the global UTV market can be aptly credited to the rising preference for a UTV in numerous in utility activities. In an effort to diversify their product offering, major UTV manufacturers are lately focusing on developing vehicles that can address different requirements from a varied array of application segments, including agriculture, construction & forestry, which serve to further propel the UTV market growth over the forthcoming years. Moreover, to keep these vehicles relevant for a particular application, industry players are also introducing new accessories, machines & attachments, which makes these already popular vehicles a must-have tool, thereby ensuring sustained growth for the UTV market.
U.S. Utility Terrain Vehicles (UTV) Market, By Application, 2018 & 2025, (USD Million)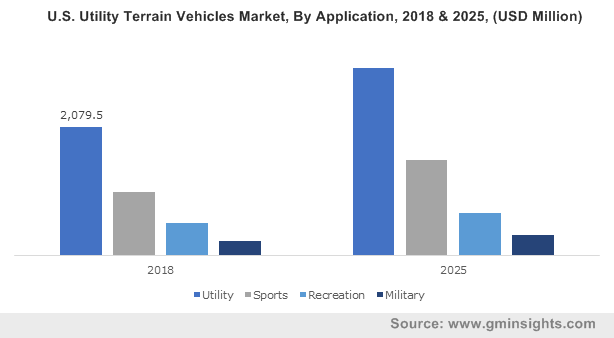 It is prudent to mention that the industry is also receiving momentum from the improving global economic conditions leading to increasing disposal incomes, that has resulted in the popularity of UTVs growing exponentially for recreational activities, such as fishing, hunting & off-roading.
Global UTV market | Impact of USA's expanding outdoor recreation market
The United States' outdoor recreation market is known to be one of the nation's largest economic sectors. The sector represents a sizable economic growth avenue that supports thousands of communities in America by facilitating millions of job opportunities for workers. The industry is largely supported by the nation's bountiful waters, inspiring landscapes and iconic natural beauty. Thus, investments in this sector on public waters & lands are capable of earning compounding returns, promoting healthier economies, communities & people. According to the Outdoor Industry Association, the U.S. outdoor recreation industry annually generates over $887 billion in consumer spending that supports more than 7.6 million jobs and rakes in over $124.5 billion in federal, state & local taxes, making it one of the nation's most lucrative investment ground.
It goes without saying that the UTV market accounts for a sizable chunk of this thriving industry. Unlike other off-road vehicles recreational UTVs are a unique blend of comfort & power, wherein the vehicle operator can perform any of the off-road activities with considerably more comfort. Moreover, UTVs also boast of larger cabin spaces that allow for greater number of passengers and also come with superior safety features such as roll-cages & bucket seats, giving these vehicles an edge over other off-roaders & further supporting market growth by eliminating the customer hesitancy factor in terms of vehicle safety.
Get a Sample Copy of this Report@ https://www.gminsights.com/request-sample/detail/3142
Global UTV market | Impact of increasing UTV adoption in agricultural activities
Traditionally ATVs were used to carry out a majority of agricultural activities, ranging from hauling fertilizer, wire & lumber, however, these practices were quite inefficient in terms of getting work done & lessening physical effort as the vehicle's small size limited its load bearing & hauling capacity and the lack of power steering made the task very strenuous for the vehicle operator, defeating the purpose of using the vehicle in the first place. These limitations have started to drive individual farmers & other agricultural corporations away from ATVs, and most of them now prefer to invest in well-equipped UTVs, further propelling UTV adoption across the utility landscape in recent years.
Apart from offering these benefits, the UTVs also comfortably sit between a basic quadbikes (ATV) and a fully-fledged tractors or pickup trucks, thus, providing the UTV market with ample growth opportunities from agriculture, without having to compete with others for the position. Moreover, unlike their bigger as well as smaller counterparts, the UTVs, owing to the diverse array of accessories & additional attachments available in the market, can perform different activities ranging from transporting supplies and mowing grass to managing livestock and plowing the fields, ensuring their dominance across the field of agriculture. Thus, powered by their deployment in agriculture and landscaping activities, UTV industry size from the utility sector is slated to depict a CAGR of 6% over 2019-2025.
As is evident from the aforementioned trends, the global UTV market has clearly positioned itself in an extremely lucrative spot and is bound to exhibit sustained growth in the ensuing years. The growth prediction is further supported by a research report from Global Market Insights, Inc., which estimates that the global UTV market size would be surpassing the $9 billion renumeration mark by 2025.
Author Name : Akshay Kedari
The U.S. off-road vehicles (ORVs) market size, in recent times, has been the recipient of sizable gains, owing to the proliferation of outdoor activities in conjunction with the improving economic condition. ORVs are becoming increasingly popular especially among the youth across the U.S., as is obvious from the rising sales of SUVs, off-road dirt bikes & motorcycles, all-terrain vehicles (ATVs) and snowmobiles.
Arizona Off-Road Vehicles Market, By Vehicle, 2017 & 2024, (USD Million)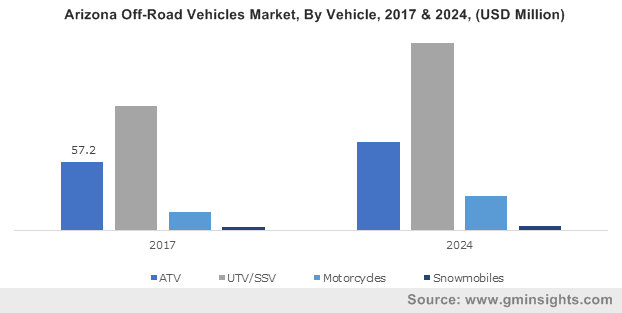 The mounting interest in off-road adventure activities is rather overt from the progress that the ATV industry has registered in the last few years. In 2017, the ATV Safety Institute (ASI) claimed that close to 35 million Americans use ATVs in the U.S., which would prove to majorly impel the U.S. off-road vehicles market size. ATV are bound to be used extensively in the agricultural sector for several tasks performed on farms and ranches such as general transportation, animal handling, weed control and fence mending.
The agricultural sector even now, remains one of the largest occupational arenas in the U.S. As per reliable estimates, 78% of ATVs are used for recreational purposes while 22% are used in occupational settings. In addition, the versatility of ATVs has also resulted in their use in small scale construction, manufacturing, search and rescue operations, police, utilities, mining and land management. The utility, affordability and ease of use associated with these vehicles has led to their massive adoption by the agricultural community, in turn facilitating the growth of U.S. off-road vehicles industry from ATVs.
It is vital to mention that the U.S. off-road vehicles industry has received massive support from the regional regulatory landscape. Organizations like the ATV Safety Institute have been training the youth and providing education regarding safety gears. The surging adoption of safety gears will also lead to the U.S. off-road vehicles market gaining substantial momentum in the years ahead. Even the Texas legal framework permits under-14s to drive ATVs under supervision. The enforcement of norms to enhance driver and passenger safety will boost the demand for ATVs, majorly propelling U.S. off-road vehicles market size from ATVs.
Get a Sample Copy of this Report @ https://www.gminsights.com/request-sample/detail/3074
Regionally speaking, California, Texas, and Arizona stand as the chief revenue pockets for the U.S. off-road vehicles industry. According to Global Market Insights, Inc., in 2017, California held around 10% of the U.S. off-road vehicles market share owing to the presence of several state parks and recreational areas for driving. Organizations such as California Department of Parks and Recreation's Off-Highway Motor Vehicle Recreation Division (OHMVR) are also introducing Grants & Cooperative Agreements Program to encourage OHV adoption.
Arizona is also anticipated to witness steady growth in the ensuing years, essentially on account of the favorable regulations enforced in the region that now permits the usage of California-registered vehicles in its state parks. Indeed, Arizona, boasting of 365 riding days per year, is likely to emerge as one of hotspots for the expansion of the U.S. off-road vehicles market. The state is home to some of most iconic road trails that attract tourists across the globe, namely, the Harquahala Mountain Byway, Backway to Crown King, Broken Arrow Trail, and Cinder Hills OHV Area, every one of which boasts of being a popular off-roading community. As the popularity of these trails in addition to the many hundreds of trails that the state houses, increases by the day, U.S. off-road vehicles market players are likely to target Arizona as their potential investment hub.
Capable of driving effectively on paved or gravel surfaces, off-road vehicles have increasingly become popular owing to their versatility. The use of such high traction, higher clearance vehicles enables users to access trails and forest roads that define a rough terrain. Aided by a supportive regulatory framework and the robust demand across a slew of end-use domains, U.S. off-road vehicles market will depict a commendable growth graph ahead.
Author Name : Mateen Dalal
The global soft exoskeleton market is touted to make a big difference in the wearable industry in the coming years, owing to increasing product demand from patients with musculoskeletal and neurological disorders coupled with plentiful advantages of soft suits over bulky metallic suits. Research and development are the cornerstones of this industry, leading players try and guarantee cutting-edge, practical, and quality products for solving consumer problems. Amidst stringent labor safety regulations, there has been an upward momentum in product demand in manufacturing industries, primarily driven by the need to ensure worker safety and enhance efficiency, thereby bolstering soft exoskeleton market size over the future.
U.S. Soft Exoskeleton Market, By Product, 2018 & 2025 (USD Thousand)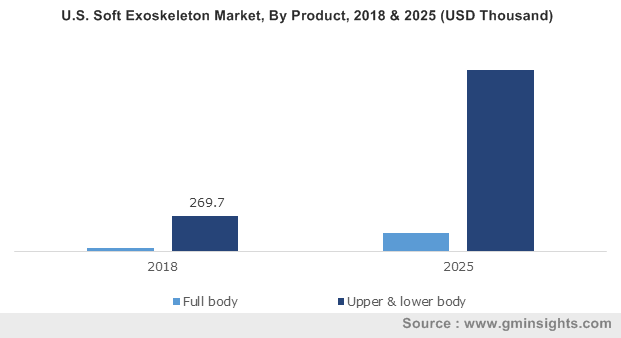 Workplace injuries are a common scenario in industries which require workers to perform tasks in extreme conditions. With that said, the rising incidences of gait disorders and bone-related injuries are set to fuel market growth in the looming future. For instance, the automotive giant Ford is reportedly introducing 75 upper-body EksoVest exoskeletons across fifteen motor making plants across the globe. The auto behemoth has entered into a collaboration with Ekso Bionics to enhance its employees' capabilities in the U.S., Mexico, Canada, Romania, Thailand, China, and Brazil. Ford claims that the physical activity of its workers is similar to an individual lifting a container full of flour or watermelons over its head 4,600 times a day. Thus, the introduction of exoskeletons vests would offer passive mechanical support to the wearers while performing overhead tasks, thereby enhancing their efficiency and reducing muscle strain.
A brief outline of the soft exoskeleton market with respect to the application gamut:
Military Applications
The military sector has always been actively looking for solutions to empower armed personnel in terms of safety and efficiency.  Although military personnel are tough and strong, the nature of their work makes them highly vulnerable to muscle sprains and spasms. A recent development by a multidisciplinary team of researchers from Harvard SEAS and Wyss Institute of Harvard in fact, has put the military sector in a tizzy. The researchers have fabricated a pioneering soft multi-joint exoskeleton ideal for soldiers and emergency labors. The soft exosuit embraces an advanced automatic tuning technique that decreases fatigue and injury during strenuous jobs and allows users to stay active longer.
Get a Sample Copy of this Report@ https://www.gminsights.com/request-sample/detail/3031
The device has been designed to boost mobility by applying mechanical forces to vital joints of the body. The mechanical forces are conducted via cables that run through the exosuit's components to hip joints and ankle to add power to leg movements. Moreover, the exosuit can help elderly or mobility impaired individuals lead more active lives. Thus, it is overt that product innovation initiatives for the betterment of defense workers will influence the commercialization graph of the soft exoskeleton market over the future.
Healthcare Applications
Soft exoskeleton industry size from healthcare applications is anticipated to grow at a rapid rate attributed to the burgeoning adoption of exosuits by patients with physical disabilities such as Parkinson's disease and multiple sclerosis. The rise in the number of hospitals, clinics, and medical centers offering rehabilitation treatment to paralytic patients is projected to impel market penetration in the coming years. In addition to this, the ability of soft exoskeleton to provide relief from spine injuries, traumatic brain injuries, and strokes would further advance market share.
Lately, ReWalk Robotics Ltd., the leading producer of exoskeleton solutions, has reportedly premiered a soft suit exoskeleton prototype, known as Restore, aimed at helping stroke survivors. The soft exoskeleton looks a lot similar to what construction workers wear for safety rather than a wearable robotic system. It contains a waist band fixed with a battery and motor, flexible cables that convey power from the motor to the ankles, shoe sensors, and leg braces. The anticipated release of a marketable Restore soft suit is scheduled for 2018. The expansion of the healthcare industry and the numerous developments it is characterized by will thus prove to expedite this business space in the coming years.
Industrial Applications
The rising implementation of full body soft exoskeletons in the industrial sector to enhance workers' productivity, decrease stress and fatigue would significantly bolster product demand in the years forward. Unlike conventional suits, full-body wearable soft exosuits provide varied flexibilities because of the absence of an exterior metal frame. Additionally, optimum service and support offered by manufacturers to businesses will extend incredible growth prospects for the soft exoskeleton market.
Reportedly, researchers at the Wyss Institute have recently developed cutting-edge soft exosuits that are aimed at mitigating injury risk and improving worker productivity during heavy lifting and reaching jobs. The soft exosuit technology is a textile-based system,  that looks and feels similar to clothing but is intended to offload pressure from the back muscles while performing physically demanding tasks.
Based on the aforementioned factors, it is rather apparent that soft exoskeleton technology looks to revolutionize the physical potential of the mobility-disabled, manufacturing workers, soldiers, and elderly by providing additional strength and stability to help appease exhaustion, pressure, and injuries. The lucrative advantages of the posture and motion support provided by these products across a vast application landscape would significantly amplify soft exoskeleton market size in the imminent future.
Author Name : Nikita Chaurasia
Owing to the rapid adoption of advanced technologies by diverse industrial sectors, the simultaneous localization and mapping (SLAM) technology market has been witnessing gradual increase in demand over the last decade. Unprecedented growth in digital and remote communication technology has accelerated the development of robots and UAVs, which are ideal for installing sensors and mapping systems. The eagerness of core industries to utilize modern technology for replacing human workforce in hazardous or time consuming tasks has further pushed the SLAM technology market penetration. Constant innovations in robotics are providing more opportunities to integrate new systems that help in achieving cost-efficiency across distinct processes, boosting demand for the global SLAM technology market, which registered a valuation of over USD 56 million in 2017.
Singapore SLAM Market Share, By Application, 2017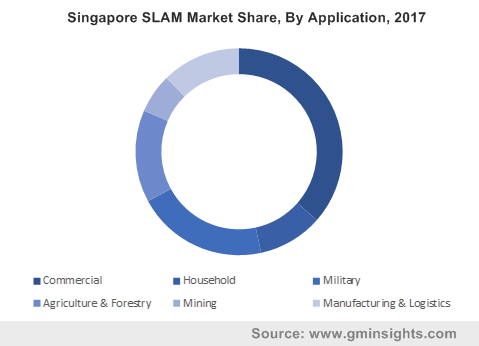 Growing automotive and manufacturing segments have not only deployed collaborative robots that assist in assembling products but also autonomous robots that roam factory floors and have to face a number of human and stationary obstacles during operations. The need for accurately handling objects and moving across the floor has brought the SLAM technology industry into limelight. Various tech firms have cropped up throughout the world, developing more precise mapping solutions to complement existing and new localization systems. These can be incorporated within robots for purposes like surveying and moving objects from one place to another on congested surroundings. Increasingly declining costs of manufacturing robots will certainly boost their presence in several industry verticals, presenting tremendous growth opportunities for the SLAM technology market.
The International Data Corporation had projected that by 2021, the spending on robotics worldwide would reach USD 230.7 billion, driven by increased utilization in areas such as manufacturing and resource industries, besides healthcare, education and retail. The resource industry, consisting of mining, oil & gas and agriculture has the potential to become a key target segment for the SLAM technology market. Mining, in particular, offers immense prospects for the use of new technologies as it is a business filled with dangerous exposure for humans, and requires a lot of capital to carry out mining operations. Inaccuracy of underground maps pose serious threats to the safety of miners and robotic exploration is seemingly a more feasible option in regard to this.
Get a Sample Copy of this Report:@ https://www.gminsights.com/request-sample/detail/2928
In the imminent future, integrating simultaneous localization and mapping technology with autonomous mobile robots would be an effective way to build accurate 3D maps of underground mines, helping to plan the overall operations. Aside from mining robots that would replace humans in hazardous environments, companies are also building robots that would work alongside people to assist them in analyzing quality of ore samples, carrying loads and other necessary devices. The SLAM technology industry will consequently experience a prolific growth rate over the next few years, with solutions being developed to automate mining activities. Key factors for the industry propagation would definitely be elimination of safety hazards, reduction in overall costs and time saving.
Benefitting from higher commodity prices, the top 40 mining companies globally had recorded earnings of nearly USD 496 billion in 2016, demonstrating the massive scale of mining activities and the potential to improve bottom lines. As old mines get exhausted, these companies are expected to start exploring new mines to keep the mineral supply flowing, indicating the possibility of significant expansion for the SLAM technology market. For instance, the Victoria Gold's Eagle mine, under development in Canada, would become the biggest mine in the territory of Yukon with production anticipated to at 12.5 million tons per year across a 10-year life span. Further, the USD 2.9 billion South Flank iron ore mine in Australia being constructed by BHP is slated to commence production in 2021 and supply ore until at least 2046.
With many such mines being explored to fulfil the global requirement of essential minerals like copper, gold, silver, coal and uranium, the SLAM technology market could establish a strong hold due to the need for safe mapping of underground mines as well as open quarries. Increasing production of consumer electronics has elevated the demand for minerals like silver, strengthening the global mining industry. The SLAM technology market is expected to grow at a CAGR of 71% over 2018-2024, influenced by the rising need for mitigating safety risks and improving bottom lines.
Author Name : Pankaj Singh
Boasting of a remuneration of over USD 19.5 billion in 2017, the global off-road vehicles (ORVs) market has gained massive traction over the past decade from sports events, recreational activities and crucial utility applications. The increase in the use of UTVs and SSVs for agricultural and hauling use owing to their size has promoted their advantages throughout the world, while growing attraction of extreme sports and motorsports among the youth has boosted the sales of ATVs and off-road motorbikes.
U.S. Off-Road Vehicles Market, By Vehicle, 2017 & 2024, (USD Million)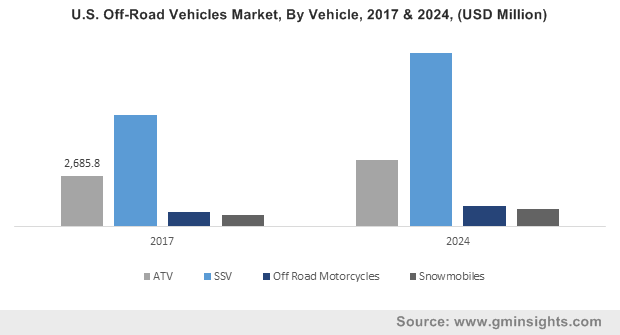 The utilization of ATVs for recreational and tourist activities has majorly outlined the off-road vehicles industry dynamics, garnering support from governments and the general public alike. Rising economic status of the working class population and the advent of successful entrepreneurs have created an emerging customer base for recreational events and the off-road vehicles market.
Although the introduction of ORVs arose out of particular needs in different conditions, the extensive benefits in other areas helped the popularity of ATVs to grow in applications like racing, beach use, military use and touring through national parks. Countries like Canada, U.S., South Africa and Australia have enormous state parks and natural reserves that are open to visitors and tourists, deploying a fleet of ORVs for traversing along predetermined as well as off-beat tracks. Subsequently, the off-road vehicles industry has been able to supply need-based products to the state agencies and private touring firms for catering to increasing recreational enthusiasts. The state of Wisconsin in the U.S. had announced plans in October of 2017 that it intends to add over 200 miles of access for ORVs in the Northern Highland-American Legion State Forest.
Get a Sample Copy of this Report:@ https://www.gminsights.com/request-sample/detail/2321
Reportedly, the state government there has already spent millions of dollars for ATV trail development, though the Northern Highland-American Legion State Forest was yet to have ATV access, indicating a positive step towards growth of the off-road vehicles market in the region. The Wisconsin ATV-UTV Association had disclosed numbers showing that at the start of 2015, there were around 92,654 ATVS and 8,789 UTVs registered in the state. The region has been experiencing increased popularity of recreational family trips and tourist attraction, even during the winter season, which in many parts of the world represents tremendous earning potential for the off-road vehicles market, from the demand of snowmobiles.
The Yellowstone National Park in Wyoming, U.S., is an example of a such national park where the use of over-snow vehicles has been propagated for decades and consistent improvement in the vehicles has helped to overcome several issues regarding noise and pollution. Snowmobiles not only offer a convenient way for visitors to enjoy the park in winter conditions, but also allow the park personnel to do their challenging jobs and maintain the park utilities. In many places along the northern region of the earth, parks and forest trails where ATVs are used during rest of the year can still provide recreational activities in winter using snowmobiles. As such, the off-road vehicles market for recreational purposes can benefit from vast application scope in most of the northern countries.
According to statistics, about 46 million square kilometers of Earth's surface is covered with snow every year, with 98% of the planet's snow cover situated in the Northern Hemisphere. The Europe and North America has therefore, significantly contributed to the development and adoption of snowmobiles for short distance travelling, remote area goods transportation and for enabling recreational uses of lakes, parks and specially built trails. The sale of snowmobiles in the U.S., records indicate, had almost 58,300 units in 2015, which was a 20% rise over a two year period and demonstrated the existing prospects for the off-road vehicles industry.
Canada-based Bombardier Recreational Products (BRP) had also informed in 2017 that the company had profited from a robust demand for its recreational vehicles, with revenues from its season products, including snowmobiles, climbing 37.2% for the quarter ending January 31. BRP, operating in 100 plus countries, has proven that huge opportunities exist for recreational snowmobiles in the North America off-road vehicles market. Concerns regarding emissions and fuel efficiency have inspired many innovations in the manufacturing of ORVs. For instance, Taiga Motors in Montreal are developing an all-electric snowmobile that would help to counter stringent regulations at many national parks and forest in Europe and North America arising from environmental issues.
Owing to such efforts aimed at providing enhanced recreational vehicles and the escalated requirement for ATVs and snowmobiles across the Northern region, the recreation segment is estimated to hold approx. 25% of the off-road vehicles market share till 2024. Polaris Industries Inc., Wildcat, Bombardier Recreational Products, Caterpillar, Yamaha Motor Co., Ltd., KTM and Kawasaki Motors Corp, are major players spearheading the global off-road vehicles market share.
Author Name : Pankaj Singh
Some of the pivotal factors that have propelled North America microgrid market growth over the recent years are the governmental & regulatory inclinations toward network expansion and the rising financial backing to support such projects. Increasingly becoming the most resilient and sustainable options for industries to provide continual operation during blackouts and natural disasters, microgrids are becoming the essentials of the energy and utilities sector. A substantiation validating the aforesaid is that of a report by the Federal Energy Regulatory Commission that claims the utilities across the U.S. to have invested nearly USD 35 billion in 2016 for the expansion of the energy transmission network.
U.S. Microgrid Market Size, By Storage Device, 2017 & 2024 (USD Million)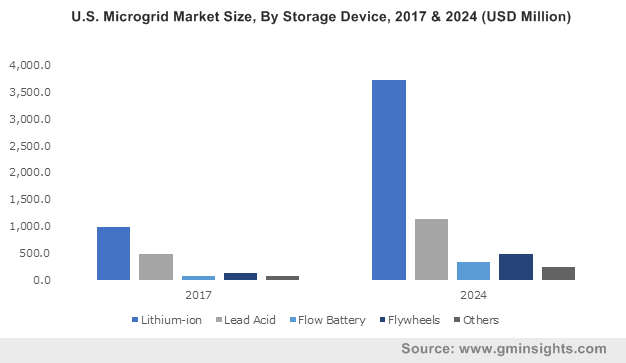 Rising adoption of renewable energy technologies to impel North America microgrid market size
Quite overtly, the spending on energy infrastructure to deliver power to businesses and households has increased remarkably in the past decade and is replacing the conventional poles, station equipment, and overhead lines and devices. With the rising penetration of renewable sources in the mainstream electricity supply, the operational dependability of the grid network has become an intricate issue for the power giants. In fact, several eminent companies are generously investing in microgrids for seamless integration and distribution of clean energy.
Get a Sample Copy of this Report:@ https://www.gminsights.com/request-sample/detail/2833
Recently in 2017, Ameren Corporation unveiled the completion of one of the most highly advanced utility scale microgrids in the North America microgrid market. As a part of its commitment toward building a smart and clean energy infrastructure, Ameren has built a microgrid facility with advanced automation & battery storage. The facility will also test, monitor, and control methods for aggregating renewable & clean energy sources from natural gas, solar, and wind. Reports claim that the Ameren microgrid has a significant production potential of up to 1475 kilowatts, which is enough to power more than 190 households and will be contributing immensely to the expansion of North America microgrid industry share.
North America microgrid market to be swayed by the rise in product demand from the military
Greater reliance on fossil fuel in remote & rural regions in the world is a vulnerable point in military operations, and the results could be devastating, given the transportation challenges. A microgrid solution, in this regard, has not only enabled an installation to generate its own power for the military sector but has also provided protection against cybersecurity risks. These grids have significantly met the needs for stable electricity supply and that too without relying on a larger regional grid that is more averse to interruption and compromises.
To illustrate further, under its Smart Power Infrastructure Demonstration for Energy Reliability and Security (SPIDERS), the U.S. military is aiming to deploy microgrids to supply power in the event of attack or loss of the utility grid. The program is also focusing to integrate solar PV and the diesel backup generators in order to provide diverse fuel sources, enabling uninterrupted power and lower carbon emission.
Recently, the U.S. Department of Defense, in this regard has issued a solicitation for multiple microgrid projects in the military sector that will assess large-scale energy storage. It is also imperative to mention here that the U.S. DOD is the largest petroleum & fossil fuel consumer and greenhouse gas emitter in the world – which is also one of the many reasons why U.S. military are looking at renewable energy microgrids.
Taking into consideration the aforementioned scenario, it wouldn't be wrong to say that the U.S. military has become one of the significant investment ground for potential North America microgrid industry investors. Further powered by government backing and funding advances, the military microgrid projects are expected to be more secure & reliable and are poised to be a lucrative sector of the North America microgrid industry, which according to reliable reports is expected to surpass 7 billion by 2024, with a capacity expansion of 3 GW.
Author Name :Ojaswita Kutepatil