Military
Some of the pivotal factors that have propelled North America microgrid market growth over the recent years are the governmental & regulatory inclinations toward network expansion and the rising financial backing to support such projects. Increasingly becoming the most resilient and sustainable options for industries to provide continual operation during blackouts and natural disasters, microgrids are becoming the essentials of the energy and utilities sector. A substantiation validating the aforesaid is that of a report by the Federal Energy Regulatory Commission that claims the utilities across the U.S. to have invested nearly USD 35 billion in 2016 for the expansion of the energy transmission network.
U.S. Microgrid Market Size, By Storage Device, 2017 & 2024 (USD Million)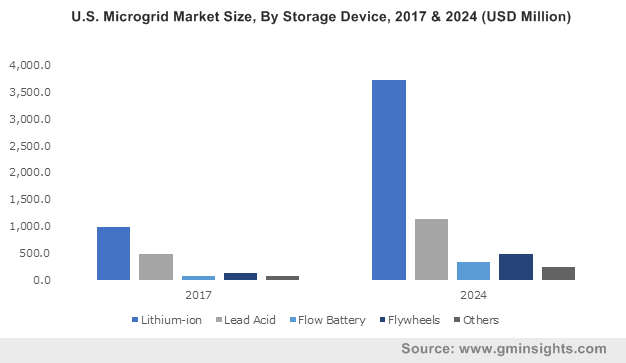 Rising adoption of renewable energy technologies to impel North America microgrid market size
Quite overtly, the spending on energy infrastructure to deliver power to businesses and households has increased remarkably in the past decade and is replacing the conventional poles, station equipment, and overhead lines and devices. With the rising penetration of renewable sources in the mainstream electricity supply, the operational dependability of the grid network has become an intricate issue for the power giants. In fact, several eminent companies are generously investing in microgrids for seamless integration and distribution of clean energy.
Get a Sample Copy of this Report:@ https://www.gminsights.com/request-sample/detail/2833
Recently in 2017, Ameren Corporation unveiled the completion of one of the most highly advanced utility scale microgrids in the North America microgrid market. As a part of its commitment toward building a smart and clean energy infrastructure, Ameren has built a microgrid facility with advanced automation & battery storage. The facility will also test, monitor, and control methods for aggregating renewable & clean energy sources from natural gas, solar, and wind. Reports claim that the Ameren microgrid has a significant production potential of up to 1475 kilowatts, which is enough to power more than 190 households and will be contributing immensely to the expansion of North America microgrid industry share.
North America microgrid market to be swayed by the rise in product demand from the military
Greater reliance on fossil fuel in remote & rural regions in the world is a vulnerable point in military operations, and the results could be devastating, given the transportation challenges. A microgrid solution, in this regard, has not only enabled an installation to generate its own power for the military sector but has also provided protection against cybersecurity risks. These grids have significantly met the needs for stable electricity supply and that too without relying on a larger regional grid that is more averse to interruption and compromises.
To illustrate further, under its Smart Power Infrastructure Demonstration for Energy Reliability and Security (SPIDERS), the U.S. military is aiming to deploy microgrids to supply power in the event of attack or loss of the utility grid. The program is also focusing to integrate solar PV and the diesel backup generators in order to provide diverse fuel sources, enabling uninterrupted power and lower carbon emission.
Recently, the U.S. Department of Defense, in this regard has issued a solicitation for multiple microgrid projects in the military sector that will assess large-scale energy storage. It is also imperative to mention here that the U.S. DOD is the largest petroleum & fossil fuel consumer and greenhouse gas emitter in the world – which is also one of the many reasons why U.S. military are looking at renewable energy microgrids.
Taking into consideration the aforementioned scenario, it wouldn't be wrong to say that the U.S. military has become one of the significant investment ground for potential North America microgrid industry investors. Further powered by government backing and funding advances, the military microgrid projects are expected to be more secure & reliable and are poised to be a lucrative sector of the North America microgrid industry, which according to reliable reports is expected to surpass 7 billion by 2024, with a capacity expansion of 3 GW.
Author Name :Ojaswita Kutepatil
Global explosives and pyrotechnics market has recorded a commendable growth graph due to increasing mining activities, military spending and greater demand for recreational fireworks. Rapid industrialization has created massive demand for mined commodities which has resulted in increased mining activities in countries such as South-Africa, China, Indonesia, the U.S. etc. adding to the demand for explosives used in mining industry.
U.S. Explosives & Pyrotechnics Market Size, By End-user, 2014-2025 (USD Million)

Mounting government spending on the defense sector in various countries including the U.S., India, China, France, Saudi Arabia, U.K. and Russia will positively impact explosives market size. On the other hand, pyrotechnics (fireworks) market is forecast to gain traction with rising cracker shows on occasions, festivals and sports events.
Pyrotechnic articles are not only used for entertainment but are also utilized in technical & military cases for illumination and signaling, as pesticides and for various other purposes. Pyrotechnics are designed to give out specific effects, such as whistling, illumination, smoke formation, detonation, propulsion, shooting and disintegration.
The APA (American Pyrotechnics Association) predicted an exceptional year for fireworks sale in 2019. According to APA, consumer fireworks revenue has increased from $407 million in 2000 to $945 million in 2018. The APA estimates that fireworks revenues could exceed $1 billion during the 2019 fireworks season. On days like New Year's Eve, almost every nation celebrates with elaborate firework shows. For instance, in 2017, the German Pyrotechnic Industry Association reported €137 million in sales in the final four days of the year. In 2019, New Year's Eve fireworks sale in Netherlands amounted to €70 million, which is €2 million more than 2018 figures. Such a trend will ultimately prove beneficial for increasing  explosives and pyrotechnics market share.
Get a Sample Copy of this Report @ https://www.gminsights.com/request-sample/detail/828
In spite of the ongoing trade war between U.S. and China, tariffs were not raised on the import of fireworks from China to U.S. as imports of fireworks have long surpassed domestic production in the United States. In 2018, China exported $325 million worth of bottle rockets, Roman candles and other fireworks/pyrotechnics to the U.S., accounting for 90% of pyrotechnic imports of the country, clearly underlining the growth of explosives and pyrotechnics industry in the region.
With record-breaking growth in backyard fireworks usage and liberalization of consumer fireworks laws, the number of fireworks-related injuries have dramatically declined. Currently, the fireworks-related injury rate is 56% lower than what it was in 2000. There is no such consumer product in the market that has an exceptional consumption growth and declining injury rate – which will encourage more expansive use of fireworks and add indirect impetus to explosives and pyrotechnics industry.
Another factor significantly augmenting explosives and pyrotechnics market size is ongoing political unrest between countries, which has resulted in increased military spending. The top five spenders in the world in 2018 included U.S., China, Saudi Arabia, India and France, which accounted for approximately 60% of world military spending. The total world military spending has risen by 2.6% to reach USD 1,822 billion over 2017-2018, according to SIPRI (Stockholm International Peace Research Institute). Military segment accounts for approximately 45% in explosives and pyrotechnics market share. The segment growth is majorly influenced by political clashes in African countries, Middle East and Europe.
North America and Asia-Pacific are the major regions having maximum growth rate in the explosives and pyrotechnics market. In 2018, Asia Pacific accounted for 35% share in the global explosives and pyrotechnics market.
Explosives are majorly used in mining. Growing technological expenditure for enabling effective exploration, sustainable processing of low grade and complex minerals are fueling mining activities. For instance, countries such as Indonesia have stringent government policies to generate up to 50% of power from domestic coal which is resulting in increased mining operations. Such initiatives are expected to positively influence explosives and pyrotechnics market growth over 2019-2025.
With major coal producing countries such as China, India, Indonesia and Australia, Asia Pacific is a region that is largely concentered on mining industry. The growth trends recorded by mining industry in Asia Pacific has added impetus to explosives and pyrotechnics market outlook. For instance, National Energy Agency of China has approved 7 major coal mining projects adding up a capacity of 22.5 million tons in 2019. Additional activities in mining sector not only due to the demand for coal but also other valued commodities like iron ore and copper are expected to fuel explosives and pyrotechnics industry trends during the forecast timeline.
Rapidly growing mining sector, increased political tensions leading to greater military spending and trends encouraging fireworks display will together augment revenue share of explosives and pyrotechnics market in the coming years.
Author Name : Aakriti Kakkar
The emergence of several renowned automakers in all-terrain vehicle market is likely to have a major imprint on the future of ATVs. For instance, German-based world-class automaker, Mercedes-Benz revealed its E-class ATV in 2018. In the newly revealed ATV, the company included several advanced features such as sports beefier bumpers, plastic underbody protection, and typical body cladding focusing on consumer requirements.
U.S. All-Terrain Vehicle (ATV) Market, By Application, 2018 & 2025, (USD Million)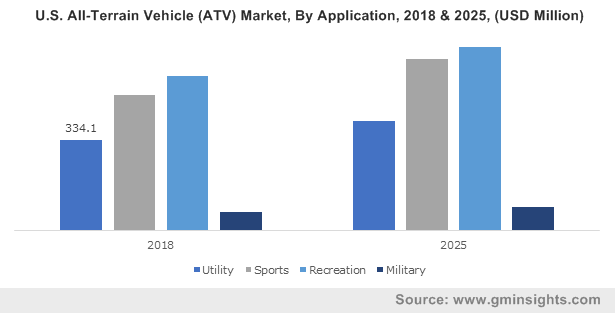 In addition, another well-known automaker, Jaguar made it to the headlines a couple of years back for planning to make various design variations in its Range Rover platform to make it feasible for ATVs. The development of highly advanced ATVs comprising various innovative features such as keyless entry, Wi-Fi hotspot, and powered gesture tailgate will thus boost all-terrain vehicle (ATV) industry share over the years ahead.
Furthermore, it is imperative to state that Honda has also developed an autonomous ATV for off-road work such as firefighting, rescue missions, and agricultural purposes, in which the company has implemented varieties of attachments that would help carry out the aforementioned functions. The deployment of such multipurpose ATVs, undeniably, is slated to stimulate all-terrain vehicle market outlook.
With the surging inventions of novel agricultural equipment, farmers have been working toward major land cultivation, focusing on increasing productivity. The availability of innovative farming equipment has indeed reduced the generation gap between tradition and present farming technology. The involvement of technology in the agricultural sector is thus likely to prove beneficial for the smoother transition of agricultural management to next generation farming, setting the base for the expansion of ATV market.
Get a Sample Copy of this Report @ https://www.gminsights.com/request-sample/detail/765
Most of the farmers are increasingly becoming adaptable to the use of technologies for improving overall farm productivity. For the record, the adoption rate of such technologies is higher in U.S. as compared to the other countries.
As per Global Market Insights, Inc., over the coming years, North America will cover a substantial proportion of all-terrain vehicle market, owing to surging use of such technologically advanced equipment for forestry and agricultural purposes. Apart from that, the regional growth will also be driven by the presence of myriad industry contenders across the United States and Canada.
At present, ATVs are prominently gaining popularity across the defense sector, pertaining to their ease of application for border patrolling and other military activities. These vehicles offer advanced off-road technology and superior mobility at a very affordable price, which is one of the factors driving all-terrain vehicle industry size. In fact, several regional governments have also been establishing joint ventures with leading giants in ATV market.
For instance, in 2017, the United States Marine Corp. has signed a contract with the renowned leader in off-road vehicle production, Polaris Government and Defense in order to improve its marine operational capabilities with the deployment of utility task vehicles. Taking into account the increasing requirement of ATVs for defense applications, Polaris is investing significantly in research and development activities to improve the handling of vehicles for a highly responsive ride and enhanced maneuverability. Indeed, this validates that continuous product enhancements of robotic vehicles will certainly fuel ATV industry share.
Considering the vast expanse of all-terrain vehicle (ATV) market, companies have been constantly focusing on new product developments in order to expand their product portfolios. In fact, performance and versatility are the major design factors that researchers have been concentrating on, of late.
The increasing upgradation in existing vehicle technology with advanced infotainment systems and installation of advanced safety features, undoubtedly is slated to propel all-terrain vehicle (ATV) industry share. As per estimates, global all-terrain vehicle (ATV) market size will surpass USD 3.3 billion by 2025.
Author Name : Sunil Hebbalkar
A slew of advancements in geospatial technology has been instrumental in adding impetus to aerial imaging market lately, to such as extent that government organizations to commercial businesses, have now found ways to utilize the technology to their own advantage. Hurricane Harvey is one of the most iconic examples that demonstrates the progress of aerial imaging industry. The prompt intervention of EagleView Technologies had then restored some relief to the hurricane affected victims, while simultaneously increasing the popularity of aerial imaging.
Aerial Imaging Market Size, By Application, 2017 – 2024 (USD Million)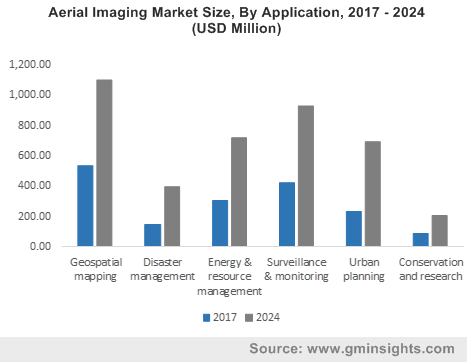 Elaborating further, when Harvey flooded Texas and Louisiana with 27 trillion gallons of water in 2017, it turned out to be one of the most devastating natural disasters in the US history. Besides, it also happened to be one of the most expensive catastrophes which cost approximately $190 billion. Amidst a scenario where thousands of people were displaced from their homes and thousands of others did not know if they had any home left to go back to, the Henrietta based aerial imaging company EagleView Technologies presented a possible means of relief to the victims of the destruction Harvey left in its wake. The company launched a website that depicted aerial views of the streets ravaged by the hurricane. Users could enter a street name and view before and after images to access the extent of damage. EagleView Technologies has so far collected almost 350 million images of over 90% of the most populated areas of the U.S. on behalf of clients which comprise local and state governments as well as insurance companies, that may benefit the hurricane victims.
Get a Sample Copy of this Report @ https://www.gminsights.com/request-sample/detail/105
However, aerial imaging industry is not limited to amassing millions of pictures alone. The vertical is now focusing on collecting images and teaching machines to look at images and generate a report if something of crucial importance is being reflected in those images. For instance, when an electric utility company requires aerial imaging, they do not just want thousands of images of power lines, what they want is to discern which poles are damaged or have broken conductors and need to be repaired. Machine learning facilitates this process by analyzing each image and producing a report for the repair crew with the location of the problem spots. Information collecting companies that are mainstream end-users of aerial imaging market are heavily dependent on this technology to access damage of personal and public property after natural catastrophes. Since it is not possible to send out claim adjustors to every place right after the disaster despite the crucial importance to assess damages as quickly as possible, aerial imaging market has received a considerable boost from the insurance industry.
As such implications clearly point out, disaster survey and management is expected to become one of the most lucrative growth avenues for the aerial imaging industry. In fact, aerial imaging market size from disaster management is expected to register a CAGR of 16% over 2018-2024. Most governments have regulations dictating the pilot of an aerial imaging vehicle to be in the visible range of the vehicle. But as climate change has increased the incidence of natural disasters, such restrictions are being slowly lifted. Advancement of technology is also ensuring that human pilots can be replaced with self-flying drones. This not only decreases the chance of harming human life while they are out in disaster zones but also helps in better assessment as machines can be taught to fly straight and maintain constant altitude. The advent of advanced technology will thus play a pivotal role in aerial imaging market expansion.
Recently Airbus Aerial and DroneBase announced a partnership that will deliver a multi-source data service solution for aerial imaging from a single provider. Such an initiative will enable companies to use a single service provider for all their data and imagery insights. With an international leader and pioneer in aerospace industry like Airbus and DroneBase which has 100,000 commercial missions flown in over 70 countries making a significant investment, other investors are also expected to join in the battle. As the contributions by prominent contenders strengthens the case for this vertical, aerial imaging industry size is expected to cross USD 4 billion by 2024.
Author Name : Paroma Bhattacharya