Millets Industry
Increasing demand among patients for nonsurgical cosmetic treatments has proliferated global botulinum toxin market, along with the prevalence of numerous medical conditions like migraine headaches and excessive sweating. In recent times, the awareness about botulinum toxin and its various benefits have increased due to the extensive adoption of botulinum toxin therapies by dermatologists for reducing signs of aging as well as eliminating facial lines and wrinkles in people.
U.S. botulinum toxin market, by product, 2018 & 2025 (USD Million)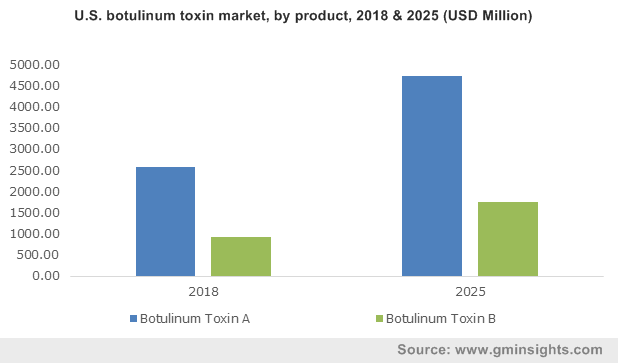 Out of the two key subtypes, botulinum toxin A is the considered as one of the most potent and has gained rapid and enthusiastic acceptance amid customers. It is now being used clinically with most frequently performed procedures, helping millions to rejuvenate their physical appearance. Botox A will undoubtedly represent a prominent growth segment for botulinum toxin industry players, with beauty salons and spas also providing injectable Botox treatments. Growing trend among middle-aged women to stay young and attractive will subsequently boost botulinum toxin market expansion.
According to the America Society of Plastic Surgeons, Botox treatment is the most prevalent cosmetic medical procedure in the US, with around 7.23 million procedures reportedly performed in 2017. Botulinum toxin A was initially approved by the U.S. FDA for treating crossed eyes and in the year 2002, it was approved for cosmetic treatment. Botulinum toxin market has gained traction in US specifically on the account of treating dermatologic conditions including crow's feet near the eyes, thick jaw muscles and gummy smiles, achieving optimal results globally and advancing the industry scope.
Get a Sample Copy of this Report:@ https://www.gminsights.com/request-sample/detail/3408
Besides cosmetic therapies, botulinum toxin has become a safe and effective therapeutic tool for a wide range of medical conditions including chronic migraines, muscle spasticity, and dysphonia. Apparently, in 2010 it was approved by the U.S. Food and Drug Administration (FDA) for the prevention of chronic migraines. Migraines are the third most common disorder globally, with an estimated worldwide prevalence of 14.7%. Botox injections provide one of the most effective and positive treatments and a prominent study reveals that most people experience reduction in migraine frequency. This will create substantial product demand for botulinum toxin industry, as chronic diseases are leading causes of fatality in people of all ages.
Allergan plc had announced the results of higher doses of its Botox Cosmetic product in 2018 for the treatment of moderate to severe glabellar lines. This trial was significantly helpful in evaluating the duration of effect and safety of the treatment. Such trials indicate the application scope of botulinum toxin market. Allergan had also unveiled 29 presentations including 24 migraine presentations highlighting the company's innovations for addressing migraine problems. Undoubtedly, innovations and product-driven approaches would pave the way for botulinum toxin industry towards depicting an upward revenue graph in the next few years.
Rising geriatric population around the globe has created opportunities for the application of botulinum toxin in the treatment of spasticity, which causes specific body muscles to be continuously contracted. The disease affects nearly 12 million people worldwide, while 80% of multiple sclerosis patients suffer from varying levels of spasticity. Common occurrence of disorders that cause spasticity, such as strokes, traumatic brain injuries and meningitis will warrant a considerable demand for effective therapies. Oral as well as injected botulinum toxin are considered to be helpful in dealing with cerebral palsy spasticity, reinforcing the market penetration.
With the healthcare sector experiencing significantly higher consumption than before and the surge in preference for nonsurgical cosmetic treatments, botulinum toxin industry is projected to amass tremendous revenues worldwide. Escalating competition among major industry players by executing mergers & acquisitions and innovating transformative therapies will underscore the industry dynamics imminently. Reports suggest that global botulinum toxin market size is anticipated to exceed USD 8.5 billion by 2025.
Author Name : Deeksha Pant
Increasing interest in reviving the consumption of millets across various geographies is favoring the growth prospects of millets market in recent years. Millets have the ability to survive in harsh climatic conditions and are known to provide high nutrition value and better health. A number of initiatives are also being undertaken by the countries toward enhancing millet cultivation and consumption to reduce health risks caused due to diabetes, obesity, cardiovascular diseases. Unified approaches among millet suppliers and food and beverage manufacturing companies to fulfil the demand of millets has been crucial to proliferate the millets industry size.
U.S. millets market size, by application, 2014 – 2025 (USD Million)

Growing inclination towards urban lifestyle has led to unhealthy diet habits and sedentary lifestyle, which is increasing the number of diabetic patients. The occurrence of diabetes is gradually rising, for instance, around 12.2% of the U.S. population aged 18 years or older was affected with the ailment in 2015. Diabetes is considered as the seventh leading cause of death across the world, with doctors striving to find its permanent cure.
Doctors are increasingly urging diabetic patients to consume millets to control blood sugar levels. Millets possess many properties making them a good dietary option for diabetics. In light of their benefits, millets hold a key to the well-being for those who suffer from diabetes and those that are at risk of developing the ailment. The demand of millets is likely to increase among diabetic patients which will be beneficial for augmenting millets market share.
From curing diabetes to fulfilling nutritional requirements in infants, millets have numerous nutritional properties. Due to its smooth texture, babies can easily digest it which makes millets a reliable option for infants. Millets also have calcium, iron and fibers which helps to fortify essential nutrients for healthy growth of a child.
Usage of millets in infant food and nutrition products is increasing and many millet manufacturers are expanding their business operations by acquiring smaller firms. For an instance, in the year 2017, Reckitt Benckiser (RB) acquired Mead Johnson Nutrition Company to expand its nutrition business. The transaction catapulted RB to a global market leadership position in consumer health and hygiene. Such acquisitions show the growing millet usage in baby food, which is likely to foster millets industry share.
Get a Sample Copy of this Report:@ https://www.gminsights.com/request-sample/detail/3370
Besides the use of millets in food products, it has also found usage in beverages like beer. Gluten-free beers are specially produced for individuals focused on reducing their gluten intake or diagnosed with celiac disease or a gluten intolerance so that they can enjoy beer without severely affecting their health. Breweries have started to add gluten-free beer option to increase their consumer base.
For instance, a Pune-based microbrewery Great State Ale Works has begun brewing beer with pearl millet, sorghum and finger millet to offer new tastes and popularize millets. The company has tied-up with an NGO named Happy Roots which works with farmers in Maharashtra. The tie up was anticipated to not only provide it with millets but also help with the malting process. Essentially, this new concept of gluten-free beer is becoming popular among breweries, which has led to increased production of gluten-free grains and has favored the expansion of millets industry size.
Numerous developing nations and federal governments are framing long-term policies to roll out nutrition programs aimed at tackling the menace of malnutrition. For instance, the Governor of Maharashtra recently convened a meeting to formulate a policy for cultivation and promotion of nutri-cereals. He explained the need to have a policy in place for addressing the issue of malnutrition and other lifestyle diseases, especially in the scheduled areas of the state.
In this context, consumption of millets by children in the scheduled areas of Maharashtra would be crucial in reducing the prevalence of malnutrition in the state, as they are good source of beta-carotene and B vitamins especially riboflavin, niacin, and folic acid. It has to be noted that Maharashtra is a surplus state in terms of production of nutri-cereals, apart from Madhya Pradesh and Andhra Pradesh in India.
According to the Agriculture Commissioner of India, the government would invest in promotional activities to increase the production and consumption of millets in the nation. India is the largest producer of pearl millets followed by China and Nigeria and was the foremost country to account for more than 45% of the overall demand of millets in APAC region in the year 2018. Needless to mention, the efforts being made by governments of a fast-growing nation like India would help the regional millets market trends to flourish in the times to come.
Taking into account yet another regional initiative, the Government of Niger announced that it is promoting the production and consumption of millets in the country during the inaugural ceremony of national millet festival (FESTIMIL). The government has particularly recommended millet for children, the elderly and also for convalescents as millets are energy-dense and nutritious. It is equipped with the property to adapt to poor and arid soil which makes it a staple food crop. Around 80 percent of Nigerien population consumes millets and the communities in the Sahel region also include millets in their diet.
In a nutshell, the support of government initiatives and inclusion of millets in various food & beverage products are likely to enhance millets industry size. According to Global Market Insights, Inc., by the end of 2025, worldwide millets market is estimated to generate a revenue of more than USD 12 billion.
Author Name : Anchal Solanki