Mining Equipment
The growth of stone crushing equipment market can be attributed to the expansion trends across the mining, infrastructure and building, and metallurgy sectors as well as highways, railways, and canals. The massive surge in the use of stone crushers for construction of highways, bridges, skyscrapers, roads, etc., in the developed as well as developing economies will enhance their adoption, thereby impelling the growth graph of stone crushing equipment industry globally.
UK stone crushing equipment market, by product, 2018 & 2025 (USD Million)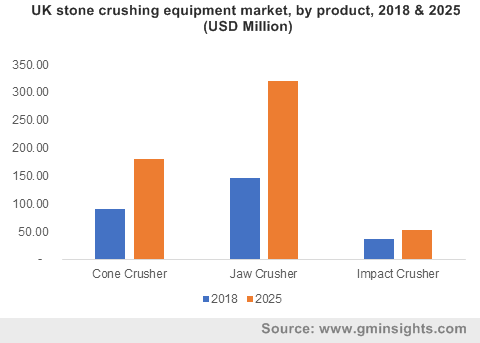 The globally rising urbanization trends are also responsible for augmenting stone crushing equipment market share. As the demand for residential and commercial establishments across urban locales continues to rise, the requirement of finely crushed stones for these buildings as well as the construction of buildings and highways will quite overtly exhibit an upsurge. Given the rising pace of industrialization and the shortage of land, numerous construction and renovation projects are in the works, which calls for the mass requirement of crushed stone globally. In consequence, this would majorly impact the growth map of stone crushing equipment market.
The product landscape stone crushing equipment market is primarily characterized by jaw, cone, and impact crushers, though it would not be completely incorrect to state that the latter is not as commonplace or popular as the first two. Indeed, jaw crushers possess versatility in crushing efficacy regardless of the industry, and are known to help crush a widespread range of materials.
Jaw crushers are mostly preferred by contractors because of their efficiency, low cost maintenance, and availability in different sizes and capacities for different applications. They are highly suitable for crushing materials with a moisture level below 15 percent and has the ability to crush 1 to 2 tons of material on an hourly basis. Aided by their convenient operations and widespread availability, in tandem with the spate of construction projects in execution globally, jaw stone crushing equipment share is expected to depict a massive upsurge over 2019-2025.
Get a Sample Copy of this Report @ https://www.gminsights.com/request-sample/detail/2011
Another popular type of stone crushing equipment with the capacity to crush a variety of materials apart from stones is the cone crusher. The product can operate on higher speed and strokes which improves its productivity. It is also equipped with anti-wear protection which improves its lifespan.
Given its easy-to-maintain capability and convenient operational ability, it comes as no surprise that cone stone crushing equipment market size was valued at over USD 1 billion in the year 2018. As the demand for versatile, reliable and highly productive stone crushers increases, cone stone crushing equipment industry will continue to gain traction in the years to come.
Unlike fixed stone crushers, mobile crushing equipment has been registering extensive demand because of the ease of transportation. Mobile crushers are suitable for various terrains and are not only easy to install, but can also be conveniently assembled and dismantled. The extensive deployment of mobile crushers for myriad ongoing construction projects will significantly upscale the growth graph of stone crushing equipment market.
The competitive spectrum of global stone crushing equipment is characterized by a slew of innovations lately, as companies work effortlessly to produce a huge range of productive and reliable stone crushers. The U.S. based company IROCK Crushers, a few years ago, had developed a new TC-20 Track Impact Crusher equipped with a high-performance four-bar impactor, feeder, and heavy-duty components. The product was known to offer accurate precision, reliability and efficiency, which positioned it as powerful and productive stone crusher in the market. The growing earnestness by industry contenders to design unique stone crushers will thus act as a key driver for stone crushing equipment market size globally.
The competitive landscape of stone crushing equipment market is inclusive of several key players, like Thyssenkrupp, Astec Industries, Eagle Crusher Company, Inc. It has been observed that these companies have been undertaking appreciable efforts to expand their distribution network and increase their customer base across the globe, that would eventually serve to impel the global stone crushing equipment market.
Author Name : Anchal Solanki
The global crawler crane market has been witnessing a remarkable growth rate lately, fostered by massive investments in infrastructure, mining, and energy sectors. Basically fueled by the rising demand for moving heavy loads safely as well as economically, crawler crane market, in 2017, was worth USD 1.8 billion and is projected to depict a CAGR of almost 7% over 2018-2024. The vast expanse of this industry can be aptly demonstrated by the recent instance of Sarens, a renowned global engineered transport, heavy lift, & crane rental services company, being recruited to undertake an array of challenging lifts adhering to the development of Ramagundam Fertilizer Plant based in India.
China crawler crane market, by application, 2017 & 2024 (USD Million)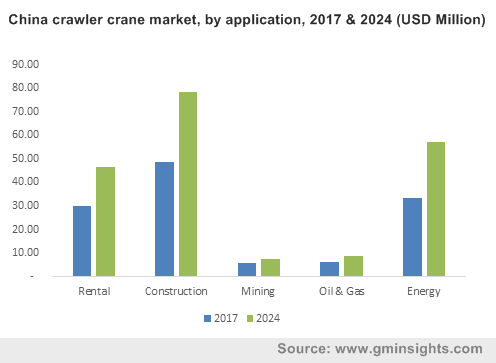 The company has reportedly deployed the Demag CC 8800-1 lattice boom crawler crane to fulfill the mammoth construction requirements of the project. With that said, the Demag CC 8800-1 has a giant lifting potential of 1600 tonnes and a topmost load moment of 26160 tonne-meters, which makes it an ideal choice. As similar developments are undertaken across the globe, the crawler crane market is anticipated to traverse along a rather prolific path and accumulate substantial revenue in the years forward.
In the recent scenario, the rental system is likely to gain traction in the crawler crane business sphere. Manufacturers in the construction and mining industries are considering renting heavy cranes over buying new cranes, owing to which notable players in the machine manufacturing industry are supplying crawler cranes on lease.
Get a Sample Copy of this Report:@ https://www.gminsights.com/request-sample/detail/2960
A brief outline of the market with respect to the application spectrum has been outlined below:
Construction
Construction applications are anticipated to witness promising growth in the ensuing years, owing to industrialization and urbanization in developing economies, the intensifying prevalence of sky-high structures, and favorable government policies across the globe to push infrastructure development. For instance, the government of Japan is working in full swing to facelift its existing infrastructure for the approaching 2020 Summer Olympics, which has surged the demand for gigantic construction machines, like crawler cranes, in the region.
In yet another interesting development pertaining to the construction sector, the world's longest sea crossing bridge connecting China, Zhuhai, Hong Kong, and Macau has recently been inaugurated officially. According to the CNN, the $20 billion & 34 miles long bridge, that spans the Pearl River Delta, would possibly reduce travel times between the locations to only 30 minutes, down from three hours. Such intricate developments that bank on efficient and high capacity construction machines, are expected to fuel crawler crane market size from construction applications.
Incidentally, a report by Global Market Insights, Inc., claims Japan crawler crane market size from construction applications to register a CAGR of 5.8% over 2018-2024, while construction applications seemingly dominated China crawler crane industry in 2017, with a share of 40% in 2017.
Mining
Mining applications are expected to garner commendable returns in the forthcoming years, attributed to the growing number of mining and excavation activities, labor safety and security concerns, and stringent government regulations deployed for worker safety. Moreover, it is nearly impossible to perform mining operations manually, due to human capacity constraints, which necessitates the demand for machines like crawler cranes, to ease as well as fast-track the mining process, thereby stimulating the crawler crane market growth rate.
Recently, Mitsubishi and Anglo American unveiled plans to spend nearly $5 billion on a newfangled copper mining project based in Peru, taking advantage of one of the largest mineral deposits of the world, with more than 1.1 Bn tonnes of ore at 0.55 percent copper claimed to be underneath this project. By virtue of such colossal mine developments, which intensifies product requirement, the crawler crane market from mining will experience rapid growth over the next few years.
Unrefutably, aided by a powerful application spectrum, crawler crane market stands to gain substantial profits in the subsequent years. As per Global Market Insights, Inc., crawler crane market size is expected to cross $3 billion by 2024.
Author Name : Nikita Chaurasia
Prominent mining equipment market players have lately been looking forward to developing multi-tasking, durable, fuel-efficient mining machinery for lowering operating costs, reducing service time, and improving mine quality. Currently, various underground specialist mining equipment including diggers, loaders, and trucks are used extensively to excavate metals. However, mining activities across the globe, in the last few years, have increased remarkably owing to the surging involvement of companies in advanced exploration programs.
France mining equipment market, by product, 2017 & 2024 (USD Million)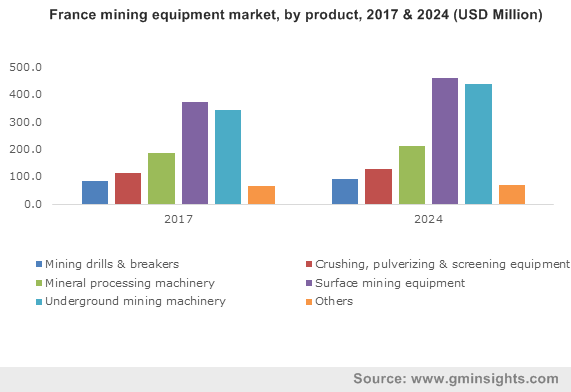 The excavation of a large amount of underground materials has led to a rise in air pollution which has become one of the major causes of the upsurge in the prevalence of respiratory diseases. Taking into account the surging need to curb the air pollution, mining equipment manufacturers have been thus investing in the development of cleaner and safer mining machinery, which has led to most of the companies establishing partnerships to come up with advanced versions of mining equipment.
Recently, the International Council on Mining and Metals revealed a plan to make mining vehicles safer and cleaner at the International Mining and Resources Conference held in Melbourne. At the conference, numerous renowned truck and mining equipment suppliers came together to accelerate the invention of next-gen mining equipment. In addition, the Innovation for Cleaner Safer Vehicles (ICSV) is also planning to launch GHG emission-free surface mining vehicles by the end of 2040. The increasing concerns about the depleting fossil fuel resources along with growing importance of emission-free vehicles are thus poised to observe a positive impact on the mining equipment market share.
In line with the ambitious clean vehicle development programs, in October 2018, Hitachi Construction Machinery signed an agreement with KTEG Kiesel Technologie Entwicklung GmbH to develop electric construction machinery. With this strategic agreement, it also looking forward to expanding its business across European countries owing to the deployment of strict regulatory norms for curbing GHG emission across Europe. KTEG will help Hitachi to commercialize electric construction equipment in the Europe mining equipment market.
Get a Sample Copy of this Report:@ https://www.gminsights.com/request-sample/detail/793
Aided by years of intense experience in the development of electric machinery, Hitachi is aiming to decrease life cycle costs of equipment and the burden they pose on the environment. The shifting focus of equipment manufacturers toward the development of highly innovative and fuel-efficient products is likely to proliferate the mining equipment industry size over the years ahead.
Over the last few years, in order to deal with the increasing number of mining activities, most of the countries have been planning to procure advanced mining equipment. The initiatives taken by the regulatory bodies have opened up new business opportunities for mining equipment industry players. Validating the aforementioned fact, in July 2018, Coal India Ltd has unveiled its plan to procure mining equipment of worth USD 2 billion over the coming three years. With the procurement of numerous mining equipment, it is looking forward to meeting the growing demand for coal in India. Coal India has also set an aim to produce 630 million tons of coal in 2018-19 and one billion tones in the coming years.
Similar to Coal India, the Zimbabwe Consolidated Diamond Company also has invested USD 100 million in the design and installation of complementary mining equipment. With the deployment of advanced equipment, the Zimbabwean diamond company aims to produce the best quality diamonds across the globe. In order to increase FDIs and contribute to strengthen the country's economy, most of the diamond-producing companies have been investing heavily in the mining sector. The surging participation of the regional governments in the development of the mining industry for the betterment of economy will have a positive influence on mining equipment market size from metal mining applications.
The collaborative approach of mining companies and regulatory bodies to accelerate the number of mining activities will have a significant influence on the mining equipment industry growth. With the deployment of ambitious product development programs, global mining equipment industry is likely to traverse alongside a positive growth path. Driven by the growing investments in the mining and metal exploration activities, mining equipment market size will surpass USD 95 billion by the end of 2024.
Author Name :Sunil Hebbalkar